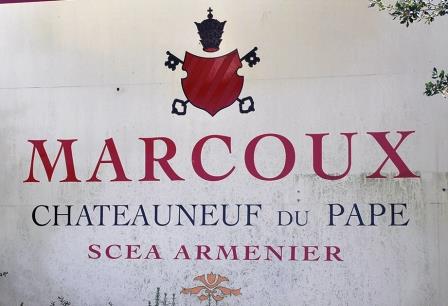 Learn everything about Domaine de Marcoux, Chateauneuf du Pape with wine tasting notes, wine and food pairing tips, best vintages, a history of the property, information on the vineyards and winemaking. If you want to read about other important wineries and wine makers from the Rhone valley: Links to all Rhone Valley Wine Producer Profiles
Domaine de Marcoux History, Overview
There are old families in the Chateauneuf du Pape appellation and there are really old families from the region. The roots of Domaine de Marcoux date all the way back to about the year 1000. Chateauneuf du Pape was not born yet.
The area was still known as Castrum Novum, which meant fortified village. At the time, the ancestors of the Armenier family went under the name of Armani. And no, we're not talking about the house of Armani from Italy! The estate takes its name from the village of Marcoux, located in the Alpes de Haute Provence.
While the owners of Domaine de Marcoux are obviously one of the oldest families in the Southern Rhone Valley, winemaking did not take place at Domaine de Marcoux until quite recently. The first vintage was 1989. In 1990, the began farming about 30% of their vineyards using only biodynamic experiments.
Six years later, the sisters, Catherine Armenier and Sophie Estevenin started managing Domaine de Marcoux after their brother Philippe Armenier moved to Napa Valley in California in 1995. Catherine Armenier is responsible for the wine making, and Sophie Armenier looks after the business end of the winery.
Domaine de Marcoux Vineyards, Wines, Winemaking
Domaine de Marcoux practices biodynamics farming of their 17.5 planted hectares of vines that are spread out into at least 10 separate parcels. On average, their vines are close to 50 years of age. They have old vines, the oldest are more than 100 years old.
They come from 2.3 hectares distributed among 3 parcels that are planted on a terroir of sandy soils. The best of those vines are planted in the La Crau vineyard.
That is the grape source for the Domaine de Marcoux Vieilles Vignes. They also have vines planted in the Les Esqueierons, Coste Froide, Les Les Gaumardes, Les Charbonnieres, Les Plages, Beaurenard, La Bigote and Les Bas Serres lieux-dits. At Domaine Marcoux, .8 hectares of their vines are reserved for the production of white wine grapes.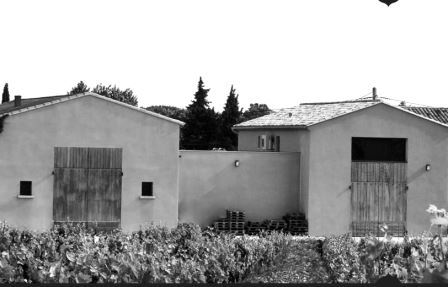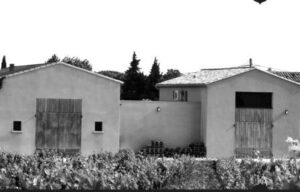 Domaine de Marcoux is a traditionally managed Rhone property. After harvest, a portion of the berries are destemmed and sorted to each specific grape variety before fermentation.
The fruit spends 3 weeks in concrete vats. Malolactic fermentation takes place in vats. At that point, the wine is aged in a combination of concrete vats and foudres for between 16 to 18 months before bottling.
The best vintages of Domaine de Marcoux are: 2022, 2021, 2020, 2019, 2018, 2017, 2016, 2015, 2012, 2010, 2009, 2007, 2005, 2003, 2001, 2000, 1998 and 1995.
Domaine de Marcoux produces 2 red Chateauneuf du Pape wines and 1 white Chateauneuf du Pape wine. The Armenier also produces wine in the Cotes du Rhone and Lirac appellations.
Domaine de Marcoux Chateauneuf du Pape is made from 80% Grenache, 10% Mourvedre, 7% Syrah and 3% Cinsault and from time to time, assorted grape varieties.
On average, the vines for this wine are close to 50 years of age. The Grenache is aged in a combination of tank and barrel. The Mourvedre and Syrah are aged in oak barrels. The production is about 2,400 cases per year.
Domaine de Marcoux Vieilles Vignes is for all intents and purposes, 100% old vine Grenache. This limited production wine is one of the top cuvees from Chateauneuf du Pape. The grapes come from 3 different parcels of their oldest vines that range in age from 80 years to over 100 years of age.
The vines are located La Crau, Gallimardes and Esquirons lieux-dits. The terroir for most of these vines is large, stone and rock strewn soils.
Generally speaking, Marcoux Vieilles Vignes is 100% Grenache, but the wine can also include a bit of Cinsault and other grape varieties. Marcoux VV is aged in cement tanks and oak barrels for about 18 months. On average, 300 cases are produced per year.
Marcoux Vieilles Vignes is a stunning style of Chateauneuf du Pape with sensuous textures and a beautiful purity of fruit. Expensive and hard to find, if you see a bottle and want to try one of the reference point wines in Chateauneuf du Pape, this is one of the wines to consider.
Domaine Marcoux Blanc is a blend of 70% Roussanne and 30% Bourboulenc. Aged in stainless steel tanks, the production is about 250 cases per year.
When to Drink Domaine Marcoux, Anticipated Maturity, Decanting Time
Domaine Marcoux can be enjoyed on the young side with 1-2 hours of decanting. This allows the wine to soften and open its perfume. Older vintages might need very little decanting, just enough to remove the sediment.
Domaine Marcoux is usually better with 5-7 years of bottle age. Of course that can vary slightly, depending on the vintage. In the best vintages the wine should be consumed within 5-25 years after the vintage.
Serving Domaine Marcoux with Wine, Food Pairing Tips
Domaine de Marcoux is best served at 15.5 degrees Celsius, 60 degrees Fahrenheit. The cool, almost cellar temperature gives the wine more freshness and lift.
Domaine Marcoux is best served with all types of classic meat dishes, veal, pork, beef, lamb, duck, game, roast chicken, roasted, braised, stewed dishes, sausage, grilled and smoked meats, barbecue and cassoulet. Domaine de Marcoux is also good with Asian dishes, hearty fish courses like tuna, mushrooms, cheese, pasta, eggplant and tomatoes.
The white wine of Domaine de Marcoux is best served with a myriad of different seafood dishes, shellfish, crab, lobster, sushi, sashimi, chicken, pork and veal, as well as Asian cuisine.
In 2003, the estate produced a special, single vineyard specific wine for that vintage only, Domaine de Marcoux Ephemere. The wine was made from a blend of 90% Grenache and 10% Syrah. The fruit came from vines that were purchased in 2002.
Domaine Marcoux also produces wine from the Cotes du Rhone and Lirac appellations, where they own 2.7 hectares of vines. The Lirac wine is sold under the name of Domaine Lorentine
Domaine de Marcoux Wine Tasting Notes
27 Vintages 152,661 Views Sort by Vintage-Rating
2020
Domaine de Marcoux Vieilles Vignes (Châteauneuf-du-Pape)

Purity, refinement, elegant and freshness are the hallmarks of this wine. The kirsch comes through with a vibrancy and peppery accent that is long, lifted and fresh, leaving with the right touch of spice in the balanced, harmonious finish. The wine is made from low-yielding100% old vine Grenache. Drink from 2023-2037.

726 Views

Tasted

Jan 27, 2023

2020
Domaine de Marcoux (Châteauneuf-du-Pape)

The kirsch and cherries with their strawberry and floral accents on the nose and palate are working well here. Medium-bodied, soft, fresh, vibrant, forward and elegant, shows a lot of purity on the palate and in the finish. Drink from 2022-2032.

773 Views

Tasted

Jan 27, 2023

2019
Domaine de Marcoux Vieilles Vignes (Châteauneuf-du-Pape)

Perhaps the most intensely floral wine of the vintage, the wine is pure, polished silk on the palate. Medium-bodied, elegant and refined, the purity in the kirsch, raspberry and cherries is sublime. Everything is working here in all the right ways from start to finish. This should age gracefully for at least 2 decades or longer. The wine is made from 100% old vine Grenache. Drink from 2023 - 2039

2,705 Views

Tasted

Jan 9, 2022

2019
Domaine de Marcoux Blanc (Châteauneuf-du-Pape)

White peach, melon, citrus, white flowers and a touch of smoke shine through on the nose. The wine is round, lush, forward and open, with a nice sweetness and lift to the fruits in the finish. This can be difficult to find as only 250 cases are produced in an average vintage. The wine blends 70% Roussanne with 30% Bourboulenc and should be ready to drink on release. Drink from 2022 - 2030

1,246 Views

Tasted

Jan 9, 2022

2019
Domaine de Marcoux (Châteauneuf-du-Pape)

Deep in color with an earthy floral, spice black raspberry and dark cherry scented nose. Ripe, round, sweet and lusciously textured, the wine is fresh, balanced and long, with a gorgeous dark cherry, elegantly textured finish. d The wine was made blending 80% Grenache, 10% Mourvedre, 7% Syrah and 3% Cinsault Drink from 2024 - 2034

2,149 Views

Tasted

Jan 9, 2022

2018
Domaine de Marcoux (Châteauneuf-du-Pape)

Sweet, juicy kirsch, flowers, black raspberry, herbs and a touch of pepper create the perfume. Round, juicy, fresh and sweet, the purity of kirsch in the medium-bodied finish is a total turn on. Because no VV was produced this year, this is especially strong and worth seeking out.

3,899 Views

Tasted

Nov 11, 2020

2016
Domaine de Marcoux Vieilles Vignes (Châteauneuf-du-Pape)

Pure elegance, silk, refinement and elegance and purity of fruit exist here. Everything about this wine shows purity, delicacy and charm. The kirsch is perfectly ripe, sweet, fresh and hits all the right spits. There is nothing out of place. This should age gracefully for at least 2 decades or longer. The wine is made from 100% old vine Grenache..

3,559 Views

Tasted

Sep 10, 2018

2016
Domaine de Marcoux (Châteauneuf-du-Pape)

Beautiful, sweet, cherry, floral and garrigue notes pop right up. On the palate, the wine is elegant, refined, soft and silky, with loads of ripe, juicy, sweet kirsch to keep you busy in the finish. The wine was made blending 85% Grenache, 10% Mourvedre and 5% Syrah.

2,737 Views

Tasted

Sep 10, 2018

2015
Domaine de Marcoux Vieilles Vignes (Châteauneuf-du-Pape)

Silky and elegant, with salty tannins, and sweet, ripe, juicy red fruits that show off their purity easily. Not a wine of density, but of balance, silkyness and harmony. The wine is made from 100% old vine Grenache..

3,555 Views

Tasted

Aug 21, 2017

2015
Domaine de Marcoux (Châteauneuf-du-Pape)

Focused on the earthy, garrigue side, this only adds to the luscious textured, elegant, sweet, ripe, red fruits that are so easy to find. Medium bodied and forward, the wine is refined, silky and ready to go.

2,607 Views

Tasted

Aug 21, 2017

2014
Domaine de Marcoux (Châteauneuf-du-Pape)

Forward, early-drinking, medium-bodied, elegant fresh, kirsch centered wine with floral and spice accents, that is already fun in your glass.

3,112 Views

Tasted

Feb 25, 2019

2013
Domaine de Marcoux (Châteauneuf-du-Pape)

From low yields of just 12 hectoliters per hectare, the wine kicks off with spicy, peppery, sweet, fresh, red fruits, flowers and herbs on the nose. Medium bodied, with an herbal, olive tinge to the finish, this will drink well on release.

2,315 Views

Tasted

Sep 14, 2016

2012
Domaine de Marcoux Vieilles Vignes (Châteauneuf-du-Pape)

The perfect blend of freshness, silky tannins, sweet kirsch, spice and elegance, with the ability to age and evolve and a fresh, peppery, pure, kirsch and black raspberry filled finish. This is quite elegant and classy in style.

2,886 Views

Tasted

Sep 14, 2016

Purity and elegance are seldom paired together as well as this. The fruit is ripe, sweet and fresh, with the right amount of spicy tannins in the mix. This stellar wine was produced from 100% old vine Grenache which reached 15% ABV.

3,137 Views

Tasted

Sep 17, 2014

2012
Domaine de Marcoux (Châteauneuf-du-Pape)

Fresh, peppery, kirsch, garrigue and black raspberry notes are found on the nose. Polished, soft and forward, give this medium bodied another year or two for the wine to open and expand.

2,912 Views

Tasted

Sep 14, 2016

Spicy red cherries, with a purity of fruit, elegant textures and a sweet, fresh, pure kirsch finish that is already showing their stuff.

3,107 Views

Tasted

Sep 10, 2014

2011
Domaine de Marcoux Vieilles Vignes (Châteauneuf-du-Pape)

Very successful for the vintage, the wine is soft, spicy, lush and round with a peppery, herbal, fresh finish. On the medium bodied palate, the sweet, ripe red fruits, kirsch and cherry tones really stand out.

3,167 Views

Tasted

Sep 14, 2016

Kirsch liqueur and garrigue on the nose are made even better by the soft, polished, elegant, layers of supple red fruits and spice. From 100% old vine Grenache, the wine reached 15% ABV and is clearly one of the stars of the vintage.

2,551 Views

Tasted

Aug 26, 2014

2011
Domaine de Marcoux (Châteauneuf-du-Pape)

Floral in nature, with sweet cherries and silky textures, the essence of kirsch shines through to the peppery finish.

3,343 Views

Tasted

Aug 19, 2014

2010
Domaine de Marcoux Vieilles Vignes (Châteauneuf-du-Pape)

What a great bottle of Chateauneuf du Pape is all about. Stylish, supple, rich, full bodied, lusty and packed with ripe, sweet, juicy, black raspberries, kirsch, garrigue, cracked black pepper and thyme. This is great now, but it's still just a baby. All that sweet, ripe fruit makes it fun and easy to drink. But it's only going to get better with age.

6,131 Views

Tasted

May 28, 2016

2010
Domaine de Marcoux (Châteauneuf-du-Pape)

Packed with fresh, ripe, sweet, jammy black raspberries, spice, kirsch and pepper notes, this lush, concentrated, rich, complex wine has a finish that truly leaves an impression.

3,303 Views

Tasted

May 28, 2013

2009
Domaine de Marcoux Vieilles Vignes (Châteauneuf-du-Pape)

This is such a great style of wine. It's rich, sultry, silky and plush, there is good weight, density, frehsness and length from all the perfectly, sweet, red fruits and peppery black raspberries. This should get even better with age, especially if it fills out a bit more.

4,421 Views

Tasted

Aug 20, 2014

2007
Domaine de Marcoux Vieilles Vignes (Châteauneuf-du-Pape)

This is one of the more expensive Chateauneuf du Pape wines in the marketplace. And it's worth every penny! This unique expression of Grenache from vines over 100 years old is close to being completely ff the hook. Ripe, dense, luscious, refined, supple, pure cherries, earth, strawberry and spice loads up and satiates your senses. This is refined, wild and sexy. Based on older vintages of Marcoux VV in my cellar, this is also one of the few wines from Chateauneuf that are better at 20, than they were at 2! In a few years, I imagine my score will look conservative.

4,448 Views

Tasted

Mar 15, 2012

2007
Domaine de Marcoux (Châteauneuf-du-Pape)

Fully mature, ripe, luscious, upfront, jammy, fleshy, opulent wine that is ready for current consumption. At 9 years of age, this is drinking at its peak level.

3,566 Views

Tasted

Aug 21, 2016

At close enough to 7 years of age, this is really drinking nicely. Round layers of peppery black raspberry, jam and spices that finish with lush, fresh, sweet, ripe kirsch sensations. Popped and poured on a cold wintery night, this really hit the spot.

3,718 Views

Tasted

Dec 9, 2013

2006
Domaine de Marcoux Vieilles Vignes (Châteauneuf-du-Pape)

The perfect example of freshness, purity of fruit, elegance and complexity. Popped and poured, the sweet, red, spicy berries tasted and felt great, making you want to go back for another sip.

3,014 Views

Tasted

Nov 26, 2016

A beautiful wine in a great style here. Elegant, silky, refined textures, a purity of fruit that makes you think you're eating the sweet, fresh cherries and black raspberries right off the vine. The finish feels great as it combines freshness with silk. Still young, at 10, this is showing well now, and it could get even better over the next 3-5 years.

2,814 Views

Tasted

Nov 9, 2016

2005
Domaine de Marcoux Vieilles Vignes (Châteauneuf-du-Pape)

This massive Chateauneuf du Pape is a marvel. How the Armeniery sisters keep everything in balance at 16.7% ABV is beyond me. But they do! The perfume jumps from the glass with jammy kirsch, pepper, black raspberry, earth, licorice, blueberry and forest scents. Full bodied and concentrated with waves of fruit, tannin and glycerin, the finish last close to 50 seconds.

3,340 Views

Tasted

May 4, 2012

2003
Domaine de Marcoux Vieilles Vignes (Châteauneuf-du-Pape)

Kirsch, jam, figs, herbs, and liqueur notes on the nose and palate popped with ease. There is a touch of heat and raisiny red fruits that protrudes. I liked this much better several years ago. If you have a bottle, it is time to drink up.

3,232 Views

Tasted

Sep 23, 2021

The initial pour was quite nice. Soft, round, balanced and loaded with kirsch and herbs. But after perhaps 30 minutes in the glass, the wine took on fig, raisin and chocolate sensation that overwhelmed any of the remaining red fruits. If you own this wine, drink it sooner than later, from your cellar and in the glass. This is not a good trajectory for the future I a sad to say.

3,898 Views

Tasted

Dec 23, 2019

Ready to go with its exotic kirsch, thyme, spice, black raspberry jam and cherry liqueur profile. Plush, polished and soft, there is no reason not to be drinking this today.

4,085 Views

Tasted

Aug 7, 2015

There is such a beautiful purity of fruit in this wine. It's the essence of sweet, ripe, blackberries. The texture is silky, the finish is long. Clearly, this is firing on all 12 cylinders today.

4,812 Views

Tasted

Aug 20, 2013

Wines like this remind me why Marcoux, especially with their Vieille Vignes is one of my favorite Chateauneuf du Pape producers. Fat, lush, ripe and sexy, this ripe wine is filled with jammy black raspberry, garrigue, cherry, wild strawberry, pepper and earthy aromas. Opulent in texture, the wine ends with rich layers of ripe and over ripe, pure red fruits. This is drinking great today. If you have at least a few bottles, there is no reason not to try it. This is pure, bottled, lusty pleasure.

3,038 Views

Tasted

Oct 4, 2012

2001
Domaine de Marcoux Vieilles Vignes (Châteauneuf-du-Pape)

Pure kirsch, garrigue and black raspberries pop as soon as the cork leaves the bottle. Pure silky cherries coat your palate, leaving you with fresh, pure red fruits, herbs and an interesting, discreet, buttery, chocolate note in the long, elegant finish. This is drinking great today. If you have a bottle, pop a cork!

3,662 Views

Tasted

Oct 11, 2015

Very dark colored wine. The aroma expresses extremely ripe fruit, almost porty. Dense, chewy, mouth feel. This is a big wine. Long powerful, ripe, red fruit and spice filled finish.

2,751 Views

Tasted

Aug 1, 2005

2000
Domaine de Marcoux Vieilles Vignes (Châteauneuf-du-Pape)

My penultimate bottle from the original case showed better than expected. I say that as it is only days from its 22nd birthday. Still fresh and vibrant, its kirsch, strawberry, and wild cherry persona are there, along with olives, herbs, spice, and as the wine remained in the glass, a touch of VA became apparent. Soft, silky, and loaded with olives and garrigue, along with more of those herbal, spiced cherries in the finish, this is still quitegood, though it has faded just a but from its peak. If you have a bottle, pop a cork. There is no reason to wait or decant.

2,286 Views

Tasted

Dec 27, 2021

This is probably at its peak today. Incredibly silky, elegant and refined, the wine offers fabulous complexity, concentration and purity. It's hard to find, but if mature, old vine Grenache is your thing, find a bottle and pop it!

3,685 Views

Tasted

Sep 25, 2018

It's hard to say which was a bigger turn on. The floral, licorice, kirsch and garrigue aromatics that popped from the bottle, let alone the glass. Or, the silky, plush, sexy, sweet, perfectly ripe, spicy earthy cherries in the finish. Either way, this winner is fully mature, does not want decanting and will probably remain at this peak level for at least another 3-5 years, if well stored.

3,841 Views

Tasted

Feb 7, 2016

Rich, silky textures, pure cherries, kirsch and spice, with a long, incredibly polished finish that keeps on going, this is about as sexy as Chateauneuf du Pape gets. There is no reason to wait to pop a cork if you own a bottle. If you don't own a bottle, and this sounds like it's your style of Chateauneuf, there is no reason not to find a bottle.

3,250 Views

Tasted

Mar 12, 2014

Complex aromas filled with kirsch and jammy black raspberries complicated by pepper and garrigue. Refined, round and polished, this plush, concentrated, rich, Chateauneuf du Pape ends with a polished, long, fresh wave of bright, silky textured, spicy plums. This is drinking beautifully at this point.

3,290 Views

Tasted

Feb 14, 2012

00 Marcoux VV is filled with wild strawberries, cherries, smoke, Provencal herbs, truffles and chocolate mint flavors. Intense, rich, elegant and pure, this finesse styled wine finishes with long sensations of ripe black and red cherries that feel great as they fill your mouth. This is a very tactile wine that drinks perfectly today.

3,857 Views

Tasted

Aug 22, 2010

Incredible levels of spicy, rich, perfectly red fruit, pepper, jam and herbs. Elegantly textured, plush and polished. This concentrated Chateauneuf du Pape wine ends in a long, silky flow of ripe kirsch and wild strawberry.

4,810 Views

Tasted

Dec 1, 2007

1995
Domaine de Marcoux Vieilles Vignes (Châteauneuf-du-Pape)

The last bottle from my case is a beauty, just like the other 11 bottles. With a nose of cherry griotte, herbs de Provence, and black pepper, the wine says hello. On the palate, the wine is still concentrated, with ripe, fresh, pure, red cherries, with a hint of wild, sweet and tart raspberry, licorice, strawberry and mint sneaking in. Silky and long, but with a bit of dryness in the endnote, the wine requires drinking. The last bottle was better but I am not complaining. At close to 25 years of age, this has more than delivered all the right stuff.

3,091 Views

Tasted

May 18, 2018

There are times when the last of a case was the best bottle, and this could be one of those times. Loads of kirsch, garrigue, black cherry, wild strawberry and pepper on the nose. Elegant and wild at the same time, the kirsch notes in the end tasted and felt great. Fully mature, there is no reason to wait, if you have a bottle in your cellar. This bottle was popped and poured, which was all it needed.

1,844 Views

Tasted

Apr 26, 2017

Silky, smooth and still fresh at 20 years of age, the ripe kirsch, flowers, pepper, garrigue and sweet cherries is a turn on. There is no reason to wait to pop a cork, but there is no rush to drink well stored bottles either.

2,456 Views

Tasted

Jul 20, 2015

Powerful long and concentrated, there is a dryness in the tannins that takes away from the ripe, deep, sweet, lush, showy, luscious red berries. This can age, as there is ample fruit and structure, but at close to 20 years of age, it is not going to get better and the tannins will probably remain in the wines character. This is a very good wine, but I prefer the later vintages like 98, 00, 01 etc.

2,536 Views

Tasted

Jul 20, 2014

Black pepper, herbs, blackberry jam, cherries, smoke and spice aromas lead to a fresh, black raspberry, strawberry and balsamic filled wine. Sensuous in texture, this is probably fully mature and should be consumed over the next 5 years.

2,135 Views

Tasted

Jul 16, 2011

1995 Marcoux VV is bottled, liquid pleasure. That should say enough, but for those seeking more detail... Pepper, garrigue, kirsch, jammy black raspberry, dark cherry and fennel aromatics pop from the glass within moments of being poured. In the mouth, the wine is rich, think, and concentrated, with potent layers of ripe cherry, jam, pepper and lavender. This is truly essence of old vine Grenache. The finish must last for over 50 seconds! 97 Pts

2,534 Views

Tasted

Oct 10, 2010

The color is reminiscent of Black Plums with lightening around the edges. On the nose, notes of blackberries, raspberries, pepper, licorice, coffee, root beer and flowers. The palate offers nice red fruit liqueur flavors. The weight on the finish is a combination of syrup of Grenache with a slight, chalky, tannic sensation. This wine truly coats your palate with an avalanche of ripe fruit. The flavors linger on the palate for believe it or not, close to 60 seconds!

2,327 Views

Tasted

Nov 20, 2003