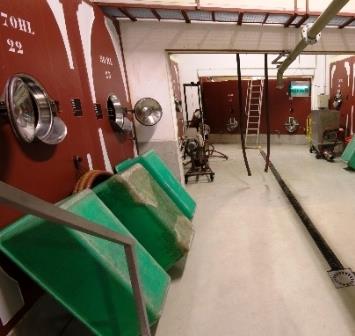 Learn everything about Domaine Giraud Chateauneuf du Pape with wine tasting notes, wine, and food pairing tips, best vintages, a history of the property, and information on the vineyards and winemaking. If you want to read about other important wineries and winemakers from the Rhone valley: Links to all Rhone Valley Wine Producer Profiles
Domaine Giraud History, Overview
Domaine Giraud does not have one of longer histories in the Chateauneuf du Pape region. The estate was born in 1974 when Pierre and Mireille Giraud decided to change careers from the distillery business to growers and winemakers.
The Giraud family started off by renting 4 hectares of land. The Giraud family were familiar with Chateauneuf du Pape and winemaking because they are related to the Armenier family, the owners of Domaine de Marcoux.
The next step in growth for Domaine Giraud took place in 1981 when the family gave up their distillery business to become full-time winemakers. By 1987, the estate had doubled in size. Since 1998, the domaine has been managed by Marie Giraud and Francois Giraud.
1998 was clearly a breakthrough year for Domaine Giraud. That year marked the debut vintage Giraud Cuvee Les Gallimardes, the first wine that was produced, bottled, and sold by the estate.
Prior to that vintage, as we mentioned, their harvest was purchased by negociants or other growers in the region. Since 2001, Marie Giraud and Francois Giraud have continued to increase their responsibilities at Domaine Giraud.
Domaine Giraud Vineyards, Wines, Winemaking
Domaine Giraud has continued to expand their holdings in the Southern Rhone. Currently, they own 17 hectares of vines that are spread over 64 separate parcels in the Chateauneuf du Pape appellation.
Their best vines are the Grenache that was planted more than 100 years ago in the La Crau sector. Starting in 2008, they shifted to 100% organic farming methods. With the 2011 vintage, Domaine Giraud was certified as a biodynamic estate as they only use 100% biodynamic vineyard techniques. Philippe Cambie consults the Domaine.
The best vintages of Domaine Giraud are: 2022, 2021, 2020, 2019, 2018, 2017, 2016, 2015, 2012, 2010, 2009, 2007, 2005 and 2001.
Domaine Giraud produces 3 red wines from Chateauneuf du Pape, 1 Chateauneuf du Pape Blanc and a wine from the Cotes du Rhone appellation.
Domaine Giraud Tradition – From an average blend of 60% Grenache, 35% Syrah, and 5% Mourvedre, the grapes are on average close to 70 years of age. The terroir is rocks, sand, clay, and limestone soils. The vines are planted in the Bois de la Ville, la Cerise, les Galimardes, le Tresquoys and Valori lieux-dits.
The grapes are completely destemmed. The Grenache and Mourvedre are aged in cement vats while the Syrah is aged in barrel for 12 months before bottling. The production averages between 2,000 and 2,500 cases.
Domaine Giraud Cuvee Gallimardes – The wine is named after the commune the vines are planted in. Produced from 90% old vine Grenache and 10% Syrah, the Grenache comes from vines that average close to 100 years of age. The terroir is pure galets in the les Galimardes lieu-dit.
Fully destemmed, the Grenache is aged in a combination of steel tanks and cement tank or steel tank, and the Syrah is aged in 10% new, French oak barrels for 12 months. The production is on averages close to 750 cases per year.
Domaine Giraud Les Grenache de Pierre – Produced from 100% old vine Grenache, the vines are mostly over 100 years of age. The vines are placed in 2 vineyards, La Crau, with its clay and sand soils, and in the Pignan lieu-dit, where you find more sand.
100% of the fruit is always destemmed. The wine is aged in vats and demi-muids for 12 months. The production is quite small at close to 250 cases per year.
Domaine Giraud Chateauneuf du Pape Blanc Cuvee Galimardes from a blend of Roussanne, Bourboulenc and Clairette. The production is close to 250 cases per vintage.
When to Drink Domaine Giraud, Anticipated Maturity, Decanting Time
Domaine Giraud can be enjoyed on the young side with decanting of 1-2 hours or so. This allows the wine to soften and open its perfume. Older vintages might need very little decanting, just enough to remove the sediment.
Domaine Giraud is usually better with 4-6 years of bottle age. Of course, that can vary slightly, depending on the vintage. In the best vintages, the wine should be consumed within 5-20 years after the vintage.
Serving Domaine Giraud with Wine, Food Pairing Tips
Domaine Giraud is best served at 15.5 degrees Celsius, 60 degrees Fahrenheit. The cool, almost cellar temperature gives the wine more freshness and lift.
Domaine Giraud is best served with all types of classic meat dishes, veal, pork, beef, lamb, duck, game, roast chicken, roasted, braised, stewed dishes, sausage, and cassoulet. Domaine Giraud is also good with Asian dishes, hearty fish courses like tuna, mushrooms pasta, eggplant, and tomatoes.
The white wine of Domaine Giraud is best served with a myriad of different seafood dishes, shellfish, crab, lobster, sushi, sashimi, chicken, pork, and veal, as well as Asian cuisine.
Domaine Giraud also owns 18 hectares of vines in the Cotes du Rhone and Lirac appellations. Domaine Giraud Sixte is a wine to look for from the Cotes the Rhone. This Vieille VIgnes is made from from 100% old vine Grenache that averages 60 years of age.
Domaine Giraud Wine Tasting Notes
36 Vintages 95,544 Views Sort by Vintage-Rating
2020
Domaine Giraud Cuvée les Grenaches de Pierre (Châteauneuf-du-Pape)

One of the wines of the vintage, here you find black raspberries, spice box, flowers and red fruits on the nose. Lusciously-textured with silky fresh, pure kirsch that comes in layers and a long, refined, yet rich finish that offers depth and purity, and just a hint of chocolate mint on the backend of the finish. This beautiful wine is produced from 100% old vine Grenache. Drink from 2023-2038.

632 Views

Tasted

Jan 27, 2023

2020
Domaine Giraud Les Gallimardes (Châteauneuf-du-Pape)

Crushed rocks, olives and flowers add complexities to the sweet red fruits and spice on the nose and on the medium-bodied palate. The wine offers freshness, earthy, herb-tinted, red berries, plums, black cherry, cocoa and minerality with just a touch of peppery spice that comes in on the endnote. The wine was made from blending 90% Grenache with 10% Syrah. Drink from 2023-2034.

549 Views

Tasted

Jan 27, 2023

2020
Domaine Giraud (Châteauneuf-du-Pape)

Flowers, herbs and spices on the nose are what you find before diving in to all the sweet, ripe, luscious, pure kirsch and cherries that hit all the right notes on your palate. The creamy, supple, fruit filled finish already showing well. The wine was made from 100% Grenache. Drink from 2022-2033.

597 Views

Tasted

Jan 27, 2023

2019
Domaine Giraud Cuvée les Grenaches de Pierre (Châteauneuf-du-Pape)

Incredibly concentrated, yet light on its feet, here you find countless layers of elegant, vibrant, sweet, perfectly ripe, silky red fruits with intensity, purity, length, balance and complexity. This beauty was produced from 100% old vine Grenache. It will age and evolve for 15-20 or more years with ease. Drink from 2025 - 2040

2,089 Views

Tasted

Jan 9, 2022

2019
Domaine Giraud Les Gallimardes (Châteauneuf-du-Pape)

Earthy, rich, spicy and fresh, the blend of olives, garrigue, peppery red fruits, strawberries and black raspberries hit the spot. Full, deep and concentrated, the wine is elegant, fresh and long. You can enjoy this young, or age it for more complexity and nuance. The wine was made from blending 90% Grenache with 10% Syrah. Drink from 2024 - 2037

1,467 Views

Tasted

Jan 9, 2022

2019
Domaine Giraud Les Gallimardes Blanc (Châteauneuf-du-Pape)

Rich, showy, fresh and packed with layers of lusciously. rich, opulent, white and yellow fruits with spices, this is already just great to drink. Drink from 2022 - 2032

1,286 Views

Tasted

Jan 9, 2022

2019
Domaine Giraud (Châteauneuf-du-Pape)

Soft, supple, sweet and fresh, the wine is already just great to taste with its layers of sweet, lusciously textured red fruits, hints of cocoa, herbs, pepper and dashes of olives. This is already a treat to taste and it is only going to get better with a few years in the bottle. The wine was made from 100% Grenache. Drink from 2023 - 2034,

1,815 Views

Tasted

Jan 9, 2022

2018
Domaine Giraud Cuvée les Grenaches de Pierre (Châteauneuf-du-Pape)

Incredibly silky, elegant, and fresh, the wine exudes its floral character with ease. The soft, pure red fruits on the palate and in the refined finish seal the deal. This beauty was produced from 100% old vine Grenache.

1,505 Views

Tasted

Oct 12, 2020

2018
Domaine Giraud Tradition (Châteauneuf-du-Pape)

The juicy, sweet ripe kirsch jumps out in the nose with ease. From there you find peppery cherries, black raspberries, round, soft, lush textures and a sweet, fresh, fruity finish that tastes as good as it feels. It's hard to believe this is their entry level wine, because it's so good.

2,235 Views

Tasted

Oct 12, 2020

2017
Domaine Giraud Cuvée les Grenaches de Pierre (Châteauneuf-du-Pape)

Elegant, soft, polished and pure, the sweet, kirsch and floral notes are in full force here. Medium bodied, fresh and lifted, there is a gorgeous sense of purity to the red fruits from start to finish. The stunning wine is made from 100% old vine Grenache.

3,051 Views

Tasted

Sep 21, 2019

2017
Domaine Giraud Tradition (Châteauneuf-du-Pape)

Camphor, herbs, licorice and spicy red fruits are over the place. The wine is soft, forward and with a nice depth of flavor, plus a generous kirsch and peppery finish. It's hard to believe this is their entry level wine, because it's so good. The wine was produced from blending 80% Grenache, 15% Syrah and 5% Mourvedre.

2,460 Views

Tasted

Sep 20, 2019

2016
Domaine Giraud Cuvée les Grenaches de Pierre (Châteauneuf-du-Pape)

Flowers, wild cherries and thyme shoot out of the glass. The wine is fresh, vibrant, refined and focused on its purity and elegance. There is depth, concentration, length and minerality with a real purity to the fruits that truly expresses itself here. The stunning wine is made from 100% old vine Grenache.

4,824 Views

Tasted

Sep 8, 2018

2016
Domaine Giraud Les Gallimardes (Châteauneuf-du-Pape)

Dark in hue, the wine offers rock and stones along with salty tannins that adds mineral nuances to the ripe, fresh, red berries. There is structure and backbone that will allow this beauty to age well. This is not a forward easy drinker, it will need time to fully express its full potential. The wine was made from blending 90% Grenache with 10% Syrah.

4,599 Views

Tasted

Sep 8, 2018

2016
Domaine Giraud Tradition (Châteauneuf-du-Pape)

Full bodied, intense, lush, rich and with a serious depth of flavor, the fruit is sweet, spicy, fresh, long and intense. The finish is packed with ripe, dark cherries, black plum, kirsch and peppery spices. It's hard to believe this is their entry level wine, because it's so good. The wine was produced from blending 80% Grenache, 15% Syrah and 5% Mourvedre.

4,794 Views

Tasted

Sep 8, 2018

2015
Domaine Giraud Les Gallimardes (Châteauneuf-du-Pape)

Deep ruby red in color, there is a complex spicy quality to the layers of red berries, pepper and garrigue, that tastes good and feels better. The purity in the kirsch really shows here. Concentrated, deep, richly textured and long, the wine was made from blending 90% Grenache with 10% Syrah.

3,378 Views

Tasted

Aug 21, 2017

2015
Domaine Giraud Cuvée les Grenaches de Pierre (Châteauneuf-du-Pape)

With a fabulous purity of fruit, silky tannins and a finish that does not want to quit, this just keeps on going. And that's a good thing, because I cannot get enough of all the juicy, ripe, kirsch, garrigue, wild strawberries and supple textures! The wine is made from 100% old vine Grenache.

2,581 Views

Tasted

Aug 21, 2017

2015
Domaine Giraud Tradition (Châteauneuf-du-Pape)

Kirsch, iron and garrigue make their presence with no effort. Silky, soft and sensuous, this elegantly styled Southern Rhone combines freshness with polished, red berries. Drink it young or age it. It's hard to believe this is their entry level wine, because it's so good. The wine was produced from blending 65% Grenache, 35% Syrah and 15% Mourvedre.

2,060 Views

Tasted

Aug 21, 2017

2014
Domaine Giraud Cuvée les Grenaches de Pierre (Châteauneuf-du-Pape)

Purity of fruit is the star here, with its mineral driven, smoky, kirsch profile, Supple, polished and long the sweet, fresh, red fruits really keeps the finish going. The wine was made from 100% old vine Grenache. This is one of the starts in this mixed vintage.

2,581 Views

Tasted

Jun 24, 2016

2014
Domaine Giraud Tradition (Châteauneuf-du-Pape)

With a blast of garrigue, kirsch and licorice, complicated by floral notes, the wine is polished, suave, spicy and fresh, with good purity of fruit and an elegant, sweet, strawberry and kirsch filled finish.

3,493 Views

Tasted

Jun 23, 2016

2013
Domaine Giraud Cuvée les Grenaches de Pierre (Châteauneuf-du-Pape)

Giraud les Grenaches Pierre - One of the stars of the vintage, with its pure red, sweet, ripe, polished fruits, freshness and all of its silky, spice filled, elegant charms. This beauty was produced as you might expect from the name using 100% old vine Grenache.

1,989 Views

Tasted

Sep 7, 2015

2013
Domaine Giraud Tradition (Châteauneuf-du-Pape)

Sweet kirsch and fennel in the nose, with a blast of soft, elegantly polished red cherries in the sweet finish. 80% Grenache, 15% Syrah and 5% Mourvedre produced the blend.

3,290 Views

Tasted

Sep 7, 2015

2013
Domaine Giraud Premices (Châteauneuf-du-Pape)

Elegant in style, this lighter, fresh, kirsch filled wine is perfect for early drinking pleasure. The wine was made from 100% Grenache.

2,940 Views

Tasted

Sep 7, 2015

2012
Domaine Giraud Cuvée les Grenaches de Pierre (Châteauneuf-du-Pape)

Silky, clean and pure, the fresh peppery kirsch notes of the 100% old vine Grenache expand in the lush textured, pure finish. One of the stars of the vintage.

3,870 Views

Tasted

Sep 17, 2014

2012
Domaine Giraud Tradition (Châteauneuf-du-Pape)

From a Syrah heavy blend of 60% Grenache, 35% Syrah and 5% Mourvedre, there is a mineral component that comes through, along with fennel, fresh herb, plum and cherry tones. On the palate, there is a mouthful of sweet, fleshy, fresh red fruits and spice that lingers.

2,625 Views

Tasted

Sep 10, 2014

2012
Domaine Giraud Premices (Châteauneuf-du-Pape)

Fresh cut herbs and crushed red fruits combine to produce a sweet, silky, kirsch filled wine of pure, forward drinking pleasure.

1,800 Views

Tasted

Sep 10, 2014

2011
Domaine Giraud Cuvée les Grenaches de Pierre (Châteauneuf-du-Pape)

Made from 100% old vine Grenache, this lush, soft and silky Chateauneuf shows good richness and sensuous textures from start to finish. There is a blast of fresh, cherry and jam in the end note that lingers. This is another star of the vintage.

1,928 Views

Tasted

Aug 26, 2014

2011
Domaine Giraud Les Gallimardes (Châteauneuf-du-Pape)

This delicious wine pops with flowers, cherries and earthy scents that bring you to a mouthful of freshness, flavor and silky textured, ripe, spicy, sweet red berries. There is a good prolonged sensation of freshness in the finish. The wine was produced from 90% Grenache and 10% Syrah.

2,294 Views

Tasted

Aug 26, 2014

2011
Domaine Giraud Tradition (Châteauneuf-du-Pape)

Kirsch, kirsch and more kirsch, coupled with spicy, peppery notes lead to an approachable, rich, sweet, silky finish.

1,540 Views

Tasted

Aug 19, 2014

2010
Domaine Giraud Cuvée les Grenaches de Pierre (Châteauneuf-du-Pape)

Produced from 100% old, vine Grenache that dates back more than 100 years, the wine is deep in color. This is so rich, it seems like there is enough dry, extract in this one bottle for a magnum sized format. There is a beautiful purity to the fresh, sweet, ripe and over ripe black and red berries that coupled with intensity and elegant textures, leaves a real impression on the taster. This wine really fills your mouth and coats your palate. WOW!

5,978 Views

Tasted

May 31, 2013

2010
Domaine Giraud Les Gallimardes (Châteauneuf-du-Pape)

From 90% old vine Grenache that is more than 100 years old, the wine screams with black raspberry jam, kirsch, black cherry liqueur, spice box and licorice notes. Elegantly textured, with layer after layer of dense, ripe berries, the wine ends with a lavish display of ripe fruits.

4,225 Views

Tasted

May 31, 2013

2010
Domaine Giraud Tradition (Châteauneuf-du-Pape)

I do not know where I've been for the past few years, because I was not aware of the level of wine coming from Domaine Giraud. Consulted by Philippe Cambie, this is one of the hottest new estates in Chateauneuf du Pape. Not only is this absolutely delicious, it sells for more than a fair price for a wine of this quality. Packed with sweet fresh, jammy berries, cherry liqueur, gariggue and peppery, black raspberries, this beauty is already delivering the goods.

3,732 Views

Tasted

May 29, 2013

2009
Domaine Giraud Les Gallimardes (Châteauneuf-du-Pape)

Another fabulous vintage from Domaine Giraud that is coming along perfectly. The wine has depth of flavor, concentration, ripe, juicy, fresh, polished red fruits and an elegant, full endnote that could not deliver any more kirsch, dark cherries and licorice if it tried. This is really showing well today.

3,034 Views

Tasted

Aug 24, 2017

2009
Domaine Giraud Tradition (Châteauneuf-du-Pape)

Luscious, lusty and just all out fun to drink. The round textured, fresh, juicy, sweet, ripe black raspberries, kirsch and garrigue is showing great today, if you like your Chateauneuf on the young side, like I do.

2,210 Views

Tasted

Nov 30, 2014

2007
Domaine Giraud Les Gallimardes (Châteauneuf-du-Pape)

Lush, fat, rich, juicy, opulent ripe fruits look, taste and feel great on your palate. Full bodied and concentrated, you find black pepper, fresh herbs, kirsch, jammy plum and thyme that stick with you from start to finish. This is in a really nice place for drinking today.

2,823 Views

Tasted

Jun 3, 2017

2005
Domaine Giraud Les Gallimardes (Châteauneuf-du-Pape)

A really nice with with a strong aromatic profile, full bodied and structured fruits. This is drinking quite well today.

2,225 Views

Tasted

Jun 18, 2017

2005
Domaine Giraud Cuvée les Grenaches de Pierre (Châteauneuf-du-Pape)

Full bodied, concentrated and a but firm, still, there is a lot like here, with all its kirsch, garrigue and spice.

3,045 Views

Tasted

Jun 18, 2017