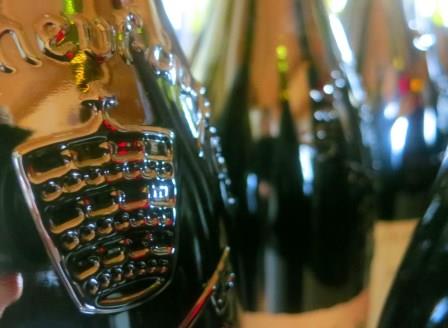 Learn everything about Domaine Lucien Barrot Chateauneuf du Pape with wine tasting notes, wine and food pairing tips, best vintages, a history of the property, information on the vineyards, and winemaking. If you want to read about other important wineries and wine makers from the Rhone valley: Links to all Rhone Valley Wine Producer Profiles
Domaine Lucien Barrot History, Overview
Domaine Lucien Barrot is a relatively new estate in the Rhone Valley. The winery was not founded until 1975. But that does not change the fact that the Barrot family is one of the older families in the Southern Rhone Valley.
In fact, they can date their arrival in the region all the way back to 1690! The vineyard for what we know of today as Domaine Lucien Barrot came into being after Eugene Gabriel passed away and divided his 5 hectares of vines equally, between his four sons.
At first, the wine was sold under the name of Cuvee du Tastevin. A lawsuit was filed by Clos Vougeot from Burgundy, forcing Lucien Barrot to change the name, and Domaine Lucien Barrot was born. Today, the estate is managed by Regis Barrot.
Domaine Lucien Barrot Vineyards, Wines, Winemaking
Domaine Lucien Barrot owns 16 hectares of vines in the Chateauneuf du Pape appellation. The vines are placed in 24 different parcels dispersed throughout the appellation. This can be a challenge to blend, with so many different terroirs and levels of ripeness for the grapes. They also own 2 more hectares of vines that are sold as Vin de Pays.
Domaine Lucien Barrot produces 1 red Chateauneuf du Pape wine.
Domaine Lucien Barrot Chateauneuf du Pape Rouge is made from a blend of 80% Grenache, 10% Syrah, 5% Cinsault and 5% Mourvedre. On average, the vines are close to 50 years of age. The terroir is galets and limestone soils in the Colombis, Deves d'Estouard, le Font du Pape, Pignan and les Terres Blanches lieux-dits.
The wine remains quite traditional in style. It's definitely a throwback to the old days. There is nothing modern about the wine's style. The grapes are not destemmed, they are completely whole bunch fermented, meaning that the grapes are fermented with the stems still attached.
Vinification takes place in old, cement vats. The wine is aged for 12, 24 or 36 months in large, old foudres before bottling. Bottling does not always take place at the same time. Wines can be bottled on demand, as the wines are sold, or they can be bottled when they are released. This can cause bottle variation in the wines of Lucien Barrot.
On average, the annual production for Domaine Lucien Barrot is close to 5,000 cases per vintage.
When to Drink Lucien Barrot, Anticipated Maturity, Decanting Time
Lucien Barrot can be enjoyed on the young side. Young vintages can be popped and poured, or decanted for about 1 hour. This allows the wine to soften and open its perfume. Older vintages might need very little decanting, just enough to remove the sediment.
Lucien Barrot is usually better at 2-3 years of bottle age. Of course, that can vary slightly, depending on the vintage. In the best vintages, the wine should be consumed within 3-8 years after the vintage.
Serving Lucien Barrot with Wine, Food Pairing Tips
Lucien Barrot is best served at 15.5 degrees Celsius, 60 degrees Fahrenheit. The cool, almost cellar temperature gives the wine more freshness and lift.
Lucien Barrot is best served with all types of classic meat dishes, veal, pork, beef, lamb, duck, game, roast chicken, roasted, braised, stewed dishes, sausage, grilled meats, barbecue, and cassoulet. Lucien Barrot is also good with Asian dishes, and hearty fish courses like tuna, mushrooms, cheese, pasta, eggplant, and tomatoes.
Domaine Lucien Barrot et Fils Wine Tasting Notes
6 Vintages 16,193 Views Sort by Vintage-Rating
2017
Domaine Lucien Barrot et Fils (Châteauneuf-du-Pape)

Medium bodied, light, bright, fresh, red berries with a nice, spicy, crisp, red note character. The wine was made from blending, 80% Grenache, 15% Syrah and various other varieties.

2,361 Views

Tasted

Sep 21, 2019

2016
Domaine Lucien Barrot et Fils (Châteauneuf-du-Pape)

Medium bodied, with spicy, red fruits, olives and a strong herbal note in the finish. The wine was made from blending, 80% Grenache, 15% Syrah and various other varieties.

2,388 Views

Tasted

Sep 6, 2018

2015
Domaine Lucien Barrot et Fils (Châteauneuf-du-Pape)

Medium bodied, forward and fresh, with sweet, spicy, red fruits that were made for early, charming, drinking pleasure.

2,501 Views

Tasted

Aug 21, 2017

2012
Domaine Lucien Barrot et Fils (Châteauneuf-du-Pape)

Medium bodied,soft, forward, earthy, bright, fresh, red berry and herb focused wine for early drinking consumption.

2,012 Views

Tasted

Mar 8, 2018

2010
Domaine Lucien Barrot et Fils (Châteauneuf-du-Pape)

Forward, medium bodied, with fresh, sweet, spicy, peppery, red fruits and soft textures. This is already drinking well and will not make old bones.

3,517 Views

Tasted

Nov 8, 2015

2007
Domaine Lucien Barrot et Fils (Châteauneuf-du-Pape)

Medium bodied, fully mature, rustic, but still charming and focused on its bright red fruits, herbs and earth.

3,414 Views

Tasted

Sep 16, 2015