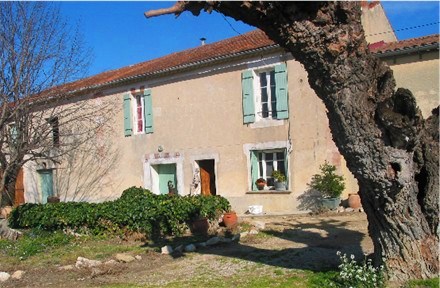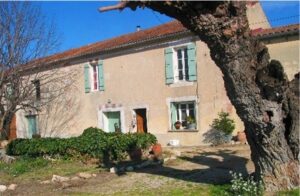 Learn everything about Domaine Charvin, Chateauneuf du Pape with wine tasting notes, wine, and food pairing tips, best vintages, a history of the property, and information on the vineyards and winemaking. If you want to read about other important wineries and winemakers from the Rhone valley: Links to all Rhone Valley Wine Producer Profiles
Domaine Charvin History, Overview
Domaine Charvin was created in 1851 by Guillaume Charvin. For one hundred years, the harvest of Domaine Charvin was sold in bulk to negociants in the Southern Rhone Valley. To commemorate owning the vineyards for a full century, for the first time, the Charvin family bottled their wine in 1951. The practice of selling their wine to negociants continued for some time after that.
The modern age of Domaine Charvin begins in 1990 when the young, energetic Laurent Charvin begins to manage the estate. Laurent Charvin was the sixth generation of his family to work at the property. 1990 was the first vintage for the Domaine in which they produced, bottled, and sold their own wine.
When Laurent Charvin took over managing the Domaine, they had about 4 hectares of vines. Today, they have twice that amount of vineyard land cultivated with vines.
The Chateauneuf du Pape vineyards of Domaine Charvin include 8.2 hectares of vines in Chateauneuf du Pape, in the lieux-dits of Cabrieres and Maucoil and lArnesque, in the northwest part of the appellation. Today, the estate is managed by Isabelle Charvin and Laurent Charvin.
They also own 12 hectares of vines in the Cotes du Rhone appellation. Their vineyards have a terroir of rocks and stones over limestone and clay soils. On average, their vines are close to 50 years of age.
The best vintages of Domaine Charvin are: 2022, 2021, 2020, 2019, 2018, 2017, 2016, 2015, 2012, 2010, 2009, 2007, 2006, 2005, 2003, 2001, 2000, 1998 and 1990.
Unlike most producers in Chateauneuf du Pape, Domaine Charvin makes only one red Chateauneuf du Pape wine. Since 2015, they have started producing white wine. Domaine Charvin remains a staunch traditionalist producer.
While many producers make special, high-end cuvee's, that does not work for Charvin. At Charvin they believe that would take away from their main wine. Not only are the views traditional at Charvin, so is the winemaking at Domaine Charvin.
Domaine Charvin Vineyards, Wines, Winemaking
The fruit used to produce Domaine Charvin rouge ranges from 80-90% old vine Grenache with Syrah, some Mourvedre, and a bit of Vaccarese. The Vaccarese are old vines that were planted in the 1960s. The terroir is mostly rocks and sand. The vines are on average close to 50 years of age. The majority of their vines are planted in 2 lieux-dits, Cabrieres, and Maucoil. A small portion is planted in lArnesque.
The grapes are not destemmed. The fruit is whole-bunch fermented. Vinification takes place in traditional cement vats. There are daily pump-overs during the maceration and fermentation period which could last about three weeks on average, give or take.
The wine is aged in traditional red, cement tanks for an average of 21 months before bottling. The production of Domaine Charvin is close to 2,500 cases per vintage.
Since 2015 Domaine Charvin has been making a Chateauneuf du Pape Blanc from about 90% Clairette Rose and 10% Bourboulenc. The Clairette Rose is interesting because the vines are old, having been planted in 1968. Not much is made as the production is on average about 75 cases of wine per vintage.
When to Drink Domaine Charvin, Anticipated Maturity, Decanting Time
Domaine Charvin can be enjoyed on the young side. Young vintages can be decanted for 1-2 hours. This allows the wine to soften and open its perfume. Older vintages might need very little decanting, just enough to remove the sediment.
Domaine Charvin is usually better with 4-7 years of bottle age. Of course, that can vary slightly, depending on the vintage. In the best vintages, the wine should be consumed within 6-20 years after the vintage.
Serving Domaine Charvin with Wine, Food, Pairing Tips
Domaine Charvin is best served at 15.5 degrees Celsius, 60 degrees Fahrenheit. The cool, almost cellar temperature gives the wine more freshness and lift.
Domaine Charvin is best served with all types of classic meat dishes, veal, pork, beef, lamb, duck, game, roast chicken, roasted, braised, stewed dishes, barbecue, sausage, and cassoulet. Domaine Charvin is also good with Asian dishes, hearty fish courses like tuna, mushrooms pasta, eggplant, tomatoes, and cheese.
Domaine Charvin Character and Style
Domaine Charvin is a beautiful expression of Chateauneuf du Pape with a focus on purity, ripe red fruits, and freshness, with elegant, silky textures. The wines of Charvin age and evolve quite nicely.
While many producers have steadily increased the price of their wines, Charvin has been slower than some of his peers to raise prices which has kept a lot of long-time customers, including me very happy.
Domaine Charvin Wine Tasting Notes
18 Vintages 125,933 Views Sort by Vintage-Rating
2020
Domaine Charvin (Châteauneuf-du-Pape)

Elegant, silky and fresh, with a rich core of sweet, ripe, pure kirsch, herbs and licorice, that continues from the nose, to the mid-palate and completes the wine all the way through to the long, refined, cherry and red plum finish. The wine was made blending roughly 82% Grenache, 5% Syrah, 5% Mourvedre, 4% Counoise and 4% Vaccarese. Drink from 2023-2037.

1,086 Views

Tasted

Jan 27, 2023

2018
Domaine Charvin (Châteauneuf-du-Pape)

Medium-bodied, forward, floral, fresh, and focused on its sweet, ripe, kirsch, black raspberry, herb, and white pepper profile, the wine is soft, refined, and ready to go in its youth, though its energetic, lifted, red berry fruits will be even better with a few years of age. Drink from 2022-2037.

2,771 Views

Tasted

Aug 16, 2022

2017
Domaine Charvin (Châteauneuf-du-Pape)

Hints of licorice, ripe, dark red fruits, earth and herbs start off the wine. On the palate, the wine is sweet, juicy, fresh and fruity and a nice, soft, elegance to the finish. The wine was made blending 82% Grenache, 5% Syrah, 5% Mourvedre, 4% Counoise and 4% Vaccarese.

2,638 Views

Tasted

Sep 21, 2019

2016
Domaine Charvin (Châteauneuf-du-Pape)

Polished, purity of fruit, length and freshness, along with silky textures, concentration and symmetry. Classic in all the right ways, this is a knockout wine and a contender for the best vintage Charvin has produced yet! The wine was made blending 82% Grenache, 5% Syrah, 5% Mourvedre, 4% Counoise and 4% Vaccarese.

5,467 Views

Tasted

Sep 18, 2018

2015
Domaine Charvin (Châteauneuf-du-Pape)

Showing a good depth of color, with loads of juicy, fleshy, black cherries, plums, thyme, cracked pepper and herbs. The wine balances between perfectly, being full bodied and elegant, with a soft, silky, spicy, kirsch packed finish.

5,072 Views

Tasted

Aug 21, 2017

2014
Domaine Charvin (Châteauneuf-du-Pape)

Sensuous red fruits, silky textures and fresh, red berries with a spicy note that sticks with you from start to finish. Polished and pure, this is already quite tasty to drink.

2,905 Views

Tasted

Jun 23, 2016

2013
Domaine Charvin (Châteauneuf-du-Pape)

With ripe, sweet, fresh red cherries, herb and earthy notes, that are made even better with the blast of kirsch and garrigue in the soft, silky, elegant, finish.

2,525 Views

Tasted

Sep 7, 2015

2012
Domaine Charvin (Châteauneuf-du-Pape)

Tight at the moment, air and coaxing helped, but it took effort to find the fresh, bright, red berries, thyme and assorted herbs. Medium bodied, and on the fresh side, the finish leaves you with just picked strawberry, kirsch and spice sensations. I'm waiting a few more years before popping another cork.

6,022 Views

Tasted

May 28, 2016

2011
Domaine Charvin (Châteauneuf-du-Pape)

Elegant, silky, fresh and forward, this medium bodied wine is already tasty, with its soft, silky textured, bright red berry fruits, earth, spice and floral notes.

2,246 Views

Tasted

Mar 5, 2018

2010
Domaine Charvin (Châteauneuf-du-Pape)

Concentrated, long, deep and fresh, layers of sweet, jammy black raspberries, kirsch and peppery red fruits feel great on your palate. Elegance and depth create a great expression of Grenache that ends with a basket of ripe cherries. Good now, this is going to get better with a few more years of bottle age.

5,829 Views

Tasted

Jan 20, 2014

2009
Domaine Charvin (Châteauneuf-du-Pape)

Voluptuous textures, sweet, ripe, black raspberries, kirsch, pepper and wet earth scents and a long, tasty, fresh, jammy, red berry and spice filled finish is found in sip after sip of this beauty. Perfect with Coq a Vin on a cold, wintery night. OK, cold for Los Angeles.

4,315 Views

Tasted

Dec 5, 2013

2007
Domaine Charvin (Châteauneuf-du-Pape)

For Charvin, this is a dark, round, voluptuous, ripe style of wine, packed with ripe, dark red fruits and a creamy texture. The wine needs no decanting. Just pop, pour and enjoy. Drink from 2022-2027.

3,394 Views

Tasted

Aug 1, 2022

In the sweet spot, the wine is ripe, but not overripe, lush, round, rich, concentrated and loaded with sweet, supple textured, silky, red fruit. There is no jam, fig or overripeness here. This is a very textural wine. No decanting needed. Just pop and pour.

4,259 Views

Tasted

Dec 16, 2020

Lush, dense, full bodied, round, concentrated wine with very ripe, dark cherry, fig and kirsch notes. Expressive and, easy to drink, there is no heat, but this is a very, ripe, sweet, richly textured wine.

5,267 Views

Tasted

Aug 20, 2018

Intense, classically styled, with ample concentration and structure to age and develop, the fruit is fresh, sweet and spicy with fresh, black raspberries, cherries, thyme and garrigue. I'm going through many of my 2007 Chateauneuf du Pape's at the moment, and 2007 Charvin is the most youthful and least developed so far. This was produced from a blend of 85% Grenache, 5% Syrah, 5% Mourvedre and 5% Vaccarese.

4,970 Views

Tasted

Nov 28, 2014

This powerful perfume jumps with fresh kirsch liqueur, jam, pepper, spice, black raspberry and earthy aromas. Soft, opulent and multi layers, this suave Chateauneuf du Pape finishes with a long, pure sensation of ripe sweet, black cherries, strawberry and fresh pepper.

9,887 Views

Tasted

Feb 21, 2011

2006
Domaine Charvin (Châteauneuf-du-Pape)

A beautiful nose of Fromboise, kirsch, pepper, spice and earth open to an elegantly textured, soft, sweet, wine that finishes with supple, black and red, spicy cherries. Drink it now, or age it for up to a decade, it's a very stylish Chateauneuf du Pape.

4,515 Views

Tasted

Nov 24, 2012

2005
Domaine Charvin (Châteauneuf-du-Pape)

Starting to show its ample, fresh, spicy, kirsch, strawberry and peppery, soft charms, this finesse styled wine is ready for drinking.

4,300 Views

Tasted

Aug 11, 2014

2003
Domaine Charvin (Châteauneuf-du-Pape)

Definitely fully ready for prime time, with its pepper, jammy kirsch, black raspberry and garrigue filled personality. I liked the wine, but it could use a little more freshness in the spicy, red berry, dominated finish.

3,714 Views

Tasted

Mar 13, 2013

2001
Domaine Charvin (Châteauneuf-du-Pape)

At the peak of maturity, this elegant, refined, silky, vibrant wine is packed with peppery, spicy, perfectly ripe, sweet, fresh strawberry, cherry and black raspberries with flowers, herbs and a touch of chocolate on the nose and palate. I love this style of wine. No decanting warranted.

2,956 Views

Tasted

Jul 10, 2021

At peak, this has all the ripe, sweet, juicy, earthy kirsch, garrigue, pepper and licorice you need from start to finish. Lusciously textured, with loads of licorice infused cherries and herbs on the palate, no decanting is needed. Just pop and pour.

2,357 Views

Tasted

Jul 24, 2019

The best bottle of this wine I've ever tasted! The wine was all about the purity of the sweet, fresh cherries, luscious, rich textures, concentration of fruit and the bouquet, with its kirsch, garrigue, charcoal, licorice, spice and floral charm. Part of what makes this really great is the balance between elegance and lusty southern Rhone charm. This is fully mature and will remain at this level for at least another 5 years. If you have a bottle, you should be popping a cork on this beauty today!

3,806 Views

Tasted

Jun 6, 2016

With 20 minutes of air, the wine softened and delivered fresh, ripe, sweet, cherries, spice, kirsch and fresh herbs. Silky in texture, refined in personality, after 60 minutes of air, the finished developed a green, stemmy, olive note that was quite strong. Some tasters will find that a complexity, others will see it as off putting.

4,291 Views

Tasted

Jun 1, 2013

Fresh cracked black pepper, sweet black raspberries, cherries, strawberries and earth produce a strong perfume. Silky in texture, the wine finishes with elegant sensations of an array of ripe, red berries and herbs. There is a lot of purity in the fruit.

5,057 Views

Tasted

Aug 24, 2011

2000
Domaine Charvin (Châteauneuf-du-Pape)

Perhaps a bit past its prime, yet, you still find plenty of peppery red fruits, a bushel of herbs, thyme and flowers, and a medium-bodied hit of black raspberries and bright, peppery, cherries and green olives in the finish. This is not a wine to hold for further development.

2,047 Views

Tasted

Nov 28, 2021

A nice wine here, with lots of sweet, soft, elegant, ripe, red fruits. But the fruit seems to be fading. I'd drink this sooner than later before it looses more of its fruit.

3,364 Views

Tasted

May 30, 2014

Krisch, garrigue, pepper and strawberry jam make up the perfume. Rich and elegantly textured, this spicy, sweet, juicy wine finishes with soft black raspberry jam and dark cherry. This suave wine is fully mature.

4,831 Views

Tasted

Apr 25, 2011

This beautifully styled Chateauneuf du Pape was filled with jammy strawberry, garrigue, licorice, black cherry and fresh cherry aromas. Soft and silky in the mouth, this medium bodied, mature wine ends with flavors of fresh, spicy, jammy cherries. This wine should be drunk up over the next few years as it lacks the same level of power is showed a few years ago.

5,266 Views

Tasted

May 30, 2010

2000 Charvin is filled with fresh ground pepper, jammy black raspberry, kirsch, plum and Provencal herb scents. Long, fresh, intense and mouth filling, this mature Chateauneuf du Pape ends with ripe, spicy, jammy, black cherry flavors.

3,378 Views

Tasted

Nov 25, 2009

1998
Domaine Charvin (Châteauneuf-du-Pape)

Fully mature, aromas of fresh, Provencal herbs, black cherry, licorice and wet earth pop with little effort. Lush, silky and fresh, the kirsch finish carries through.

3,010 Views

Tasted

Nov 14, 2015

1998 Charvin personifies the elegant side of Chateauneuf du Pape. With its cherry, strawberry and rhubarb fruit profile, complicated by spice and freshly ground pepper, this suave, richly textured wine is probably close to fully mature. The wine ends with a fresh, bright fruit and slice profile.

4,388 Views

Tasted

Sep 13, 2010