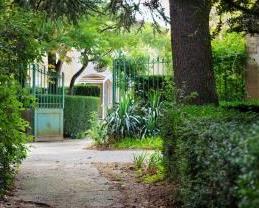 Learn everything about Chateau de Manissy Chateauneuf du Pape wine producer profile with wine tasting notes, wine, and food pairing tips, best vintages, a history of the property, information on the vineyards and winemaking. If you want to read about other important wineries and winemakers from the Rhone valley: Links to all Rhone Valley Wine Producer Profiles
Chateau de Manissy History, Overview
Chateau de Manissy dates all the way back to the 1700s. At the time the estate was founded, it was owned by a Religious Order, The Missionary Fathers of the Holy Family. The vineyard has old vines. The oldest of which were planted as far back as 1916.
The owner of Chateau de Manissy, Florian Andre learned about the wine business and how to make wine as an apprentice to Christophe Delorme, of Domaine de la Mordoree, located in Tavel. This is important because Chateau de Manissy is quite well-known for its Rose' wine.
Before Florian Andre could start his Domaine, he had to convince the Monks that he was the right person to create and manage the vineyards. He was finally successful and began producing his own wines starting with the 2004 vintage.
Chateau de Manissy Vineyards, Wines, Winemaking
Chateau de Manissy is primarily known for their high-quality Rose' wines, which all come from Tavel. They also make wine in other Southern Rhone Valley appellations including the Cotes du Rhone appellation and in Lirac as well.
Recently, they added a new wine to their portfolio when they started producing a red Chateauneuf du Pape wine from a small, 1-hectare parcel of vines.
All of their vineyard farming is done using Agriculture Biologique farming techniques. At Chateau de Manissy, they try to leave barely a small footprint, preferring to remain as green as possible. With that in mind, they farm a large portion of their vineyards using horses, along with tractors.
Chateau de Manissy Trinite Chateauneuf du Pape is produced from 100% Grenache. In the past, some vintages included small amounts of other grape varietals including Counoise and Mourvedre. Although in other years, some vintages were made using only Grenache.
The terroir is unique for Chateauneuf du Pape as it is mostly 100% limestone. The vinification of Chateau de Manissy 50% takes place in traditional, cement vats with epoxy lining and 50% in demi-muid for an average of 12 months prior to bottling.
Chateau de Manissy Terres Blanches takes its name from the lieu-dit where the vineyard is located. The vines are planted in a terroir of limestone, rocks, and blue clay, which adds depth to the wine. The grapes are destemmed. The wines are aged in a combination of concrete tanks and 500-liter barrels of between 9-12 months. The production is quite low here, as on average maybe 150 cases are produced in an average vintage.
With not much more than 1 hectare of vines, as you can imagine, the production is quite limited. About 300 cases of wine are produced here each year.
When to Drink Chateau de Manissy, Anticipated Maturity, Decanting Time
Chateau de Manissy can be enjoyed on the young side. Young vintages can be popped and poured, or decanted for about 1 hour, give or take. This allows the wine to soften and open its perfume. Older vintages might need very little decanting, just enough to remove the sediment.
Chateau de Manissy is usually better with 2-3 years of bottle age. Of course, that can vary slightly, depending on the vintage. In the best vintages, the wine should be consumed within 2-9 years after the vintage.
Serving and Decanting Chateau de Manissy with Wine, Food Pairing Tips
Chateau de Manissy is best served at 15.5 degrees Celsius, 60 degrees Fahrenheit. The cool, almost cellar temperature gives the wine more freshness and lift.
Chateau de Manissy is best served with all types of classic meat dishes, veal, pork, beef, lamb, duck, game, roast chicken, roasted, braised, stewed dishes, sausage, grilled meats, barbecue, and cassoulet. Chateau de Manissy is also good with Asian dishes, hearty fish courses like tuna, mushrooms, cheese, pasta, eggplant, and tomatoes.
Château de Manissy Wine Tasting Notes
7 Vintages 9,275 Views Sort by Vintage-Rating
2020
Château de Manissy Terres Blanches (Châteauneuf-du-Pape)

Cherry griotte, herbs, flowers and citrus open the wine. On the palate, the wine is forward, soft, polished, salty and leaves you with a strong, olive and peppery endnote. Chateau de Manissy is better known as one of the top producers of Rose' in Tavel. Drink from 2022 - 2031.

469 Views

Tasted

Jan 27, 2023

2019
Château de Manissy Terres Blanches (Châteauneuf-du-Pape)

Spicy, fruity and fresh, with a strong floral and crushed rock character, the wine is medium-bodied, silky, elegant and vibrant, the finish with its peppered kirsch and stone finish lingers. Chateau de Manissy is better known as one of the top producers of Rose' in Tavel. Drink from 2023 - 2029

2,761 Views

Tasted

Jan 9, 2022

2019
Château de Manissy Cuvée Trinite (Châteauneuf-du-Pape)

Loads of tapenade here. Once you're past that, you find spring flowers, herbs, cherries, and spice. Medium-bodied, elegant, fruity and fresh, with a hint of cocoa on the back end, this is already drinking well. Chateau de Manissy is better known as one of the top producers of Rose' in Tavel. Drink from 2023 - 2033

1,237 Views

Tasted

Jan 9, 2022

2018
Château de Manissy Cuvée Trinite (Châteauneuf-du-Pape)

Spicy, fruity and fresh with a forward, early drinking , red berry character for early drinking pleasure. Chateau de Manissy is better known as one of the top producers of Rose' in Tavel.

834 Views

Tasted

Oct 12, 2020

2015
Château de Manissy (Châteauneuf-du-Pape)

Herbs and pepper gets the ball rolling before you meet the medium bodied, red fruits and earth. This should be quite easy to drink, even though the wine feels quite structured. Chateau de Manissy is one of the better producers of Rose' in Tavel.

1,557 Views

Tasted

Aug 21, 2017

2014
Château de Manissy (Châteauneuf-du-Pape)

Medium bodied, lighter, forward style, elegant style of wine for early drinking pleasure. Ripe, fresh red fruits in an open style is the name of the game here. Chateau de Manissy is one of the better producers of Rose' in Tavel.

1,083 Views

Tasted

Jun 23, 2016

2012
Château de Manissy (Châteauneuf-du-Pape)

Forward, medium bodied, easy drinking, red fruit filled wine, produced from 100% Grenache for early tasting pleasure.

1,334 Views

Tasted

Sep 12, 2016