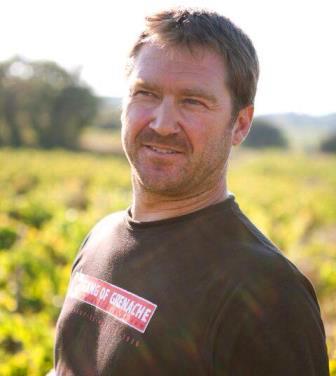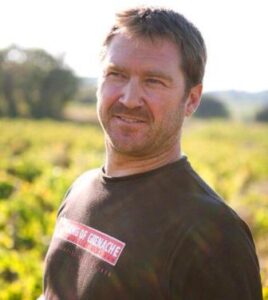 Learn everything about Domaine la Consonniere Chateauneuf du Pape with wine tasting notes, wine and food pairing tips, best vintages, a history of the property and information on the vineyards and winemaking. If you want to read about other important wineries and wine makers from the Rhone valley: Links to all Rhone Valley Wine Producer Profiles
Domaine la Consonniere was created in 2009. The vines were previously used to produce Domaine de la Cabane. The roots of Domaine la Consonniere actually date back to 1890, when his great great, grandfather began purchasing vines in the Southern Rhone Valley.
Today, Domaine la Consonniere is owned and managed by Sebastien Cuscusa. One of the first moves that Sebastien Cuscusa made was to bring in Philippe Cambie as the consultant for the wine making and the vineyard management.
Domaine la Consonniere Vineyards, Wines, Winemaking
Domaine la Consonniere owns 5 hectares of vines in the Chateauneuf du Pape appellation. The vines are spread in different parts of Chateauneuf du Pape. They are planted in the lieux dits at Pignan, Font du Loup and Les Saintes Vierges. Most of their terroir has sandy soils.
The vineyards owned by Domaine la Consonniere are situated in three lieux-dits; Les Saintes Vierges, Pignan and Font du Loup. Sebastien Cuscusa is hoping to purchase more vines to help grow Domaine la Consonniere.
The debut vintage of Domaine la Consonniere was produced at Vignobles Brotte. The vines are planted to mostly Grenache. A lot of their Grenache is more than 100 years of age. They also have plantings of Mourvedre and Clairette Rose'.
Domaine la Consonniere produces 1 red Chateauneuf du Pape wine.
Domaine la Consonniere Chateauneuf du Pape is made from almost 100% old vine Grenache. The vines are more than 100 years of age. The terroir is sandy soils from vines planted in Les Bedines, Les Font du Loup, la and Pigna and Les Saintes Vierges.
While mostly Grenache, the wine is blended with Mourvedre and a small portion of Clairette Rose. The wine is aged in a combination of traditional, rectangular shaped, cement vats and demi muids for 22 months before bottling. On average, close to 1,700 cases are produced in each vintage of Domaine la Consonniere Chateauneuf du Pape.
When to Drink Domaine la Consonniere, Anticipated Maturity, Decanting Time
Domaine la Consonniere can be enjoyed on the young side. Young vintages can be popped and poured, or decanted for about 1 hour. This allows the wine to soften and open its perfume. Older vintages might need very little decanting, just enough to remove the sediment.
Domaine la Consonniere is usually better with 3-4 years of bottle age. Of course that can vary slightly, depending on the vintage. In the best vintages the wine should be consumed within 3-8 years after the vintage.
Serving Domaine la Consonniere with Wine, Food Pairing Tips
Domaine la Consonniere is best served at 15.5 degrees Celsius, 60 degrees Fahrenheit. The cool, almost cellar temperature gives the wine more freshness and lift.
Domaine la Consonniere is best served with all types of classic meat dishes, veal, pork, beef, lamb, duck, game, roast chicken, roasted, braised, stewed dishes, sausage, barbecue and cassoulet. Domaine la Consonniere is also good with Asian dishes, hearty fish courses like tuna, mushrooms pasta, eggplant, tomatoes and cheese.
Domaine La Consonnière Wine Tasting Notes
7 Vintages 12,059 Views Sort by Vintage-Rating
2018
Domaine La Consonnière (Châteauneuf-du-Pape)

Light in color, medium bodied, forward, spicy, sweet and fresh, with a refined core of kirsch and olives that will be perfect for soft-textured, elegant, early drinking pleasure.

1,323 Views

Tasted

Oct 12, 2020

2017
Domaine La Consonnière (Châteauneuf-du-Pape)

Medium bodied, soft forward, easy drinking, with freshness and elegance to the lightly spiced, red fruits. The wine was produced blending 80% Grenache with 20% Mourvedre.

2,107 Views

Tasted

Sep 21, 2019

2016
Domaine La Consonnière (Châteauneuf-du-Pape)

Earthy, meaty, and loaded with garrigue, olives, and fresh, bright, red fruits, the wine is medium-bodied, peppery, and ready to go, with its olive and spice-tinted, kirsch finish. Drink from 2022-2029.

1,538 Views

Tasted

Nov 18, 2022

2013
Domaine La Consonnière (Châteauneuf-du-Pape)

Light, easy drinking, bright, fresh, red fruits for uncomplicated early drinking.

1,335 Views

Tasted

Sep 7, 2015

2012
Domaine La Consonnière (Châteauneuf-du-Pape)

Fresh, sweet and lively, the wine retains its core of sweet red fruit all the way through. Produced from a blend of 90% Grenache and 10% Mourvedre the wine reached 15% ABV.

2,075 Views

Tasted

Sep 10, 2014

2011
Domaine La Consonnière (Châteauneuf-du-Pape)

Fennel and garrigue bring you to a medium bodied, light, open styled cherry filled wine that needs to be consumed young.

1,383 Views

Tasted

Aug 19, 2014

2010
Domaine La Consonnière (Châteauneuf-du-Pape)

Focused on red berries, this light, elegant style of Chateauneuf is ready to drink.

2,298 Views

Tasted

May 29, 2013