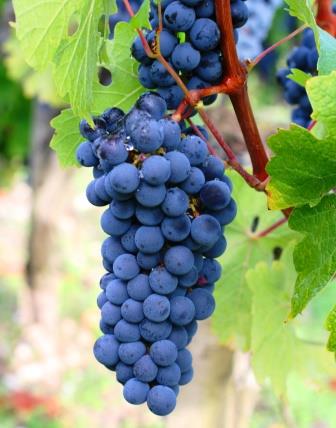 Carmenere is one of the older European grape varietals used to produce Bordeaux wine. It is thought the ancient Romans were fond of the variety and that it first earned a good reputation for wine from wine produced in Spain.
The Romans probably planted Carmenere in Bordeaux wine vineyards. The original name for Bordeaux was Biturica, which some historians suggest was also an early name for what we now call Carmenere. In support of this theory, the varietal is used as a blending grape in Tuscany under the name of "Predicato di Biturica."
Other research has the grape being called Vidure, which was a Bordeaux term for a Cabernet Sauvignon clone in the distant past. The grape has its initial roots in Iberia.
Carmenere, takes its name from carmin, which can be translated into crimson, due to the crimson color the leaves take on just before leaf fall in autumn. Carmenere was used in all the great Bordeaux wines.
It was an important part of the blend for every wine in the Medoc, from The First Growths on down. Prior to the Phylloxera attack, the grape was widely planted in Bordeaux, especially in the Graves, and what is now called the Pessac Leognan appellation.
Carmenere was a difficult grape to work with. It was vulnerable to bad fruit sets, (coulure) and mildew. Phylloxera was the final straw because Carmenere was even more prone to the attack of Phylloxera than other grape varieties.
Following the Phylloxera epidemic, Bordeaux wine growers did not replant the variety. In the Left Bank, they replaced it with Cabernet Sauvignon, Merlot, and Cabernet Franc. Those are all good choices because one of Carmenere's attributes, or faults, depending on your point of view is that the fruit lends itself to displaying a rustic quality.
Today, Chile maintains the largest planting of Carmenere in the world. The grape first gained popularity in the South American country when cuttings were brought over from Bordeaux around 1850.
At the time, many of the cuttings were confused with Merlot. In fact, Chilean growers from the time period began calling the grape, Merlot Peumal, after the Peumo Valley located in Chile. The mistake was eventually discovered and in 1994, many growers became acutely aware they had vast plantings of Carmenere and not Merlot.
This turned out to be a good thing for the wines of Chile. It took growers more than 10 years to discover which vines were actually Carmenere and which were Merlot or other grapes. That discovery led to improved vineyard practices for the variety.
Carmenere does well in the warm weather climate of Chile, with its extended growing season. Today, the largest plantings of the Carmenere are now found in the Colchagua Valley located in Chile. In fact, Carmenere is now so popular in Chile, that in 1998, the Chilean Department of Agriculture officially recognized Carmenere as a distinct variety.
Carmenere takes up slightly more than 10% of all vineyard plantings in Chile today with close to 10,000 hectares of vines planted. Those 10,000 hectares represent 80% of the world's plantings devoted to Carmenere.
The pattern of growth in Chile for Carmenere is set to continue. In fact, Carmenere is so popular with wine lovers from South America, the grape has its own holiday. International Carmenere Day is celebrated every November 24. There are several producers in Chile making wine from 100% Carmenere.
Matching Carmenere with wine and food pairings is easy. Carmenere naturally matches well with smoked, grilled, or roasted meats, chicken, pork, lamb, beef, and veal. Due to its character, it also holds up with and matches perfectly with some spicy dishes and strong, hard cheeses.
Carmenere is a difficult grape to grow. In Bordeaux, the low-yielding fruit often experienced problems ripening after the normal, cool, spring weather conditions. That made it difficult for the plant to flower correctly.
When ripe, the berry adds unique spicy, red fruit, herbal and smoky qualities to a wine. In the Medoc. small amounts of the varietal are planted.
Most of the Carmenere can be found in Pauillac at Chateau Mouton Rothschild and Chateau Clerc Milon. In fact, until quite recently, in Bordeaux, for the entire appellation, only 4 hectares of Carmenere remained. At the time, with 1% of their vines devoted to Carmenere, Clerc Milon had the largest plantings in the entire appellation. Their vines are old. They were planted in 1947. By 2024, 60 hectares of Carmenere were planted in Bordeaux. Still miniscule, but growing.
Carmenere, outside of Chile is hard to find. However, China has vast planting of Carmenere, which could eventually number more planted hectares than Chile. Small amounts of Carmenere are slowly being added to vineyards in Italy, New Zealand, Walla Walla in Washington, and to a lesser extent, California.
Small amounts of Carmenere are planted in the Napa Valley and in Sonoma, where Chalk Hill produces wine from 100% Carmenere. In the state of Virginia, Canasel also makes a wine that is made from 100% Carmenere grapes.
Chateau Potensac in the Medoc has almost 2% of their vineyard planted to the grape. With the 2011 Bordeaux vintage, Chateau Brane Cantenac in the Margaux appellation added a small portion, (.5%) of Carmenere to the final blend for the first time.
There are at least 2 small Bordeaux estates making a tiny amount of wine from 100% Carmenere; Chateau Le Geai Carmenere is classified as a Bordeaux Superieur and Chateau Lapeyronie Carmenere from Cotes de Castillon, who sells their wine as a Vin de France. In the Left Bank, in the Medoc, the tiny estate of Chateau Carmenere produces a 100% Carmenere wine. Starting in 2019 Vignobles Andre Lurton also produces a wine from vines in Pessac Leognan that is 100% Carmenere, Trace Carmenere.
There are Carmenere vines planted in the Right Bank of Bordeaux as well, although they are hard to find. In St. Emilion Jean-Luc Thunevin grows Carmenere in his vineyard that is used for Valandraud and Alain Vauthier planted 5% of his Fonbel vineyards to Carmenere. Chateau Trianon in Saint Emilion also devotes 5% of their vineyard to Carmenere.