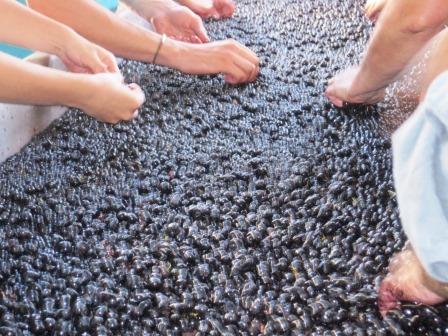 Grenache is the most important red wine grape for Chateauneuf du Pape.  While 13 red wine grapes are allowable by law in Chateauneuf du Pape, Grenache  is the undisputed king of the wine region.
Almost 72% of the region is devoted  to Grenache, while its closest competitor, Syrah covers closer to 5%. However, Grenache is not just important to the Rhone valley. In fact, Grenache is one of the world's most popular red wine grapes! In fact, Grenache is now so popular, the grape has its own holiday, International Grenache Day is celebrated every September 3!
Grenache may have been transported from Spain, where it is known as  Grenacha. Grenache has been popular in the Southern Rhone since the 17th century when it was used as a blending grape to give Burgundy wines additional body and alcohol.
Grenache comes in three versions, red Grenache, or Grenache Noir, white Grenache, known better as Grenache Blanc which is used as a blending grape in the Rhone Valley and the semi obscure version of white Grenache known as Grenache Gris.
Grenache, with its think skin and tight clusters is perfect for the hot,  dry, sand and stone soils of Chateauneuf du Pape. The mistrial, which delivers  strong,  wind swept climates in Southern Rhone aids in the development of  the berries.
The grape enjoys a long growing season. The extra time on the vine  is well spent. It allows the berry to develop high sugar levels. Grenache is one  of the more alcoholic grapes. It often reaches 15% alcohol by volume. But due to its levels of sweet ripe fruits, when properly vinified, there is no sensation  of heat.
Grenache wines age well, according to the most important consultant working in Chateauneuf du Pape today. Philippe Cambie on Grenache – "At its best, Grenache must express the black fruit, cherry, licorice, cassis and especially a beautiful oiliness. The wines can be kept for 20 years, and always keep these notes of spice and white pepper."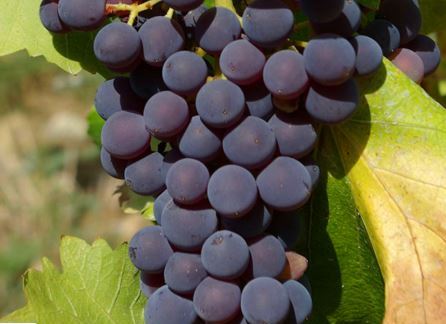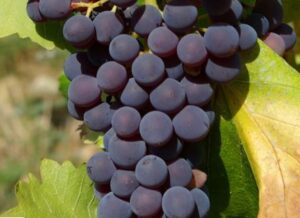 Grenache enjoys some of the oldest vines in Europe. In Chateauneuf du Pape,  numerous growers boast vines that are over 100 years old. Those gnarled, old vines produce extremely low, yielding fruit that which makes rich, concentrated wines with true character. Grenache produces a wide variety of wines and styles all over the world for both red and white wine.
Grenache is one of the most versatile wines to pair with food. Due to its spiciness, pure red fruits, fresh attributes and the myriad of different levels of depth and textures, Grenache works well with a diverse array of food. Grenache pairs perfectly with grilled, stewed and braised meats like beef, veal, pork, chicken and of course game. Grenache holds up well to hearty dishes like cassoulet and it's a good match for less spicy styles of Asian cooking.
The grape enjoys worldwide popularity in numerous growing areas. It grows well in Spain. Old vine Granacha is an important grape in Spain, especially in the Priorat appellation. In Spain, Granacha is the popular and widely planted grape varietal. But Granacha is used for wines at all ends of the spectrum in Spain from some of the best wines and some of its least expensive wines as well.
Grenache is also planted with great success in Australia,  Languedoc-Roussillon and America. Several wine makers use it as a stand alone variety. However, it is often blended with other  grapes, most notably, Syrah, Mourvedre, Carignan and Cinsault.
While most Chateauneuf du Pape wines are produced from blends, there are some wineries that use 100% Grenache, while others feature as much as 90% or more Grenache in the blend. Marie Giraud of Domaine Giraud feels that Grenache can be difficult to grow, but the results are worth the effort. "Grenache is a demanding grape. It can be quite difficult to control. When the berries are ripe, the wines are powerful, fine and complex with a lot of fruit."
Most producers agree on the level of ripeness demanded from Grenache when searching for phenolically ripe grapes. Wines made from ripe Grenache can be some of the most sublime wines in the world.
But when the fruit lacks ripeness, the wines are not that interesting. Manfred Krankl of Sine Qua Non elaborates on that point. Manfred Krankl "If Grenache doesn't get FULLY ripe, it holds no interest. One can make some skinny-ass Syrah, which is en vogue among some. Syrah under those conditions might still hold some odd interest. But that is not the case with Grenache."
Domaine la Barroche Pure, Domaine la Barroche Terroir, Bonneau Marie Beurrier, Bonneau Celestins, Bosquet Des Papes, La Glorie de Mon Grand Pere, Chapoutier Barbe Rac, Chapoutier Croix de Bois Domaine de la Charbonniere Vieille Vignes,Clos Saint Jean Sanctus Sanctorum, Domaine Crista, Domaine Ferrand, Isabel Ferrando Colombis, Domaine de la Janasse Chaupin, Domaine de la Mordoree La Plume de Peintre, Domaine de Marcoux Vieille Vignes, Domaine Pegau da Capo, Chateau Rayas, Domaine de la Solitude CDP "Cornelia Constanza, Tardieu-Laurent Cuvee Speciale, Pierre Usseglio Mon Aieul, Pierre Usseglio Deux Freres, Raymond Usseglio Imperiale and Vieille Julienne Reserve are a few examples of Chateauneuf du Pape producers using an overwhelming portion of Grenache in their blend.
Grenache, due to its thin skin and pale color is the most popular grape used in the production of Rose' wines.  White versions of the fruit have been developed called Grenache Blanc.
Grenache blanc is a popular blending grape in France that is also used in a myriad of wine producing regions in France and all over the world. There is also Grenache Gris, which is used for white wines as well. Some vintners produce sweet fortified wines using the grape varietal, due to its natural high alcohol and sugar levels.
As we mentioned earlier, even though most wines from Chateauneuf du Pape are blends, Grenache remains the dominant varietal. With many Grenache based wines, tasters often experience flavors of kirsch, fresh black or white cherries, jammy strawberries, black raspberries, spice, black pepper, cherry griotte, plums and fresh herbs.
The texture ranges from elegant and silky to a more rustic expression depending on the soil, levels of ripeness and other choices made by the winemaker and of course the terroir and the soils the Grenache vines are planted in.
Manfred Krankl of Sine Qua Non says in Chateauneuf du Pape, it's all about the rocks and stones in the vineyard. "The soils tend to be very different in the Southern Rhone versus California. There are the famous gallets (large stones) in Chateauneuf that are nowhere to be found in California that I know of. Although there are also many areas in the Chateauneuf appellations that do not have the famous rocks. Some soils have quite a bit of clay and others have a lot of sand."
While Grenache reaches its best expression in the warm, rocky, sandy soils and terroir of Chateauneuf du Pape, at least to me, for some growers like John Alban and Manfred Krankl at Sine Qua Non, they are making sublime Grenache wines in California. Manfred Krankl describes the results as concentrated and silky.
Manfred Krankl – "The line I have used a thousand times, somewhat sarcastically of course is, 'Grenache delivers what Pinot Noir promises'. To me, a great Grenache, maybe particularly so from California, has these gorgeous, fruit forward, perfume(y) aromatics – somewhat reminiscent of a great Pinot Noir. It has a feminine, silky texture – also somewhat akin to a top flight Pinot. But unlike many Pinot Noirs, Grenache also has this full, mouth-coating, all enveloping and long palate presence. In other words the nose and the palate are in synch delivering a cascade of pleasure. That is, or perhaps SHOULD be, the character of California Grenache. It doesn't just wink at you, but then NO DICE. It delivers the goods."