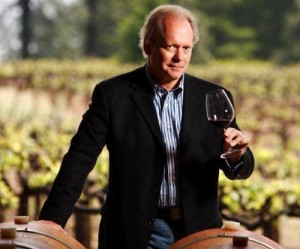 Bordeaux Old World Vins Technologiques?
Two current criticisms are all the rage and both rattle my cage! On the one hand, wine writers, especially British ones, but also American Jonathan Nossiter in his 2004 film with an all too obvious agenda, Mondovino, accuse many Bordeaux wine makers, notably those on the Right Bank, of "manufacturing" vins technologiques. To which I roundly respond: Cutting-edge techniques, Oui! Vins technologiques, No!
On the other hand, in what is a palpable contradiction, many wine writers and professional buyers seem increasingly bent on relegating Bordeaux wine making to reliquary status, a faded glory of the "Old World". This may be a plausible polemic in certain political and philosophical respects, but it is decidedly NOT true in the world of modern-day bordelais vineyard management and winemaking.
Think about it: if Bordeaux wine making is indeed yesterday's news, why is it that whenever a "New World" millionaire acquires or creates a winery, his first move is often to look towards Bordeaux for the services of a winemaking consultant. No doubt, the most celebrated of these – the one so rampantly ridiculed in Nossiter's dubious documentary – is Michel Rolland, originally from Pomerol where he claims to have been born under a Merlot vine. While the term "flying winemaker" may not have been invented to describe Michel, he certainly wears it well today. However, Rolland is not alone. There are others: such names as Stéphane Derenoncourt, Claude Gros, Denis Dubourdieu, Denis Malbec, and Philippe Melka, all come readily to mind.
And why is it that so many aspiring, or indeed confirmed, vineyard managers and winemakers from around the world make the quasi-Compostellian pilgrimage to Bordeaux? To search for antique vestiges of winemaking? I think not. Rather, it is to learn about the latest techniques – as opposed to technology – constantly being developed here. When Bordeaux wine making consultants travel to California, Australia, South Africa or elsewhere in the New World, it is not to learn about the latest techniques employed in those viticultural regions but rather to share what has already been tried and tested here.
Undeniably, some Australian and Californian viticulturalists have done salutary research in such fields as canopy management. But it is in Bordeaux that much work has been done in rootstock selection, for example, in a continuing search for plant material that emphasizes quality over quantity, even while retaining the highest possible disease resistance. Note, too, that the little lamented AxR1 rootstock was never planted in Bordeaux. In fact, French viticulturalists, notably Professor Pierre Galet, warned their California colleagues NOT to use it! At the same time, serious Bordeaux wine vineyard managers are constantly seeking methods to combat the vine's many natural enemies while using as few chemical and synthetic compounds as possible. Hence, even though few vineyards in Bordeaux are yet farmed in strict accordance with "organic" or "biodynamic" farming dictates – the more humid, Atlantic climate renders this difficult – most well-managed estates do practice what is locally called lutte raisonnée (sustainable agricultural practices) whereby a minimum of chemical herbicides, fungicides, and pesticides is used. Experiments are on-going in the field of sexual confusion among the vine's insect enemies; on another front, mulched sea algae are being tried as a means of thwarting the onset of gray rot. Certain targeted fungicides increase the grape's resistance to gray rot, thereby allowing growers to wait longer before harvesting to ensure maximum physiological maturity of their fruit. And by the way, where did we first hear about physiological or phenolic ripeness? Bordeaux, I think.
Towards a new definition of ripeness:  tannins vs. sugars or Beyond Brix!
More than any single technique Bordeaux wine makers use, the systematic search for phenolic ripeness has revolutionized the method by which, and the moment when, Bordeaux wine growers choose to harvest their grapes. Not so long ago, growers relied solely on their refractometer to determine when the sugars were sufficiently high to begin harvesting. Total acid was also a consideration, albeit a lesser one. However, for today's serious growers, there is much more to ripeness. While continuing to monitor the traditional factors, they are looking for phenolic ripeness – the ripeness of the tannins contained in the skins. While it is undoubtedly close, there is not yet a reliable instrument or technique with which to scientifically determine this optimum ripeness. Rather, it remains a question of chewing on the grape skins to apprehend their level of astringency and pliability, of biting into the seeds to determine if they have developed an almost nutty, almond-like flavor, and of looking at the color of the seeds: the browner, the better!
Respecting the fruit – remembering the raw material of wine
Bordeaux wine making starts in the vineayrd. Harvesting techniques have also undergone substantial changes in "Old World" Bordeaux. Grape bunches used to be cut and tossed into small wooden baskets, then poured into hottes, the backbreaking plastic or metal hods carried by men at the end of each row. They dumped these into steel hoppers – think of a dumpster here! – containing from one to five tons of grapes. Once full, tractors towed the dumpsters to the crush pad. By this time, the fruit at the bottom of the bins was crushed under the sheer weight of the grapes above and the juice thus released had begun to oxidize. The already blemished fruit was unceremoniously dumped into a steel reception bin at the bottom of which a worm screw pushed (and punished) the fruit into the stemmer, then the crusher. This mash of grape pulp was then pumped through a maze of angled piping before being "spewed" into the fermentation tanks. Not a pretty picture of Bordeaux wine making.
In the early 1990's, many forward-thinking Bordeaux wine making properties first began depositing their hand-harvested grapes directly into small plastic crates that usually hold a mere 15 to 22 lbs. of fruit. Perforations in these crates allow any juice to escape quickly rather than to oxidize before it finds its way into the fermenters. Since these lugs stack atop one another, the grapes are never prematurely crushed under the sheer weight of the fruit in the crates above.
It is also in Bordeaux wine making that the use of lugs were first emptied onto an initial sorting table where trained sorters inspect the passing clusters. After discarding any substandard fruit, the remaining bunches go through a destemmer before rolling onto a second, often vibrating, sorting table that spreads out the individual berries. This makes it easier for the sorters to spot and remove any under-ripe, unhealthy (gray rot), excessively raisined, or blemished fruit. The vibrating tables also get rid of much of the small vegetal detritus that may have crept through the destemmer. Only then is the ripest and healthiest fruit moved by conveyor belt (i.e. NOT pumped) to the top of the fermentation tank where gravity alone moves it into the tank below. As they fall into the tank, the grapes may or may not be gently crushed. There are proponents of both methods. Stéphane Derenoncourt, for example, is an ardent advocate of "whole berry fermentation" in many of the sought-after properties where he consults such as Pavie Macquin, Larcis Ducasse, Beausejour Duffau Lagarrosse, or La Mondotte in St. Emilion.
All of these may appear to be so many small details when examined individually when looking at Bordeaux wine making today. However, when put back-to-back, they contribute to one essential goal: getting pristine, unblemished berries into the vats, devoid of any premature oxidation. The result is Bordeaux wine making can offer fruitier and fresher than any that have ever been made before. Not surprisingly, serious wineries around the world, both "Old" and "New", are rapidly adopting these techniques.
In the New World's English-speaking wine-producing regions, winemakers wax lyric about the "crush", so much so that it is now the monosyllabic moniker coveted by at least one restaurant in the Napa Valley where such single syllable names are so much in vogue. But such a term is sheer anathema to Bordeaux winemakers. Getting pristine berries as whole and unblemished as possible into the fermentation tanks is the antithesis of the industrial brutality implied by the very term "crush".  After all, crushing the grapes runs the risk of simultaneously crushing the pips contained within, thereby releasing their often acerbic tannins into the must. On the contrary, the goal in Bordeaux is to very gently break the skins of the grapes, if that, before moving them by gravity flow into the vats.
Winemaking techniques 
Such advances in Bordeaux wine making technique have been spearheaded by the likes of Michel Rolland and Stéphane Derenoncourt, especially where red wines are concerned, and by Professor Denis Dubourdieu, most notably in the realm of white wines. All three men now consult worldwide, implying that it is the winemaking techniques developed in Bordeaux that are subsequently exported around the (New) world – and not the contrary. Professor George Gale, PhD, the affable American scientist, philosopher, and Bordeaux wine making expert states "That Bordeaux wine making is cutting edge. In fact, I can think of only one lab in the U.S. that is even close – Bruce Zoecklin's at Virginia Tech. But then, he maintains very close contact with France, and frequently visits there, as well as having French scientists come to his lab". Gale continues, "It's clear to me that all the stuff about bâtonnage and fruit maturity is coming out of Bordeaux wine making today."
Back in the late 1980's, Michel began encouraging Bordeaux wine making to include lengthier macerations at warmer temperatures. Having harvested riper, healthier fruit, longer macerations became possible without running the risk of developing excessive astringency or bitter flavors. Additionally, fermenting and macerating the Merlot at warmer temperatures (in the low 30° C range) allowed Bordeaux wine making procedures to help coax more color and flavor elements from this somewhat reticent varietal.
In the early 1990's, Olivier Sèze began full-scale, now systematic, experimentation at his Château Charmail in the Haut-Medoc, with what is called pre-fermentation, cold maceration whereby the temperature of the fruit in the tanks is dropped to as low as 5° C and held there for up to two weeks. During this period, there appears to be little or no yeast activity (i.e. fermentation) but there is considerable enzyme activity. Additionally, the environment within the vat is "sanitized", with many negative components neutralized by the intense cold. The result from this style of Bordeaux wine making is that once the must has warmed sufficiently for fermentation to begin, color extraction is greatly facilitated and the tannins extracted are softer, more "coated". Initially, some critics – and there are always many any time change is introduced – claimed that these gains would be short-lived. However, vertical tasting 10 and 15 years on have shown that the color remains dark and the tannins supple. Since Olivier's pioneering Bordeaux wine making work with this technique (not technology), many top estates around Bordeaux have come to employ it on a regular basis in their Bordeaux wine making procedures.
These  Bordeaux wine making techniques were followed by the refining of extraction methods and experimentation with cap punching (pigeage) versus the more violent pumping over (remontage). Stéphane Derenoncourt and Claude Gros, for example, tend to favor the cap punching technique, believing that it favors softer extraction of tannins. Délestage – whereby all the juice in a tank is run off and, after a slight delay, reintroduced through the top of the tank – is now being added to the arsenal of gentle extraction techniques, notably at Château Belle-Vue, also in the Haut-Médoc.
Malolactic in barrel and barrel aging 
The 1990's saw a lot of  Bordeaux wine making that had producers begin conducting their malolactic fermentations in 100% new French oak barrels, especially where the Merlot was concerned. This Bordeaux wine making technique tempers and catalyzes the marriage between the new wine and new wood, eliminating the violent shock that occurs when a "clean" wine (one whose malo has taken place in tank) is run off into new barrels. While the long-term differences are still a subject of debate, there is no question that the wines show far better in their adolescence, thereby increasing their span of enjoyability, due to this Bordeaux wine making technique.
This aging of top Bordeaux wines entirely in new French oak barrels for 15 to 18 or more months represents yet another break with the past. The skyrocketing cost of new French oak barrels is the best proof that this technique, too, is being copied around the world.
More recently, Bordeaux wine making consultants have encouraged their clients to age their wines in barrel on the "post-malo" lees with minimal racking during the barrel aging. The sur lies aging technique better fixes the wine's color while actually "nourishing" the new wine. The lees are regularly stirred into suspension during the first several weeks, if not months, in barrel. An even newer technique, the Oxoline system, that some Bordeaux wine making consultants are fond of, allows the barrels to be "rocked and rolled" in place, thereby sending the lees into suspension without having to open the bungs in order to perform the bâtonnage.
As the maturing wine goes into a reductive phase, it is naturally protected from oxidation and thus requires far less SO2 during the aging process. However, should this reduction become too pronounced, and potentially dangerous, yet another Bordeaux wine making technique developed south of Bordeaux (by Patrick Ducourneau at his Chapelle Lenclos in Madiran), called microbullage, or micro-oxygenation, can be used to arrest or thwart the development of mercaptans. This technique brings with it the added advantage of softening the wine's tannins. And, since the barrels need not be opened to get the lees into suspension, there is less risk of bacterial contamination from the ambient air in the cellars. This Bordeaux wine making idea has since been emulated elsewhere in France and around the world, old and new! Michel Rolland has called this Bordeaux wine making idea the single most important development in fermentation technique in the last two decades.
Bottling without fining or filtration
Most of Bordeaux's top wines are bottled today with little or no fining or filtering. After expending so much effort in producing such full, rich, ripe, and fruity wines as these, Bordeaux wine makers are disinclined to negate so much of their effort by employing to excess either of these techniques. Turbidity and microbiological analyses are there to guide the winemaker's final pre-bottling decision. But most consider that today's extended aging in new oak barrels, in so far as it occurs in well-ventilated, TCA-free cellars, is sufficient for natural clarification of the wine. Consequently, fining and/or filtering are frequently deemed to be unnecessary to Bordeaux wine makers. Additionally, most modern wine consumers are comfortable with the idea that a truly natural wine may throw some sediment. So be it!
In conclusion
For all of the reasons outlined above, I contend that Bordeaux wine making, in spite of its geographic location in the "Old World", is constantly on the cutting edge in matters of vineyard management and winemaking. But, it is certainly not Bordeaux wine making that is producing vins technologiques! Those are coming from the Constellation of "New World" wineries concerned with mass marketing and critical mass. I have heard Australian winemakers tell me proudly that they let the wine make itself . . . and then they correct it. Two of their favorite "tools" are rectified grape concentrate and wood chips. Both are still banned in Bordeaux.
Jeffrey M. Davies, Bordeaux – June 2010
Your comments and questions on this and every article are welcome