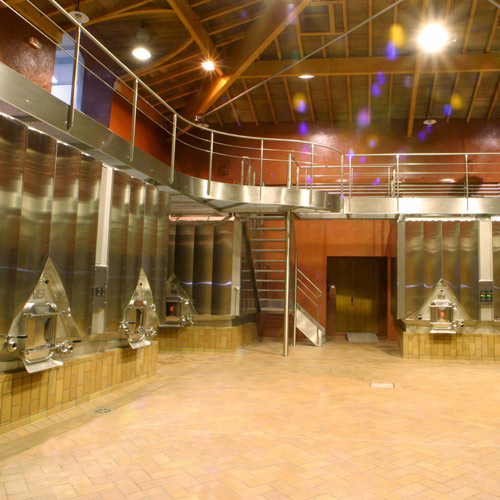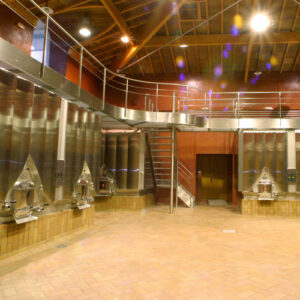 Learn everything about Chateau Larmande St. Emilion with wine tasting notes and wine with food pairing tips. Learn the best vintages, the history of the property, and information on the vineyards and winemaking. If you want to read about other important, Bordeaux Chateaux: Links to all Bordeaux Wine Producer Profiles
Chateau Larmande History, Overview
Chateau Larmande has a long history in the Bordeaux region. In fact, Chateau Larmande is one of the oldest estates in Saint Emilion. Documents exist that help date this Right Bank property all the way back to 1585!
Jumping ahead to the modern era, during the early 1900's Chateau Larmande was purchased by the Capdemourlin and Meneret families. If the name of Capdemourlin sounds familiar, they also own the Saint Emilion estate of the name, Chateau Cap de Mourlin.
Eventually, Alice Capdemourlin married Fernand Meneret. The couples descendants managed Chateau Larmande until 1990, when it was purchased by a French insurance company, La Mondiale. La Mondiale also owns Chateau Soutard, Chateau Petit Faurie deSoutard and Chateau Grand Faurie la Rose, all of which are located in the appellation of Saint Emilion.
With the ability to invest the much-needed funds in the property for renovations and modernization, La Mondiale also increased the size of the vineyards with additional purchases. The estate was managed by Claire Thomas-Chenard until 2014. Michel Rolland remained their consultant until the estate brought in Thomas Duclos.
Chateau Larmande Vineyards, Terroir, Grapes, Winemaking
The 27-hectare, Right Bank, St. Emilion vineyard of Chateau Larmande is planted to 65% Merlot, 30% Cabernet Franc and 5% Cabernet Sauvignon. The terroir is sand, clay, and limestone soils.
Most of the vines are located close to the chateau. The remainder of their vineyards is not situated in the same location. Some are up to 6 kilometers away. Their best vines are probably those that are planted close to Chateau Soutard.
Out of their 27 hectares of vines, only 20 are classified as Grand Cru Classe. The remaining 7 hectares are used to produce Le Cadet de Larmande. On average, the vines are 30 years of age. However, they have very old vines. Some of their Cabernet Franc vines are more than 100 years old, making them among the oldest vines in the entire Saint Emilion appellation. The vineyard of Chateau Larmande is planted to a vine density of 6,000 vines per hectare.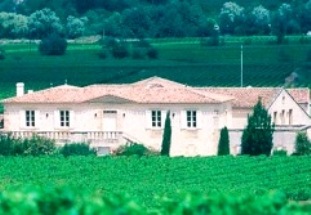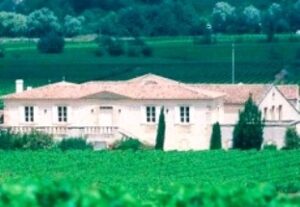 The wine of Chateau Larmande is vinified in 16 temperature-controlled, stainless steel vats that range in size from 74 hectoliters up to 136 hectolitres. The wine is aged in 60% new, French oak barrels for close to 18 months. The exact amount of time varies, depending on the vintage.
The best vintages of Chateau Larmande are: 2022, 2021, 2020, 2019, 2018, 2017, 2016, 2015, 2014, 2012, 2010, 2009 and 2005.It should be noted that starting with 2018, Chateau Larmande began producing much better wine.
The average annual production of Larmande hovers at close to 9,000 cases per year. There is a second wine, Le Cadet de Larmande.
When to Drink Chateau Larmande, Anticipated Maturity, Decanting Time
Chateau Larmande needs some time before it can be enjoyed. Young vintages can be decanted for an average of 1 hour or more. This allows the wine to soften and open its perfume. Older vintages might need very little decanting, just enough to remove the sediment.
Chateau Larmande is usually better with at least 5-7 years of bottle age. Of course, that can vary slightly, depending on the vintage character. Chateau Larmande offers its best drinking and should reach peak maturity between 5-17 years of age after the vintage.
Serving Chateau Larmande with Wine, Food, Pairing Tips
Chateau Larmande is best served at 15.5 degrees Celsius, 60 degrees Fahrenheit. The cool, almost cellar temperature gives the wine more freshness and lift.
Chateau Larmande is best paired with all types of classic meat dishes, veal, pork, beef, lamb, duck, game, roast chicken, roasted, braised, and grilled dishes. Chateau Larmande is also good when matched with Asian dishes, hearty fish courses like tuna, mushrooms, and pasta.
Château Larmande Wine Tasting Notes
17 Vintages 64,649 Views Sort by Vintage-Rating
2022
Château Larmande (St. Émilion Grand Cru)

The nose reminds me of cooking a black raspberry crumble with butter and black cherries. The palate is packed with black cherries, red pit fruits, licorice, and chocolate. The wine is medium-bodied, fresh, sweet, and salty with lift and energy in the finish. Drink from 2025-2040. 91-93 Pts.

620 Views

Tasted

May 8, 2023

2021
Château Larmande (St. Émilion Grand Cru)

Here, the nose is a bit more interesting, with all of its layers of black and red fruits, smoke, espresso, mint and tobacco leaf. Slightly austere on the palate, making this quite classic in style. Give it a few years to develop and hopefully, soften and fan out. The wine blends 91% Merlot, 7% Cabernet Franc and 2% Cabernet Sauvignon. Drink from 2025-2039. 88-91

1,287 Views

Tasted

May 20, 2022

2020
Château Larmande (St. Émilion Grand Cru)

Medium-bodied, the red fruits have a savory, peppery edge, which shows on the palate and in the fresh crisp, savory, spicy, red berry, chalky finish. Drink from 2024-2042.

673 Views

Tasted

Mar 21, 2023

Chocolate mint, savory herbs, plums, smoke and licorice define the nose. Fresh, silky and juicy, this elegantly textured wine is medium-bodied, refined and fresh, finishing with loads of soft, sweet, polished red and black plums with a spicy kick. This is another nice step up in quality here. 91-93 Pts

1,524 Views

Tasted

May 20, 2021

2019
Château Larmande (St. Émilion Grand Cru)

Roses and violets are the stars that open the show. That is, until you find all the gorgeous layers of opulently, textured, soft, sweet, silky, red fruits. Full-bodied, rich, fresh, clean and polished, there is a touch of oak, judiciously used. So, allow the wine a few years in the cellar before pulling a cork and enjoy for up to 20 years after that. This is the finest vintage of Larmande I have ever tasted! Drink from 2024-2040.

1,935 Views

Tasted

Mar 29, 2022

2018
Château Larmande (St. Émilion Grand Cru)

Smoke, spice box, espresso, licorice, plums and cherries shoot from the glass with ease. Medium-bodied, soft, elegant and fresh, with a solid blast of sweet cherries, licorice and cocoa coated plums, this is probably the finest vintage of Chateau Larmande ever produced. The wine is a blend of 81% Merlot, 17% Cabernet Franc and 2% Cabernet Sauvignon.

1,313 Views

Tasted

Mar 9, 2021

Easily the most concentrated vintage of Chateau Larmande ever produced, the licorice, espresso and dark red berries really shine. The wine has much more depth than usual. The round finish is all about the ripeness in the fruits this year. 89-91 Pts

1,951 Views

Tasted

Apr 19, 2019

2016
Château Larmande (St. Émilion Grand Cru)

Medium bodied, smoky, spicy, fresh and bright, with an easy drinking, soft, open character, finishing with sweet, red cherries and licorice. Drink this now and over the next 10-15 years.

1,925 Views

Tasted

Sep 21, 2019

This is a medium/full-bodied effort with good color and cassis and spice in the mouth. Clearly, they are on the way to improving the wine at Larmande but they still have more work to do. While the wine is ripe, it doesn't quite make it to the finish line.

2,617 Views

Tasted

Apr 29, 2017

2015
Château Larmande (St. Émilion Grand Cru)

Medium bodied, round and showing an earthy, thyme, woodsy, secondary character that adds to the bright, red plum and cherry notes. Give this 3-5 years to add more softness and flesh.

2,791 Views

Tasted

May 21, 2018

Medium-bodied, soft, fresh and round with a sweet, polished red berry center.

2,671 Views

Tasted

Apr 29, 2016

2014
Château Larmande (St. Émilion Grand Cru)

Medium bodied, round, fresh and forward with a crisp, red plum and cherry personality. 87-88 Pts

3,670 Views

Tasted

Apr 27, 2015

2013
Château Larmande (St. Émilion Grand Cru)

Medium bodied and lightly concentrated, the wine has a soft cherry and licorice core. 86-88 Pts

2,274 Views

Tasted

Apr 28, 2014

2012
Château Larmande (St. Émilion Grand Cru)

Herbs, licorice, dark red berries and coffee bean scents, this medium/full-bodied wine ends with a short, oaky and sweet red berry finish. 87-89 Pts.

3,176 Views

Tasted

Apr 26, 2013

2011
Château Larmande (St. Émilion Grand Cru)

From 65% Merlot, 30% Cabernet Franc and 5% Cabernet Sauvignon, this wine offers cherry griotte, tannin and stone. 87-89 Pts

4,438 Views

Tasted

Apr 24, 2012

2010
Château Larmande (St. Émilion Grand Cru)

Using 51% Merlot, 28% Cabernet Sauvignon, 18% Cabernet Franc and a small portion Petit Verdot, the wine opens with licorice, blackberry and cassis scents. Medium/full bodied, the wine ends with a cherry, chocolate and fennel finish. 88-90

6,244 Views

Tasted

Apr 22, 2011

2009
Château Larmande (St. Émilion Grand Cru)

Caramel, red plums, licorice and berry aromas lead to a medium bodied wine that ends with slightly tart, cocoa and black raspberry sensations.

3,971 Views

Tasted

Feb 10, 2012

2008
Château Larmande (St. Émilion Grand Cru)

Overly bright, sharp, tart wine. Medium bodied, blending cranberry with herbs, espresso and strawberry, in the finish. Clearly not my style of wine.

3,200 Views

Tasted

Dec 30, 2017

2005
Château Larmande (St. Émilion Grand Cru)

Light cherry and earthy aromatics on the nose. This medium boded wine ends in a lean, tart cherry and cassis filled finish. There is not enough there, there, to think this will improve with age.

5,670 Views

Tasted

Oct 10, 2010

Nice, well made and easy to drink. Enjoy this on the young side.

5,677 Views

Tasted

Jan 20, 2008

2001
Château Larmande (St. Émilion Grand Cru)

Surprisingly good, this medium/full bodied wine has richness, soft, silky tannins, sweet, dark red fruits, licorice and a bit of truffle blended in for good measure. This is drinking in the sweet spot today.

3,474 Views

Tasted

Dec 13, 2017

2000
Château Larmande (St. Émilion Grand Cru)

Fully mature, medium bodied, correctly made, but lacking in excitement on the nose and on the palate. Pleasant is a fine descriptor. No faults, just ho hum.

3,548 Views

Tasted

Nov 15, 2016