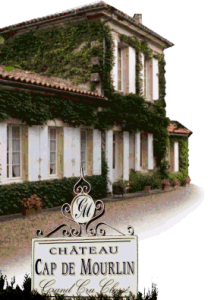 Learn everything about Chateau Cap de Mourlin St. Emilion with wine tasting notes and wine with food pairing tips. Learn the best vintages, the history of the property, and information on the vineyards and winemaking. If you want to read about other important, Bordeaux Chateaux: Links to all Bordeaux Wine Producer Profiles
Chateau Cap de Mourlin History, Overview
Chateau Cap de Mourlin draws its name from the founder of the estate. The Capdemourlin family gave its name to a small hamlet where their direct descendants have continued to live and make wine over the past four centuries.
The Capdemourlin family owns and manages other estates in St. Emilion; Chateau Balestard La Tonnelle and Chateau Petit Faurie de Soutard. They also own property in Montagne St. Emilion , where they produce Chateau Roudier.
In 1983, Jacques Capdemourlin pieced together the Right Bank, Bordeaux vineyard of Cap de Mourlin in Saint. Emilion. Massive rebuilding and renovations were needed in the vineyards and wine-making facilities.
The massive renovation project included the construction of a new vat house, an air-conditioned area where malolactic fermentation could take place. If that was not enough, they also constructed a new barrel-aging cellar.
Chateau Cap de Mourlin Vineyards, Terroir, Grapes, Winemaking
The 14-hectare Chateau Cap de Mourlin vineyard is planted to 65% Merlot, 25% Cabernet Franc and 10% Cabernet Sauvignon. The terroir is clay, limestone, and sandy soils, typical of that part of the Saint Emilion appellation. The vines are on average old, as they are close to 35 years of age.
To produce the wine of Chateau Cap de Mourlin, whole berry fermentation takes place in temperature-controlled, stainless steel vats. Malolactic fermentation is performed in 50% new, French oak barrels.
The wines are aged in 50% new French oak barrels for up to 18 months. On average, Chateau Cap de Mourlin produces almost 6,000 cases of Cap de Mourlin wine per year. There is a second wine, Capitan de Mourlin.
The best vintages of Chateau Cap de Mourlin are: 2022, 2021, 2020, 2019, 2018, 2017, 2016, 2015, 2010, 2009, 2005 and 2000.
Since hiring Stephane Derenoncourt, the quality of the estate's Bordeaux wine continues improving year after year. 2015 was the best vintage produced by Cap de Mourlin. However, 2016, 2018, and 2020 now give that previous vintage a run for the money as the best wines produced here.
When to Drink Chateau Cap de Mourlin, Anticipated Maturity, Decanting Time
Chateau Cap de Mourlin is usually better with 3-4 years of bottle age. Of course, that can vary slightly, depending on the vintage. Chateau Cap de Mourlin is best enjoyed in the first 3-12 years of life.
Young vintages can be decanted for up to 1 hour or so. This allows the wine to soften and open its perfume. Older vintages might need very little decanting, just enough to remove the sediment.
Serving Chateau Cap de Mourlin with Wine and Food Pairings
Chateau Cap de Mourlin is best served at 15.5 degrees Celsius, 60 degrees Fahrenheit. The cool, almost cellar temperature gives the wine more freshness and lift.
Chateau Cap de Mourlin is best paired with all types of classic meat dishes, veal, pork, beef, lamb, duck, game, roast chicken, roasted, braised, and grilled dishes. Chateau Cap de Mourlin is also good when matched with Asian dishes, rich fish courses like tuna, mushrooms, and pasta.
Château Cap de Mourlin Wine Tasting Notes
13 Vintages 28,362 Views Sort by Vintage-Rating
2022
Château Cap de Mourlin (St. Émilion Grand Cru)

Silky, dark cherries, plums, cocoa, and espresso create the character here. The wine is creamy, elegant, round, lush and packed with deep, ripe, sweet fruits making this already a pleasure to taste. Drink from 2025-2037. 92-94 Pts.

599 Views

Tasted

May 8, 2023

2021
Château Cap de Mourlin (St. Émilion Grand Cru)

Espresso, dark cocoa and red plums on the nose, which you also find in the soft, easy to like and drink, fruity, albeit somewhat oaky, and chalky medium-bodied palate. Drink from 2023-2037. 90-92

890 Views

Tasted

May 20, 2022

2020
Château Cap de Mourlin (St. Émilion Grand Cru)

Silky, fresh, lifted and chalky, the wine offers a polished, sensuous palate replete with layers of chocolat coated cherries, licorice and espresso with a cherry edge in the finish. Drink from 2023-2038.

389 Views

Tasted

Mar 21, 2023

Dark cocoa, espresso, tobacco leaf, coconut, sandalwood and plums are found at the core of the wine on the nose and palate. Medium-bodied, fresh, silky, refined and energetic, the finish sings with its sweet, deep red fruit character from start to finish. 92-94 Pts

1,070 Views

Tasted

May 20, 2021

2019
Château Cap de Mourlin (St. Émilion Grand Cru)

Smoke, flowers, espresso, truffle, dark red fruits, spice and licorice scents pop with no effort. Silky, soft, lush and polished with a beautiful sense of purity to the sweet, red pit fruits, the wine lingers on the palate and in the finish with fresh sweet berries, and touches of spicy chocolate in the endnote. Drink from 2024-2037.

648 Views

Tasted

Mar 29, 2022

With a nice dark hue, the wine shoots out with its perfume of oak, licorice, vanilla bean and plummy notes. On the palate, the wine is round, juicy, medium/full-bodied and fruity, with a nice lingering dark cherry finish. 90-92 Pts

2,610 Views

Tasted

Jun 8, 2020

2018
Château Cap de Mourlin (St. Émilion Grand Cru)

Smoked plums, espresso and licorice notes on the nose and palate work well here. Medium-bodied with soft, supple, elegant textures and sweet, red fruits which fill in the finish. This will be great right out of the gate.

756 Views

Tasted

Mar 9, 2021

2016
Château Cap de Mourlin (St. Émilion Grand Cru)

With its licorice infused, dark red berry, coffee bean and mocha personality, the wine is round, forward and loaded with sweet, ripe, juicy fruits.

1,987 Views

Tasted

Sep 21, 2019

Loads of ripe, juicy, dark red fruits with a blast of licorice, chocolate and strong espresso note rides on top on the fleshy berries. Round, forward and easy to like, you can enjoy this on release, or with a few years of aging.

1,443 Views

Tasted

Feb 11, 2019

Lush, juicy, dark red fruits, espresso, earth and fennel create the nose. In the mouth, the fruit is velour -- plush and soft with a concentration of flavor and sweetness in the finish.

1,057 Views

Tasted

Apr 29, 2017

2015
Château Cap de Mourlin (St. Émilion Grand Cru)

Smoky with plums cherry and herbal essences are on the nose. On the palate, espresso beans, smoke, earth, black cherries and licorice burst out of the starting gate. This wine is soft, polished, round leaves you with fresh, salty plums in the finish.

2,345 Views

Tasted

May 21, 2018

Espresso beans, smoke, earth, black cherries and licorice burst out of the starting gate. This wine is polished, fresh, ripe and round with a plum and cocoa finish.

2,041 Views

Tasted

Apr 29, 2016

2014
Château Cap de Mourlin (St. Émilion Grand Cru)

Medium bodied, fresh, bright wine with a raspberry, fresh brewed espresso and red plum character for early consumption.

1,921 Views

Tasted

Dec 13, 2017

2013
Château Cap de Mourlin (St. Émilion Grand Cru)

This nose is tight and requires coaxing to find its aromatics, while the palate delivers spicy red berries and cherries, medium body and a light style. 85-88 Pts

1,745 Views

Tasted

Apr 28, 2014

2012
Château Cap de Mourlin (St. Émilion Grand Cru)

Lusciously textured, with smoky, licorice tinged, fresh, sweet, ripe, black cherry and chocolate flavors from start to finish. A few more years will add more secondary nuance and softness. This was surprisingly good.

2,470 Views

Tasted

Dec 27, 2017

2010
Château Cap de Mourlin (St. Émilion Grand Cru)

Cap de Mourlin Licorice, plums, coco powder and oak, medium bodied, soft textures and a red and black plum finish. 88-90 Pts

2,223 Views

Tasted

Apr 22, 2011

2009
Château Cap de Mourlin (St. Émilion Grand Cru)

Light in color, fruit and length. Drink up sooner than later.

2,640 Views

Tasted

Dec 31, 2014

1955
Château Cap de Mourlin (St. Émilion Grand Cru)

On the one hand, the wine has clearly faded, with high levels of acidity and not a lot of fruit. But there is enough there, there to make it at least interesting. On the other hand, considering that the wine comes from moderate terroir made by a chateau that is not known for making seriously age-worthy wines, as this is more than 60 years old, this was an amazing bottle of wine making it a treat to experience.

1,528 Views

Tasted

Mar 19, 2016