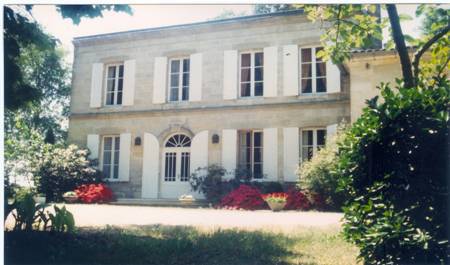 Learn everything about Chateau Corbin Michotte St. Emilion with wine tasting notes, wine and food pairing tips, best vintages, wine ratings, a history of the property and information on the vineyards and winemaking. If you want to read about other important, Bordeaux Chateaux: Links to all Bordeaux Wine Producer Profiles
Chateau Corbin Michotte History, Overview
Chateau Corbin Michotte and the Boidron family have a long history in the Bordeaux appellation. In fact, the Boidron family has been involved in producing wine since 1760.
Corbin Michotte is even older, as the vineyard was created in 1726. Until recently, Jean Noel Boidron was formerly in charge of all the family's estates. Jean Noel Boidron is the seventh generation in his family to manage Chateau Corbin Michotte.
Chateau Corbin Michotte is one of five different St. Emilion estates with the name Corbin. These estates are all located near the Pomerol border on similar, mostly, sandy terroirs. Chateau Corbin Michotte is owned by the Boidron family.
Following the 2012 Classification of St. Emilion wines, Jean Noel Boidron, the owner of Corbin Michotte, which was denied Grand Cru Classe status, brought forth legal action claiming the new, St. Emilion Classification was unfair, irrelevant and inconsistent. Jean Noel Boidron filed a legal appeal to an official Bordeaux administrative tribunal in early 2013. They demanded that the classification of St. Emilion be set aside.
Chateau Corbin Michotte Vineyards, Terroir, Grapes, Winemaking
The 13.8-hectare, Right Bank Bordeaux vineyard of Chateau Corbin Michotte is planted to 65% Merlot, 30% Cabernet Franc and 5% Cabernet Sauvignon. The terroir is sand, gravel, iron, sandy clay soils. The vineyard is in 1 single, parcel, which is not common in the Corbin sector. The vines are close to 35 years of age.
Vinification takes place in cement tanks. The wines are aged in 70% new, French oak barrels for close to 15 months before bottling. On average the estate produces 3,000 cases of Bordeaux wine per year. Chateau Corbin Michotte also produces a second wine, Chateau Les Abeilles.
The best vintages of Chateau Corbin Michotte are: 2022, 2021, 2020, 2019, 2018, 2010, 2009 and 2005.
When to Drink Chateau Corbin Michotte, Anticipated Maturity, Decanting Time
Chateau Corbin Michotte is better with 3-4 years of bottle age. Of course, that can vary slightly, depending on the vintage. Chateau Corbin Michotte is best enjoyed in the first 5-10 years of life.
Young vintages can be decanted for up to 1 hour or so. This allows the wine to soften and open its perfume. Older vintages might need very little decanting, just enough to remove the sediment.
Serving Chateau Corbin Michotte with Wine and Food Pairings
Chateau Corbin Michotte is best served at 15.5 degrees Celsius, 60 degrees Fahrenheit. The cool, almost cellar temperature gives the wine more freshness and lift. Chateau Corbin Michotte is best paired with all types of classic meat dishes, veal, pork, beef, lamb, duck, game, roast chicken, roasted, braised, and grilled dishes.
Chateau Corbin Michotte is also good when matched with Asian dishes, rich fish courses like tuna, mushrooms, and pasta.
Château Corbin Michotte Wine Tasting Notes
7 Vintages 13,193 Views Sort by Vintage-Rating
2022
Château Corbin Michotte (St. Émilion Grand Cru)

With a floral character, you find licorice, cherries and espresso at its core. The wine is medium-bodied, a bit oaky and finishes cherries, plums and cocoa. This will be enjoyable to drink in its youth. Drink from 2025-2032. 89-91 Pts.

840 Views

Tasted

May 8, 2023

2021
Château Corbin Michotte (St. Émilion Grand Cru)

The nose opens with mushrooms, balsamic, espresso, red fruits and orange peel. Medium-bodied, round and forward, the finish leaves you with a sweet and sour fruit character. This will be in its youth. Drink from 2023-2029. 86-88

948 Views

Tasted

May 20, 2022

2020
Château Corbin Michotte (St. Émilion Grand Cru)

Medium-bodied, light, bright and tight wine with an oaky, savory edge to the fruit in the nose and in the drying finish. Drink from 2023-2034.

956 Views

Tasted

Mar 21, 2023

Dark in color, the wine is medium-bodied, earthy, fruity, round and showing a bit too much oak at the moment. The finish is juicy, savory and a bit strict in the endnote. 86-88 Pts

1,171 Views

Tasted

May 20, 2021

2019
Château Corbin Michotte (St. Émilion Grand Cru)

With a floral, savory, earthy, edge to the red fruits on the nose and palate, the wine is medium-bodied, and focused on its ripe, vibrant, red berry core of fruits. The finish is light, but, soft, clean and fresh. You can enjoy this on release. Drink from 2022-2032.

680 Views

Tasted

Mar 29, 2022

2018
Château Corbin Michotte (St. Émilion Grand Cru)

Medium-bodied and spicy with a drop of licorice and herbs, this wine is forward, bright and light and will be ready for drinking upon release. 84-86 Pts

1,978 Views

Tasted

Apr 19, 2019

2009
Château Corbin Michotte (St. Émilion Grand Cru)

Light to medium bodied, on the bright side of the red fruit style range, with some spice and earthy characteristics. Soft in texture, this is best for early, uncomplicated quaffing.

2,366 Views

Tasted

Feb 5, 2015

2005
Château Corbin Michotte (St. Émilion Grand Cru)

Black cherry, plum, earth, vanilla and spice flavors lead to a medium bodied, easy going, crowd pleasing, soft style of St. Emilion wine that is ready to drink.

4,254 Views

Tasted

Sep 14, 2011