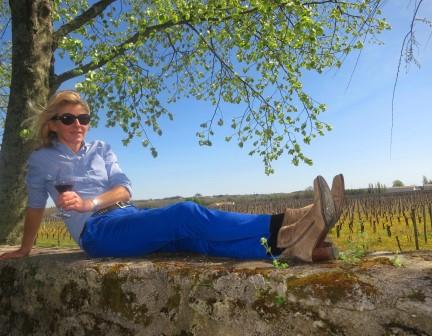 Learn everything about Chateau Corbin St. Emilion with wine tasting notes and wine with food pairing tips. Learn the best vintages, the history of the property, and information on vineyards and winemaking. If you want to read about other important, Bordeaux Chateaux: Links to all Bordeaux Wine Producer Profiles
Chateau Corbin History, Overview
Chateau Corbin is one of the oldest estates in St. Emilion. In fact, it dates back to the 15th century. More recently, bringing Chateau Corbin into the modern era, in 1924, Chateau Corbin was purchased by the Great Grandparents of the current owners, the Cruse family.
The beautiful chateau was constructed in the 1800s. During the late 1990s, Anabelle Cruse and her sisters purchased the shares of Chateau Corbin from the other family shareholders and took over complete ownership of the estate.
Since 1999, Chateau Corbin has been ably managed by Anabelle Cruse-Bardinet. Prior to her taking over Chateau Corbin, she was in charge of Chateau Certan Giraud in Pomerol. Her cousin, Emmanuel Cruse owns and manages Chateau dIssan in the Margaux appellation.
Like many Bordeaux estates, Chateau Corbin believes in passing down the chateau through lineage. But part of what makes Chateau Corbin unique is that its line of succession has been passed from mother to daughter for multiple generations. Perhaps, that has something to do with the refined, elegant, stylings in their wine.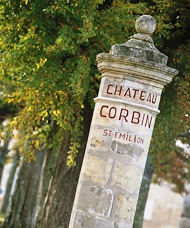 Chateau Corbin Vineyards, Terroir, Grapes, Winemaking
The 12.31-hectare vineyard of Chateau Corbin is planted to 92% Merlot and 8% Cabernet Franc, which shows an increase in the Merlot planted here. The estate is located very close to Pomerol and not from Chateau Cheval Blanc and Chateau La Dominique. The vineyard is in one single parcel with a slight slope and is close to the chateau. They also have a small parcel of vines across the small road, next to Grand Corbin Despagne.
The terroir features sand and clay with iron deposits in the soils and gentle slopes. You can basically divide the vineyard into two parts with one section featuring more clay in one section, while the other section has more sand and gravel. That plus the slopes with their natural drainage allows Chateau Corbin to produce their elegant, style of wine.
The average age of the vines remains close to 33 years old. However, they also have old vines. In fact, some of their Cabernet Franc vines are more than 60 years of age. The vine density ranges from 6,667 per hectare to 8,333 vines per hectare. The higher levels of vine density are found in the newer plantings.
Starting with the 2008 vintage, Anabelle Cruse and her team, which included consultant Jean-Philippe Fort, began bringing up the quality of the wines from Chateau Corbin. As of the 2020 vintage, Chateau Corbin no longer uses any consultants.
Today, the level of work that goes into producing the wine of Chateau Corbin has improved. A complete renovation of their wine-making facilities was completed in time for the 2016 harvest. The new vat room has 18 stainless steel tanks that range in size from 40 hectoliters to 80 hectoliters. This allows for a parcel by parcel vinification at Chateau Corbin.
A small portion of the malolactic fermentation takes place in 40% new oak barrels, only about 10%. The remainder of the wine sees malolactic fermentation in stainless steel tanks. Starting with the 2020 vintage, Chateau Corbin began aging a portion of their Cabernet Franc grapes in large glass amphora.
The wines are on average aged for close to 16 months in a combination of 40% new, French oak barrels, glass amphora, and tank before bottling. On average, the production of Chateau Corbin is close to 5,200 cases per vintage.
The best vintages of Chateau Corbin are: 2022, 2021, 2020, 2019, 2018, 2017, 2016, 2015, 2014, 2010, 2009, 2005 and 2000. Though the quality of Chateau Corbin really started to get good with the 2009 vintage. 2015, 2016, 2018, 2019, and 2020 are all sublime, showing improvement in vintage after vintage.
There is a second wine that has 2 names; XX de Corbin and Divin de Corbin. Regardless of the name, the wines are exactly the same.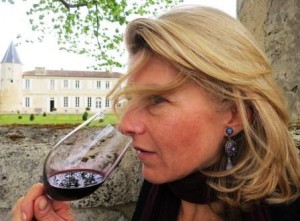 When to Drink Chateau Corbin, Anticipated Maturity, Decanting Time
Chateau Corbin is much better with at least 6-8 years of aging in good vintages. Young vintages can be decanted for 1 hour or more.
This allows the wine to soften and open its perfume. Older vintages might need very little decanting, just enough to remove the sediment. Chateau Corbin offers its best drinking and should reach peak maturity between 7-18 years of age after the vintage.
Serving Chateau Corbin with Wine and Food Pairings
Chateau Corbin is best served at 15.5 degrees Celsius, 60 degrees Fahrenheit. The cool, almost cellar temperature gives the wine more freshness and lift.
Chateau Corbin is best paired with all types of classic meat dishes, veal, pork, beef, lamb, duck, game, roast chicken, roasted, braised, and grilled dishes. Chateau Corbin is also good when matched with Asian dishes, and rich fish courses like tuna, mushrooms, and pasta.
The 2015 Chateau Corbin was the best wine I had tasted from Corbin. But 2016 Chateau Corbin proved to be an even better wine as did 2018 and 2020! The trend of making better wine at Chateau continues unabated. And fortunately for consumers, the wine still remains fairly priced. Chateau Corbin is clearly a Saint Emilion estate to watch as it's really on the upswing.
Château Corbin Wine Tasting Notes
17 Vintages 83,222 Views Sort by Vintage-Rating
2022
Château Corbin (St. Émilion Grand Cru)

Flowers, black cherries, black raspberries, licorice, and dark plum aromas come through in the nose. On the palate, the medium-bodied wine is lush, rich, and polished with more depth than usual. You can taste, and feel the balance, freshness, and levels of perfectly ripe pit fruits with ease. The wine finishes with dark, red pit fruits, and even darker chocolate. What really works here this year is the purity in the fruits. The proprietor, Anabelle Cruse says this is the best vintage she has ever produced. And I think she is right! The wine blends 90% Merlot with 10% Cabernet Franc. 14% ABV, 3.65 pH. September 6 - September 23 were the dates of the harvest. Drink from 2025-2042. 93-95 Pts.

441 Views

Tasted

May 8, 2023

2021
Château Corbin (St. Émilion Grand Cru)

Roses, black raspberries and cherries fill the nose. Medium-bodied, soft, silky, and fresh, with a nice sweetness to the fruits and just a touch of cocoa and spice on the backend to add complexity to the refined, elegantly-styled wine. This is going to be delicious to taste on release. The wine blends 90% Merlot with 10% Cabernet Franc, 13% ABV. The wine was harvested September 23 - October 4. Drink from 2023-2037. 89-91

1,197 Views

Tasted

May 20, 2022

2020
Château Corbin (St. Émilion Grand Cru)

Elegant, fresh and refined, the wine is medium-bodied and focuses on the purity in all of its sweet, ripe red fruits. On the nose, you find a strong, attention-seeking floral note, finishing with silky red fruits, earth, spice, herbs and crushed rocks. The wine blends 80% Merlot, 15% Cabernet Franc and 5% Cabernet Sauvignon. Chateau Corbin continues its run of superb vintages. 92-94 Pts

3,367 Views

Tasted

Jun 2, 2021

2019
Château Corbin (St. Émilion Grand Cru)

Elegant, silky, refined and fresh, the nose pops with flowers, plums, crushed stone and savory, leafy herbs. Lusciously textured, spicy red fruits with a touch of chocolate hit your palate in all the right ways and stick with you, letting you spend time with all those, sweet ripe fruits. Give it a year or two in the cellar and it's going to be quite a treat. This is in contention for the best vintage of Corbin ever produced. Drink from 2023-2035.

1,268 Views

Tasted

Mar 29, 2022

With loads of ripe, elegant, soft, dark, sexy plums, silky tannins, freshness and a fabulous mouth feel, this medium-bodied, finesse-driven wine is already fabulous to taste. This could be the finest vintage of Corbin produced yet. It will be beautiful to taste with just a few years of bottle age, and it will continue to develop and provide pleasure for at least another 15 years or so after that.

2,672 Views

Tasted

Jun 8, 2020

2018
Château Corbin (St. Émilion Grand Cru)

Elegant, refined, silky and fresh with beautiful purity and symmetry to the fruit. The sweetness in the red pit fruits on the nose, palate and in the finish make a great, lasting impression. The wine blends 90% Merlot with 10% Cabernet Franc. As I said in my barrel tastings, this is the finest vintage of Corbin produced yet!

1,820 Views

Tasted

Mar 9, 2021

With a profundity of color, the wine is fresh, juicy, elegant, ripe and multi-faceted. On the palate and in the finish you find decadent cherries and licorice with lift, length and opulence. The wine blends 90% Merlot with 10% Cabernet Franc, reaching 15% ABV but there is no touch of heat or jammy sensations. This is a beauty and it is the best vintage of Corbin I have ever tasted! 92-94 Pts

1,731 Views

Tasted

Apr 19, 2019

2016
Château Corbin (St. Émilion Grand Cru)

Medium-bodied, elegant and refined, with lovely, fresh, sweet, red fruits, silky tannins and floral aromatics, the wine is bright, refined and finesse driven. There is purity in the fruit, length and energy here.

4,125 Views

Tasted

Sep 21, 2019

Plums, licorice and floral aromatics with a hint of cocoa on the nose. On the palate, the wine is soft, fresh and more concentrated than usual with a finesse driven, dusty, elegant, sweet, polished, vibrant finish. There is purity in the fruit, length and energy here. The wine was made from blending 89% Merlot and 11% Cabernet Franc, reaching 14.5% ABV and aging in 50% new French oak barrels. For fans of this wine, you should know, this is best wine yet, made from Corbin!

3,025 Views

Tasted

Apr 29, 2017

2015
Château Corbin (St. Émilion Grand Cru)

The sweet floral aromatics, plums and licorice start off the show. From there the wine is juicy, elegant and refined. The tannins on this medium bodied wine are soft. This is an elegant, refined, supple, silky wine that will reward 3-5 years in the cellar. The wine was made from a blend of 90% Merlot and 10% Cabernet Franc.

3,454 Views

Tasted

May 21, 2018

With notes of truffle, licorice, black plum and rain-soaked earth creating the perfume, this is clearly, the richest, silkiest wine ever made at Corbin. The plush mouth feel has an unmistakable presence of ripe, fresh fruits, purity and length with a touch of clay and minerals in the finish. What I really love about this wine is the darker fruit profile, which can be difficult to find in the sandy soils from this part of the appellation. A blend of 90% Merlot and 10% Cabernet Franc, the wine reached 14.5% ABV and will be aged in 40% new, French oak barrels. After it's in the bottle, I would not be surprised to see this score at the top end of the range -- and maybe a point higher!

3,540 Views

Tasted

Apr 29, 2016

2014
Château Corbin (St. Émilion Grand Cru)

A quiet nose with earthy, thyme and fresh, sweet, red fruits. Medium bodied, elegant, and soft, with loads of black raspberry and spice in the finish.

3,417 Views

Tasted

Jul 2, 2017

With a nose as charming as estate manager Annabelle Cruse, the violet, licorice and black cherry aromas are a pleasure. On the palate, the wine is medium bodied, fresh, soft and sweet with a black raspberry and thyme finish. A blend of 90% Merlot and 10% Cabernet Franc, the wine reached 13% ABV and will be aged in 40% new, French oak barrels. 90-91 Pts

3,806 Views

Tasted

Apr 27, 2015

2013
Château Corbin (St. Émilion Grand Cru)

Light in color, the medium bodied, soft, elegant, fresh wine is on the lighter, red fruit side of the style range. This cherry and herb tinged wine will be best on release.

1,831 Views

Tasted

May 25, 2016

The spicy red berry and spearmint bouquet opens to a medium-bodied, fresh, light wine with sweet cherries that continue through to the finish. From a blend of 87% Merlot and 13% Cabernet Franc, the wine reached 13% ABV and is aging in 40% new French oak. 87-89 Pts

2,171 Views

Tasted

Apr 28, 2014

2012
Château Corbin (St. Émilion Grand Cru)

Ruby in color, with a smoky, cherry, earthy, leaf and thyme scented nose, the wine is forward, supple and fresh.

3,818 Views

Tasted

May 15, 2015

From 90% Merlot and 10% Cabernet Franc, the wine reached 13.5% ABV. With a nose of licorice and fresh black raspberry jam, the medium-bodied wine is soft, smooth and forward, ending with dark berries and a hint of dust in the finish. 89-91 Pts

3,804 Views

Tasted

Apr 26, 2013

2011
Château Corbin (St. Émilion Grand Cru)

Anabelle Cruse is on a roll at Chateau Corbin. In a very difficult year, the wine sports complex aromas of licorice, mint, leaves, oak and fresh red berries. Medium bodied, with soft, round textures and a forward personality, this well priced wine will be delicious on release.

3,060 Views

Tasted

Nov 17, 2013

Corbin has been making better wine since the 2009 vintage. From a blend of 80% Merlot and 20% Cabernet Franc, the wine will be aged in 80% new oak. Medium bodied with soft textures, floral notes, fresh raspberry, licorice and kirsch, this will drink well young. 90-91 Pts

2,937 Views

Tasted

Apr 24, 2012

2010
Château Corbin (St. Émilion Grand Cru)

Coffee, licorice, fresh, ripe, black raspberries in the nose. On the palate, the wine is soft, rich and silky, ending with sweet, blackberries and cocoa. This is my favorite vintage of Corbin from Anabelle Cruse yet!

3,724 Views

Tasted

May 7, 2013

2010 Corbin Deep colored, mineral driven, licorice, jammy berry, spice and sweet black cherry open to a rich, plush, round, deep wine. This is a big step up for Anabelle Cruse. It's the best Corbin I have ever tasted. 91-93 Pts

4,026 Views

Tasted

Apr 22, 2011

2009
Château Corbin (St. Émilion Grand Cru)

With a floral edge to the sweet cherries, the wine is mature, elegant, soft and fresh. Medium-bodied, with silky tannins, spice and herbs. This is perfect for enjoying now and over the next decade.

2,844 Views

Tasted

Sep 20, 2019

Sensuous textures, a perfume packed with licorice, ripe, black and red cherries, spice and earth, a long, supple, forward, medium/full bodied, elegant, fruit filled finish, along with a fair price made this St. Emilion a winner.

5,283 Views

Tasted

Sep 21, 2012

2008
Château Corbin (St. Émilion Grand Cru)

Light in color, the medium bodied wine is already showing its truffle, tobacco, thyme, espresso and red fruit character. On the palate, the wine is probably close to mature, with a dusty, crisp, bright, fresh, sweet and tart red berry finish..

1,802 Views

Tasted

Sep 17, 2018

08 Château Corbin. Corbin lies in the farthest north west region of St. Emilion, in clay and sandy soil. This elegantly styled St. Emilion offers a medium bodied wine with a profile of red and black cherries. 89-91 Pts

3,273 Views

Tasted

Jul 1, 2009

2006
Château Corbin (St. Émilion Grand Cru)

Mature, this ready to drink charmer opens with truffle, wet forest floor and hints of plum in the nose. Silky in texture, but short, and slightly dusty in the finish with an olive and herbal tone, there is no reason to age this any longer.

3,440 Views

Tasted

May 25, 2016

2005
Château Corbin (St. Émilion Grand Cru)

With a developed nose showing its tobacco, earth, forest and leafy character, the wine is medium bodied, elegantly styled with a cherry and wild strawberry finish.

3,195 Views

Tasted

Jun 28, 2015

2001
Château Corbin (St. Émilion Grand Cru)

Fully mature, with a smoky, tobacco, cigar box, floral and cherry nose, with a touch of herbs. The wine is medium bodied, soft, refined and at the perfect stage of development for maximum enjoyment.

4,151 Views

Tasted

Mar 19, 2017