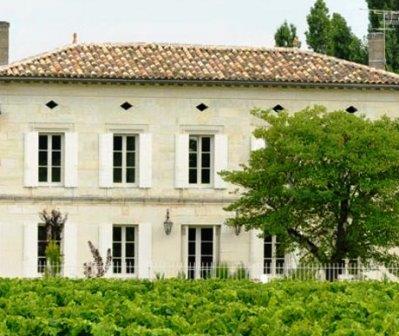 Learn everything about Chateau Grand Corbin Despagne St. Emilion with wine tasting notes and wine with food pairing tips. Learn the best vintages, a history of the property, information on the vineyards and winemaking. If you want to read about other important, Bordeaux Chateaux: Links to all Bordeaux Wine Producer Profiles
Chateau Grand Corbin Despagne History, Overview
Chateau Grand Corbin Despagne has been in the hands of the Despagne family for over two centuries! Which is quite a rarity these days as very few families continue holding on to their estates.
Chateau Grand Corbin Despagne was purchased by the descendants of the current Despagne family in 1812. The foundation of Chateau Grand Corbin Despagne began with Louis Despagne.
Prior to 1812, the Despagne clan was not yet a family with property to their name. But the Despagne family was definitely involved in the Bordeaux wine business. In fact, they were becoming established in St. Emilion. They worked as farmers at Cheval Blanc. Following the French Revolution, the Despagne family was awarded the right to purchase vineyard land.
The original estate of Chateau Grand Corbin Despagne was much smaller than it is today. At the time, the Right Bank estate was only 6.8 hectares.
Several years later, the Despagne family was finally able to purchase 20 additional hectares. Those additional vines created the vineyard that remains the same size that is still in use. Today, Chateau Grand Corbin Despagne is managed by François Despagne, the 7th generation of his family to take charge of the property.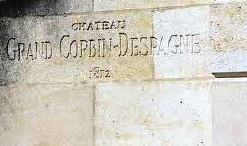 Chateau Grand Corbin Despagne Vineyards, Terroir, Grapes, Winemaking
The 29-hectare Chateau Grand Corbin vineyard is planted to 75% Merlot, 24% Cabernet Franc and 1% Cabernet Sauvignon. Over the years, the Malbec that was previously planted here has been almost completely removed. The vineyard is located close to the Pomerol border. It is one of 7 estates to share the name of Corbin in their name.
The vineyard can be divided into 53 separate parcels. Their best terroir is closest to the Pomerol appellation, which explains why you find more clay, as well as sand in the soil there. The vines are old. Many vines are close to 40 years of age. However, they have a small selection of vines that are approaching 100 years of age.
The vineyard is planted to a density of 6,000 vines per hectare. The terroir is sand with clay, sandy clay, sandstone, and bits of iron in the soil. In 2004, they began moving to organic farming. After 2010, Chateau Grand Corbin Despagne was certified as being 100% organic.
To produce the wine of Chateau Grand Corbin Despagne, vinification takes place in temperature-controlled, stainless steel tanks. The wine is aged in 50% new, French oak barrels for an average of 15 months, which could vary, depending on the character of the vintage.
The best vintages of Chateau Grand Corbin Despagne are: 2022, 2021, 2020, 2019, 2018, 2017, 2016, 2015, 2014, 2012, 2010, 2009 and 2005.
There is a second wine, Petit Corbin Despagne. In addition, there is also a third wine, Chateau Laporte. The total production of Chateau Grand Corbin Despagne, including their second wine, is on average about 7,500 cases of Bordeaux wine per year.
In addition, the family also owns a small vineyard in Pomerol, Chateau Le Chemin, as well as a property in Cotes de Castillon, Chateau Ampelia.
When to Drink Chateau Grand Corbin Despagne, Anticipated Maturity, Decanting Time
Chateau Grand Corbin Despagne is better with at least 5-7 years of bottle age. Of course, that can vary slightly, depending on the vintage.
Chateau Grand Corbin Despagne is best enjoyed in the first 5-18 years of life. Young vintages can be decanted for about 1 hour to 90 minutes. This allows the wine to soften and open its perfume. Older vintages might need very little decanting, just enough to remove the sediment.
Serving Chateau Grand Corbin Despagne with Wine and Food Pairings
Chateau Grand Corbin Despagne is best served at 15.5 degrees Celsius, 60 degrees Fahrenheit. The cool, almost cellar temperature gives the wine more freshness and lift. Chateau Grand Corbin Despagne is best paired with all types of classic meat dishes, veal, pork, beef, lamb, duck, game, roast chicken, roasted, braised, and grilled dishes.
Chateau Grand Corbin Despagne is also good when matched with Asian dishes, rich fish courses like tuna, mushrooms, and pasta.
Since 2000, the wines of Chateau Grand Corbin Despagne have been improving. Previous vintages were not at the same level of quality as you find here these days. This is an outstanding value Bordeaux wine from Saint Emilion.
Château Grand Corbin-Despagne Wine Tasting Notes
17 Vintages 67,433 Views Sort by Vintage-Rating
2022
Château Grand Corbin-Despagne (St. Émilion Grand Cru)

Dark in color, the wine pops with chocolate, licorice, black cherries, plums and flowers in the nose. Medium-bodied, round, fresh and sweet, the dark red fruits with their lush textures, lift and sucrosity create a gorgeous mouth-feel on the mid-palate and in the finish. The wine is produced from blending 75% Merlot, 24% Cabernet Franc and 1% Cabernet Sauvignon. 14.5% ABV, 3.64 pH. Drink from 2025-2045. 94-95 Pts.

697 Views

Tasted

May 8, 2023

2021
Château Grand Corbin-Despagne (St. Émilion Grand Cru)

Licorice, chocolate, black raspberries and flowers and plums show up on the nose. The wine is soft, forward, medium-bodied, fresh and sweet on the palate, finishing with soft, silky, mineral-edged fruits and leafy herbs in the finish. Drink from 2023-2035. 91-93

1,246 Views

Tasted

May 20, 2022

2020
Château Grand Corbin-Despagne (St. Émilion Grand Cru)

Flowers, licorice, cherries, plums, spice, bay leaves and sage create the complex aromatics. The wine is medium-bodied, silky and fresh. There is a gorgeous vibrancy and purity in the sweet, ripe, red fruits that linger, long after the wine has left your glass. Produced from blending 75% Merlot, 24% Cabernet Franc and 1% Cabernet Sauvignon, this finesse styled wine is clearly one of the best vintages of Chateau Grand Corbin-Despagne ever produced. Drink from 2024-2045.

916 Views

Tasted

Mar 21, 2023

Very deep in color, the wine pops with its aromatic profile of flowers, wild cherries, blue fruit, licorice, smoke and cocoa. Lush, silky and polished, with velvety tannins and a finish that keeps on going due to all its layers of sweet, vibrant, red pit fruits and seductive textures. This is a nice step up in quality and concentration here. 92-94 Pts

2,180 Views

Tasted

May 20, 2021

2020
Petit Corbin Despagne (St. Émilion)

Licorice, red fruits and flowers greet your nose. On the palate, the wine is soft, fresh, medium-bodied fruity, with a silky, vibrant red berry finish that is perfect for early drinking pleasure. Drink from 2023-2032.

1,635 Views

Tasted

Mar 21, 2023

2019
Château Grand Corbin-Despagne (St. Émilion Grand Cru)

This was just great from the barrel and it is even better now that it is bottled. The wine is lush, round, deep, rich and complex. There is depth, freshness and complexity that shines through with all of its layers of deep, red fruits, black cherries, plums, cocoa and wet earth. This is already showing well, but with a few years in the cellar, it is going to be even better. This is the finest vintage of Grand Corbin-Despagne ever produced. Drink from 2024-2036.

2,179 Views

Tasted

Mar 29, 2022

Floral, with black and blue fruit, wet earth, smoke and licorice, the wine is silky and polished with an elegant nature, leaving with more of that delicious black and blue fruit in the finish. This could become the finest vintage of Grand Corbin-Despagne ever produced. 91-93 Pts

3,089 Views

Tasted

Jun 8, 2020

2018
Château Grand Corbin-Despagne (St. Émilion Grand Cru)

Deep in color, with a soft, polished, plush texture on the palate which creates a nice canvass to enjoy the sweet plums and cherries. This will be easy to enjoy on release and over the next 12 years or so. Drink from 2023-2036.

2,198 Views

Tasted

Sep 25, 2022

Medium-bodied, floral, refined, elegant, silky, plummy and with loads of ripe, sweet cherries, the wine is light on its feet, in a good way. With lift and vibrancy, this finesse styled beauty will be better with just a few years of age.

2,588 Views

Tasted

Mar 9, 2021

With a strong floral accent, the wine is silky, polished, sweet, ripe and soft with licorice and black cherries throughout and especially in the finish. 91-93 Pts

3,998 Views

Tasted

Apr 19, 2019

2016
Château Grand Corbin-Despagne (St. Émilion Grand Cru)

Elegant, fresh and silky, the wine focuses on its sweet, red cherries and brightness. Medium-bodied and finesse in style, if you like young, red fruits, try it young. If you prefer more softness and earthy nuances, age it for 5 years or so.

2,791 Views

Tasted

Sep 21, 2019

Silky, mineral-driven fruits, ripe, soft tannins, medium bodied with fresh plums, which carry through from start to finish.

3,575 Views

Tasted

Apr 29, 2017

2015
Château Grand Corbin-Despagne (St. Émilion Grand Cru)

Medium bodied, soft, elegant and charming, the textures are soft, the cherries and plums have a nice, spicy essence to add complexity. The finish shows sweetness to the ripe, red fruits.

3,125 Views

Tasted

May 21, 2018

2014
Château Grand Corbin-Despagne (St. Émilion Grand Cru)

Medium bodied with an herbal, olive note to the plum character, this wine will drink well young. 86-88 Pts

4,191 Views

Tasted

Apr 27, 2015

2013
Château Grand Corbin-Despagne (St. Émilion Grand Cru)

Light in color and fruit with an herbal, red berry finish, this will require consumption early in life. 82-84 Pts

3,710 Views

Tasted

Apr 28, 2014

2012
Château Grand Corbin-Despagne (St. Émilion Grand Cru)

Medium-bodied with sweet black cherry fruits, soft tannins and a drying finish. 87-89 Pts

4,005 Views

Tasted

Apr 26, 2013

2011
Château Grand Corbin-Despagne (St. Émilion Grand Cru)

Licorice, red berries, herbs and earth, this slightly rustic wine should be better with a year or two in the bottle.

3,295 Views

Tasted

Nov 17, 2013

2010
Château Grand Corbin-Despagne (St. Émilion Grand Cru)

Easy drinking, elegant and charming, the medium bodied wine shows good color and serves up a healthy dose of soft, spicy, black raspberries, licorice and earth.

4,054 Views

Tasted

Sep 6, 2014

2009
Château Grand Corbin-Despagne (St. Émilion Grand Cru)

2009 Grand Corbin Despagne is medium bodied with jammy blackberries, spice, and minerals. The wine offers a round, black cherry finish. 89-91 Pts

4,303 Views

Tasted

Jun 28, 2010

2008
Château Grand Corbin-Despagne (St. Émilion Grand Cru)

About to enter prime time, the medium bodied, wine is soft, polished, fresh, fruity and focused on its sweet, ripe cherry core of fruits, licorice and wet earth.

3,028 Views

Tasted

Dec 13, 2017

2006
Château Grand Corbin-Despagne (St. Émilion Grand Cru)

Deeply colored, with licorice, blackberries, earth and cocoa aromas, this strong value priced Bordeaux wine offers a lot of bang for the buck with its layers of sweet ripe fruit and round, opulent, early drinking charm and character.

6,684 Views

Tasted

Oct 31, 2011

2005
Château Grand Corbin-Despagne (St. Émilion Grand Cru)

A nice value St. Emilion in today's world with its concentrated style, ripe dark berry, licorice and earthy personality. The wine has the ability to age and improve.

3,946 Views

Tasted

May 31, 2012