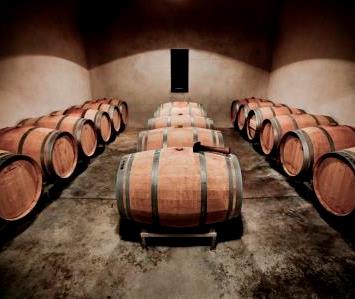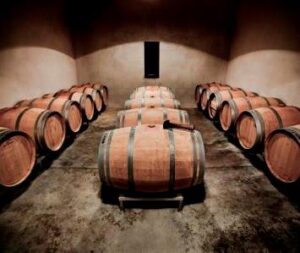 Learn everything about Lucia St. Emilion with wine tasting notes, wine, and food pairing tips, best vintages, a history of the property, and information on the vineyards and winemaking. If you want to read about other important, Bordeaux Chateaux: Links to all Bordeaux Wine Producer Profiles
Lucia History, Overview
The owner of Lucia, Michel Bortolussi, got his start in the Bordeaux wine business by selling equipment needed to make wine to all the top producers and winemakers in Bordeaux.
But his strongest customer base was the numerous chateaux located in the Saint Emilion appellation. Michel Bortolussi felt if so many of his customers could produce great wine, so could he. One of his top clients was the famous wine consultant, Stephane Derenoncourt. That relationship was the start of Chateau Lucia.
Before Bortolussi and Stephane Derenoncourt teamed up to create Chateau Lucia, the wine was formally sold under the name of Chateau Lucie before Michel Bortolussi changed the name to Lucia. The first vintage for Lucia was made in 2001. In 2012, Chateau Lucia was sold to Enzo Ide, a Belgian businessman.
Enzo Ide has retained the same technical team for their Right Bank vineyards and with the winemaking. Enzo Ide also owns another vineyard, Chateau La Rousselle in the Fronsac appellation.
Lucia Vineyards, Terroir, Grapes, Winemaking
The 4.3 hectare St. Emilion vineyard of Chateau Lucia is planted to 90% Merlot and 10% Cabernet franc. At Lucia, they have some of the oldest vines in Bordeaux. In fact, some of the vines date all the way back to 1901.
They also have 2 other sections of the vineyard with vines that are on average 30 years of age.
The younger vines are situated close to Chateau Monbousquet. Those vines are planted in more of the sandy terroir with some clay in the soils. Overall, the vineyard has a terroir of clay and limestone soils. The vines are planted to a vine density of 5,500 vines per hectare.
There is a lot of labor-intensive work that takes place at Chateau Lucia. To produce the wine of Chateau Lucia, after the berries are harvested by hand, the fruit is sorted twice before fermentation. The grapes are whole berry fermented in small open-top, oak tanks that range in size from 30 to 50 hectoliters.
Everything in the small cellars is moved by gravity. Malolactic fermentation takes place in French oak barrels. The wine is aged on its lees in an average of 60% new, French oak barrels for between 12 to 18 months, depending on the character and quality of the vintage.
The best vintages of Chateau Lucia are: 2022, 2021, 2020, 2019, 2018, 2017, 2016, 2015, 2014, 2012, 2010, 2009 and 2005.
The production of Lucia is small, as close to 1,250 cases of wine are produced here in every vintage.
When to Drink Lucia, Anticipated Maturity, Decanting Time
Lucia needs some time before it can be enjoyed. Young vintages can be decanted for an average of 1 hour or more. This allows the wine to soften and open its perfume. Older vintages might need very little decanting, just enough to remove the sediment.
Lucia is usually better with at least 4-5 years of bottle age. Of course, that can vary slightly, depending on the vintage character. Lucia offers its best drinking and should reach peak maturity between 4-15 years of age after the vintage.
Serving Lucia with Wine, Food, Pairing Tips
Lucia is best served at 15.5 degrees Celsius, 60 degrees Fahrenheit. The cool, almost cellar temperature gives the wine more freshness and lift.
Lucia is best paired with all types of classic meat dishes, veal, pork, beef, lamb, duck, game, roast chicken, roasted, braised, and grilled dishes. Lucia is also good when matched with Asian dishes, hearty fish courses like tuna, mushrooms, and pasta.
Lucia is a modern-styled, forward, opulent, Bordeaux wine that is ripe, rich, and filled with licorice, black raspberries, and chocolate. It's a wine that is a lot of fun to taste and it drinks well early.
Château Lucia Wine Tasting Notes
15 Vintages 39,828 Views Sort by Vintage-Rating
2022
Château Lucia (St. Émilion Grand Cru)

Incense, spice, smoke, cocoa, licorice ,and red pit fruits are found in the nose, and on the palate. The medium-bodied wine is soft, supple, and creamy with ripe, black cherries, espresso, and licorice on the mid-palate and in the lush finish. The wine is a blend of 90% Merlot with 10% Cabernet Franc, 14% ABV. Drink from 2025-2037. 91-93 Pts.

1,382 Views

Tasted

May 8, 2023

2021
Château Lucia (St. Émilion Grand Cru)

Licorice, smoke and cocoa along with ripe black cherries, espresso and plums on the nose and palate here. The wine is sweet, fruity, round and polished, Drink from 2023-2036. 89-91

1,394 Views

Tasted

May 20, 2022

2020
Château Lucia (St. Émilion Grand Cru)

Licorice, black cherries, chocolate and espresso express their notes with ease. Full-bodied, rich, ripe and round, but also fresh and vibrant, with a luscious, supple textured, fruit-packed, chocolate mint and dark, pit fruit filled finish. Drink from 2024-2040.

806 Views

Tasted

Mar 21, 2023

Dark in color, you find chocolate mint, fruit cake, plums and cherries galore in the nose. On the palate the wine is round, lush, polished, sweet and fruity, with an opulently textured, chocolate and cappuccino drenched finish. 91-93 Pts

1,608 Views

Tasted

May 20, 2021

2019
Château Lucia (St. Émilion Grand Cru)

Dark, round, opulent, forward, lush and rich, this is all about the wealthy of ripe sweet, fruits, licorice and opulent, in your face textures that make this such a hit. 91-93 Pts

2,086 Views

Tasted

Jun 8, 2020

2018
Château Lucia (St. Émilion Grand Cru)

Opulent, lush, sweet and fruity with ample cocoa, licorice and chocolate covered plums on the palate and in the finish to round things out. You should be able to enjoy this on release, or with just a modicum of cellar time.

790 Views

Tasted

Mar 9, 2021

Forward, round, ripe, dark in color and loaded with licorice, espresso, smoke, cocoa and dark plums, this modern-styled wine will be ready to drink on release. 90-92 Pts

1,335 Views

Tasted

Apr 19, 2019

2017
Château Lucia (St. Émilion Grand Cru)

Round, lush and open, the wine is all about its ripe, sweet, forward, soft ripe, black cherries, chocolate, espresso and licorice. If you like them young, this is a wine you can enjoy in its adolescence.

1,346 Views

Tasted

Apr 26, 2018

2016
Château Lucia (St. Émilion Grand Cru)

Round, juicy, sweet, luscious plums, cherries, licorice and espresso notes are all over the place. Plushly textured, you can drink this early in life, or age it for 3-5 years and drink it over the subsequent decade.

1,793 Views

Tasted

Sep 21, 2019

Opulent, dense, plump, juicy and hedonistic, this wine is sweet, fleshy, flashy and all smoking jacket and gold Rolex, leaving you with an afterglow of chocolate-covered cherries, espresso and licorice. Modern in style -- if that's your thing, you're going to love it.

1,281 Views

Tasted

Apr 29, 2017

2015
Château Lucia (St. Émilion Grand Cru)

Ripe, lush, fat, rich, black cherry liqueur notes paired with licorice, cocoa and cassis, this wine has supple textures and sweet, vanilla-tinged, black fruits in a low acid, modern style.

1,867 Views

Tasted

Apr 29, 2016

2014
Château Lucia (St. Émilion Grand Cru)

Forward, ripe, round and soft with a licorice, black cherry and espresso-filled personality, this wine is easy to enjoy. 88-89 Pts

1,658 Views

Tasted

Apr 27, 2015

2013
Château Lucia (St. Émilion Grand Cru)

Licorice, coffee bean, kirsch liqueur and pepper on the nose open to a flowery, spicy, red berry palate with a definite oaky presence in the finish. The wine reached 13% ABV and will be aged in 50% new, French oak. 87-89 Pts

1,873 Views

Tasted

Apr 28, 2014

2012
Château Lucia (St. Émilion Grand Cru)

From a blend of 90% Merlot and 10% Cabernet Franc, the wine opens with licorice, black cherry and earth. Medium-bodied, soft and forward in style, the wine ends with black cherry and fennel notes. 88-90 Pts

1,798 Views

Tasted

Apr 26, 2013

2011
Château Lucia (St. Émilion Grand Cru)

From a 3.06-hectare vineyard, part of which was planted in 1901, the wine is a blend of 90% Merlot and 10% Cabernet Franc. With mineral and fresh, ripe berry flavors, the wine offers licorice and polished textures. 90-91 Pts

2,603 Views

Tasted

Apr 24, 2012

2010
Château Lucia (St. Émilion Grand Cru)

Lucia comes from a 3.06-hectare vineyard, part of which was planted in 1901 to 90% Merlot and 10% Cabernet Franc. The wine expresses licorice, black cherry and spice aromas. Plushly textured and filled with ripe jammy berries, with its open style, this wine should be fun to drink shortly after release. 91-93 Pts

6,955 Views

Tasted

Apr 22, 2011

2009
Château Lucia (St. Émilion Grand Cru)

2009 Lucia comes from a 3.06-hectare vineyard, part of it planted in 1901. The soils are clay and limestone. The vineyard yielded only 25 hls/ha. The wine is 90% merlot and 10% cabernet franc . With its dark fruit, licorice, and mineral driven personality, Lucia finishes with fleshy dark cherries and anise. 89-91 Pts

5,327 Views

Tasted

Jun 28, 2010

2005
Château Lucia (St. Émilion Grand Cru)

Rich, ripe, fleshy, flashy and filled with ripe, dark berries, blue fruit, spice and licorice. Concentrated and opulent in the mouth, this sext wine will be a lot of fun to drink. B ut not much is made, so it will become hard to find.

3,926 Views

Tasted

Jun 24, 2007