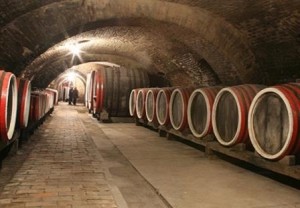 Learn everything about Chateau La Rousselle Fronsac with wine tasting notes, wine and food pairing tips, best vintages, a history of the property, information on the vineyards and winemaking. If you want to read about other important Bordeaux Chateaux: Links to all Bordeaux Wine Producer Profiles
Chateau La Rousselle History, Overview
Chateau La Rousselle is one of the older estates in the region. The vineyard dates all the way back to the 1600's, when it was founded by a member of the Rousselle family.
However, the true modern era for Chateau La Rousselle is quite recent as that starts in 1971 when the Fronsac estate was purchased by the Davau family. At the time of the purchase by the Davau family, Chateau La Rousselle was in a dilapidated condition and everything required work.
The new owners began an extensive renovation program from the ground up starting with the chateau, wine cellars and wine making facilities.
The vineyard demanded expensive replanting. The truth is, everything needed to be renovated and completely modernized. In fact, as we mentioned, the Chateau La Rousselle vineyard was also in serious need of major replanting as well.
All that work paid off because these days it's easy to see the quality in the wines. In fact, these days, Chateau La Rousselle is making one of the top wines in the Fronsac appellation. Vivien Davau. sold the vineyard to Enzo Ide, who also owns Chateau Lucia, in St. Emilion.
Chateau La Rousselle Vineyards, Terroir, Grapes, Winemaking
The 4.6 hectare Right Bank vineyard of Chateau La Rousselle is planted to 65% Merlot and 35% Cabernet Franc. The Cabernet Sauvignon vines have been removed. The terroir is clay and limestone soils. The vines are old. On average, the vines are close to 35 years of age, with some parcels having older vines.
To produce the wine of Chateau La Rousselle, after whole berry vinification, the wine is aged in 50%, new, French oak barrels. Malolactic fermentation takes place in barrel.
The team of Stephane Derenoncourt acts as the consultant for the winemaking as well as the vineyard management at Chateau La Rousselle. On average, the production is close to 1,500 cases of wine per vintage.
The best vintages of Chateau La Rousselle are: 2022, 2021, 2020, 2019, 2018, 2017, 2016, 2015, 2014, 2012, 2010 and 2009.
When to Drink Chateau La Rousselle, Anticipated Maturity, Decanting Time
Chateau La Rousselle is better with at least 2-3 years of aging in good vintages. Young vintages can be decanted for up to 1 hour, helping the wine soften to help develop the aromatic character.
Older vintages might need very little decanting, just enough to remove the sediment. Chateau La Rousselle offers its best drinking and should reach peak maturity between 2-10 years of age after the vintage.
Serving Chateau La Rousselle with Wine, Food, Pairing Tips
Chateau La Rousselle is best served at 15.5 degrees Celsius, 60 degrees Fahrenheit. The cool, almost cellar temperature gives the wine more freshness and lift.
Chateau La Rousselle is best paired with all types of classic meat dishes, veal, pork, beef, lamb, duck, game, roast chicken, roasted, braised and grilled dishes. Chateau La Rousselle is also good when matched with Asian dishes, rich fish courses like tuna, mushrooms and pasta.
Château La Rousselle Wine Tasting Notes
13 Vintages 24,837 Views Sort by Vintage-Rating
2022
Château La Rousselle (Fronsac)

Licorice, flowers and spice with black raspberries and plums fill up the nose and palate here. The wine is supple, medium-bodied, fresh and sweet, with accents of chocolate, licorice, and espresso. The wine blends 60% Merlot with 40% Cabernet Franc. 14.5% ABV. Drink from 2025-2035. 90-92 Pts.

528 Views

Tasted

May 8, 2023

2021
Château La Rousselle (Fronsac)

Flowers and spice with minty herbs and red fruits on the palate. The wine is bright, crisp and a bit reserved as well in the finish. Drink from 2023-2030. 87-89

1,179 Views

Tasted

May 20, 2022

2020
Château La Rousselle (Fronsac)

Flowers, herbs, licorice, coffee bean, smoke, earth, flowers and juicy, lush black plums. Opulent, vibrant, rich and concentrated, this is already a pleasure to taste and feel. Drink from 2023-2040.

614 Views

Tasted

Mar 21, 2023

Dark garnet in color, the wine is loaded with licorice, coffee bean, smoke, anise, earth, flowers and black plums. Richly textured and fleshy, the wine is silky, polished, sweet and long, with an opulent finish. This should be just great on release and even better with a few years of age. 90-92 Pts

1,413 Views

Tasted

May 20, 2021

2019
Château La Rousselle (Fronsac)

Dark in hue, with licorice, espresso and black cherries on the nose, the wine is full-bodied, round, forward and very fruity. The endnote, with all those layers of opulent dark berries keeps on going. 89-91

2,621 Views

Tasted

Jun 8, 2020

2018
Château La Rousselle (Fronsac)

Espresso, smoke, cherries, licorice, chocolate and layers of ripe pit fruits are all over the place here, on the showy nose, and on the richly textured, lush, chocolate covered cherry filled palate. It is ready to drink on release and it sells for a song, making it that much better.

707 Views

Tasted

Mar 9, 2021

With licorice, smoke, jam and black fruits, the wine is forward, lush, fat and rich. The wine offers early drinking charm, so you can pop on cork on release letting you enjoy all this ripe fruit without delay. 89-91 Pts

1,337 Views

Tasted

Apr 19, 2019

2017
Château La Rousselle (Fronsac)

Fennel, spice, black licorice and plums are delivered with soft, round textures. The wine is medium bodied, forward, open and due to its early drinking charm, you can pop on cork on release.

1,304 Views

Tasted

Apr 26, 2018

2016
Château La Rousselle (Fronsac)

Soft, sweet and fresh, with and earthy, juicy, silky, ripe, sweet dark red fruits in a forward supple style, with a nice fresh polished sweet fruity end note and a lingering, herbal note in the finish.

1,857 Views

Tasted

Sep 21, 2019

Licorice, dark chocolate and spicy, dark cherry flavors, medium/full bodied, sweet and forward.

1,686 Views

Tasted

Apr 29, 2017

2015
Château La Rousselle (Fronsac)

Soft, silky, ripe, sweet dark red fruits in a forward supple style, with a nice fresh polished sweet fruity end note.

1,522 Views

Tasted

Apr 29, 2016

2014
Château La Rousselle (Fronsac)

Smooth red fruits, red licorice and a forward, fruity sweet finish. 86-89 Pts

1,645 Views

Tasted

May 1, 2015

2012
Château La Rousselle (Fronsac)

Blending 65% Merlot and 35% Cabernet Franc, the wine offers licorice, black cherry and earthy notes in the nose. Soft in texture, but short in the finish. 85-87 Pts

1,876 Views

Tasted

Apr 28, 2013

2011
Château La Rousselle (Fronsac)

Medium bodied, almost, but not quite light, fruity, soft, dark cherry filled wine with earthy, floral accents. This is not a wine to hold for future drinking.

1,751 Views

Tasted

Jan 5, 2018

2010
Château La Rousselle (Fronsac)

Round, ripe, forward and lushly textured, this has more than ample, fresh, sweet, juicy black plums, licorice and cocoa, coupled with an open personality to make this already fun in your glass.

1,556 Views

Tasted

Dec 1, 2015

2009
Château La Rousselle (Fronsac)

From a blend of 65% Merlot and 35% Cabernet Franc, this deeply colored wine offers licorice, coffee bean, black cherry liqueur and mineral scents. Rich in texture, concentrated and with round tannins, the wine ends with a long, sweet, intense, wave of blackberry, jam, fennel and espresso bean. Another great value wine from the Stephane Derenoncourt team.

3,241 Views

Tasted

Mar 12, 2012