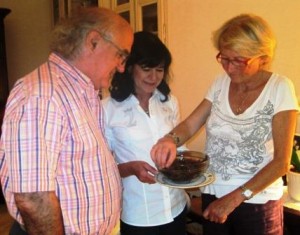 Learn everything about Gracia St. Emilion with wine tasting notes, wine and food pairing tips, best vintages, wine ratings, a history of the property, and information on the vineyards and winemaking. If you want to read about other important, Bordeaux Chateaux: Links to all Bordeaux Wine Producer Profiles
Gracia History, Overview
Gracia is the true, original Garage wine! It is produced inside the picturesque village of St. Emilion in a small space, located on a tiny back alley that is next to a working garage.
The small, stone building is not marked. There are no signs. If you know where it is, you can recognize it best by its old, faded, red, wood door.
The estate is owned by Michel Gracia. Michel Gracia is an interesting man, who knows everyone and everything about Saint Emilion. In part, that is because he is also a contractor and stonemason that has worked for many of the top estates including Chateau Cheval Blanc, Petrus, and several other well-known properties in the region.
Thanks to prodding by Jean Luc Thunevin of Valandraud and Alain Vauthier of Chateau Ausone, Michel Gracia founded his winery in 1994, when he purchased a small, 1.5-hectare parcel of vines in great terroir that is located close to Chateau Troplong Mondot. The difficult 1997 marked the debut vintage for Gracia.
The following vintage, 1998 began to show the potential for his vineyard. In 2001 Michel Gracia added another 1.3 hectares of vines to his holdings. The new parcels are situated not too far from Chateau Angelus. In 2005, Gracia added another .3 hectares of vines.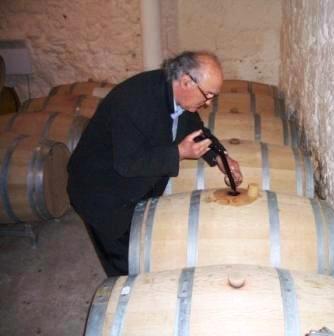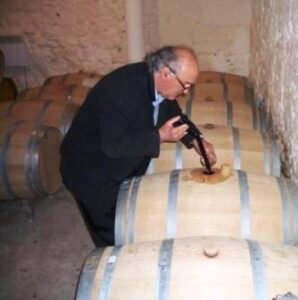 Gracia Vineyards, Terroir, Grapes, Winemaking
The small, 2.84 hectare St. Emilion vineyard of Gracia is planted to 80% Merlot, 15% Cabernet Franc and 5% Cabernet Sauvignon.
The terroir is clay and limestone soils. The vines are old, averaging close to 40 years of age. This Right Bank, Bordeaux vineyard is planted to a vine density of 5,500 vines per hectare. Although there are parts of the vineyard planted to a vine density of 10,000 plants per hectare, which is extremely high for St. Emilion.
The amount of effort required to produce this small wine is extensive. Chateau Gracia sees a 28 to 30-day maceration period. Vinification takes place in a combination of small, temperature-controlled, stainless steel vats and Taransaud oak tanks.
Yields are always low here. On average, they are often only 25 hectoliters per hectare and at times, they are even lower! Which explains the levels of concentration and the low quantity of wine available. Malolactic fermentation takes place in 100% new, French oak barrels. The wine of Chateau Gracia is aged in 100% new, French oak barrels.
The best vintages of Chateau Godeau are: 2022, 2021, 2020, 2019, 2018, 2017, 2016, 2015, 2010, 2009 and 2005.
As you can expect, not much wine is made as on average, there are close to 350 cases of wine produced here per vintage.
When to Drink Gracia, Anticipated Maturity, Decanting Time
Gracia is better with at least 5-7 years of bottle age. Of course, that can vary slightly, depending on the vintage. Gracia is best enjoyed in the first 7-22 years of life.
Young vintages can be decanted for 1-2 hours. This allows the wine to soften and open its perfume. Older vintages might need very little decanting, just enough to remove the sediment.
Serving Gracia with Wine and Food Pairings
Gracia is best served at 15.5 degrees Celsius, 60 degrees Fahrenheit. The cool, almost cellar temperature gives the wine more freshness and lift
Gracia is best paired with all types of classic meat dishes, veal, pork, beef, lamb, duck, game, roast chicken, roasted, braised, and grilled dishes. Gracia is also good when matched with Asian dishes, rich fish courses like tuna, mushrooms, and pasta.
Michel Gracia also produces Les Angelots de Gracia. Les Angelots de Gracia is not a second wine, it's a unique Saint Emilion wine produced from its own fruit sources. The wine of Les Angelots de Gracia experiences the same care and technique required to make Gracia.
Gracia Wine Tasting Notes
30 Vintages 105,631 Views Sort by Vintage-Rating
2022
Gracia (St. Émilion Grand Cru)

Fresh, silky, elegant, ripe, soft, and fruity. The wine is forward, vibrant, and supple with refined, red pit fruits in the finish. The wine is produced from blending 70% Merlot, 25% Cabernet Franc, and 5% Cabernet Sauvignon. Drink from 2025-2040. 92-94 Pts.

784 Views

Tasted

May 8, 2023

2021
Gracia (St. Émilion Grand Cru)

Incense, espresso, flowers, chocolate and red plums are easy to enjoy in this forward-styled, soft, silky, sweet and fresh, medium-bodied, supple, textured wine. Fans of Gracia should note that very little wine was made as the yields were under 10 hectoliters per hectare. Drink from 2023-2038. 90-92

1,910 Views

Tasted

May 20, 2022

2021
Les Angelots de Gracia (St. Émilion Grand Cru)

Incense, espresso, spice and cherries with a bit of chocolate in the end note come through easily in this fresh, medium-bodied, soft-textured, forward, light wine. Drink from 2023-2036. 87-89

1,914 Views

Tasted

May 20, 2022

2020
Gracia (St. Émilion Grand Cru)

Dark in color, the wine is rich, lush, opulent and polished. The layers of flowers, silky-textured plums, cherries, licorice and blackberry provide length, purity, complexity and character. The finish is fresh, long and rich. I am really liking the style of this wine. 94-96 Pts

2,853 Views

Tasted

May 20, 2021

2020
Les Angelots de Gracia (St. Émilion Grand Cru)

Flowers, black and blue fruits, licorice, spice box, espresso and wild cherries are found in the nose. Medium-bodied, elegant, fresh, vibrant and silky, the wine finishes with a dose of espresso, infused red fruits and spice. 91-93 Pts

2,676 Views

Tasted

Jun 3, 2021

2019
Gracia (St. Émilion Grand Cru)

Round, lush, deep, dark fresh and loaded with licorice, smoke, chocolate, black cherries, espresso and smoke. Rich, full, plush and polished, the wine finishes with layers of chocolate coated blackberries and plums. This will be ready for enjoyment with only a modicum of cellaring. Drink from 2023-2039.

1,612 Views

Tasted

Mar 29, 2022

Fresh, bright, spiced, juicy fruits with smoke, leaf and thyme accents are all over the place here. Medium-bodied, fruity, sweet and with that all-important freshness, the wine ends with a plum and cocoa lifted finish. 92-94 Pts

2,694 Views

Tasted

Jun 8, 2020

2019
Les Angelots de Gracia (St. Émilion Grand Cru)

Forward, round, fresh and fruity, the wine is packed with chewy-textured, red berries, oak and savory herbs. Give it a few years in the cellar to soften and integrate. Drink from 2024-2036.

838 Views

Tasted

Mar 29, 2022

Medium-bodied, soft, floral and fruity, with a core of sweet, juicy, fresh, ripe red fruits giving you lift and a nice bite of cherry and red plums in the finish. The wine was made from a blend of 90% Merlot and 10% Cabernet Franc. 90-92 Pts

3,583 Views

Tasted

Jun 8, 2020

2018
Gracia (St. Émilion Grand Cru)

Black and red fruits, espresso bean, licorice and dark cocoa sensations are all over the place. The wine is round, concentrated, rich and lush, with a stone and herbal accent to all the deep, ripe fruits in the finish. Give it 4-5 years in the cellar before pulling a cork. The wine blends 70% Merlot, 25% Cabernet Franc and 5% Cabernet Sauvignon.

1,470 Views

Tasted

Mar 9, 2021

Concentrated and fresh with lift as well as volume, the wine reveals crushed rock, licorice and flowers. This wine is refined and mineral-driven and delivers a lusciously textured finish but it is going to take some aging to be at its best. Made from a blend of 70% Merlot, 25% Cabernet Franc and 5% Cabernet Sauvignon, it reached 14% ABV. 94-96 Pts

2,435 Views

Tasted

Apr 19, 2019

2018
Les Angelots de Gracia (St. Émilion Grand Cru)

Opulently textured, with layers of espresso, dark cocoa, ripe black plums, cherries, chocolate and spice, the wine is long, polished and intense, with gorgeous textures and length. Give it a few years for the oak to better integrate. The wine blends 90% Merlot with 10% Cabernet Franc.

1,951 Views

Tasted

Mar 9, 2021

Espresso, flowers, black cherry and licorice form the perfume. The wine is dripping with opulence and packed with mocha, cocoa, black cherry and plum. Polished in nature, the texture is truly fine this year. The wine blends 90% Merlot with 10% Cabernet Franc. 93-95 Pts

2,507 Views

Tasted

Apr 19, 2019

2017
Gracia (St. Émilion Grand Cru)

The wine is dark in color and so is the fruit. The freshness is there, along with minerality. Round and with layers of depth, you also discover dark red fruits, licorice, espresso and cocoa in the finish. But it is going to be almost impossible to find. Due to the frost, less than 100 case of wine were produced this year. The wine was made from a blend of 70% Merlot, 25% Cabernet Franc and 5% Cabernet Sauvignon.

2,265 Views

Tasted

Apr 26, 2018

2016
Gracia (St. Émilion Grand Cru)

Deep and nearly inky in color, you'll find so much sweetness in the fat, juicy, velvety fruits, silky-soft tannins and decadent textures. This is a wine to taste. There is less oak and more focus on the purity, elegance and balance.

4,232 Views

Tasted

Apr 29, 2017

2016
Les Angelots de Gracia (St. Émilion Grand Cru)

Espresso, spice, smoked fruits and licorice, dominate the wine. Clearly, this is luxurious, abundant and dense, but the modern style with its oaky character will not work for everyone.

2,150 Views

Tasted

Apr 29, 2017

2015
Gracia (St. Émilion Grand Cru)

Made from a blend of 70% Merlot, 25% Cabernet Franc and 5% Cabernet Sauvignon, this wine is even more opulent than usual. Fresh, round, long and deep with fleshy blackberries, licorice and plums, this is a graceful goddess of a wine that plays on the palate in the most pleasing of ways. The harvest took place from October 10 to October 19 and the wine will be aged in 100% new, French oak barrels.

5,063 Views

Tasted

Apr 29, 2016

2015
Les Angelots de Gracia (St. Émilion Grand Cru)

Fat, lush, juicy and fresh with polished, sweet, ripe fruits, length and freshness, this is the best vintage of Angelots de Gracia I've ever tasted. Made from a blend of 90% Merlot and 10% Cabernet Franc.

3,475 Views

Tasted

Apr 29, 2016

2014
Gracia (St. Émilion Grand Cru)

Made from a blend of 70% Merlot, 25% Cabernet Franc and 5% Cabernet Sauvignon, this wine is deep in color with espresso, black cherry and plum, replete with silky tannins and a brilliant freshness. 92-94 Pts

2,942 Views

Tasted

Apr 27, 2015

2014
Les Angelots de Gracia (St. Émilion Grand Cru)

Deep garnet in color with freshness of fruit and layered with licorice and chocolate covered cherries, this wine is plush in texture with a long, creamy finish. Made from a blend of 90% Merlot and 10% Cabernet Franc. 90-91 Pts.

2,224 Views

Tasted

Apr 27, 2015

2013
Gracia (St. Émilion Grand Cru)

With licorice, coffee bean and smoky plums, this deep-colored, fleshy wine is soft and approachable, leaving you with lingering, sweet, dark cherries. From a blend of 65% Merlot, 30% Cabernet Franc, and 5% Cabernet Sauvignon , the wine reached 14% ABV. With low yields of 15 hectoliter per hectare, only 300 cases were produced this year. 92-94 Pts

2,111 Views

Tasted

Apr 28, 2014

2012
Gracia (St. Émilion Grand Cru)

Sandalwood, licorice, blackberry and cocoa notes, fleshy, sweet, ripe, sof textured, blackberries with cocoa are found in the finish. 91-93 Pts

4,746 Views

Tasted

Apr 26, 2013

2012
Les Angelots de Gracia (St. Émilion Grand Cru)

Incense, coffee and blackberry notes open to spicy, dark berries and a saline, dark chocolate and blackberry, round finish. 88-90 Pts

1,906 Views

Tasted

Apr 26, 2013

2011
Gracia (St. Émilion Grand Cru)

80% Merlot, 15% Cabernet Franc and 5% Cabernet Sauvignon is aged in 100% new oak. Chocolate, licorice, black cherry and truffle scents, lush textures and a polished black cherry, raspberry and chocolate-filled finish are found in this wine. 91-93 Pts

3,542 Views

Tasted

Apr 24, 2012

2011
Les Angelots de Gracia (St. Émilion Grand Cru)

With oak, truffle, smoke and dark berry scents, this ripe, jammy wine ends with coffee and sweet blackberries. 90-91 Pts

2,994 Views

Tasted

Apr 24, 2012

2010
Gracia (St. Émilion Grand Cru)

Gracia 80 % Merlot 20% Cabernet Franc came in at 15% ABV. Oak, spicy berry, licorice and chocolate covered blackberry nose. Round texture, full bodied and concentrated with a long dark cherry, fennel and jammy blackberry finish. 91-93

5,803 Views

Tasted

Apr 22, 2011

2010
Les Angelots de Gracia (St. Émilion Grand Cru)

2010 Les Angelots Gracia 80 % Merlot 20% Cabernet Franc combined to produce a wine that 14.5% ABV. The nose offers a perfume of oak, licorice, plums and jammy blackberries. Supple in texture, the round, ripe wine finishes with anise and sweet blackberry jam. 90-92 Pts

3,668 Views

Tasted

Apr 22, 2011

2009
Gracia (St. Émilion Grand Cru)

Rich, supple, concentrated, youthful and packed with black licorice, black cherry liqueur, wet earth, flowers and just a hint of blueberry. Another 3-5 years and this hedonistic beauty will be even better! The wine was made from a blend of 75% Merlot, 20% Cabernet Franc and 5% Cabernet Sauvignon.

3,162 Views

Tasted

Nov 14, 2016

2008
Gracia (St. Émilion Grand Cru)

08 Gracia starts off with a spicy, licorice infused, blackberry liquor nose that is made even better by the large dose of chocolate covered black fruit in the mouth. A rich, opulent, full bodied style of wine for buyers seeking a lot of pleasure. The last of the garage wines? Gracia is probably the only wine that was, and still is, made in an actual garage in the heart of St. Emilion. 92-95 Pts

3,788 Views

Tasted

Jul 1, 2009

2008
Les Angelots de Gracia (St. Émilion Grand Cru)

Full bodied, concentrated and showing a strong minerality edge to the dark red berries and black frit. Here, you also find espresso, licorice and chocolate accents. This is round, fresh, richly textured and drinking fine today. The wine was made from a blend of 90% Merlot and 10% Cabernet Franc.

2,305 Views

Tasted

Jan 2, 2018

2005
Gracia (St. Émilion Grand Cru)

Still youthful, but showing well, the wine serves up a nose of licorice, fresh black cherries, plum and earthy notes. Smooth, round and plush, there is a nice polish the rich layers of the sweet, ripe, fruits. The wine was made from a blend of 80% Merlot, 15% Cabernet Franc and 5% Cabernet Sauvignon.

4,386 Views

Tasted

Dec 17, 2014

2005
Les Angelots de Gracia (St. Émilion Grand Cru)

Not much of this wine is made, so it was a nice surprise to find it on the table. Fully mature, medium bodied, soft, lush and round. The wine easily keeps you focused on its dark cherry, licorice, thyme, espresso, mocha and plummy personality.

2,585 Views

Tasted

Nov 7, 2016

2000
Gracia (St. Émilion Grand Cru)

From a blend of 90% Merlot and 10% Cabernet Franc, the wine offers licorice, stone, blackberry, coffee, smoke and black cherry aromas. Full bodied, rich and round in texture, aged in 100% new oak, this plum filled St. Emilion is drinking well today.

2,723 Views

Tasted

Mar 18, 2012

1998
Gracia (St. Émilion Grand Cru)

Elegant, sophisticated and opulent with good concentration. Lots of ripe chocolate covered blackberries, plums and spice. Gracia, made from 90% Merlot and 10% Cabernet Franc, produced a whopping 400 cases of wine. Gracia is truly a garage wine. While that term has fallen from favor, the wine is still produced in a garage in the heart of St. Emilion! I think the wine is better enjoyed on the young side and should be opened sooner rather than later.

4,564 Views

Tasted

Oct 12, 2011

Licorice, black cherry and mocha are the predominant aromatics. Full bodied with a slight rusticity to the tannins, the wine ends with spicy, black raspberry flavors. However, a touch of green is noted in the finish. This was probably better a few years ago. If I had any remaining bottles, I'd rather drink it sooner than later.

3,897 Views

Tasted

Aug 21, 2010

The wine has no faults, but it lost the excitement and sexy, plush quality it previously sported. This was a better wine a few years ago.

3,873 Views

Tasted

May 29, 2008