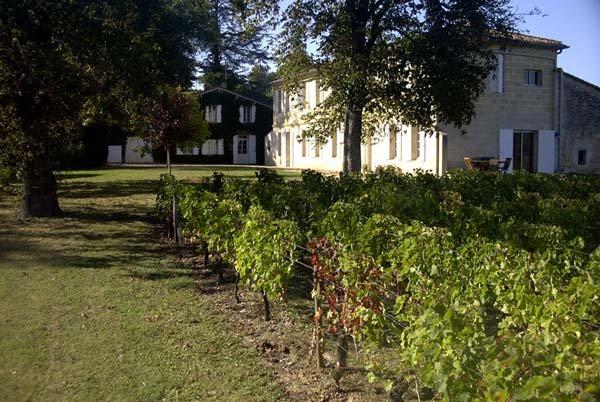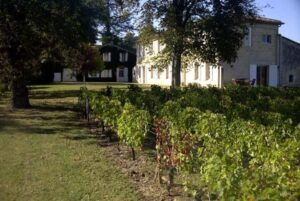 Learn everything about Chateau Godeau St. Emilion with wine tasting notes, wine, and food pairing tips, best vintages, a history of the property, and information on the vineyards and winemaking. If you want to read about other important, Bordeaux Chateaux: Links to all Bordeaux Wine Producer Profiles
Chateau Godeau History, Overview
Chateau Godeau has good neighbors in Saint Emilion. In fact, Chateau Godeau is located on the slopes of St. Emilion only a stone's throw from Tertre Roteboeuf. They are also just around the bend from Chateau Troplong Mondot. In fact, a portion of their vineyard is also not too far from Chateau Pavie.
Chateau Godeau as a quality wine producer in St. Emilion is a recent phenomenon. The change in the wine and winemaking at Chateau Godeau started in 2007, when the chateau was purchased by Steve Filipov.
It took him only a few short years to get everything going in the right direction. Chateau Godeau once again changed hands in late 2012 when the Right Bank estate was sold to Agnes and Alberic Florisoone.
Agnes Florisoone and Alberic Florisoone were previously partial owners of Chateau Calon Segur in St. Estephe, which was also sold in 2012, in the largest transaction to take place in Bordeaux that year.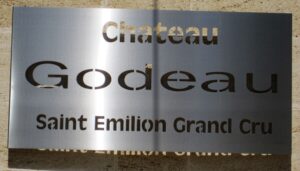 Chateau Godeau Vineyards, Terroir, Grapes, Winemaking
The 5.65-hectare Chateau Godeau vineyard is planted to 90% Merlot and 10% Cabernet Franc. This is a change in the vineyard as previous vintages had a lot more Cabernet in the vineyard. The vineyard has a terroir of clay and limestone terroir soils.
The vines are planted to a vineyard density of 6,000 vines per hectare. The average age of the vines is about 35 years. The vineyard of Chateau Godeau is farmed using only sustainable farming techniques.
To produce the wine of Chateau Godeau, after intense sorting, whole berry fermentation takes place in temperature-controlled, stainless steel tanks. The fruit sees a one-month maceration period. Extraction is done by pigeage. They do not do any pumping over.
Malolactic fermentation takes place in barrels. For the first six months of the aging, the wine remains on its lees. The wine is aged in an average of 50% new, French oak barrels.
Chateau Godeau is a Saint Emilion property to watch as it offers good style, character and the best part is, the wine sells for a fair price. Plus it drinks well young too!
Since Stephane Derenoncourt signed on as their consultant starting with the 2009 vintage, things have been steadily improving in the vineyards and with the wine.
The best vintages of Chateau Godeau are: 2022, 2021, 2020, 2019, 2018, 2017, 2016, 2015, 2010, 2009 and 2005.
Earlier vintages are not as interesting and should be avoided. But out of almost 300 wines tasted from 2009, Chateau Godeau was one of the best Bordeaux wine values from the entire Bordeaux appellation. The production is on average close to 2,400 cases per vintage. The property also produces two second wines, Les Escapades de Godeau and Godeau Ducarpe.
When to Drink Chateau Godeau, Anticipated Maturity, Decanting Time
Chateau Godeau is better with at least 4-6 years of bottle age. Of course, that can vary slightly, depending on the vintage. Chateau Godeau is best enjoyed in the first 5-15 years of life.
Young vintages can be decanted for about 1 hour or so. This allows the wine to soften and open its perfume. Older vintages might need very little decanting, just enough to remove the sediment.
Serving Chateau Godeau with Wine and Food Pairings
Chateau Godeau is best served at 15.5 degrees Celsius, 60 degrees Fahrenheit. The cool, almost cellar temperature gives the wine more freshness and lift.
Chateau Godeau is best paired with all types of classic meat dishes, veal, pork, beef, lamb, duck, game, roast chicken, roasted, braised, and grilled dishes. Chateau Godeau is also good when matched with Asian dishes, rich fish courses like tuna, mushrooms, and pasta.
Château Godeau Wine Tasting Notes
13 Vintages 42,733 Views Sort by Vintage-Rating
2022
Château Godeau (St. Émilion Grand Cru)

Flowers, red pit fruits, black cherries, vanilla, and spice nuances find their way into the perfume. On the palate, the wine is supple, creamy, fresh, and elegant, with sweetness, and lift to the fruits on the mid-palate, and in the finish. Drink from 2025-2040. 91-93 Pts.

728 Views

Tasted

May 8, 2023

2020
Château Godeau (St. Émilion Grand Cru)

In the nose you find chocolate, coffee bean, savory herbs, smoke, licorice and black cherry liqueur. Lush, fruity, polished and with a nice touch of crushed stone on the mid-palate, you can drink this with pleasure on release, or age it. Drink from 2023-2038.

430 Views

Tasted

Mar 21, 2023

Deeply colored, the wine shows its dark cocoa, licorice, black plum and espresso core with little effort. Soft, round, elegant, silky, medium-bodied and fresh, this is going to be quite nice to enjoy over the next 12-15 years. 90-92 Pts

1,163 Views

Tasted

May 20, 2021

2019
Château Godeau (St. Émilion Grand Cru)

With its refined, medium-bodied character you are quickly able to dig into all of its layers of sweet, espresso tinged, polished, lush, ripe, dark red fruits. There is more than enough fruit and character to provide at least 15 years of pleasure. But, give it a year or two in the cellar for the oak to better integrate. Drink from 2023-2035.

1,090 Views

Tasted

Mar 29, 2022

Elegant, soft and silky-textured, medium-bodied wine with sweet, polished, red fruits, licorice, plums, cherries and espresso on the palate and in the finish. 91-93 Pts

2,371 Views

Tasted

Jun 28, 2020

2018
Château Godeau (St. Émilion Grand Cru)

Black raspberries, licorice and flowers pop up nicely. This wine is silky, polished, elegant and fresh with sweet, ripe red fruits in the finish. I am no longer waiting for Godot -- it is here! 91-93 Pts

1,582 Views

Tasted

Apr 19, 2019

2017
Château Godeau (St. Émilion Grand Cru)

Medium bodied with ripe black raspberries and crushed rock tones, the wine is soft, forward and should be pleasurable to drink with just a few years of age.

1,522 Views

Tasted

Apr 26, 2018

2016
Château Godeau (St. Émilion Grand Cru)

Floral, black raspberry, plummy, licorice and oak, this medium-bodied wine is soft and forward, easy to drink now and better with a few years of age.

2,893 Views

Tasted

Apr 29, 2017

2015
Château Godeau (St. Émilion Grand Cru)

A medium-bodied, sweet, fresh and soft-textured wine with notes of licorice, espresso, dark smoky fruits and a little spice to liven things up

2,734 Views

Tasted

Apr 29, 2016

2014
Château Godeau (St. Émilion Grand Cru)

Lush, forward and sweet with licorice, plum, cocoa and fresh red cherries. 88-90 Pts

3,598 Views

Tasted

Apr 27, 2015

2013
Château Godeau (St. Émilion Grand Cru)

Plummy with oak and herbs, the wine is medium bodied, lightly tannic and will be best in the first 4-7 years of life. 86-88 Pts

1,663 Views

Tasted

Apr 28, 2014

2012
Château Godeau (St. Émilion Grand Cru)

The first vintage for the new owners produced a wine made from 95% Merlot and 5% Cabernet Franc, reaching 13.8% ABV. Cherry blossom, licorice and oak scents open to a wine of finesse ending with sweet red berries and a touch of oak in the finish. 89-91 Pts

2,521 Views

Tasted

Apr 26, 2013

2011
Château Godeau (St. Émilion Grand Cru)

With 5% Cabernet Franc and 95% Merlot, the wine offers coffee, oak, black cherry and vanilla. With medium body and soft cherries, this should drink well early. 88-89 Pts

2,418 Views

Tasted

Apr 24, 2012

2010
Château Godeau (St. Émilion Grand Cru)

Godeau is located not far from Tertre Roteboeuf and Troplong Mondot. Stephane Derenoncourt started consulting the property in 2007. 95% Merlot and 5% Cabernet Franc produce the blend. Deep ruby in color, with a licorice, mineral, floral and jammy black raspberry aromatic profile, the wine ends with a fleshy, ripe black plum filled finish. The wine will be aged in 33% new oak for 12 months. If prices remain low, this could be a strong value play in 2010. 90-92 Pts

4,112 Views

Tasted

Apr 22, 2011

2009
Château Godeau (St. Émilion Grand Cru)

Deep in color, the aromatics are filled with smoke, licorice, roasted black cherries and jam. From a blend of 95% Merlot and 5% Cabernet Fran, this supple and silky delicious Bordeaux is already showing well. 2009 Godeau remains one of the top value wines from St. Emilion in 2009. Sooner or later, word will get out on what a great value this offers. Godeau has stepped up the level of wine being produced at the property today thanks to the new owner who added Stephane Derenoncourt to his team.

6,596 Views

Tasted

Jul 19, 2011

2009 Godeau, 95% merlot and 5% cabernet franc, comes from a 5.5 hectare property located not far from Tertre Roteboeuf and Troplong Mondot. Stephane Derenoncourt started consulting for the property in 2007. 2009 is their first success story. Darkly colored, this mineral filled wine offers spice, floral, black raspberry, chocolate, and licorice aromas. Supple in texture, this round wine ends with black cherry, anise, and cocoa flavors. The high quality and low price point make this is a property to watch. 91-94 Pts

7,312 Views

Tasted

Jun 29, 2010