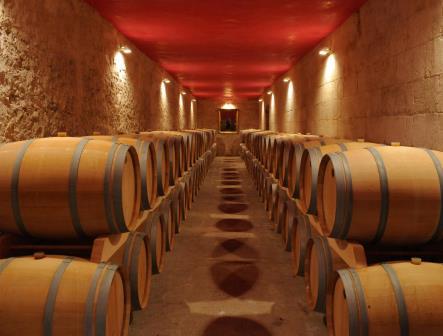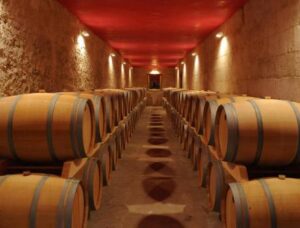 Learn everything about Chateau Pindefleurs St. Emilion with wine tasting notes, wine, and food pairing tips, best vintages, a history of the property, information on the vineyards, and winemaking. If you want to read about other important, Bordeaux Chateaux: Links to all Bordeaux Wine Producer Profiles
Chateau Pindefleurs History, Overview
Chateau Pindefleurs was once the property of the Dior family. Today, it is owned and managed by Audrey Lauret and Pierre Lauret, who are the cousins of Dominique Laurent and Richard Mestreguilhem of Chateau Pipeau, another estate located in Saint Emilion. The Lauret family purchased the vineyard in 2006.
The chateau and vineyard are easy to find as they are located right off the major highway that leads into, or out of St. Emilion, bordering the Grand Cru and St. Emilion appellations.
Chateau Pindefleurs Vineyards, Terroir, Grapes, Winemaking
The 17 hectare Right Bank vineyard of Chateau Pindefleurs is planted to 90% Merlot and 10% Cabernet Franc. Over the past 20 years, the estate has continued expanding its vineyards with additional purchases. At the same time, the owners of Chateau increased the percentage of Merlot in their vineyards, while the amount of Cabernet Franc vines has decreased.
The terroir is clay, limestone, gravel, and sandy soils. The vines are old, with an average age of 35 years. The vineyard is planted to a vine density of 7,000 vines per hectare. Stephane Derenoncourt and his team are consultants for their vineyard management and winemaking.
The wine of Chateau Pindefleurs is vinified in temperature-controlled, stainless steel tanks. The wine is aged in new and used, French oak barrels for an average of 12 months before bottling.
The Best Vintages of Chateau Pindefleurs are: 2022, 2021, 2020, 2019, 2018, 2017, 2016, 2015, 2012, 2010 and 2009.
There is a second wine, Clos Lescure. The average annual production of Chateau Pindefleurs is on average, 5,750 cases per vintage. In addition, they also produce a third wine made from 100% Merlot that is aged entirely in tanks, Enfants de la Plane.
When to Drink Chateau Pindefleurs, Anticipated Maturity, Decanting Time
Chateau Pindefleurs is better with at least 2-4 years of bottle age. Of course, that can vary slightly, depending on the vintage.
Chateau Pindefleurs is best enjoyed in the first 3-12 years of life. Young vintages can be decanted for about 1 hour. This allows the wine to soften and open its perfume. Older vintages might need very little decanting, just enough to remove the sediment.
Serving Chateau Pindefleurs, with Wine and Food Pairings
Chateau Pindefleurs is best served at 15.5 degrees Celsius, 60 degrees Fahrenheit. The cool, almost cellar temperature gives the wine more freshness and lift.
Chateau Pindefleurs is best paired with all types of classic meat dishes, veal, pork, beef, lamb, duck, game, roast chicken, roasted, braised, and grilled dishes. Chateau Pindefleurs is also good when matched with Asian dishes, rich fish courses like tuna, mushrooms, and pasta.
Château Pindefleurs Wine Tasting Notes
11 Vintages 30,097 Views Sort by Vintage-Rating
2022
Château Pindefleurs (St. Émilion Grand Cru)

Roses, licorice, and cherries show easily in this medium-bodied, fresh, bright, forward, wine that is ready to go on release. The wine blends 90% Merlot with 10% Cabernet Franc. Drink from 2025-2033. 89-91 Pts.

633 Views

Tasted

May 8, 2023

2021
Château Pindefleurs (St. Émilion Grand Cru)

Soft, fresh, forward, vibrant and focused on its earthy, savory, red pit fruit core of fruit. The wine is medium-bodied, soft and vibrant on the palate and should be a pleasure to drink on release. Drink from 2023-2031. 88-90

1,816 Views

Tasted

May 20, 2022

2019
Château Pindefleurs (St. Émilion Grand Cru)

Medium-bodied, fresh, vibrant, red cherries, plums, and touches of raspberries are all made more interesting with accents of flowers and herbs. This is probably the best vintage of Pindefleurs produced as of today. Drink from 2022-2033.

1,597 Views

Tasted

Nov 25, 2022

2018
Château Pindefleurs (St. Émilion Grand Cru)

Medium-bodied with smoke, licorice, flowers and red fruits, the wine is forward, juicy, fresh and leaves you with thyme and ripe, cherries in the finish. 87-89 Pts

1,809 Views

Tasted

Apr 19, 2019

2016
Château Pindefleurs (St. Émilion Grand Cru)

Forward, early drinker in an elegant, soft, medium-bodied style with a nice core of sweet, ripe, red berries.

2,918 Views

Tasted

Sep 21, 2019

Smoky, earthy, red berries, medium bodied, soft and forward, this is a wine to drink in its youth.

3,684 Views

Tasted

Apr 29, 2017

2015
Château Pindefleurs (St. Émilion Grand Cru)

A Forward wine that is dominated by red fruit with a spicy, earthy character in its cherry finish.

3,095 Views

Tasted

Apr 29, 2016

2014
Château Pindefleurs (St. Émilion Grand Cru)

A simple, easy drinking, crowd pleaser with soft, likable textures and a crisp red berry finish. 85-87 Pts

2,096 Views

Tasted

Apr 27, 2015

2013
Château Pindefleurs (St. Émilion Grand Cru)

Pleasant, soft, medium bodied early drinker, with a lean to the bright, red berry side of the tasting range. Drink this over the next few years.

1,925 Views

Tasted

Dec 10, 2017

2012
Château Pindefleurs (St. Émilion Grand Cru)

Light in color, texture and fruit, this early drinker is all about its simple, spicy, red, plum notes.

2,776 Views

Tasted

Mar 4, 2017

2010
Château Pindefleurs (St. Émilion Grand Cru)

Pleasant, medium bodied, early drinker with a red berry and thyme filled personality.

4,372 Views

Tasted

May 13, 2015

2009
Château Pindefleurs (St. Émilion Grand Cru)

Soft, forward, medium bodied, with an earthy, black cherry and licorice character that was made for uncomplicated, early drinking.

3,376 Views

Tasted

May 3, 2015