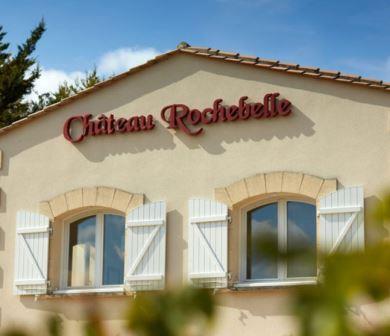 Learn everything about Chateau Rochebelle St. Emilion with wine tasting notes, wine, and food pairing tips, best vintages, a history of the property, information on the vineyards, and winemaking. If you want to read about other important, Bordeaux Chateaux: Links to all Bordeaux Wine Producer Profiles
Chateau Rochebelle History, Overview
Chateau Rochebelle is located next to some very good neighbors. They are just down the road from Chateau Troplong Mondot, Chateau Barde Haut, and not that far from Tertre Roteboeuf.
The Saint Emilion estate has been owned and managed by the Faniest family since 1847. However, Chateau Rochebelle is even older the inception of the vineyard dates back to at least some point in the 1700s.
The Faniest family is perhaps better known for owning one of the most popular, tourist attractions in St. Emilion. They own the little train that travels through the town and some of the vineyards that runs 7 days a week.
Much better than the local, tourist-oriented train, if you have the chance to visit Chateau Rochebelle, the property has a fabulous series of underground limestone caves and quarries they use as their barrel cellars that are well worth seeing during your visit. It is well worth arranging for a visit.
In fact, that is where the name Chateau Rochebelle comes from, as the name is translated into beautiful stones, which is referring to the rocks pulled from the underground quarries in the 1700s at the estate.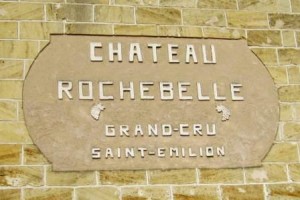 Chateau Rochebelle Vineyards, Terroir, Grapes, Winemaking
The small, 3 hectare St. Emilion vineyard of Chateau Rochebelle is planted to 85% Merlot and 15% Cabernet Franc. They have old vines, which are on average 45 years of age. The vineyard is planted to a vine density of 6,000 vines per hectare. The terroir is limestone and clay soils on sloping hillsides that at their peak reaches up to 94 meters.
Chateau Rochebelle is vinified in traditional, temperature-controlled, red and white-colored, square, concrete vats and aged in French, oak barrels for between 15 and 18 months.
The Best Vintages of Chateau Rochebelle are: 2022, 2021, 2020, 2019, 2018, 2017, 2016, 2015, 2014, 2010, 2009 and 2005. Beginning with the 2020 vintage, the level of quality at Chateau Rochebelle made a big leap up.
On average, between 1,200 and 1,500 cases of Chateau Rochebelle are produced every year, depending on the vintage. Michel Rolland was replaced by Thomas Duclos as their consultant.
When to Drink Chateau Rochebelle, Anticipated Maturity, Decanting Time
Chateau Rochebelle is better with at least 3-4 years of bottle age. Of course, that can vary slightly, depending on the vintage. Chateau Rochebelle is best enjoyed in the first 3-12 years of life.
Young vintages can be decanted for about 1 hour. This allows the wine to soften and open its perfume. Older vintages might need very little decanting, just enough to remove the sediment.
Serving Chateau Rochebelle, with Wine and Food Pairings
Chateau Rochebelle is best served at 15.5 degrees Celsius, 60 degrees Fahrenheit. The cool, almost cellar temperature gives the wine more freshness and lift.
Chateau Rochebelle is best paired with all types of classic meat dishes, veal, pork, beef, lamb, duck, game, roast chicken, roasted, braised, and grilled dishes. Chateau Rochebelle is also good when matched with Asian dishes, rich fish courses like tuna, mushrooms, and pasta.
Château Rochebelle Wine Tasting Notes
13 Vintages 23,202 Views Sort by Vintage-Rating
2022
Château Rochebelle (St. Émilion Grand Cru)

Flowers, black raspberries, crushed stones, licorice and espresso create the nose. On the palate, the wine is silky, fresh, and bright, with sweetness to the raspberries, and cherries in the mid-palate. You also enjoy a nice salty endnote in the long, chalky, energetic finish along with a touch of white pepper on the backend. The wine is a blend of 85% Merlot with 15% Cabernet Franc. 15.5% ABV. 3.5 pH. Harvesting took place September 15 - September 20. Yields were 41 hectoliters per hectare. Drink from 2026-2042. 92-94 Pts.

1,538 Views

Tasted

May 8, 2023

2021
Château Rochebelle (St. Émilion Grand Cru)

Medium-bodied, on the red fruit side with additional layers of dark red berries, you also find a lot of minerality characteristics here with its salinity that shows up on the palate and in the finish. Give it a year or two in the cellar and it could score even higher after finishing its aging. Drink from 2024-2038. 90-92

1,519 Views

Tasted

May 20, 2022

2020
Château Rochebelle (St. Émilion Grand Cru)

Flowers, pine trees, spice and black cherries pop in the nose. On the palate, the wine is opulent, polished with a core of ripe, sweet, fresh, black plums, blueberry and mint that hold your attention from start to finish. As I wrote when tasted this from the barrel, this is clearly a new level of quality at Rochebelle. Much of that credit deservedly goes to their new consultant, Thomas Duclos. Drink from 2024-2040.

1,071 Views

Tasted

Mar 21, 2023

2019
Château Rochebelle (St. Émilion)

Round, medium-bodied, soft and forward, with an early drinking, soft, crowd-pleasing fruity character that will be fun to taste on release. 88-90 Pts

2,086 Views

Tasted

Jun 8, 2020

2018
Château Rochebelle (St. Émilion)

Medium-bodied, soft, earthy, plummy and fresh, the wine has developed quite nicely during its time in the barrel. I like the touch of spice and sweetness with all the soft, ripe, fruits in the finish. You can drink this on release, or with just a bit of aging.

1,012 Views

Tasted

Mar 9, 2021

Medium-bodied, earthy with a strong espresso and licorice nose, the red fruits come through in the round finish. You can drink this on release. 87-89 Pts

1,579 Views

Tasted

Apr 19, 2019

2016
Château Rochebelle (St. Émilion)

Leafy forest notes and red fruits lead to a medium bodied, forward, soft, easy to understand, crowd-pleaser of a wine.

1,682 Views

Tasted

Apr 29, 2017

2015
Château Rochebelle (St. Émilion)

Forward, soft and already easy to drink, the red berry dominated wine shows some secondary nuances already with its spice, thyme and leafy green notes. This should be enjoyed early, to allow for all the fruits to show well.

2,334 Views

Tasted

May 21, 2018

2014
Château Rochebelle (St. Émilion)

Forward, medium bodied, soft textured, cherry filled charmer, with sweet, fresh, earthy plums and a hint of cocoa in the light finish.

916 Views

Tasted

Feb 9, 2019

2013
Château Rochebelle (St. Émilion)

Light in color with crisp red fruits and a bright, tangy finish. 83-85 Pts

1,225 Views

Tasted

Apr 29, 2014

2010
Château Rochebelle (St. Émilion)

Pleasant, easy, early drinking wine with a licorice, black cherry and earthy personality.

2,342 Views

Tasted

Aug 16, 2015

2009
Château Rochebelle (St. Émilion)

Medium bodied, soft in texture, this forward St. Emilion delivers licorice, black raspberry, cherry, earth and a hint of vanilla bean in the nose. Easy to drink, this should be enjoyed in its first 5-8 years.

1,936 Views

Tasted

Aug 8, 2013

2005
Château Rochebelle (St. Émilion)

Medium bodied, lacking the concentration found in many of the wines from this vintage, hints of licorice, red with black fruit and earth with coffee bean, this is already open. It's not a wine that's going to make old bones. I'd drink over the next 5 years or so.

2,216 Views

Tasted

Sep 18, 2012

2000
Château Rochebelle (St. Émilion)

Fully mature, medium bodied, correct, but unexciting, the nose is better than the palate here, where you find a bright, earthy wine with rustic tannins and a licorice infused, mushroom and plum finish.

1,746 Views

Tasted

Nov 13, 2017