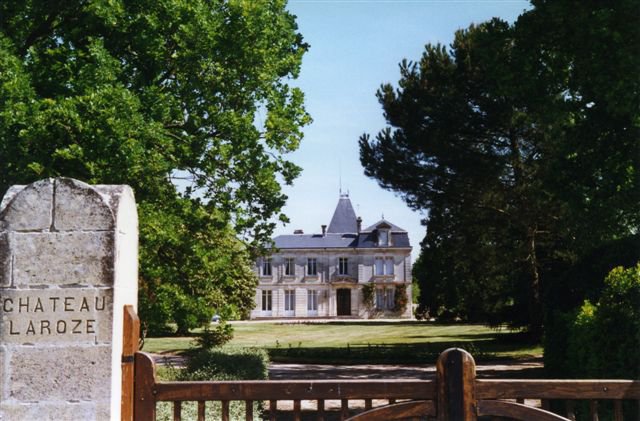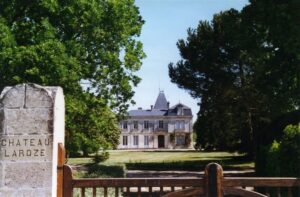 Learn everything about Chateau Laroze St. Emilion with wine tasting notes, wine, and food pairing tips, best vintages, a history of the property, information on the vineyards, and winemaking. If you want to read about other important, Bordeaux Chateaux: Links to all Bordeaux Wine Producer Profiles
The Meslin family are the current owners of Chateau Laroze, an obscure, St. Emilion classified growth. The Meslin family are the direct descendants of Georges Gurchy and Nelly Gruchy, the founders and creators of Chateau Laroze. However, the Gruchy family has a long history in St. Emilion that dates all the way back to 1610.
At one point in time, the Grouchy family owned a part of neighboring, Yon Figeac. The Gruchy family purchased the original Saint Emilion vineyards of what would become Chateau Laroze in 1882.
They managed to build the chateau, vat rooms, and cellars a few years later in 1885. Through inheritance and direct descendants, Chateau Laroze remains in the hands of the original founders. Guy Meslin is the current owner and director of the estate.
Chateau Laroze Vineyards, Terroir, Grapes, Winemaking
The 27 hectare Bordeaux vineyard of Chateau Laroze is planted to 68% Merlot, 26% Cabernet Franc and 6% Cabernet Sauvignon. The vineyard is in its own way unusual for Saint Emilion. This is because the entire vineyard is in 1 single, very large parcel plot. The vines are on average 20 years of age.
The vineyard of Chateau Laroze is planted to a vine density that varies from 5,600 vines per hectare to 10,000 vines per hectare. Newer plantings are done at 10,000 vines per hectare.
It is the goal of Chateau Laroze to continue to increase the density of plantings in their St. Emilion vineyard over time so that the entire vineyard is planted at 10,000 vines per hectare. Their closest neighbor is Chateau Grand Mayne, whose vines they abut.
The terroir of Chateau Laroze is sand with chalk and clay sub-soils. Chateau Laroze had been practicing Biodynamic farming from 1991 to 1998, making Larize the first vineyard in Saint Emilion to do so. In time, Chateau Laroze moved to organic farming instead, finding the approach was better suited to the Chateau Laroze vineyards.
This means they do not use any herbicides or chemical fertilizers of any kind because they want to create a self-sustaining vineyard.
The goal of the property is to create healthier soils that would be better for the long-term health of the vines. In 2002, they completed a new drainage system in their vineyards, which meshes perfectly with their organic approach.
To produce the wine of Chateau Laroze, the berries are vinified in a combination of cement vats and stainless steel tanks. The wine is aged in 50% new, French oak barrels for 18 months. During that period, the wine is aged on its lees for between 12 and 14 months depending on the vintage.
There is a second wine, Lafleur Laroze, and starting in 2001, a third wine, Lady Laroze. On average, close to 9,000 cases of their Saint Emilion wine are produced every vintage.
When to Drink Chateau Laroze, Anticipated Maturity, Decanting Time
Chateau Laroze needs some time before it can be enjoyed. Young vintages can be decanted for an average of 1 hour or more. This allows the wine to soften and open its perfume. Older vintages might need very little decanting, just enough to remove the sediment.
Chateau Laroze is usually better with at least 4-6 years of bottle age. Of course, that can vary slightly, depending on the vintage character. Chateau Laroze offers its best drinking and should reach peak maturity between 4-14 years of age after the vintage.
Serving Chateau Laroze with Wine, Food, Pairing Tips
Chateau Laroze is best served at 15.5 degrees Celsius, 60 degrees Fahrenheit. The cool, almost cellar temperature gives the wine more freshness and lift.
Chateau Laroze is best paired with all types of classic meat dishes, veal, pork, beef, lamb, duck, game, roast chicken, roasted, braised, and grilled dishes. Chateau Laroze is also good when matched with Asian dishes, hearty fish courses like tuna, mushrooms, and pasta.
Things are continuing to improve at Chateau Laroze since they hired Hubert de Bouard, the owner of Chateau Angelus as their consultant in 2009. It's an estate to watch.
Château Laroze Wine Tasting Notes
14 Vintages 47,271 Views Sort by Vintage-Rating
2022
Château Laroze (St. Émilion Grand Cru)

Savory herbs, tobacco and ripe, black plums shine in the perfume, and on the plush, creamy, silky palate. The wine is fresh, elegant, vibrant, spicy, and creamy, leaving you with sweet plums, chocolate, and cherries. Drink from 2026-2042. 92-94 Pts.

747 Views

Tasted

May 8, 2023

2021
Château Laroze (St. Émilion Grand Cru)

Flowers, espresso, cocoa, red berries and licorice are in the nose and on the palate of this forward, medium-bodied, ready-to-go, soft, fresh, floral wine. Drink from 2023-2035. 89-91

1,333 Views

Tasted

May 20, 2022

2020
Château Laroze (St. Émilion Grand Cru)

Plums, spicy black raspberries and flowers fill the nose. Medium-bodied, silky, long and fresh, with an elegant, dark plum and spicy chocolate finish that lingers. I really like the energy, sweetness and length in this vintage. 92-94 Pts

2,346 Views

Tasted

May 20, 2021

2019
Château Laroze (St. Émilion Grand Cru)

Dark red fruits, licorice, savory herbs and wet earth and forest scents combine to create a complex perfume. On the palate the wine, with its creamy textured palate offers layers of ripe, black cherries, smoke, dark plums and cocoa. There is a nice touch of mint, along with all the ripe fruits in the endnote that really hits the spot. Drink from 2023-2035.

1,305 Views

Tasted

Mar 29, 2022

Aromatics of licorice and smoke, with fresh, ripe, dark red fruits permeate the wine. Medium-bodied, silky and fresh with an olive, herb and spicy, cocoa and red berry finish is what you find here. 89-91 Pts

2,298 Views

Tasted

Jun 8, 2020

2018
Château Laroze (St. Émilion Grand Cru)

Floral and fresh, the black raspberries, spice and plums already show really well today. Medium-bodied, soft, polished and silky, the wine tastes and feels great. There is good freshness and energy here.

1,936 Views

Tasted

Mar 9, 2021

Medium-bodied, elegant, soft and fresh, this wine shows ripe, black cherry, plum and cocoa on the nose, palate and finish. Just a few years of age and this will be even better. 90-92 Pts

2,117 Views

Tasted

Apr 19, 2019

2016
Château Laroze (St. Émilion Grand Cru)

With licorice, cherries and coffee bean, the wine gets started. Medium bodied, elegant, fresh and silky, this should be available for nice drinking early, but it is going to be even better with 2-3 years of age.

1,969 Views

Tasted

Sep 21, 2019

Medium bodied with soft, sweet, fiery red fruits and hints of licorice and spice, this should drink well early.

2,428 Views

Tasted

Apr 29, 2017

2015
Château Laroze (St. Émilion Grand Cru)

Medium bodied, soft, forward and open, with dusty tannins and a red berry, herb, oak, tinged finish.

4,054 Views

Tasted

Nov 22, 2017

Kicking off with espresso, licorice, smoke and plums, this wine is medium bodied, soft, spicy and easy to drink.

2,159 Views

Tasted

Apr 29, 2016

2014
Château Laroze (St. Émilion Grand Cru)

With a touch of oak, caramel and dark cherries, this wine is soft, plush, polished and easy to drink. 88-89 Pts

1,988 Views

Tasted

Apr 27, 2015

2013
Château Laroze (St. Émilion Grand Cru)

Oak, licorice, spice and plum aromas deliver a medium bodied-wine that finishes with dusty cherries. 86-88 Pts

2,692 Views

Tasted

Apr 28, 2014

2012
Château Laroze (St. Émilion Grand Cru)

Light style of wine, with a bright, red fruit and herbal character or early drinking consumption.

1,722 Views

Tasted

Nov 8, 2015

A lighter style of St. Emilion, produced from a blend of 70% Merlot, 25% Cabernet Franc and 5% Cabernet Sauvignon, the early drinking charmer is all about its soft, licorice, cocoa, red berry and espresso character. This is not a wine for aging.

1,556 Views

Tasted

May 7, 2015

Bright red fruits and oak, this medium-bodied wine has a touch of dryness to the tannins in the finish. 84-86 Pts

2,077 Views

Tasted

Apr 26, 2013

2011
Château Laroze (St. Émilion Grand Cru)

Light in color and style, this easy drinking wine offers herbs, cherries and espresso notes with its medium bodied character.

1,922 Views

Tasted

Nov 17, 2013

A blend of 70% Merlot, 25% Cabernet Franc and 5% Cabernet Sauvignon, this deep-colored, medium-bodied wine is earthy with black cherry and a red berry finish. 87-89 Pts

1,914 Views

Tasted

Apr 24, 2012

2009
Château Laroze (St. Émilion Grand Cru)

Soft, round and easy to enjoy, this medium bodied, earthy, black cherry infused wine is best enjoyed on the young side.

4,542 Views

Tasted

May 3, 2012

2008
Château Laroze (St. Émilion Grand Cru)

Medium bodied, and relatively simple, the wine is on the fresh, cherry side, with light licorice accents. This should probably be consumed over the next few years.

3,161 Views

Tasted

Dec 13, 2017

2005
Château Laroze (St. Émilion Grand Cru)

Cherries, black plums and vanilla, with a hint of fennel, medium body in a pleasant, round, easy to like style. The wine is already drinking well and should probably be consumed by the time it hits its 10th birthday.

3,005 Views

Tasted

Oct 10, 2011