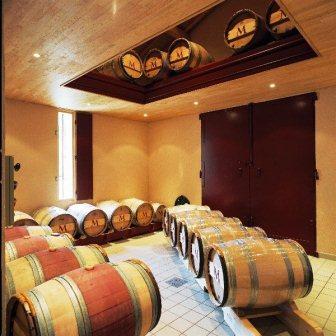 Learn everything about Chateau La Fleur Morange St. Emilion with wine tasting notes, wine, and food pairing tips, best vintages, a history of the property, and information on the vineyards and winemaking. If you want to read about other important, Bordeaux Chateaux: Links to all Bordeaux Wine Producer Profiles
Chateau La Fleur Morange History, Overview
Jean-François Julien developed his interest in becoming a winemaker while working as a carpenter for Stephan von Neipperg of Chateau Canon La Gaffeliere.
The debut release for their new wine was with the semi-difficult 1999 vintage. The production was quite small, as only 75 cases were produced. The initial vintage was produced in the garage of his father-in-law. However, there was no doubt about the potential for their wine.
The following year, putting his skills as a carpenter to good use, Jean Francois Julien built their own cellar. In 2002, they brought in Claude Gros to consult on winemaking and vineyard management.
Chateau La Fleur Morange Vineyards, Terroir, Grapes, Winemaking
For Chateau La Fleur Morange, the vineyard is planted to 70% Merlot and 30% Cabernet Franc. La Fleur Morange owns some of the oldest vines in the Right Bank.
Many of their Merlot vines are over 100 years old! They have some Cabernet Franc that is over 70 years of age. Those old vines, which offer only a small amount of grapes, provide very concentrated fruit, give this wine a unique character.
The vineyard has a terroir of clay with limestone soils with crasse de fer in the subsoil. The vines are located in the clay-rich soils of St. Peyd'Armens, on the far-east side of the Saint Emilion appellation. Extensive work goes into the production of Chateau La Fleur Morange.
The effort begins like all great wineries in the vineyard. At Chateau La Fleur Morange, debudding, crop thinning up to four times, two deleafings all take place in an effort to reduce yields.
It is the goal of the estate to try and pick the fruit when it's fully ripe. Yields are often low at La Fleur Morange. For example, in 2009, they were only 25 hectoliters per hectare.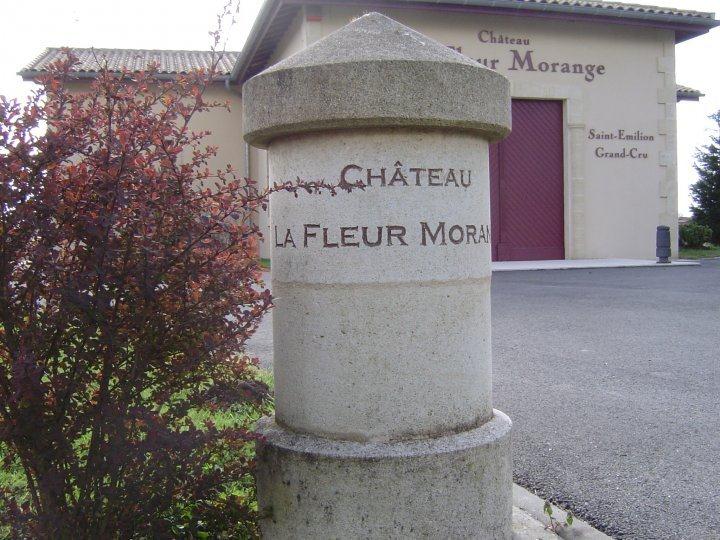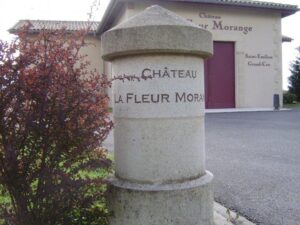 To produce the wine of Chateau La Fleur Morange, After a 6-day cold soak at 3 degrees Celsius, the wine must is fermented in unique, 50 hectoliter, truncated, stainless steel, conical-shaped tanks with dual insulated walls. These vats isolate the wine from eventual temperature swings in the cellar.
They were the first of their kind in the Bordeaux region. Next, the wine sees a 30-day maceration. Pigeage, malolactic fermentation, and sur lies aging all take place in 100% new, French oak barrels.
The wine of Chateau La Fleur Morange is aged in 100% new French oak for about 18 months. The amount of aging varies depending on the character and quality of the vintage.
The best vintages of Chateau La Fleur Morange are: 2022, 2021, 2020, 2019, 2018, 2017, 2016, 2015, 2010, 2009 and 2005.
Production of Chateau La Fleur Morange is on average 1,500 cases of wine per vintage.
When to Drink Chateau La Fleur Morange, Anticipated Maturity, Decanting Time
Chateau La Fleur Morange needs some time before it can be enjoyed. Young vintages can be decanted for an average of 1 hour. This allows the wine to soften and open its perfume. Older vintages might need very little decanting, just enough to remove the sediment.
Chateau La Fleur Morange is usually better with at least 2-4 years of bottle age. Of course, that can vary slightly, depending on the vintage character. Chateau La Fleur Morange offers its best drinking and should reach peak maturity between 3-12 years of age after the vintage.
Serving Chateau La Fleur Morange with Wine, Food, Pairing Tips
Chateau La Fleur Morange is best served at 15.5 degrees Celsius, 60 degrees Fahrenheit. The cool, almost cellar temperature gives the wine more freshness and lift.
Chateau La Fleur Morange is best paired with all types of classic meat dishes, veal, pork, beef, lamb, duck, game, roast chicken, roasted, braised, and grilled dishes. Chateau La Fleur Morange is also good when matched with Asian dishes, hearty fish courses like tuna, mushrooms, and pasta.
The estate produces another Saint Emilion wine, La Fleur Morange Mathilde. The wine sees less new oak in the barrel aging process and the fruit comes from vines that are on average, 50 years of age. Year after year the Mathilde is one of the top value wines in all of Bordeaux!
Château La Fleur Morange Wine Tasting Notes
30 Vintages 148,032 Views Sort by Vintage-Rating
2022
Château La Fleur Morange (St. Émilion Grand Cru)

Dark, deep, rich, concentrated, polished, and fresh, the wine is packed with layers of black, and dark red pit fruits, espresso, cocoa, and licorice, finishing with a wave of fruit with a salty edge in the finish. Drink from 2025-2042. 93-95 Pts.

1,343 Views

Tasted

May 8, 2023

2021
Château La Fleur Morange (St. Émilion Grand Cru)

Polished, soft, supple, sweet, dark cherries blend with savory, leafy herbs and earthy nuances on the nose and on the medium-bodied, soft, fresh, lively, red berry palate. Drink from 2023-2037. 90-92

1,199 Views

Tasted

May 20, 2022

2020
Château La Fleur Morange (St. Émilion Grand Cru)

Medium/full-bodied, the wine is packed with flowers, espresso, licorice, herbs, cherries and blackberries. Fresh, vibrant and supple on the palate, the finish leaves you with sweet, savory edged, red fruits, dark chocolate and chalky tannins with a bit of chocolate in the endnote. Drink from 2024-2045.

621 Views

Tasted

Mar 21, 2023

Deeply colored, the wine shows its licorice, black cherry, plum and chocolate nose quite easily. The wine is round, full-bodied, stony and fresh, with a blast of espresso and cocoa topped black cherries in the finish. 92-94 Pts

2,657 Views

Tasted

Jun 16, 2021

2020
Château La Fleur Morange Mathilde (St. Émilion)

Flowers, cherries, licorice, plums and spice come through on the nose. On the palate, the wine is forward, lush, soft, fresh and polished, finishing with ripe, black and red plums, espresso and some cocoa on the silky backend. Drink from 2023-2038.

589 Views

Tasted

Mar 21, 2023

Fresh, bright, juicy and packed with mineral-driven, sweet red fruits, savory herbs, dark chocolate and crushed rocks. The wine is medium-bodied, energetic and requires just a few years of cellaring before it is ready to drink. 90-92 Pts

2,592 Views

Tasted

Jun 15, 2021

2020
Château La Fleur Morange Blanc (Bordeaux)

Yellow and green apples with a floral edge are created by the blending of 50% Sauvignon Blanc with 50% Sauvignon Gris. The wine is rich, ripe and creamy, and will be best in its youth. Drink from 2023-2027.

576 Views

Tasted

Mar 21, 2023

Orange flowers, honeysuckle, white peach and lemon rind show perfectly in the nose and on the lush, creamy, fresh palate. You can drink this now and over the near future.

1,460 Views

Tasted

Mar 12, 2022

The debut vintage blends 50% Sauvignon Blanc with 50% Sauvignon Gris to produce an almost golden, yellow-colored wine. Very floral in its nature, the wine offers sweet, honeyed grapefruit and peach notes. Rich and creamy, this will be best in its youth. 89 Pts

2,584 Views

Tasted

Jun 16, 2021

2019
Château La Fleur Morange (St. Émilion Grand Cru)

Black cherries, figs and orange rind with hints of tobacco and cocoa are at the core of this wines character. Medium/full-bodied with a chewy, tannic edge to the finish that needs time to soften. Drink from 2025-2040.

903 Views

Tasted

Mar 29, 2022

Produced from 100 year old vines which provide fabulous concentration, the wine is ripe, rich, opulent and loaded with licorice, smoke, flowers, black and blue fruit, espresso and wet earth. With a good depth of flavor, the fruit covers your palate and hangs with you in the finish. 93-95 Pts

3,062 Views

Tasted

Jun 8, 2020

2019
Château La Fleur Morange Mathilde (St. Émilion)

White flowers, savory herbs, earth and red fruits are found on the nose and on the soft, silky, fresh, lifted palate. The finish tastes as good as it feels. A superb example of a Bordeaux value wine that sells for a song and delivers a lot of bang for the buck. Based on how well my 2005's are doing, can age 15-20 years as well.

849 Views

Tasted

Mar 29, 2022

A superb example of a Bordeaux value wine that sells for a song, yet delivers a wine rich in fruit, round in texture and nuances of smoke, plums, dark cherries and licorice that while it can be enjoyed young, based on how well my 2005's are doing, can age up to 2 decades. 90-92 Pts

3,610 Views

Tasted

Jun 8, 2020

2018
Château La Fleur Morange (St. Émilion Grand Cru)

Deep dark color and fruit with layers of lush, ripe, sweet, black plums, licorice, coffee and dark cocoa. The round, firm, full-bodied finish leaves you with sweet, dark red pit fruits, fennel and chocolate. Give it a few years in the cellar and it will be even better.

2,214 Views

Tasted

Mar 16, 2021

Crushed rocks and fresh red fruits are all over the place here. Silky, ripe, sweet and vibrant, with a spicy, mineral driven, salty end note. Give this 5-7 years in the cellar to really come together and it could score even higher.

970 Views

Tasted

Mar 9, 2021

Round, fresh, ripe and focused on its core of black cherry, smoke, licorice and mineral notes, this is going hit the tip with just a few years of age. 91-93 Pts

1,766 Views

Tasted

Apr 19, 2019

2018
Château La Fleur Morange Mathilde (St. Émilion)

Earthy black cherries, herbs, plum and thyme notes fill the core of this wine. Ripe, round, fresh and with a stony complexity, along with layers of sweet, dark plum and cherry tones on the palate and in the finish. Year after year, this remains one of the top value plays in Saint Emilion.

731 Views

Tasted

Mar 9, 2021

Round, fresh, ripe and focused on its core of black cherry, smoke, licorice and mineral notes, this is going hit the tip with just a few years of age. 90-92 Pts

3,324 Views

Tasted

Apr 19, 2019

2017
Château La Fleur Morange Mathilde (St. Émilion)

Round, soft, sweet with fruits on all sides of the plummy range, this medium/full-bodied wine with espresso, smoke, licorice and dark cherries keeps you pleasantly engaged right down to the endnote.

1,456 Views

Tasted

Apr 26, 2018

2016
Château La Fleur Morange (St. Émilion Grand Cru)

The natural concentration that comes from 100 year old vines shines through. Round, supple and still showing some oak, especially on the palate, the wine is fresh, earthy, ripe and fleshy. It is going to need time and its tightly wound at the moment, so give it at least 5-7 years before popping a cork.

2,085 Views

Tasted

Sep 21, 2019

Soft, fresh, ripe dark red fruits, that show a great blend juicy plums, cherries, licorice, smoke and stone. All this is made even better with true old vine 100 year old Merlot. Those deep roots really helped in this very dry vintage.

3,528 Views

Tasted

Apr 29, 2017

2016
Château La Fleur Morange Mathilde (St. Émilion)

Fleshy, ripe, forward and showing loads of fresh spicy berries, earth and licorice, this is good to go on release.

2,423 Views

Tasted

Apr 29, 2017

2015
Château La Fleur Morange (St. Émilion Grand Cru)

Round, lush, forward and while still young and in its fruit-filled days, the wine is already a pleasure to taste with its plushly textured black and dark red fruits, licorice, and crushed stone character. Another 3 years or so will add secondary nuances and more softness to its character.

1,771 Views

Tasted

Apr 3, 2022

With vines that are some of the oldest in the appellation at 100 years of age, the shows deep color. There is concentration, licorice, black plum and espresso notes with round textures and a soft, supple, sweet, dark berry infused finish. Made from 100% old vine Merlot, this can age easily for 10-20 years

2,113 Views

Tasted

May 21, 2018

Made from plus-sized, ripe, dark red fruits, black licorice, espresso and plums, this wine is concentrated, supple and long with freshness and fruit that carries all the way through. It is amazing to think that this wine was made from fruit harvested from vines that are over 100-years old!

2,372 Views

Tasted

Apr 29, 2016

2015
Château La Fleur Morange Mathilde (St. Émilion)

As this is always the first Bordeaux from a new vintage I see delivered in the states, I've already popped a few corks from my case. Give it 1-2 hours of air, as this wine gets better, softer and more interesting than you might initially suspect. Full bodied, round and mineralistic, the licorice, ripe, juicy black cherries and plums are there from start to finish.

3,251 Views

Tasted

May 21, 2018

As this is always the first Bordeaux from a new vintage I see delivered in the states, I've already popped a few corks from my case. Give it 1-2 hours of air, as this wine gets better, softer and more interesting than you might initially suspect. Full bodied, round and mineralistic, the licorice, ripe, juicy black cherries and plums are there from start to finish.

2,865 Views

Tasted

Mar 12, 2018

The first bottle from a case did not disappoint. Dark in color, with licorice, black and blue fruit with smoke and herbs come to the surface with just a swirl. Full bodied fresh and lush, with softness to the tannins and a strong mineral component, the wine ends with sweet, ripe, juicy, dark red berries and crushed stone. 2-4 years will add more softness. Decanted just 20 minutes or so, this would benefit from an hour or so of air. It is hard to find a better wine at this price range as it sells for about $22.00.

2,862 Views

Tasted

Nov 22, 2017

2014
Château La Fleur Morange (St. Émilion Grand Cru)

Medium-bodied, earthy, stony, red pit fruits, licorice and cocoa scents show on the nose. Soft texturally, round and fresh, with an earthy side to its tony fruit, this is just now entering its initial stage of prime time drinking.

2,527 Views

Tasted

Dec 29, 2020

Made with fruit pulled from vines that are over 100-years old, this wine pops with licorice, dark red fruits, limestone and earth. Fused with fresh-brewed espresso and cocoa, this full-bodied, lustfully textured vintage finishes with smooth, fresh red and black berries. Produced from a blend of 70% Merlot and 30% Cabernet Franc, the wine reached 14% ABV. 91-93 Pts

3,076 Views

Tasted

Apr 27, 2015

2014
Château La Fleur Morange Mathilde (St. Émilion)

Fleshy, ripe and round with a profile of anise, black cherry, oak and cocoa, this wine is forward, smooth and delivers fresh black cherries in the finish. 100% Merlot, this vintage comes from vines that average 50 years of age -- quite amazing when you consider how little the estate charges for the wine. 89-91 Pts

2,625 Views

Tasted

Apr 27, 2015

2013
Château La Fleur Morange (St. Émilion Grand Cru)

Oaky with juicy black raspberry and black cherry, the wine offers sweet fruit, balance and round textures but with a little bit too much oak. Aging in 100% new French oak, the wine is comprised of 90% Merlot and 10% Cabernet Franc and reached 13.7% ABV. Only 200 cases were produced in this difficult vintage. 90-92 Pts

1,906 Views

Tasted

Apr 28, 2014

2013
Château La Fleur Morange Mathilde (St. Émilion)

With a nose of boysenberry, licorice, coffee bean and cocoa, the wine is fleshy and fun. It's going to be easy to drink on release. Produced from 100% old-vine Merlot, this remains one of the top value wines of the Right Bank. 89-91 Pts

1,828 Views

Tasted

Apr 28, 2014

2012
Château La Fleur Morange (St. Émilion Grand Cru)

With a good depth of color for the vintage, the wine displays licorice, fennel, earth, coffee and plum notes. Rich, with depth of flavor and roundness, there is a lot to like in this wine. 90-93 Pts

2,365 Views

Tasted

Apr 26, 2013

2012
Château La Fleur Morange Mathilde (St. Émilion)

This wine has smoke, vanilla, soft fruits, ripe jammy berries, but a touch of dryness in the finish. 86-88 Pts

2,116 Views

Tasted

Apr 26, 2013

2011
Château La Fleur Morange (St. Émilion Grand Cru)

From an even split of Merlot and Cabernet Franc, the wine is made from vines that are over 100 years old and aged in 100% new oak. This round-textured St. Emilion opens with coffee, truffle, chocolate and black cherry and ends with a black cherry-filled finish. 92-93 Pts

2,617 Views

Tasted

Apr 24, 2012

2011
Château La Fleur Morange Mathilde (St. Émilion)

Produced from 100% Merlot that comes from vines that average 50 years of age, this St. Emilion remains one the top value plays in Bordeaux wine. Reaching 14.5% ABV, this wine shows licorice, black cherry and jam aromas, soft, round textures and a sweet, black raspberry finish. 90-91 Pts

3,150 Views

Tasted

Apr 24, 2012

2010
Château La Fleur Morange (St. Émilion Grand Cru)

Ripe, rich, concentrated, full-bodied and lush, the wine is packed with sweet, fresh, dark red fruits, black raspberries, plums, smoke, licorice and coffee bean. The round tannins and layers of fruit with a hint of chocolate shine through on the finish.

2,479 Views

Tasted

Sep 14, 2020

2010
Château La Fleur Morange Mathilde (St. Émilion)

I keep posting tasting notes on the wines from Jean Francois Julien , La Fleur Morange so people can find out about the best value from St. Emilion today. From 50 year old vines, this concentrated, deep wine is filled with licorice, blackberries and earth. This is the most powerful vintage from the estate yet. Give it 2-3 years to let the wine soften and develop. This is a purchase by the case wine.

4,496 Views

Tasted

May 3, 2013

It's going to be very hard to find a better value in Bordeaux these days. For about $20, you get a wine that's inky in color, with licorice, chocolate covered blackberries, blueberry, smoke and truffle. The wine is rich, full bodied and round, with the tannin and structure to age and develop. I popped and poured a bottle with dinner, it was much better with 30 minutes of air. This is a wine to purchase by the case!

3,772 Views

Tasted

Mar 24, 2013

La Fleur Morange Mathilde is made from 100% old vine Merlot. Old being the operative word as the average of the vines is 50 years! Opening with aromas of stone, licorice, fresh plums and blueberries, this concentrated wine finishes with plush, chocolate, licorice and jammy dark berries. This is another Bordeaux wine that deserves an award for continually pairing high quality, character and fair prices. The wine will be aged in 50% new oak. 91-93 Pts

5,102 Views

Tasted

Apr 23, 2011

2009
Château La Fleur Morange (St. Émilion Grand Cru)

Still deep in color, the wine is lushly textured, rich, full and mineral-driven. The salt lick in the tannins matches perfectly with all the ripe black cherry, dark plum, licorice, espresso bean and cocoa. From a blend of 70% Merlot and 30% Cabernet Franc, this is ready to go.

2,777 Views

Tasted

Oct 12, 2019

2009
Château La Fleur Morange Mathilde (St. Émilion)

If this isn't the best value in St. Emilion, I do not know what is. Vintage after vintage, this small estate, located in the extreme eastern sector of St. Emilion produces outstanding wine for about $20. The 2009 continues that tradition with its licorice, stone and black cherry personality. Opulent and fleshy, this ripe Bordeaux value wine drinks great now and should offer pleasure for at least another 10-12 years or more. Produced from 100% Merlot grown in 50 year olds, the wine combines early appeal, the ability to age and complexity for about $20!

3,864 Views

Tasted

Mar 18, 2012

Produced from 100% old vine Merlot, the aromatics are packed with licorice, black cherry, blackberry jam, chocolate and espresso bean aromas which quickly grab your attention. On the palate, this flashy, rich, supple and already delicious wine is all about juicy, sweet ripe fruit and hedonistic pleasure. All that and change for $20 for consumers that purchased it as a future! It's a little more today, and it's worth buying. Year after year, this is a serious contender for the best value wine in Bordeaux. Bravo!

4,531 Views

Tasted

Jul 24, 2011

2008
Château La Fleur Morange (St. Émilion Grand Cru)

Fully ready to go with its medium/full-bodied, earthy cherry, plum, leaf, coffee and tobacco-oriented character. Round, earthy, sweet and fresh with loads of ripe cherries and a touch of licorice in the finish.

2,482 Views

Tasted

Jun 17, 2021

2005
Château La Fleur Morange Mathilde (St. Émilion)

Priced at close to $15, the wine continues paying dividends. Popped and poured, the earthy, licorice, smoke and dark cherries on the nose are just perfect. Soft, round, medium/full-bodied, with loads of earthy, tobacco-stained, red fruits on the palate, this is at peak, or slightly past peak. If you are holding on to any, I'd opt for drinking them over the next 3-4 years.

2,015 Views

Tasted

Sep 23, 2019

With a nose of chocolate mint, black cherry, espresso, licorice and smoke, the wine is round, smooth and packed with spicy, coffee tinged plum and cherry notes. For the whopping release price of $17, this has to be the value wine of the vintage. Popped and poured, the wine improved in the glass for the hour or so that it lasted, before we finished it. Current vintages from the best years all seem to be at the same level, and still sell for an incredibly low price.

4,417 Views

Tasted

Feb 15, 2016

The best buy of the vintage is still going strong, with its earthy, plum, licorice and dark cherry nose and its black cherry filled finish. This winner was a whopping $14 on release!

4,271 Views

Tasted

Jun 28, 2015

Licorice, earth, black raspberry and stone aromas opened to a tight wine that needed a few hours to open. After 2 hours of air, soft textured cherries could be found in the finish. There is a hint of chalk in the end note. Based on this bottle, I'd give it a few hours of air, or wait 2-3 years. It's remarkable that this wine was purchased for about $14 a bottle! The steal of the vintage!

4,284 Views

Tasted

Jun 25, 2013

The color of a young wine, this has not changed in hue since it was released. Licorice, truffle, blackberry jam, smoke, coffee and earthy scents pop with little effort. Full bodied and packed with layers of ripe, jammy, juicy fruit, the wine ends a round, fat, black cherry and mocha finish. I'm not sure how much complexity this will develop in time, my instincts say it will get better over the next 5-10 years. What I do know is, if this style of St. Emilion sounds like it's your thing, buy the 2009 and 2010 by the case now. They cost nothing and like the 2005, with so little wine being made, prices will only go higher.

4,485 Views

Tasted

Dec 12, 2012

Coffee, licorice, smoke, boackberry jam, smoke and earthy aromas are easy to find. After 45 minutes in the glass, the wine softened, offering plush textures and layers of sweet, ripe, juicy, plums and dark chocolate. This beauty turned out to be one of the best value Bordeaux wines from a legendary vintage!

4,544 Views

Tasted

Oct 1, 2011

Black licorice, coffee, cherry and cherry chocolate aromas. Full bodied, tannic, still young, but starting to come around, this licorice and chocolate blackberry filled wine will continue to improve for at least another 5-7 years. In current vintages, due to the microscopic amounts produced, this is one the few Bordeaux wines worth buying as a future. For fun, I looked on online while tasting this wine, and only one was offering was available on Winesearcher, and that was for auction. For the princely sum of $15, this was an amazing score!

5,009 Views

Tasted

Aug 30, 2010

2005
Château La Fleur Morange (St. Émilion Grand Cru)

Starting to show well as it approaches its tenth birthday, licorice, earth, black cherry liqueuer and wet earth scents open to a round, soft, smooth, concentrated wine with a rich, fresh, black and red plum finish. Made from a blend of 70% Merlot and 30% Cabernet Franc, the vines average close to 100 years of age.

5,399 Views

Tasted

Dec 25, 2014

2000
Château La Fleur Morange (St. Émilion Grand Cru)

Fully mature, with a round personality and the essence of smoke, thyme, black cherry, plum and coffee bean. Soft, smooth, and with a ripe, sweet, round, fruity finish, this is ready to go.

4,741 Views

Tasted

Nov 15, 2016