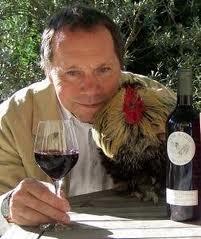 Learn everything about Clos Badon St. Emilion with wine tasting notes and wine with food pairing tips. Learn the best vintages, a history of the property, ad information on the vineyards and winemaking. If you want to read about other important, Bordeaux Chateaux: Links to all Bordeaux Wine Producer Profiles
Clos Badon History, Overview
The logo or label of a Bordeaux wine bottle can tell you a lot about the wine, and its owner. Clos Badon Thunevin uses the image of a chicken on the label of Clos Badon because the owners, Jean-Luc Thunevin and Murielle Andraud raise, beautiful, exotic, Chinese chickens as pets.
These rare breeds of chickens are often seen, leisurely strolling in the gardens of the home of Jean Luc Thunevin and Murielle Andraud.
Interestingly, for years Jean Luc Thunevin and Murielle Andraud also had a huge German Shepard dog named Max living with them in their St. Emilion home. Max liked the chickens too! When asked how their chickens live such a long life, Murielle says, "The only Bordeaux wine they drink is Valandraud!" Those chickens have good taste, even if they prefer Valandraud over Clos Badon Thunevin.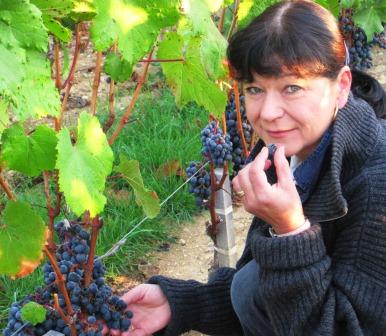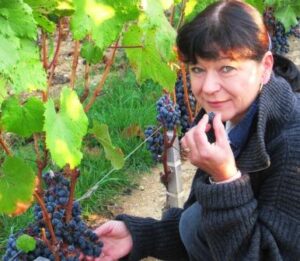 The vineyards of Clos Badon Thunevin are situated between the vines of Pavie and Larcis Ducasse, so as you can see, they have some very good neighbors.
The parcels are located across the street from Chateau Pavie, on the flatlands, that looks up at the plateau. Jean Luc and Murielle purchased Clos Badon Thunevin after another Saint Emilion vineyard they were looking at, Cadet Bon, was bought by the owners of Chateau Canon.
The Right Bank property became part of Ets Thunevin in 1998. The wines of Clos Badon Thunevin are made by the same team that is in charge of the winemaking at Valandraud. Since 2007, Murielle Andraud is calling the shots these days for this likable, ripe, fun to drink, fairly priced, Saint Emilion, Bordeaux wine.
Clos Badon Vineyards, Terroir, Grapes, Winemaking
The 6.5 hectare Bordeaux vineyard of Clos Badon Thunevin is planted to 70% Merlot and 30% Cabernet Franc. All of the Cabernet Sauvignon vines have been removed from the vineyard. The terroir is sand, gravel, quartz, clay, and limestone soils.
The vineyards of Clos Badon are planted to a vine density of 5,500 vines per hectare. On average, the vines of Clos Badon Thunevin are close to a respectable 30 years of age. But they have older vines as well. Some of which were planted as far back as 1954.
To produce the wine of Clos Badon Thunevin, vinification takes place in large oak vats. Malolactic fermentation takes place in 100% new, French oak barrels. The wine is then aged in 100% new, French oak barrels for between 18 to 20 months before bottling. The production is small. On average, about 1,200 cases of Clos Badon Thunevin are produced per year.
The best vintages of Clos Badon are: 2020, 2019, 2018, 2017, 2016, 2015, 2014, 2012, 2010, 2009 and 2005.
When to Drink Clos Badon Thunevin, Anticipated Maturity, Decanting Time
Clos Badon Thunevin is usually better with 2-4 years of bottle age. Of course, that can vary slightly, depending on the vintage. Clos Badon Thunevin is usually best enjoyed in the first 4-12 years of life.
Young vintages can be decanted for up to 1 hour or so. This allows the wine to soften and open its perfume. Older vintages might need very little decanting, just enough to remove the sediment.
Serving Clos Badon with Wine and Food Pairings
Clos Badon is best served at 15.5 degrees Celsius, 60 degrees Fahrenheit. The cool, almost cellar temperature gives the wine more freshness and lift.
Clos Badon is best paired with all types of classic meat dishes, veal, pork, beef, lamb, duck, game, roast chicken, roasted, braised, and grilled dishes. Clos Badon is also good when matched with Asian dishes, rich fish courses like tuna, mushrooms, and pasta.
Clos Badon Thunevin Wine Tasting Notes
15 Vintages 32,922 Views Sort by Vintage-Rating
2020
Clos Badon Thunevin (St. Émilion)

A nice shot of licorice-laced espresso and ripe, deep plums is the first thing you notice before enjoying all the ripe, mineral driven, sweet, supple-textured, polished dark red fruits on the palate and in the vibrant finish. 91-93 Pts

1,437 Views

Tasted

May 20, 2021

2019
Clos Badon Thunevin (St. Émilion)

Earthy, with nuances of flowers, espresso, smoke and dark ripe plums, the wine is round, lush and generous on the palate. The fruit, licorice and coffee bean-filled finish tops everything off nicely. 91-93 Pts

2,876 Views

Tasted

Jun 8, 2020

2018
Clos Badon Thunevin (St. Émilion)

Medium-bodied, soft, silky and fresh, the red fruits offer sweetness and purity. Medium-bodied, forward and ready to go, this is already delicious. 90 Points

1,029 Views

Tasted

Mar 9, 2021

Licorice, smoke and wet earth with ripe dark plums on the nose and a blast of black cherry, licorice and dark mocha on the palate work perfectly here. The wine needs only a few years in the bottle before it all comes together. 90-92 Pts

1,595 Views

Tasted

Apr 19, 2019

2017
Clos Badon Thunevin (St. Émilion)

Smoke, earth and licorice with dark red fruits, deep color and a round, red plum finish is what you will find here. A couple years in the cellar should add more softness and complexity to the wine. 90 Points

1,347 Views

Tasted

Apr 26, 2018

2016
Clos Badon Thunevin (St. Émilion)

With a smoky accent, the licorice, dark red fruits, espresso and earthy nuances come through with ease. The wine is Medium/full bodied with soft tannins. It is forward, so this is perfect to enjoy on the young side. However, if you have just a little patience, there is some tannin to resolve, so yu can give it a few years in the cellar. 92 Points

1,910 Views

Tasted

Sep 21, 2019

Medium/full bodied with polished tannins, ripe sweet fruit, wet earth, licorice and a juicy, energetic fruit finish, this wine will drink well early or offer more nuance with age. 92 Points

1,438 Views

Tasted

Apr 29, 2017

2015
Clos Badon Thunevin (St. Émilion)

This is the best ever Clos Badon. Licorice, blackberry, smoke and earthy character move in quickly, illuminating this deep ruby beauty. Round on the palate, the wine has a fresh, plump quality of fruit that really works this year. 92 Points

1,733 Views

Tasted

Apr 29, 2016

2014
Clos Badon Thunevin (St. Émilion)

Earthy, lush black cherries with a fleshy, sweet, licorice and cocoa finish. 88-90 Pts

1,690 Views

Tasted

Apr 27, 2015

2013
Clos Badon Thunevin (St. Émilion)

From 90% Merlot and 10% Cabernet Franc, the wine reached 13.5% alcohol and offers notes of vanilla bean and dark cherry, an open personality and a sweet, tart and plummy finish. 87-89 Pts

1,411 Views

Tasted

Apr 28, 2014

2012
Clos Badon Thunevin (St. Émilion)

Showing depth of color, the wine is earthy with dark berries and a wild strawberry and dark chocolate finish. 87-89 Pts

1,545 Views

Tasted

Apr 26, 2013

2011
Clos Badon Thunevin (St. Émilion)

90% Merlot and 10% Cabernet Franc create the blend. The wine reached 13.5% alcohol and will be aged in 100% new oak. Deep in color with oak, toast, vanilla, jammy blackberry and earth in the nose. The wine is polished, lush and round, but there is a bit too much oak in the supple-textured finish that still needs to come together. 88-90 Pts

1,482 Views

Tasted

Apr 24, 2012

2010
Clos Badon Thunevin (St. Émilion)

Clos Badon Thunevin From almost 90% Merlot and 10% Cabernet Franc, the wine offers scents of licorice, jammy dark berries and oak ending in a soft, sweet, fennel and blackberry finish. 88-90 Pts

3,023 Views

Tasted

Apr 22, 2011

2009
Clos Badon Thunevin (St. Émilion)

2009 Clos Badon - This rich, round, ripe St. Emilion wine is filled with licorice, blackberry and chocolate covered cherries. This should deliver a lot of pleasure young. 90 Pts

2,978 Views

Tasted

Aug 1, 2011

2008
Clos Badon Thunevin (St. Émilion)

08 Clos Badon Thunevin shows deep ruby color. The wine delivers a lot of fresh black raspberry and licorice in the nose. More concentrated than previous vintages, and styled for early drinking, the wine proffers a lot of pleasure. 90-92 Pts

1,990 Views

Tasted

Aug 1, 2009

2006
Clos Badon Thunevin (St. Émilion)

At close to peak, this medium bodied wine delivers that elusive combination of ripe, sweet fruits, freshness, soft, elegant textures and a sweet, balanced, earthy, dark cherry and coffee bean filled finish. 90 Points

1,746 Views

Tasted

Dec 13, 2017

2005
Clos Badon Thunevin (St. Émilion)

Already open and accessible, licorice, coffee, black cherry, cocoa and spicy aromas play well the sensuous textures and rich, chocolate covered cherry, fennel and blackberry finish. 90 Points

3,692 Views

Tasted

Dec 18, 2011