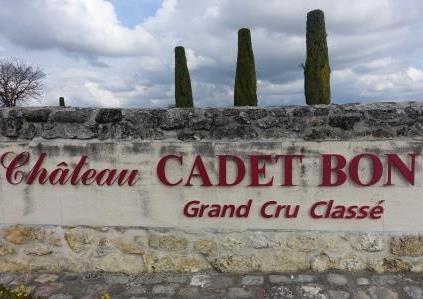 Learn everything about Chateau Cadet Bon St. Emilion with wine tasting notes and wine with food pairing tips. Learn the best vintages, the history of the property, and information on the vineyards and winemaking. If you want to read about other important, Bordeaux Chateaux: Links to all Bordeaux Wine Producer Profiles
Chateau Cadet Bon History, Overview
Chateau Cadet Bon takes its name from two sources, its location in the Cadet lieu-dit and one of the founding owners of the original St. Emilion estate, Pierre Bon, which gives you Cadet Bon. Today the estate is owned by Guy Richard and Mylene Richard. The Richard family purchased Chateau Cadet Bon in 2001 from Bernard Gans who had owned the vineyard since 1992.
Chateau Cadet Bon was one of the four St. Emilion chateaux to formally sue and contest the results of the 2006 Saint Emilion Classification as they were demoted in the classification.
That lawsuit led to the court-ordered decision to have a new St. Emilion classification in 2012. Chateau Cadet Bon returned to the classification of Grand Cru Classe in the 2012 St. Emilion Classification.
Chateau Cadet Bon Vineyards, Terroir, Grapes, Winemaking
The 7-hectare vineyard of Chateau Cadet Bon is planted to 80% Merlot and 20% Cabernet Franc. The Right Bank estate is situated just north of the Saint Emilion village. The vineyard is one single parcel of vines. However, the vineyard is laid out in two different sections.
The larger portion of the estate is the 4.6 hectares of vines that are in classified terroir. The smaller section, 2.4 hectares is used to produce their second wine, because that terroir is not classified. The terroir is limestone over clay soils. They have old vines. Many of which are on average, 35 years of age. Though they have some older vines as well. The vineyard is farmed using 100% biodynamic farming techniques.
To produce the wine of Chateau Cadet Bon, the grapes are whole berry vinified in small, stainless steel vats. Malolactic fermentation takes place in barrels.
The wine is then aged in 33% new, French oak barrels for between 12 to 18 months, depending on the vintage. Stephane Derenoncourt is the consultant. On average, the production of Chateau Cadet Bon is close to 2,000 cases per year. There is a second wine, Vieux Moulin du Cadet.
The best vintages of Chateau Cadet Bon are: 2022, 2021, 2020, 2019, 2018, 2017, 2016, 2015, 2014, 2010, and 2009.
Prior to 2009, Chateau Cadet Bon was not a Saint Emilion wine that was on most people's minds. Since the team of Stephane Derenoncourt started working with the estate in 2005 the wines have remained on a steady, course of improvement. 2010 is the best vintage I've tasted of Chateau Cadet Bon yet.
However, 2015 and 2016 are going to give previous years a run for their money as the wines age and develop.
When to Drink Chateau Cadet Bon, Anticipated Maturity, Decanting Time
Chateau Cadet Bon is usually better with 3-4 years of bottle age. Of course, that can vary slightly, depending on the vintage. Chateau Cadet Bon is best enjoyed in the first 4-12 years of life.
Young vintages can be decanted for up to 1 hour or so. This allows the wine to soften and open its perfume. Older vintages might need very little decanting, just enough to remove the sediment.
Serving Chateau Cadet Bon with Wine and Food Pairings
Chateau Cadet Bon is best served at 15.5 degrees Celsius, 60 degrees Fahrenheit. The cool, almost cellar temperature gives the wine more freshness and lift. Chateau Cadet Bon is best paired with all types of classic meat dishes, veal, pork, beef, lamb, duck, game, roast chicken, roasted, braised, and grilled dishes.
Chateau Cadet Bon is also good when matched with Asian dishes, rich fish courses like tuna, mushrooms, and pasta.
Château Cadet-Bon Wine Tasting Notes
13 Vintages 29,608 Views Sort by Vintage-Rating
2022
Château Cadet-Bon (St. Émilion Grand Cru)

Deeply colored, the wine is rich, lush, and polished with layers of supple-textured, dark pit fruits. You also find chocolate, toasty oak, licorice, and black cherries. You can enjoy this wine early, for all of its sweet, luscious fruits. Drink from 2025-2040. 92-94 Pts.

550 Views

Tasted

May 8, 2023

2020
Château Cadet-Bon (St. Émilion Grand Cru)

Layers of lusciously-textured, round, supple, ripe, fresh red fruits hit your palate and stay there, which is a good thing, as you want as much of those sweet fruits with their chocolate and licorice accents as you can get. Drink from 2023-2040.

338 Views

Tasted

Mar 21, 2023

Smoky, with licorice, herbs, cocoa and chocolate-covered cherries, the wine is ripe, sweet, lush, fresh and richly textured on the palate. The opulent, medium-bodied, fruit- packed finish delivers ripe berries, licorice, spice and polished fruits that linger. 90-92 Pts

902 Views

Tasted

May 20, 2021

2019
Château Cadet-Bon (St. Émilion Grand Cru)

Medium-bodied, soft, silky and fresh, the wine quickly focuses you on its core of elegantly-textured, sweet, plums, chocolate, mint and crushed rocks. You can enjoy this relatively early. Drink from 2023-2034.

615 Views

Tasted

Mar 29, 2022

Dark red fruits, chocolate-covered cherries, licorice, lush, ripe tannins and silky textures coupled with a nice gulp of deep, dark fruits and the essence of crushed stone in the finish. 90-92 Pts

2,519 Views

Tasted

Jun 8, 2020

2018
Château Cadet-Bon (St. Émilion Grand Cru)

Sweet, fresh, ripe and juicy, the licorice, espresso, black cherry filled creamy finish hits the spot. Give it just a bit of time in the cellar before pulling a cork.

765 Views

Tasted

Mar 9, 2021

Medium bodied, forward, soft and fresh, the sweet cherry essence of the wine arrives with thyme and mineral accents. You can enjoy this within a year or two of release. 90-92 Pts

1,436 Views

Tasted

Apr 19, 2019

2017
Château Cadet-Bon (St. Émilion Grand Cru)

Silky, soft and polished, there is a sense of minerality in the fleshy, ripe cherries, licorice and cocoa found here.

1,538 Views

Tasted

Apr 26, 2018

2016
Château Cadet-Bon (St. Émilion Grand Cru)

Juicy black cherry, smoke and licorice define the wine. Medium bodied, fresh and elegant, with a fruity filled palate presence, this has a nice minerality touch to the finish.

1,591 Views

Tasted

Sep 21, 2019

A forward, medium bodied, earthy, fresh, red berry dominated, spicy wine that will offer early drinking with easy pleasure.

1,200 Views

Tasted

Apr 29, 2017

2015
Château Cadet-Bon (St. Émilion Grand Cru)

Truffle, spice, sweet red plums and thyme are already starting to show. The wine is medium bodied, forward, soft and sweet. There is a nice soft feeling to the tannins and sweetness of fruit in the endnote.

1,931 Views

Tasted

May 21, 2018

Forward, medium-bodied, and easy to like, the fruit is fresh, ripe and sweet. There is a softness to the texture and a pleasant addition of licorice in the dark plum and cherry finish.

1,514 Views

Tasted

Apr 29, 2016

2014
Château Cadet-Bon (St. Émilion Grand Cru)

A medium-bodied, easy-drinking wine with light, red fruits, it will be ready to drink on release. 86-88 Pts

1,650 Views

Tasted

Apr 27, 2015

2013
Château Cadet-Bon (St. Émilion Grand Cru)

With fresh red berries and fennel, this medium-bodied, forward wine finishes with red plum and cherries. 85-88 Pts

1,369 Views

Tasted

Apr 28, 2014

2012
Château Cadet-Bon (St. Émilion Grand Cru)

With licorice, earth and jammy blackberries, this wine is polished, sweet, round and forward with a short black cherry finish. 88-90 Pts

2,304 Views

Tasted

Apr 26, 2013

2011
Château Cadet-Bon (St. Émilion Grand Cru)

From 80% Merlot and 20% Cabernet Franc, the wine reached 14.4% ABV. Coffee, fennel, stone, vanilla and black raspberry with a round black cherry finish. 87-89 Pts

1,886 Views

Tasted

Apr 24, 2012

2010
Château Cadet-Bon (St. Émilion Grand Cru)

Cadet Bon 80% Merlot and 20% Cabernet Franc open to licorice, spice, jammy berry and minerality aromas. Soft and round in texture, the wine ends with a sweet, ripe, rich, blackberry finish. Slightly more than 1,000 cases were produced in this vintage. 90-92 Pts

2,747 Views

Tasted

Apr 22, 2011

2009
Château Cadet-Bon (St. Émilion Grand Cru)

An improvement from pervious vintages, this soft textured, medium bodied, round textured wine made from 85% Merlot is filled with stone, dark fruit and jammy strawberries in the perfume. This fleshy wine is already drinking well.

2,390 Views

Tasted

Jul 18, 2011

2009 Cadet Bon is earthy, filled with stone, dark fruit, and jammy strawberry flavors. Produced from 85% merlot, this fleshy wine should drink well early. 87-89 Pts

2,363 Views

Tasted

Jun 28, 2010