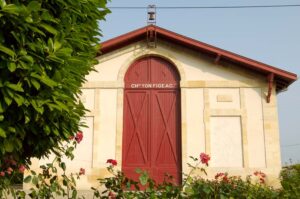 Learn everything about Chateau Yon-Figeac St. Emilion with wine tasting notes and wine with food pairing tips. Learn about the best vintages, wine ratings, a history of the property, information on their vineyards and winemaking. If you want to read about other important Bordeaux Chateaux: Links to all Bordeaux Wine Producer Profiles
Chateau Yon Figeac History, Overview
Chateau Yon-Figeac dates back to the summer of June 1881. As you can imagine from the name, Yon-Figeac was once a part of the massive Chateau Figeac estate, which gave birth to numerous St. Emilion estates that now bear the name of Figeac, as part of their name.
Chateau Yon-Figeac is owned  Alain Castle who also owns property in the Loire Valley region. Alain Castle purchased Chateau Yon-Figeac in 2005 from the Germain family who owned the vineyard since 1985 when it was purchased by Bernard Germain.
Chateau Yon Figeac Vineyards, Terroir, Grapes, Winemaking
The 25 hectare St. Emilion vineyard of Chateau Yon-Figeac is planted to 86% Merlot, 10% Cabernet Franc and 4% Petit Verdot. Yon Figeac has the distinction of being one of the largest vineyards in the Right Bank that is in one, large single parcel.
The terroir is sand, clay, and iron deposits. The vines are old at an average age of 35 years of age.
Once the new owners took over, they began to add some Petit Verdot vines to the vineyard mix and increased the amount of Merlot as well, while decreasing the portion of Cabernet Franc.
To produce the wine of Chateau Yon-Figeac, vinification takes place in temperature-controlled, stainless steel vats. On average, the wines are aged in 35% new, French oak barrels for between 12 to 14 months, depending on the quality and character of the vintage.
The best vintages of Chateau Yon Figeac are: 2022, 2021, 2020, 2019, 2018, 2017, 2016, 2015, 2014, 2010, 2009 and 2005. Though I recently had a beautiful bottle of 1959, so older vintages from the best years might be worth taking a chance on, if well stored.
Chateau Yon-Figeac produces close to 7,500 cases of wine per year. There is a second wine, Les Roches de Yon-Figeac. While it's common in Bordeaux to produce a second wine, Yon-Figeac is one of the few estates in the Right Bank that also produce a third St. Emilion wine as well, Yon Saint Martin.
When to Drink Chateau Yon Figeac, Anticipated Maturity, Decanting Time
Chateau Yon Figeac can be enjoyed on the young side with an hour or so of decanting. However, the wine is usually better at 2-4 years of bottle age. Of course, that can vary slightly, depending on the vintage character.
In the best years, the wine will best between 10-15 years of age after the vintage. Young vintages can be decanted for an average of 1 hour or so. This allows the wine to soften and open its perfume. Older vintages might need very little decanting, just enough to remove the sediment.
Serving Chateau Yon Figeac with Wine, Food, Pairing Tips
Chateau Yon Figeac is best served at 15.5 degrees Celsius, 60 degrees Fahrenheit. The cool, almost cellar temperature gives the wine more freshness and lift.
Chateau Yon Figeac is best paired with all types of classic meat dishes, veal, pork, beef, lamb, duck, game, roast chicken, roasted, braised, and grilled dishes. Chateau Yon Figeac is also good when matched with Asian dishes, rich fish courses like tuna, mushrooms, and pasta.
www.vignobles-alainchateau.com
Château Yon-Figeac Wine Tasting Notes
15 Vintages 49,775 Views Sort by Vintage-Rating
2022
Château Yon-Figeac (St. Émilion Grand Cru)

Flowers and cherries blend together to form the core of this medium-bodied, early-drinking, silky, fresh wine. A bit light, but still charming. Drink from 2026-2035. 89-91 Pts.

856 Views

Tasted

May 8, 2023

2021
Château Yon-Figeac (St. Émilion Grand Cru)

Light in color and fruit, the wine offers hints of bright red cherries, herbs and underbrush on the nose and palate. This will be best in its youth to capture the light, red cherry and strawberries in the finish. Drink from 2023-2027. 85-87

1,552 Views

Tasted

May 20, 2022

2020
Château Yon-Figeac (St. Émilion Grand Cru)

Medium-bodied with a bit too much oak in the nose. Still, there is a lot to like here with all of its ripe, vibrant, sweet cherries, plums and dark chocolate that are on full-display in the round-textured, fruity finish. This is a nice step up from previous vintages, which is nice to see. Drink from 2023-2037.

1,028 Views

Tasted

Mar 21, 2023

Black cherries, espresso and licorice with earthy nuances come through on the nose. Medium-bodied with dusty plums, oak, green olives, and herbs are found on the medium-bodied palate and in the finish. You can drink this on the young side. 88-90 Pts

2,148 Views

Tasted

Aug 28, 2021

2019
Château Yon-Figeac (St. Émilion Grand Cru)

White flowers, red fruits and a touch of herbs work in harmony on the nose and palate of this medium-bodied, soft, fresh, forward, accessible wine. You can enjoy this charmer on release for all of its sweet, elegant, savory red berries. Drink from 2022-2032.

1,724 Views

Tasted

Mar 29, 2022

Medium-bodied, soft, fresh and fruity with a nice, cherry and cocoa energetic mid-palate and finish that will drink well early. 88-90 Pts

2,877 Views

Tasted

Jun 8, 2020

2018
Château Yon-Figeac (St. Émilion Grand Cru)

Herbs, olives, forest leaf and red berries are fond on the nose and on the palate of this early drinking, medium-bodied, his soft, early-maturing, medium-bodied, lighter-styled red wine. This will be best in its youth.

2,242 Views

Tasted

Mar 9, 2021

This soft, early-maturing, medium-bodied wine is focused on a licorice, herb-accented, earthy, red berry essence and a finesse styling in the finish. 85-87 Pts

2,780 Views

Tasted

Apr 19, 2019

2016
Château Yon-Figeac (St. Émilion Grand Cru)

Medium bodied, soft, red plum and cherry fruits with a forward approach.

3,170 Views

Tasted

Apr 29, 2017

2015
Château Yon-Figeac (St. Émilion Grand Cru)

Medium-bodied, with a bright, fresh red berry attitude, that is ready to drink on release.

3,410 Views

Tasted

May 21, 2018

Medium-bodied with fresh, bright, red fruits and herbs, the wine is forward, fresh and open for business with its sweet red cherry charm already delivering its goods.

2,493 Views

Tasted

Mar 12, 2018

With an herbal and earthy character to the fresh, bright, red fruits, the wine is soft, medium bodied and forward. The lighter styled wine should drink well quite early.

2,439 Views

Tasted

Nov 22, 2017

Medium-bodied with saline tannins, this wine, with its fresh, red fruits and thyme, is going to be nice to drink on the early side.

2,222 Views

Tasted

Apr 29, 2016

2014
Château Yon-Figeac (St. Émilion Grand Cru)

A light, easy-drinking wine dominated by crisp red fruits and produced in crowd-pleasing style for early consumption. 83-85 Pts

3,081 Views

Tasted

Apr 27, 2015

2013
Château Yon-Figeac (St. Émilion Grand Cru)

Light in color and character, the wine focuses on the fruits' slender, bright character. 82-83 Pts

2,298 Views

Tasted

Apr 29, 2014

2012
Château Yon-Figeac (St. Émilion Grand Cru)

Medium bodied, fresh, easy drinking Right Bank wine with soft textures and ripe fruits for early drinking pleasure. The wine was produced from a blend of 83% Merlot, 15% Cabernet Sauvignon and 2% Petit Verdot.

2,679 Views

Tasted

May 16, 2015

2011
Château Yon-Figeac (St. Émilion Grand Cru)

Light ruby in color, medium bodied, with a nose of fennel, herbs and bright red berries. This light wine should be consumed in its youth.

2,665 Views

Tasted

Nov 17, 2013

2010
Château Yon-Figeac (St. Émilion Grand Cru)

Medium bodied, soft textured, fresh, spicy, melange of ripe cherries, black raspberries and plum, with a hint of earthy complexities that are just starting to show.

2,368 Views

Tasted

Nov 29, 2015

2009
Château Yon-Figeac (St. Émilion Grand Cru)

Medium-bodied, elegant, finesse-styled, round, soft, black cherry filled charmer with notes of thyme, earth and plums in the finish. This is ready to go.

2,089 Views

Tasted

Feb 9, 2019

2005
Château Yon-Figeac (St. Émilion Grand Cru)

Ready to go, the wine is medium bodied, silky, fresh, offering a nice blend of cocoa, black with red cherry, plum and earthy characteristics, that kicks in with a judicious dash of thyme in the soft textured finish. The wine was made from blending 80% Merlot with 20% Cabernet Franc.

3,772 Views

Tasted

Jul 18, 2017

1959
Château Yon-Figeac (St. Émilion Grand Cru)

Served blind, I was knocked out once the label was revealed as this was showing just great. Lighter in style and body, there was more than enough red cherries, coffee grounds, truffle and dried flowers to make this interesting. The tannins were soft and polished, leaving you with herbs, olives and red plums in the finish.

1,882 Views

Tasted

Apr 8, 2022