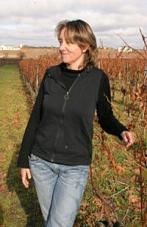 Learn everything about Clos St. Julien St. Emilion with wine tasting notes, wine and food pairing tips, the best vintages, a history of the property, and information on the vineyards and winemaking. If you want to read about other important, Bordeaux Chateaux: Links to all Bordeaux Wine Producer Profiles
Clos St. Julien History, Overview
What we know of as Clos St. Julien was previously called Jardin Saint Julien during the early part of the 20th century. At the time it was owned by the Goudichaud-Rochard family. Clos St. Julien is the rarest wine from Catherine Papon-Nouvel.
Catherine Papon Nouvel is the owner, and winemaker at Clos St. Julien as well as at her other property in St. Emilion, Petit Gravet Aine.
Clos St. Julien is a gem of a Saint Emilion vineyard located just a little bit west of Chateau Soutard. It's also placed very close to the St. Emilion village behind a small, stone wall.
For a short time, Clos St. Julien operated a small cafe under the trees in the middle of their vineyard that catered to local residents and other Saint Emilion winemakers. It was the perfect simple, rustic spot to dine in the vines.
Clos St. Julien Vineyards, Terroir, Grapes, Winemaking
The tiny, 1.2-hectare vineyard of Clos Saint Julien is planted to 50% Cabernet Franc and 50% Merlot, which shows a marked increase in the amount of Merlot planted over the years. The vineyard is planted to a vine density of 7,000 vines per hectare.
The terroir of Clos St. Julien is mostly limestone terroir with almost no topsoil in its soils. This is what gives the wine that distinctive minerality sensation. The vines are old. The Cabernet Franc is 40 years of age and the Merlot vines are even older at close to 80 years old!
They have good neighbors, as they are located quite close to Chateau Grandes Murailles and Clos Fourtet. The vineyard is managed using only organic farming.
Due to its small size, the fruit can be harvested in only two days. To produce the wine of Clos St. Julien, following an eight-day cold soak at 4 degrees Celsius, the juice is fermented in two small French oak tanks. Malolactic fermentation takes place in new oak barrels.
The wine is aged on its lees with stirring in 100% new, French oak barrels from Taransaud, Berthomieu, and Cadus. The wine is aged in 100% new, French oak barrels before bottling. The production of Clos Saint Julien averages 400 cases of wine per year, making this Right Bank wine very difficult to find.
The best vintages of Clos Saint Julien are: 2022, 2021, 2020, 2019, 2018, 2017, 2016, 2015, 2014, 2010, 2009, 2005 and 2000.
In addition, Catherine Papon Nouvel owns two other vineyards in Saint Emilion, Chateau Petit Gravet Aine and Chateau Gaillard along with Chateau Peyrou in the Cotes de Castillon appellation.
When to Drink Clos St. Julien, Anticipated Maturity, Decanting Time
Clos St. Julien requires at least 5-9 years in the cellar before it starts to come together. Of course, that can vary slightly, depending on the vintage. Clos St. Julien is best enjoyed in the first 7-25 years of life.
Young vintages can be decanted for 2 hours, give or take. This allows the wine to soften and open its perfume. Older vintages might need very little decanting, just enough to remove the sediment.
Serving Clos St. Julien with Wine and Food Pairings
Clos St. Julien is best served at 15.5 degrees Celsius, 60 degrees Fahrenheit. The cool, almost cellar temperature gives the wine more freshness and lift.
Clos St. Julien is best paired with all types of classic meat dishes, veal, pork, beef, lamb, duck, game, roast chicken, roasted, braised, and grilled dishes. Clos St. Julien is also good when matched with Asian dishes, rich fish courses like tuna, mushrooms, and pasta.
The problem Clos St. Julien suffers from in the marketplace is the confusion caused by the name of the estate. It is difficult for many consumers and merchants to buy or sell a wine from Saint Emilion called St. Julien, due to the natural confusion By the appellation names.
Clos St. Julien Wine Tasting Notes
16 Vintages 42,419 Views Sort by Vintage-Rating
2022
Clos St. Julien (St. Émilion)

What stands out here is the minerality, giving all the deep, ripe, sweet fruits, licorice, flowers and spice a distinctive salty edge. The wine has length, depth, and a uniqueness of character that stands out. The wine blends 50% Cabernet Franc with 50% Merlot, 14% ABV. Drink from 2027-2045. 94-96 Pts.

1,764 Views

Tasted

May 8, 2023

2021
Clos St. Julien (St. Émilion)

Medium-bodied, spicy, fresh, vibrant and chewy, the pepper-edged fruits along with its strong dose of minerality shine through on the palate and in the finish where you find a nice refreshing touch of mint and minerality in the endnote. Drink from 2025-2040. 92-94

1,752 Views

Tasted

May 20, 2022

2020
Clos St. Julien (St. Émilion)

Flowers, salt, peppery red fruits and leafy herbs form the core of this wine. There is a strong sense of minerality, chocolate and mint that rides along with the vibrant, chewy, salty, red fruits on the mid-palate and in the long, crushed-rock infused finish. Drink from 2025-2050.

1,415 Views

Tasted

Mar 21, 2023

Dark in color, this mineral driven, ripe, richly-textured wine is loaded with spicy, fresh, red pit fruits, silky tannins, savory herbs, and oceanic influences. Medium/full-bodied, long, intense and salty, the finish continues building and expanding with a leafy, peppery, black currant note. The wine needs at least 7 years in the cellar before it starts showing its true potential. 93-95 Pts

2,821 Views

Tasted

May 20, 2021

2019
Clos St. Julien (St. Émilion)

Crushed rocks, stones and flowers take over the perfume here. On the palate, there is a wealth of ripe, red fruits, intensely chalky tannins, minerality and oak that demands time in the cellar before being ready to enjoy. Drink from 2025-2045.

1,084 Views

Tasted

Mar 29, 2022

Bright, crisp and stony, with freshness galore, coupled with sweet, red berries, forest leaf, herb and peppery notes. Medium/full-bodied with ample layers of fruit, rocks and stones, this will need time to soften and to fully integrate all its interesting complexities. 91-93 Pts

3,445 Views

Tasted

Jun 8, 2020

2018
Clos St. Julien (St. Émilion)

Definitely on the oaky side. But once you are past the oak, you find a mineral-driven, red berry filled, medium/full-bodied, elegant, spicy, fresh, floral wine that offers a lot of lift and energy. This is going to require at least 7 years or more in the cellar to soften and for the oak to better integrate. The wine was made from an even split of Cabernet Franc and Merlot.

1,444 Views

Tasted

Mar 9, 2021

The wine is floral, full-bodied and shows a strong mineral component to all the ripe, dark fruits, licorice and crushed stone that you'll find from start to finish. The wine was made from an even split of Cabernet Franc and Merlot. 92-94 Pts

2,249 Views

Tasted

Apr 19, 2019

2017
Clos St. Julien (St. Émilion)

The wine offers a stony, mineral driven, salty, fresh, dark red fruit character that is unique to this vineyard. Fresh, and with the structure to age, this will develop quite well as it evolves. Normally this is a wine that requires well over a decade to come around, but this is a forward vintage for Clos Saint Julien.

1,718 Views

Tasted

Apr 26, 2018

2016
Clos St. Julien (St. Émilion)

Fresh, fleshy and flowery with a jolt of espresso and juicy plum, the wine is vibrant, long, sweet and juicy and was created from a blend of 50% Merlot and 50% Cabernet Franc.

3,243 Views

Tasted

Apr 29, 2017

2015
Clos St. Julien (St. Émilion)

From a blend of 50% Cabernet Franc and an equal amount of Merlot, this wine pops with floral, stone, plum and black cherry notes. With layers of fruit and ripe tannins, the wine is full bodied, rich, lush and deep, leaving a solid and memorable impression on your palate. The wine reached 14% ABV.

3,732 Views

Tasted

Apr 29, 2016

2014
Clos St. Julien (St. Émilion)

With a nose of espresso bean, vanilla, floral and plum notes, this wine showcases a unique, dark, red berry profile and a mineral-driven character. Created from a blend of 60% Merlot and 40% Cabernet Franc, the wine reached 14% ABV. 89-91 Pts

2,151 Views

Tasted

Apr 27, 2015

2013
Clos St. Julien (St. Émilion)

A tight, mineral-driven nose opens into a medium-bodied wine that ends with stone, raspberry, fennel and cherry. From a blend of 80% Merlot and 20% Cabernet Franc, the wine reached 13% ABV. Interestingly, the wine is usually dominated by Cabernet Franc, but not in this vintage. The production is down by 70%. 87-89 Pts

1,271 Views

Tasted

Apr 28, 2014

2012
Clos St. Julien (St. Émilion)

Stone and truffle with fresh berries and an austere, mineral driven finish. 87-90 Pts

2,070 Views

Tasted

Apr 26, 2013

2011
Clos St. Julien (St. Émilion)

This property maintains one of the highest concentrations of Cabernet Franc in St. Emilion. With 60% Cabernet Franc and 40% Merlot, the wine is filled with stone, flowers, pepper, raspberry and green leaves. The wine ends with stone and red berries. 89-91 Pts

1,653 Views

Tasted

Apr 24, 2012

2010
Clos St. Julien (St. Émilion)

Clos St. Julien is inky, mineral driven, licorice, pepper, spicy berry and herbal aromas. 89-91 Pts

3,393 Views

Tasted

Apr 22, 2011

2009
Clos St. Julien (St. Émilion)

Mineral driven, floral nose, with ripe dark plum and blackberries and earth on the nose. Young, no, very young, with good concentration and a stony, fresh finish.

2,270 Views

Tasted

Feb 26, 2015

2008
Clos St. Julien (St. Émilion)

08 Château Clos St. Julien starts with black and blue fruits, spice, and floral components. The wine displays ample freshness and minerality. Full bodied and concentrated, this wine has a bright, black fruit filled finish. 89-92 Pts

1,716 Views

Tasted

Jul 1, 2009

2005
Clos St. Julien (St. Émilion)

Still young, tannic and with a hard to crack, stony, austere, mineralistic side. Clearly the juicy, plums are ripe and I like the complex, floral aspect, but the wine is at least for me, hard to get a handle on.

3,228 Views

Tasted

Nov 14, 2016