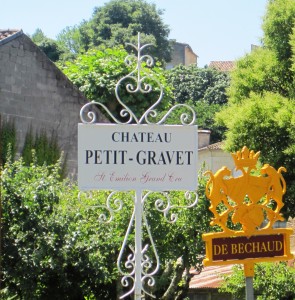 Learn everything about Chateau Petit Gravet Aine St. Emilion with wine tasting notes, wine and food pairings, best vintages, a history of the property, and information on the vineyards and winemaking. If you want to read about other important, Bordeaux Chateaux: Links to all Bordeaux Wine Producer Profiles
Chateau Petit Gravet Aine is owned by Catherine Papon Nouvelle. Catherine Popon Nouvelle also owns two neighboring St. Emilion vineyards, Clos St. Julien and Chateau Gaillard along with Chateau Peyrou in the Cotes de Castillon appellation.
Chateau Petit Gravet Aine Vineyards, Terroir, Grapes, Winemaking
The 2.5-hectare Chateau Petit Gravet Aine vineyard is planted to 80% Cabernet Franc and 20% Merlot. This is one of the highest concentrations of Cabernet Franc in all of Bordeaux. The vineyard is situated close to Chateau Canon La Gaffeliere and not too far from the village of Saint Emilion. The terroir consists of deep, sand, and clay soils.
They have old vines. On average, the vines are 50 years of age. The owner and winemaker, Catherine Papon Nouvel, has converted her Bordeaux vineyard to organic farming techniques.
Today at Petit Gravet Aine, they use no pesticides, herbicides, or systemic chemical treatments of any kind in their vineyards. All vineyard management is entirely self-sustaining.
The vineyard practices at Petit Gravet Aine include harvesting by hand and table sorting. The fruit sees an eight-day cold soak at 4 degrees Celsius. The must is fermented in small, stainless steel tanks. Microbullage under the cap is performed during fermentation.
Malolactic fermentation takes place in new, French oak barrels. The wine of Petit Gravet Aine is aged in 100% new, French oak barrels for 18 months.
The Best Vintages of Chateau Petit Gravet are: 2022, 2021, 2020, 2019, 2018, 2017, 2016, 2015, 2012, 2010, 2009, 2005, 2001, 2000 and 1998. Although, starting with 2018, the level of quality here clearly is on the rise!
Not much wine is made here. In fact, the average production is only about 800 cases of wine per vintage.
When to Drink Chateau Petit Gravet, Anticipated Maturity, Decanting Time
Chateau Petit Gravet is better with at least 4-6 years of bottle age. Of course, that can vary slightly, depending on the vintage. Chateau Petit Gravet is best enjoyed in the first 5-20 years of life.
Young vintages can be decanted for about 1 hour to 90 minutes. This allows the wine to soften and open its perfume. Older vintages might need very little decanting, just enough to remove the sediment.
Serving and Decanting Chateau Petit Gravet Aine with Wine and Food Pairings
Chateau Petit Gravet Aine is best served at 15.5 degrees Celsius, 60 degrees Fahrenheit. The cool, almost cellar temperature gives the wine more freshness and lift. Chateau Petit Gravet Aine is best paired with all types of classic meat dishes, veal, pork, beef, lamb, duck, game, roast chicken, roasted, braised, and grilled dishes.
Chateau Petit Gravet Aine is also good when matched with Asian dishes, rich fish courses like tuna, mushrooms, and pasta.
Château Petit-Gravet Wine Tasting Notes
16 Vintages 47,661 Views Sort by Vintage-Rating
2022
Château Petit Gravet Ainé (St. Émilion Grand Cru)

Supple, fresh, deep, floral and heavily influenced by its mineral essence, the wine offers an intense, spicy, salty, fruit-packed experience with layers of berries, energy and length. Produced from 90% Cabernet Franc and 10% Merlot, making this one of the heaviest concentrations of Cabernet Franc in Bordeaux. Drink from 2027-2045. 94-95 Pts.

1,613 Views

Tasted

May 8, 2023

2021
Château Petit Gravet Ainé (St. Émilion Grand Cru)

Savory red fruits, herbs, flowers, spice box, crushed rocks and pine create the nose. On the palate, the wine is soft, fresh, vibrant, and salty. Produced from 90% Cabernet Franc and 10% Merlot, this unique wine will be better with a few years of age. Drink from 2027-2040. 91-93

1,938 Views

Tasted

May 20, 2022

2020
Château Petit Gravet Ainé (St. Émilion Grand Cru)

With one of the highest proportions of Cabernet Franc in Bordeaux at 80%,the nose jumps with nuances of dried flowers, spice, savory red fruits, espresso, incense, orange rind, crushed rocks and mint. The wine is fresh, lively and pure on the palate with a massive blast of oceanic influences, giving you a strong salty accent to the layers of plums and cherries. Give it time in the cellar to develop and it will be an even better wine. This is clearly the finest vintage of Petit Gravet Ainé produced yet. Drink from 2025-2050.

1,625 Views

Tasted

Mar 21, 2023

Savory fruits, spice, crushed rocks and forest leaf come to the surface easily. Silky, fresh, vibrant and juicy with a purity to the fruits, and refinement on the palate, the wine finishes with salty tannins, crushed rocks, savory red fruits and mint. Give it time in the cellar to develop and it will be an even better wine. This is clearly the finest vintage of Petit Gravet Ainé produced yet. 94-96 Pts

3,472 Views

Tasted

May 20, 2021

2019
Château Petit Gravet Ainé (St. Émilion Grand Cru)

Savory red fruits are the first thing you find on the nose and on the medium-bodied palate, along with a strong sense of minerality, dark chocolate, salty tannins and red plums with black raspberries in the finish. The wine has one of the highest percentages of any Saint Emilion at close to 90% of the blend. Give it a few years in the bottle to soften and fill out. Drink from 2025-2040.

1,166 Views

Tasted

Mar 29, 2022

Underbrush, green leafy notes, herbs, crushed rocks and red berries to start, the wine is stony, fresh, vibrant and racy with its fresh red fruits, spice and salty tannins. Give it time in the cellar to develop and it will be a much better wine and perhaps the best vintage of Petit Gravet Ainé produced yet. 92-94 Pts

3,609 Views

Tasted

Jun 8, 2020

2018
Château Petit Gravet Ainé (St. Émilion Grand Cru)

Espresso, spice, smoke, flowers, plums and cherry aromatics pop from the glass. The palate shows off its silky, fresh, elegant, juicy, sweet, stony core of fruits with little effort. The stony edge gives a fabulous sense of minerality to the wine on the nose, palate and finish. The wine was made from 80% Cabernet Franc and 20% Merlot.

1,785 Views

Tasted

Mar 9, 2021

Spicy, floral, lush, ripe and loaded with strata of rocks, stones, herbs and fruit. The wine has density, ripe tannins and a strong mineral essence that adds to the ripe, spicy red fruits. This is the best vintage of Petit Gravet Ainé ever produced. The wine was made from 80% Cabernet Franc and 20% Merlot. 92-94 Pts

2,831 Views

Tasted

Apr 19, 2019

2016
Château Petit Gravet Ainé (St. Émilion Grand Cru)

Fresh, spicy and flowery, medium/full bodied with tobacco and herbs, which shine over the plums on the nose and in the mouth, there is more ripeness and flesh here than usual.

3,770 Views

Tasted

Apr 29, 2017

2015
Château Petit Gravet Ainé (St. Émilion Grand Cru)

Using 80% Cabernet Franc and 20% Merlot, this wine is deep in color, mineral driven with a rich, plush quality that you never see in Petit-Gravet. Full-bodied, concentrated and the ability to age. If you're a fan of Cabernet Franc, this is a wine you should make sure you taste.

4,209 Views

Tasted

Apr 29, 2016

2014
Château Petit Gravet Ainé (St. Émilion Grand Cru)

Softer and more approachable than usual, this wine is smooth, mineral driven, fresh and long with a core of ripe fruit. The wine was produced from a blend of 60% Cabernet Franc and 40% Merlot. 90-92 Pts

3,603 Views

Tasted

Apr 27, 2015

2013
Château Petit Gravet Ainé (St. Émilion Grand Cru)

With stone and cherry character, the wine has an intense sensation of minerality in the black cherry finish. Normally, this wine has a high percentage of Cabernet Franc in the blend, but this vintage is comprised of 90% Merlot and 10% Cabernet Franc. Only 1,100 bottles were produced this year from a production that is usually closer to 8,000 bottles. 88-90 Pts

1,485 Views

Tasted

Apr 29, 2014

2012
Château Petit-Gravet (St. Émilion Grand Cru)

With broken stone, herbs, plum, and floral and forest scents, this expressive wine is powerful and structured. A unique expression of St. Emilion. 88-90 Pts

1,933 Views

Tasted

Apr 26, 2013

2011
Château Petit Gravet Ainé (St. Émilion Grand Cru)

With a massive dose of 80% Cabernet Franc, blended with 20% Merlot, this wine was produced from 50 year-old vines and aged in 100% new oak. This is an interesting wine due to its high level of Cabernet Franc, showing stone, pepper, black raspberry and green leafy aromas with some dryness in the finish. It will need time to come together. 88-90 Pts

2,199 Views

Tasted

Apr 24, 2012

2010
Château Petit Gravet Ainé (St. Émilion Grand Cru)

Firm, structured, tannic, mineral driven, peppery and floral, with fresh red berries, ripe plum and spicy notes. This needs more time to develop and soften. Produced from a blend of 80% Cabernet Franc and 20% Merlot, this is one of the highest percentages of Cabernet Franc in all of Bordeaux.

4,223 Views

Tasted

Nov 5, 2014

2009
Château Petit Gravet Ainé (St. Émilion Grand Cru)

Due to large proportion of Cabernet Franc in the blend, this uniquely styled wine starts off with floral, fennel, licorice, and dark plum aromas. Medium/full bodied, with chalky tannins, the wine ends in mineral, leafy bright flavors.

2,990 Views

Tasted

May 7, 2012

2008
Château Petit-Gravet (St. Émilion Grand Cru)

08 Château Petit Gravet. Petit Gravet has, at 90%, the highest concentration of cabernet franc planted in St. Emilion. The remainder is merlot. Adjacent to Canon La Gaffeliere, it has 70 year old vines in deep sandy soils. This uniquely styled wine starts off with floral, fennel, licorice, and dark plum aromas. Medium/full bodied, the wine ends in mineral, leafy bright flavors. 88-91 Pts

1,544 Views

Tasted

Jul 1, 2009

2005
Château Petit-Gravet (St. Émilion Grand Cru)

With a strong floral leaning, there is also loads of minerality and fresh, ripe, red and black plums here. Softly textured and elegant, this should age for another 15 years, or more.

1,890 Views

Tasted

Dec 13, 2017

2001
Château Petit Gravet Ainé (St. Émilion Grand Cru)

Firm, leafy and floral, with a pronounced, fresh, red fruit character. There is more going on aromatically, than on the firm, stony, red berry, medium bodied palate. I guess you might call this a Burgundy lovers Bordeaux.

1,776 Views

Tasted

Nov 16, 2016