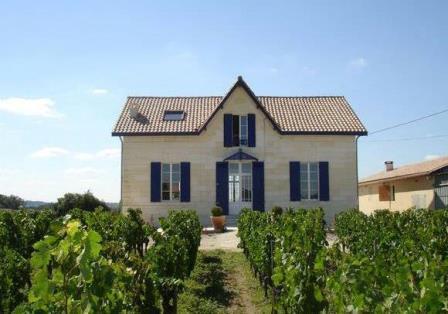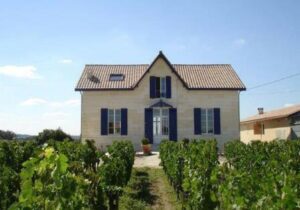 Learn everything about Chateau du Parc St. Emilion with wine tasting notes and wine with food pairing tips. Learn the best vintages, a history of the property and information on the vineyards and winemaking. If you want to read about other important, Bordeaux Chateaux: Links to all Bordeaux Wine Producer Profiles
Chateau du Parc History, Overview
Chateau du Parc was purchased by Alain Raynaud and Françoise Raynaud just in time to produce the 2011 vintage. Dr. Alain Raynaud by that point in time was already quite well-known in the Bordeaux wine region. His family owned  Chateau La Croix du Gay and Chateau La Fleur de Gay in Pomerol.
And, Alain Raynaud was lso the owner of Chateau Quinault L'Enclos in St. Emilion. Alain Raynaud is also a popular consultant that has worked with numerous top estates like; Chateau Pavie and Chateau Clos LEglise in Pomerol, along with Colgin Cellars in the Napa Valley.
Alain Raynaud is also the president of Le Cercle Rive Droite. Previously he served as president of the UGC for six years. While Alain Raynaud finished the 2010 vintage for the property, 2011 marked the true debut vintage for Chateau du Parc as Raynaud was responsible for the wine from the harvest through bottling.
Just a few weeks before the 2016 harvest was set to begin at Chateau du Parc, Alain Raynaud sold the estate to the American, Tom Sullivan. Tom Sullivan purchased 2 other vineyards in the Right Bank, Chateau du Gaby in Fronsac and Chateau Moya in the Cotes de Castillon appellation.
Tom Sullivan earned his fortune as the founder Lumber Liquidators and Cabinets to Go. Tom Sullivan intends to act as his own importer and directly import the production of all his Bordeaux estates, bypassing the more traditional negociant system using his company, Wine Traders International. Due to the small production of his properties, he should be able to do this.
Chateau du Parc Vineyards, Terroir, Grapes, Winemaking
The 5.5 hectare Saint Emilion vineyard of Chateau du Parc is planted to 80% Merlot and 20% Cabernet Franc. The vineyard has two terroirs.
Their vineyards to the south are mostly sand and gravel based soils not too far from Chateau Monbousquet. When you travel north, their better terroir is more clay and limestone soils, typical of that part of the Saint Emilion appellation. The vines are on average 25 years of age.
To produce the wine of Chateau du Parc, the vinification takes place in a combination of temperature controlled, concrete vats and French oak barrels. Malolactic fermentation takes place in 40% new, French oak barrels. The wine of Chateau du Parc is aged in 50% new, French oak barrels.
The best vintages of Chateau du Parc are: 2022, 2021, 2020, 2019, 2018, 2017, 2016, 2015, 2014, 2012, 2010 and 2009.
There is a second wine, Petit Parc. Currently, on average 2,000 cases per year are produced of Chateau du Parc.
When to Drink Chateau du Parc, Anticipated Maturity, Decanting Time
Chateau du Parc is better with at least 2-4 years of bottle age. Of course that can vary slightly, depending on the vintage. Chateau du Parc is best enjoyed in the first 3-12 years of life.
Young vintages can be decanted for about 1 hour. This allows the wine to soften and open its perfume. Older vintages might need very little decanting, just enough to remove the sediment.
Serving Chateau du Parc with Wine and Food Pairings
Chateau du Parc is best served at 15.5 degrees Celsius, 60 degrees Fahrenheit. The cool, almost cellar temperature gives the wine more freshness and lift.
Chateau du Parc is best paired with all types of classic meat dishes, veal, pork, beef, lamb, duck, game, roast chicken, roasted, braised and grilled dishes. Chateau du Parc is also good when matched with Asian dishes, rich fish courses like tuna, mushrooms and pasta.
Clearly the wine improved under the direction of Alain Raynaud. It was known that Alain Raynaud was seeking to add to his holdings in St. Emilion at Chateau du Parc. It is unknown if the new owner, Tom Sullivan will also want to expand the vineyards. My guess is he will.
Château du Parc Wine Tasting Notes
11 Vintages 20,927 Views Sort by Vintage-Rating
2020
Château du Parc (St. Émilion Grand Cru)

Medium-bodied, soft, round, ripe, fresh and polished, the wine displays its center of chocolate coated fruits, espresso bean, licorice, and Indian spices with little effort. You can enjoy this in its youth, or age it if you prefer more secondary notes. Drink from 2023-2037.

188 Views

Tasted

Mar 21, 2023

2019
Château du Parc (St. Émilion Grand Cru)

Blending 80% Merlot with 20% Cabernet Franc produced a medium-bodied, soft, easy to drink, flowery, fresh, red berry dominated wine that will be drinkable on release. 87-89 Pts

2,617 Views

Tasted

Jun 8, 2020

2018
Château du Parc (St. Émilion Grand Cru)

Spicy, fresh, soft and sweet red fruits with an olive and espresso character in the finish.

639 Views

Tasted

Mar 9, 2021

Medium-bodied and open, the wine focuses on plum, cherry, coffee bean and licorice that is delivered in an easy-to-like style. You can drink this on release or age it a few years. 87-89 Pts

1,145 Views

Tasted

Apr 19, 2019

2017
Château du Parc (St. Émilion Grand Cru)

Medium bodied with a delicate, plummy character and licorice, espresso and floral accents, this is soft, forward and made for early drinking delight.

1,158 Views

Tasted

Apr 26, 2018

2016
Château du Parc (St. Émilion Grand Cru)

Ripe dark red fruits, jam, licorice and smoke aromas open the perfume. On the palate, the wine is medium bodied, energetic, fruity and with a discernible oaky side to its character. I like the wine, but I would like it even more with a bit less wood.

880 Views

Tasted

Sep 21, 2019

Medium bodied and ripe with good fruit, there is too much oak to fruit in this vintage.

1,025 Views

Tasted

Apr 29, 2017

2015
Château du Parc (St. Émilion Grand Cru)

An oak heavy nose, with licorice, black cherry and cocoa to help mellow out the strong espresso notes. Round, plush and forward, with a sweet, black raspberry, dark plum and espresso finish. 87-89 Pts

2,569 Views

Tasted

Apr 29, 2016

2014
Château du Parc (St. Émilion Grand Cru)

Oak, stone and dark berries are paired with a forward, medium bodied, round, dark plum core that is easy to drink and to like. 87-89 Pts

1,535 Views

Tasted

Apr 27, 2015

2013
Château du Parc (St. Émilion Grand Cru)

With fresh raspberries, oak and a medium-bodied red cherry and plum character, this wine will be best young. 85-87 Pts

1,207 Views

Tasted

Apr 29, 2014

2012
Château du Parc (St. Émilion Grand Cru)

Medium bodied, forward, soft, early drinking with a plum and vanilla character that is already showing well.

2,508 Views

Tasted

May 15, 2015

With a ruby color, oak, licorice, coffee, spice and black raspberries are up front with little effort. On the palate, the wine is ripe, sweet, soft, and filled with ripe black cherries. 88-90 Pts

2,289 Views

Tasted

Apr 26, 2013

2011
Château du Parc (St. Émilion Grand Cru)

The true debut vintage for Alain Raynaud for this St. Emilion estate, which Raynaud purchased in 2010. Made from a blend of 80% Merlot and 20% Cabernet Franc, with vines averaging 25 years of age, the wine opens with black pepper, earth, espresso, blackberry, red plum and blueberry aromas, this soft textured, medium bodied wine should offer pleasure early. The wine reached 13.5% alcohol. 88-90 Pts

1,740 Views

Tasted

Mar 16, 2012

2010
Château du Parc (St. Émilion Grand Cru)

Recently purchased by the consultant Alain Raynaud, while this is the official debut vintage for Raynaud, he did not begin to make the wines until the following year. Located not far from the sandy soils of Monbousquet, the wine offers good color, spice and black raspberries with a touch oak, medium/full body and the ability to be enjoyed on the young side.

1,427 Views

Tasted

Mar 12, 2012