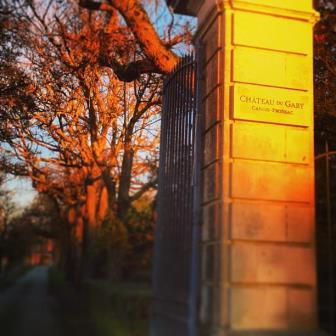 Everything about Chateau Gaby Canon Fronsac with wine tasting notes and wine with food pairing tips. Learn the best vintages, a history of the property, information on the vineyards, and winemaking. If you want to read about other important, Bordeaux Chateaux: Links to all Bordeaux Wine Producer Profiles
Chateau Gaby History, Overview
Chateau Gaby has a long history in the appellation. The estate was known as La Roche Gaby until 1999. However, the property dates back several hundred years.
The Right Bank vineyards of Chateau du Gaby were first planted in the 1700s. In fact, the estate remained in the same family for 250 years until 1999, when Chateau Gaby was purchased by Antoine Khayat from the Frouin family.
Following the purchase by Antoine Khayat family, the estate went through an extensive period of renovation in both the cellars and vineyards. Antoine Khayat was also responsible for enlarging the vineyards, with purchases of additional vineyards.
In late 2006, Chateau Gaby was sold to David Curl, who also owns Chateau Moya in the Cotes de Bordeaux appellation. David Curl earned his fortune as an investor and finance manager in Canada. Just a few weeks before the 2016 harvest at Chateau Gaby was set to begin, David Curl sold the estate to an American businessman, Tom Sullivan.
Tom Sullivan purchased 2 other estates in the Right Bank, Chateau du Parc in St. Emilion and Chateau Moya in the Cotes de Castillon appellation. In late 2022, Sullivan added to his holdings with the purchase of Clos Beausejour in Pomerol. Tom Sullivan earned his fortune as the founder of Lumber Liquidators and Cabinets to Go.
Instead of using the negociant system, Tom Sullivan formed a new company allowing him to function as his own importer directly importing the production of all his Bordeaux estates, bypassing the more traditional, negociant system using his company, Wine Traders International.
Chateau Gaby Vineyards, Terroir, Grapes, Winemaking
The 16-hectare vineyard of Chateau Gaby is planted to 85% Merlot and 15%. The terroir is limestone soil with clay subsoils. Their best terroir is on a sloping hillside that reaches up to 75 meters at its peak. The terroir can in some ways be compared to that which you could find in the vineyards of Saint Emilion. On average, the vines are close to 35 years of age.
The previous parcels which contained Cabernet Sauvignon have been removed and replanted to Merlot. The vineyards were certified as being 100% organic in 2018. The vineyard is planted to a vine density that ranges from 5,500 to 6,000 vines per hectare.
To produce the wine of Chateau Gaby, the wine is fermented and vinified in temperature-controlled, traditional shaped, cement vats. The wine is aged in 55% new, French, oak barrels for between 12 and 18 months, depending on the vintage.
The estate added a new, high-end wine to their portfolio with the addition of Gaby Cuvee. Chateau Gaby Cuvee comes from a single parcel and is aged in 100% new, French oak barrels for 18-24 months prior to bottling.
There is a second wine, previously known as La Roche Gaby. La Roche Gaby chose its moniker as an homage to the estate's long history recalling that La Roche Gaby was the original name of the chateau and its wine. Today, the second wine is Princess Gaby, which comes from the estates youngest vines.
On average, 7,000 cases of Chateau Gaby are produced each vintage.
The best vintages of Chateau Gaby are: 2022, 2021, 2020, 2019, 2018, 2017, 2016, 2015, 2014, 2012, 2010, 2009 and 2005.
When to Drink Chateau Gaby, Anticipated Maturity, Decanting Time
Chateau Gaby is better with at least 2-3 years of aging in good vintages. Young vintages can be decanted for up to 1 hour, helping the wine soften to help develop the aromatic character.
Older vintages might need very little decanting, just enough to remove the sediment. Chateau Gaby offers its best drinking and should reach peak maturity between 2-8 years of age after the vintage.
Serving Chateau Gaby with Wine, Food, Pairing Tips
Chateau Gaby is best served at 15.5 degrees Celsius, 60 degrees Fahrenheit. The cool, almost cellar temperature gives the wine more freshness and lift. Chateau Gaby is best paired with all types of classic meat dishes, veal, pork, beef, lamb, duck, game, roast chicken, roasted, braised and grilled dishes.
Chateau Gaby is also good when matched with Asian dishes, rich fish courses like tuna, mushrooms and pasta.
Château Gaby Wine Tasting Notes
18 Vintages 43,314 Views Sort by Vintage-Rating
2021
Château Gaby (Canon-Fronsac)

Round and plummy, with a strong dose of espresso, chocolate and flowers on the nose. This is perfect for early drinking for all those ripe red berries and chocolate on the palate. Drink from 2023-2030. 87-89

1,117 Views

Tasted

May 20, 2022

2020
Château Gaby Cuvée Gaby (Canon-Fronsac)

Dark in color, the wine offers licorice, smoke, espresso, chocolate, and black cherries on the nose, as well as on the plush-textured, rich palate. The Cuvee is made from a selection of the estate's best parcels. Drink from 2023-2040.

492 Views

Tasted

Mar 21, 2023

2020
Château Gaby Princess (Canon-Fronsac)

Chocolate-tinted, plums, and cherries with flowers, and a touch of espresso fill the nose. The wine is medium-bodied, lusciously textured, ripe, sweet, and ready to-to-go on release. Drink from 2023-2035.

491 Views

Tasted

Mar 21, 2023

2020
Château Gaby (Canon-Fronsac)

With a strong oaky leaning with some volatile acidity, the wine is concentrated, round and lush, but it needs to better integrate over the next few years. Drink from 2024-2034.

478 Views

Tasted

Mar 21, 2023

2019
Château Gaby (Canon-Fronsac)

Ripe, round, soft, sweet, forward and lush, this is perfect for early drinking pleasure, due to it's opulent, accessible, polished, sweet fruity nature. 90-92 Pts

2,050 Views

Tasted

Jun 8, 2020

2019
Château Gaby Princess (Canon-Fronsac)

Medium-bodied, lusciously textured, sweet, ripe, round fruits with licorice, flowers and freshness from start to finish. 90-92 Pts

1,937 Views

Tasted

Jun 8, 2020

2018
Château Gaby (Canon-Fronsac)

Chocolate, espresso, wet earth and black cherry nuances pair perfectly with the round textured, lush, sweet, fruit filled finish. This opulent wine can be enjoyed young, or aged a few years for more complexity.

721 Views

Tasted

Mar 9, 2021

Floral, medium-bodied and showing fresh, ripe, red berries, licorice and dark cocoa from start to finish, the wine should be easy to drink early in life. 89-91 Pts

1,361 Views

Tasted

Apr 19, 2019

2017
Château Gaby Cuvée Gaby (Canon-Fronsac)

Made from a selection of the estate's best parcels, this wine is medium bodied, polished and plump with licorice, cacao and espresso notes. There is an enjoyable sweetness to the fruit this year.

1,387 Views

Tasted

Apr 26, 2018

2017
Château Gaby (Canon-Fronsac)

Bold, rotund and a bit oaky on the nose and palate, this wine could use a year or two in the cellar to refine its sweet, soft, ripe, fruity sensation.

1,408 Views

Tasted

Apr 26, 2018

2016
Château Gaby (Canon-Fronsac)

Menthol, licorice, red fruits, oak and cocoa create the perfume. On the palate, the wine is forward, medium bodied, soft and polished, making it quite easy to drink today. The finish shows sweet, ripe, dark red fruits, cherries and chocolate.

1,217 Views

Tasted

Sep 21, 2019

Medium bodied, approachable, with a bit too much oak, that overwhelms the fruit in the finish.

1,779 Views

Tasted

Apr 29, 2017

2015
Château Gaby Cuvée Gaby (Canon-Fronsac)

Medium bodied and already showing secondary development with its display of truffle, espresso, licorice and cherry, Soft, lush and already drinking close to the top of its game. The fruit is ripe, the tannins are soft, but there is an oaky touch in the finish that if it disappears, this will be a better wine. The Cuvee is made from a selection of the estates best parcels.

1,394 Views

Tasted

May 21, 2018

2015
Château Gaby (Canon-Fronsac)

Medium bodied, soft, easy drinking, crowd pleasing style of wine that will be at its best over the next few years.

2,002 Views

Tasted

May 21, 2018

A forward drinking charmer, with soft, silky tannins, ripe, plums cherry and licorice and a polished mouth feel that is already fun to drink.

2,036 Views

Tasted

Apr 29, 2016

2014
Château Gaby (Canon-Fronsac)

Medium bodied, sweet, chocolate and black cherries with a smooth, easy finish. 87-89 Pts

2,215 Views

Tasted

May 1, 2015

2012
Château Gaby (Canon-Fronsac)

From a blend of 80% Merlot, 10% Cabernet Franc and 10% Cabernet Sauvignon, the wine is light in color and light in fruit, creating a medium bodied, early drinker with cherry and licorice filled charm.

4,570 Views

Tasted

May 15, 2015

Light in color with a spicy, oak and berry note in the aroma, the medium-bodied wine is focused on sweet red cherries and will be drinkable on release. 86-88 Pts

4,897 Views

Tasted

Apr 26, 2013

2011
Château Gaby (Canon-Fronsac)

Oak, smoke, red and black fruits with hints of fennel, the medium bodied wine offers soft textures and should be enjoyable on release. The chateau has been increasing the percentage of Cabernet Franc to the blend which adds depth and structure. 86-88 Pts

3,427 Views

Tasted

Mar 16, 2012

2010
Château Gaby (Canon-Fronsac)

The licorice, cocoa, jammy black cherries, round textures, forward style and fair price make this a nice example of a Bordeaux value wine that is already drinking well. It's not going to make it to old age, I'd drink it over the next 5 years to preserve its fruit.

2,874 Views

Tasted

Jul 20, 2013

2009
Château Gaby (Canon-Fronsac)

Fully mature, open and offering ripe black cherries, licorice, espresso and chocolate in the nose and on the medium-bodied, round textured palate. Drink this over the next year or two.

2,202 Views

Tasted

Aug 27, 2020

2008
Château Gaby (Canon-Fronsac)

Medium bodied, lighter style of wine offers earth, spice and cherries while delivering its pleasures on the young side.

3,259 Views

Tasted

Mar 12, 2012