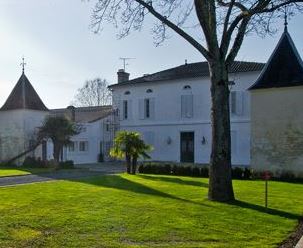 Learn everything about Chateau Quinault L'Enclos St. Emilion with wine tasting notes and wine with food pairing tips. Learn the best vintages, the history of the property, and information on the vineyards and winemaking. If you want to read about other important, Bordeaux Chateaux: Links to all Bordeaux Wine Producer Profiles
Chateau Quinault L'Enclos History, Overview
Chateau Quinault L'Enclos, located in Saint Emilion is situated in the city of Libourne. However, the estate was not always considered a part of the St. Emilion appellation. Until 1973, the vineyard of Chateau Quinault L'Enclos was actually part of the satellite appellation of Sables St. Emilion.
The chateau was renovated and parts of the vineyard were replanted by Alain Raynaud who acquired it in 1997. Another change made by Alain Raynaud was a move from mechanical harvesting to picking by hand.
In 2008 Alain Raynaud sold Chateau Quinault L'Enclos to the owners of Chateau Cheval Blanc, Bernard Arnault and Albert Frere. Today, Pierre Lurton and his talented team from Cheval Blanc now manage Chateau Quinault L'Enclos. After the purchase, the estate switched to organic farming in 2009.
In 2012, they earned their certification for being completely organic in their farming methods. Starting with the 2014 vintage, Chateau Quinault L'Enclos began to include the Cabernet Sauvignon in the blend for the first time.
Chateau Quinault L'Enclos Vineyards, Terroir, Grapes, Winemaking
The 20 hectare Right Bank vineyard of Quinault L'Enclos is planted to 83% Merlot, 12% Cabernet Franc and 5% Cabernet Sauvignon. They have removed all the Malbec that was previously in the vineyard. The terroir is rocks, sand, gravel, and clay soil. The vineyard is planted in 1 single parcel, which is unusual for a vineyard of that size in the Right Bank.
Chateau Quinault L'Enclos has old vines. Many of the vines are close to, or over 50 years of age. The oldest parts of the vineyards were planted all the way back in 1934. The second oldest sector was planted after the frost of 1956. The vineyard is planted to a vine density of 5,800 vines per hectare.
Due to the location of the vines, which are not far from Libourne, Chateau Quinault l'Enclos has a warmer microclimate than many St. Emilion estates, so they often harvest earlier than other properties. Today, they pick even earlier to avoid jammy or overripe qualities.
To produce the wine of Chateau Quinault L'Enclos, vinification takes place in wood vats. Malolactic fermentation takes place in barrels. The wine is then aged in an average of 50% new, French oak barrels for up to 18 months.
Under the direction of Alain Raynaud, Chateau Quinault produced Absolut de Quinault, which was vinified using micro-vinification techniques. This was one of the first wines in Saint Emilion vinified entirely in the barrel. That wine is no longer being produced.
When Alain Raynaud was making Chateau Quinault L'Enclos, the wine was produced was aged in 100% new oak and was produced in a forward, sweet, ripe, round, and supple St. Emilion wine style, that drank well young.
It was best enjoyed in its first 10-12 years of life. Under the direction of the same team that produces Chateau Cheval Blanc, the wine offers more purity, freshness and shows less oak.
The Best Vintages of Chateau Quinault l'Enclos are: 2022, 2021, 2020, 2019, 2018, 2017, 2016, 2015, 2014, 2010, 2009 and 2005.
The wines made today at Quinault L'Enclos are definitely more distinctive and will age better. Today, the average annual production of Chateau Quinault L'Enclos is close to 7,500 cases of wine per year.
When to Drink Chateau Quinault L'Enclos, Anticipated Maturity, Decanting Time
Chateau Quinault L'Enclos is better with at least 3-5 years of bottle age. Of course, that can vary slightly, depending on the vintage.
Chateau Quinault L'Enclos is best enjoyed in the first 3-15 years of life. Young vintages can be decanted for about 1 hour to 90 minutes. This allows the wine to soften and open its perfume. Older vintages might need very little decanting, just enough to remove the sediment.
Serving Chateau Quinault L'Enclos with Wine, Food, and Pairing Tips
Chateau Quinault L'Enclos is best served at 15.5 degrees Celsius, 60 degrees Fahrenheit. The cool, almost cellar temperature gives the wine more freshness and lift.
Chateau Quinault L'Enclos is best served with all types of classic meat dishes, veal, pork, beef, lamb, duck, game, roast chicken, roasted, braised, and grilled dishes. Chateau Quinault L'Enclos is a perfect match with Asian dishes, hearty fish courses like tuna, mushrooms, and pasta as well as cheese.
www.chateau-quinault-lenclos.com
Château Quinault L'Enclos Wine Tasting Notes
18 Vintages 99,511 Views Sort by Vintage-Rating
2022
Château Quinault L'Enclos (St. Émilion Grand Cru)

Flowers, plums and cherries are evident on the nose. The medium-bodied palate is supple, sweet, and loaded with licorice, and creamy black cherries. The wine blends 63% Merlot, 20% Cabernet Franc, and 18% Cabernet Sauvignon. Drink from 2025-2042. 92-94 Pts.

1,696 Views

Tasted

May 8, 2023

2021
Château Quinault L'Enclos (St. Émilion Grand Cru)

Cherries, plums, chocolate, nutmeg, flowers and mint on the palate. The fruits are sweet and rich, but the mid-palate is a bit light before you get to all the sweetness and lift in the finish. Yields are quite low at only 20 hectoliters per hectare, so the wine is going to be difficult to find as the production was cut almost in half. The wine blends 59% Merlot, 23% Cabernet Franc, and 18% Cabernet Sauvignon. Drink from 2023-2036. 90-92

1,624 Views

Tasted

May 20, 2022

2020
Château Quinault L'Enclos (St. Émilion Grand Cru)

Black cherries, flowers, chocolate and espresso with a hint of blue fruit pop in the nose. Rich, lush, plush and polished, the wine is fresh, silky and packed with all the ripe, lush, chocolate-coated cherries with a sprig of refreshing mint that shows up at the end of the finish. Drink from 2023-2045.

1,228 Views

Tasted

Mar 21, 2023

2019
Château Quinault L'Enclos (St. Émilion Grand Cru)

Touches of espresso, licorice, chocolate covered cherries and smoked earth come alive on the nose. On the palate, the wine is soft, silky, polished and fresh, finishing with ripe, sweet, fresh red plums, cocoa and a hint of savory herbs on the backend. Drink from 2024-2037.

1,991 Views

Tasted

Mar 29, 2022

2018
Château Quinault L'Enclos (St. Émilion Grand Cru)

Much better in bottle than in barrel, the wine has filled out, gaining complexity and texture. Now you find a rich, luxurious, licorice, black cherry, smoke, spice and floral oriented wine. Medium-bodied with velvety tannins, give it a few more years in the cellar and it should really start rocking! The wine is a blend of 71.5% Merlot, 14.5% Cabernet Franc and 14% Cabernet Sauvignon.

3,432 Views

Tasted

Mar 9, 2021

Espresso, licorice, and red plums provide a bright, fruity character. The wine is medium bodied, focusing on its precision and freshness in the red fruits. The wine is a blend of 71.5% Merlot, 14.5% Cabernet Franc and 14% Cabernet Sauvignon. 89-91 Pts

4,617 Views

Tasted

Apr 19, 2019

2017
Château Quinault L'Enclos (St. Émilion Grand Cru)

Licorice, coffee bean, espresso, cocoa and fresh kirsch form the core of the wine. Medium bodied and bright but still a bit oaky, there is enough fruit to bring it all together with three to five years in the bottle.

3,674 Views

Tasted

Apr 26, 2018

2016
Château Quinault L'Enclos (St. Émilion Grand Cru)

The oak has integrated into the wine and now you are on the fruit, with its lean to the deep, cherry side of the style range, The wine is forward, soft and polished with juicy, red fruits in the mouth. But you still find some oak in the finish along with all the ripe fruits. You can drink this young, with just a few years of aging.

2,326 Views

Tasted

Sep 21, 2019

Vanilla, black cherry, smoke and anise come through easily. There is freshness along with juicy fruit and bright red berries. Made from blending 68% Merlot, 20% Cabernet Sauvignon and 18% Cabernet Franc, the wine is now aged in 500 liter barrels of which 50% is new French oak.

4,246 Views

Tasted

Apr 29, 2017

2015
Château Quinault L'Enclos (St. Émilion Grand Cru)

Lush, silky and rich, the wine is loaded with dark black cherries, licorice and silky, slightly tannins. The fruit is round, sweet and already offers considerable charm.

4,220 Views

Tasted

May 21, 2018

Licorice and fresh kirsch are the first things you notice, but the silky, polished texture is what really turns your head. This is pure, fresh, fun to taste and easily the best Quinault L'Enclos ever produced. The wine is a blend of 69% Merlot, 19% Cabernet Sauvignon and 12% Cabernet Franc.

3,721 Views

Tasted

Apr 29, 2016

2014
Château Quinault L'Enclos (St. Émilion Grand Cru)

Black cherry, kirsch and licorice on the nose, this wine is elegant, refined and ripe with fresh, pleasing, cherry character. Blending 69% Merlot, 18% Cabernet Sauvignon and 13% Cabernet Franc, the new owners have included their recent plantings of Cabernet Sauvignon for the first time and it has certainly added depth to the blend. 90-92 Pts

4,774 Views

Tasted

Apr 27, 2015

2012
Château Quinault L'Enclos (St. Émilion Grand Cru)

Round, supple and ripe, open, forward, with a sweet, ripe, red cherry licorice, with a slightly dusty quality to the tannins in the finish.

3,622 Views

Tasted

May 15, 2015

For the first time, the winery did not use any Cabernet Sauvignon in the blend. More Merlot was added, making the assemblage 89% Merlot with 19% Cabernet Franc. Fresh strawberries and licorice open to a soft and light expression of the estate with fresh, bright, clean and light red berries. 88-90 Pts

4,366 Views

Tasted

Apr 26, 2013

2011
Château Quinault L'Enclos (St. Émilion Grand Cru)

While 70% Merlot, 20% Cabernet Franc and 10% Cabernet Sauvignon create this blend, the estate will add more Cabernet Sauvignon in 2017 due to gravel in the soil. The wine will be aged in 40% new oak. Truffle, smoke and black raspberry notes open to a medium-bodied, light, bright and fresh red berry-dominated finish. 88-90 Pts

3,342 Views

Tasted

Apr 24, 2012

2010
Château Quinault L'Enclos (St. Émilion Grand Cru)

Quinault L'Enclos From an assemblage of 70% Merlot 20% Cabernet Franc, 10% Cabernet Sauvignon and some Malbec for good measure, the team at Cheval Blanc came up with a wine that reached 13.5% ABV that shows licorice, griotte and earthy scents. The wine end with a fresh, supple, fennel, chocolate and black cherry. 90-92 Pts

5,850 Views

Tasted

Apr 22, 2011

2009
Château Quinault L'Enclos (St. Émilion Grand Cru)

Radium-bodied, lush, polished, round, and fully developed, the wine instantly focuses you on its back cherry, chocolate, licorice and coffee notes on the nose and palate.

1,909 Views

Tasted

Jan 12, 2022

Fully developed, the wine is round, soft, forward, open and approachable. It takes little effort to find the licorice, cherry, smoke and earthy nuances.

3,112 Views

Tasted

Sep 20, 2019

2009 Quinault L'Enclos is produced in a new style since being purchased by the owners of Cheval Blanc. The wine is now fresher, less ripe than the offerings from earlier vintages, and should probably age better than they did. One of the key reasons behind the change is that the fruit is being harvested earlier than it was previously. Dark berry and licorice scents mesh well with the fleshy, soft textures. The wine ends with a blast of ripe black cherries. 90-92 Pts

5,278 Views

Tasted

Jun 29, 2010

2008
Château Quinault L'Enclos (St. Émilion Grand Cru)

Medium/full bodied, round and completely approachable, there is distinctive oaky edge to the wines black cherry and licorice personality.

3,248 Views

Tasted

Dec 18, 2015

2005
Château Quinault L'Enclos (St. Émilion Grand Cru)

Ripe, black cherries and espresso in the nose, the wine is soft in texture, with too much oak in the end note as the wine feels a little dry and woody.

4,632 Views

Tasted

Jun 28, 2015

Creamy, ripe black raspberry, licorice, coffee, jammy berries and oak make up the perfume. With its opulent, sexy texture and forward style, this Bordeaux wine is already showing well. Based on previous vintages, this is a wine that should be enjoyed before it hits 12 years after the vintage.

4,393 Views

Tasted

Jun 15, 2008

2000
Château Quinault L'Enclos (St. Émilion Grand Cru)

Not as fresh, rich, lush or interesting as it was a few years ago. I'd drink this enjoyable wine sooner than later.

6,868 Views

Tasted

Mar 5, 2010

1999
Château Quinault L'Enclos (St. Émilion Grand Cru)

Clearly starting to fade and drop its fruit. If you have a bottle, I'd drink this much sooner than later.

3,764 Views

Tasted

Feb 26, 2013

1998
Château Quinault L'Enclos (St. Émilion Grand Cru)

The fruit and oak has faded with time. Medium bodied, fully mature, soft, round, and a bit short, but the black cherry, licorice and earthy notes that remained were easy to drink. Still, if I owned any of this wine, I'd drink it sooner than later.

3,461 Views

Tasted

Nov 14, 2017

Offering mature, oak, earth and fruit aromas, ending on a plush, plum and cherry note. Fully mature. There is no reason to hold this easy to like wine any longer. In fact, it might have been a little more fun to drink a year or two ago.

4,717 Views

Tasted

Dec 14, 2009

Dark, purple, ruby with very slight pinking at the edges. Jammy blackberries, vanilla, super ripe cherries, licorice and coffee notes. Lush, full-bodied, decadent, mouth feel. Red and black fruits coat the palate. Some tannin remains. Very sexy and crowd pleasing style of wine.

3,400 Views

Tasted

Sep 3, 2006