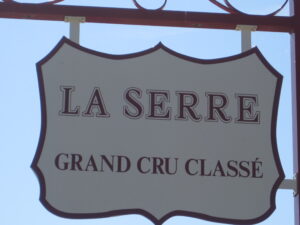 Learn everything about Chateau La Serre St. Emilion, Bordeaux with wine tasting notes, and wine with food pairing tips. Learn the best vintages, the history of the property, and information on the vineyards and winemaking. If you want to read about other important, Bordeaux Chateaux: Links to all Bordeaux Wine Producer Profiles
Chateau La Serre History, Overview
Chateau La Serre is located just outside the village of Saint Emilion. It is situated exactly across the street from Chateau La Couspaude. Chateau La Serre takes its name from its south-facing position, as La Serre can be translated to, greenhouse, which the vineyards receive, due to its sunny exposure.
The chateau was constructed towards the end of the 17th century. During the late 1800s, the property was purchased by Albert Macquin, who also owned the neighboring Chateau Pavie Macquin. Chateau La Serre was purchased in the 1950s by the d'Arfeuille family, which also owned Chateau La Pointe in Pomerol at the time.
The d'Arfeuille family continues to own and manage the estate today. Although, winemaking, vineyard management, and marketing are handled by Ets. Moueix. In 2003 the cellars and vat rooms of Chateau La Serre were modernized. They removed their stainless steel tanks and moved to new, concrete fermentation vats.
Chateau La Serre Vineyards, Terroir, Grapes, Winemaking
The 7-hectare vineyard of Chateau La Serre is planted with 80% Merlot and 20% Cabernet Franc. The vineyard is planted in 1 large block of vines. The vineyard has been going through slow and steady replanting. The terroir is chalk, clay, and sand soils. The vines in their best terroir are not that far from Chateau Pavie Macquin, Chateau Villemaurine, and Chateau Trotte Vieille. The average vine age in their Saint Emilion vineyard is 35 years of age. The vineyard is planted to a vine density of 6,000 vines per hectare.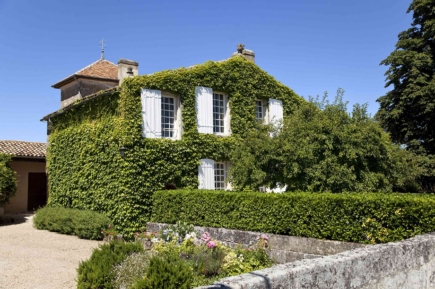 To produce the wine of Chateau La Serre, vinification takes place in traditional concrete vats. This Right Bank wine is aged for an average of 16 months in 50% new, French oak barrels. On average, 2,000 cases of Chateau La Serre are produced each year.
The best vintages of Chateau La Serre are: 2022, 2021, 2020, 2019, 2018, 2017, 2016, 2015, 2014, 2010, 2009 and 2005.
There is a second wine, Les Menuts de La Serre. However, the second wine is only produced in select vintages.
When to Drink Chateau La Serre, Anticipated Maturity, Decanting Time
Chateau La Serre needs some time before it can be enjoyed. Young vintages can be decanted for an average of 1 hour or more. This allows the wine to soften and open its perfume. Older vintages might need very little decanting, just enough to remove the sediment. Chateau La Serre is usually better with at least 4-6 years of bottle age. Of course, that can vary slightly, depending on the vintage character. Chateau Mangot offers its best drinking and should reach peak maturity between 4-12 years of age after the vintage.
Serving Chateau La Serre with Wine, Food, Pairing Tips
Chateau La Serre is best served at 15.5 degrees Celsius, 60 degrees Fahrenheit. The cool, almost cellar temperature gives the wine more freshness and lift. Chateau La Serre is best paired with all types of classic meat dishes, veal, pork, beef, lamb, duck, game, roast chicken, roasted, braised, and grilled dishes. Chateau La Serre is also good when matched with Asian dishes, hearty fish courses like tuna, mushrooms, and pasta.
Château La Serre Wine Tasting Notes
16 Vintages 46,568 Views Sort by Vintage-Rating
2022
Château La Serre (St. Émilion Grand Cru)

Rich, deep, long, and creamy, the wine is all about its layers of deep, dark, lush fruits on the palate and in the finish. Drink from 2025-2042. 92-94 Pts.

684 Views

Tasted

May 8, 2023

2021
Château La Serre (St. Émilion Grand Cru)

Silky, soft and fresh, with a gorgeous polish to the dark red fruits which are made even more interesting by all of its floral accents. There is sweetness to the fruit, soft, silky tannins and freshness in the finish. I like the spicy, cocoa note that comes through on the backend. Drink from 2023-2038. 91-93

1,184 Views

Tasted

May 20, 2022

2020
Château La Serre (St. Émilion Grand Cru)

Medium/full-bodied, fresh, soft and silky, the wine requires just a little effort to entice all of its black cherries, plums, chocolate, espresso and licorice to come to the front of the perfume. Vibrant, with ample, sweet, ripe, lush fruits with a dose of salt that adds to the wines character. Polished lively and long, with sweetness and purity to the fruits that linger, this is the best vintage of La Serre I have ever tasted. Drink from 2024-2045.

678 Views

Tasted

Mar 21, 2023

Full-bodied, silky, fresh and packed with chocolate, black and red plums, licorice, oak and crushed rocks, there is serious vibrancy and depth of flavor here. Polished lively and long, with sweetness and purity to the fruits that linger, this is the best vintage of La Serre I have ever tasted. 93-95 Pts

1,523 Views

Tasted

May 20, 2021

2019
Château La Serre (St. Émilion Grand Cru)

Better from the bottle than from the barrel, the wine is packed with flowers, cherries, tobacco leaf, licorice and cocoa. On the palate, the lushly textured, plush, polished wine offers a layered mouthful of chocolate covered plums, licorice and smoke that really stays with you. This is the best vintage of La Serre I have ever tasted. You can enjoy it in its fruit-filled youth, or age it for 15 or more years. Drink from 2024-2037.

1,142 Views

Tasted

Mar 29, 2022

Medium-bodied, soft, approachable and with a juicy, fresh, plummy core of berries and herbs, this will drink best in its youth. 89-91 Pts

2,231 Views

Tasted

Jun 8, 2020

2018
Château La Serre (St. Émilion Grand Cru)

Fresh, fruity and fun to taste, the wine has more richness than experienced in previous vintages. Now, you find layers of sweet plum, cherry, licorice, spice and earthy nuances. Give this just a few years in the cellar and enjoy it over the following 2 decades.

1,178 Views

Tasted

Mar 9, 2021

Rich, fat and juicy with more fruit and substance than I have ever seen here, the wine is fleshy, fresh, fruity and fun to drink. 90-92 Pts

1,899 Views

Tasted

Apr 19, 2019

2017
Château La Serre (St. Émilion Grand Cru)

Fruity in a classic sense, the wine is sharp, ripe, medium bodied and mineral driven. Give it a few years to come together and it should be a nicely enhanced wine.

1,752 Views

Tasted

Apr 26, 2018

2016
Château La Serre (St. Émilion Grand Cru)

Medium bodied, bright and with loads of sweet cherries and licorice on the palate, the wine is juicy, clean and fresh.

2,145 Views

Tasted

Sep 21, 2019

Deeply colored, fleshy, sweet, round and ripe with volume, length and freshness, this is the best vintage of La Serre I have ever tasted.

2,408 Views

Tasted

Apr 29, 2017

2015
Château La Serre (St. Émilion Grand Cru)

Medium-bodied, soft, earthy and fresh, the fruits are ripe with freshness and just hint of licorice and that desired mineral essence that adds a saltiness to the fruit. This will be better with a few years of age. .

3,297 Views

Tasted

May 21, 2018

With a distinctive floral and red berry nose, this medium-bodied wine is elegant, fresh, soft and sweet with a lingering, spicy cherry note.

1,997 Views

Tasted

Apr 29, 2016

2014
Château La Serre (St. Émilion Grand Cru)

Flowers and cherry blossoms in the nose are perfectly paired with the wine's medium bodied, fresh, light, easy drinking, cherry-dominated style. 87-89 Pts

2,284 Views

Tasted

Apr 27, 2015

2013
Château La Serre (St. Émilion Grand Cru)

Light ruby in hue, the wine is earthy, sweet and focused on bright red cherries in the finish. Already open, drink this young. 84-86 Pts

2,055 Views

Tasted

Apr 29, 2014

2012
Château La Serre (St. Émilion Grand Cru)

Cherry, earth and thyme on the nose, medium bodied, with soft, crisp, fresh, light, cherries and red fruit in the finish.

2,488 Views

Tasted

May 16, 2015

With a light kiss of oak, the wine offers fresh cherries, medium body and a light, fresh, clean, red berry finish. 86-88 Pts

2,504 Views

Tasted

Apr 26, 2013

2011
Château La Serre (St. Émilion Grand Cru)

Located close to the St. Emilion village, this wine offers earth, cocoa and black cherry scents with soft textures, medium body and a soft red berry finish. 88-90 Pts

3,623 Views

Tasted

Apr 24, 2012

2010
Château La Serre (St. Émilion Grand Cru)

La Serre Located close to the St. Emilion village offers licorice, oak and black cherry, medium body and a soft, black raspberry finish. 88-90 Pts

3,722 Views

Tasted

Apr 22, 2011

2009
Château La Serre (St. Émilion Grand Cru)

Forward, medium bodied, fresh, open and serving up an easy drinking mix of ripe dark cherries, black raspberry, flowers and earth, with a soft, polished finish.

2,393 Views

Tasted

Feb 27, 2015

2008
Château La Serre (St. Émilion Grand Cru)

08 Château La Serre shows a ruby color with some black fruit and red tints. Medium bodied with an easy going, simple finish. 87-89 Pts

3,689 Views

Tasted

Jul 1, 2009

1961
Château La Serre (St. Émilion Grand Cru)

From a perfectly stored magnum, sweet pipe tobacco, cherries, earth and forest scents met with a medium bodied, soft textured wine that ended with spicy, red cherries. What a nice surprise.

1,692 Views

Tasted

Jan 24, 2013