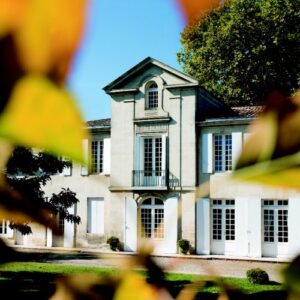 Learn everything about Chateau La Pointe, Pomerol with wine tasting notes and wine and food pairing tips. Learn the best vintages, a history of the property, information on winemaking and vineyards. If you want to read about other important, Bordeaux Chateaux: Links to all Bordeaux Wine Producer Profiles
Chateau La Pointe History, Overview
The formation of Chateau La Pointe dates all the way back to the middle of the 19th century. The estate found the inspiration for its name due to the unusual, triangular shape of their Pomerol vineyards.
Pomerol is the smallest appellation in Bordeaux. Perforce, most of the estates in Pomerol are understandably small. That is not the case with Chateau La Pointe, which is the third largest property in the Pomerol appellation with 23 hectares of vines. Only Chateau de Sales and Chateau Nenin are larger. In fact, Chateau La Pointe is so big, it takes up more than 2% of the entire Pomerol appellation!
Things change at Chateau La Pointe after the property was purchased by the d'Arfeuille family in 1941, who later purchased Chateau La Serre in St. Emilion. Following their ownership, Chateau La Pointe was sold to the French insurance company, Generali France in 2007.
Chateau La Pointe The Modern Era
Eric Monneret, who had been in charge of Chateau Raymond Lafon in Sauternes was named the new director. One of the next decisions the new owners made was to hire Hubert de Bouard, the owner of Chateau Angelus in St. Emilion, to consult and help manage Chateau La Pointe. Under the direction of Hubert de Bouard, the estate began replanting their Right Bank vineyards.
They pulled out the Cabernet Sauvignon and added more Merlot and Cabernet Franc. Both grape varieties are much better suited for Chateau La Pointe.
Additionally, massive amounts of money were spent to improve the wines and wine making facilities at Chateau La Pointe. The main area of improvement made by the estate was to add enough temperature controlled stainless steel vats to allow for vinification on a parcel by parcel basis.
The estate also added new concrete vats. However, at the time of the purchase, the vats were quite large at 140 hectoliters.
Hubert de Bouard advised them to make the tanks smaller and instead of purchasing new vats, he suggested they just add more concrete to the older vats, decreasing their size, allowing for more parcel by parcel vinification while saving them money as well.
The new cellars of Chateau La Pointe were designed to be green, energy efficient facilities with solar panels and a water recycling system.
The renovations were completed just in time for the legendary, 2009 Bordeaux harvest. However, the work on Chateau La Pointe did not stop there, as they completed a new drainage system and ecologically friendly, vatroom. The new vat house allowed for parcel by parcel vinification.
Chateau La Pointe Vineyards, Terroir, Grapes, Winemaking
The 23 hectare Pomerol vineyard of Chateau La Pointe is planted to 85% Merlot and 15% Cabernet Franc. The property is one of the larger vineyards in the tiny Pomerol appellation. Most of their vineyards are placed just north of Catusseau, near to to Libourne, with the exception of 1 parcel, situated close to Trotanoy.
The terroir consists of gravel, sand and clays soils. The vineyard can be divided into 3 separate sections, each with its own terroir. The vines are on average 35 years of age. The vineyard is planted to a vine density that ranges from 6,300 vines per hectare to 7,600 vines per hectare. The higher levels of vine density are found in the newer plantings.
Much of their works takes place with the goal of lowering yields. While previous and current vintages were close to 35 hectoliters per hectare, give or take, the goal is to further reduce yields to an average of 20 hectoliters per hectare, to improve the concentration in the wine.
To produce the wine of Chateau La Pointe, vinification takes place in traditional, 80 hectoliter stainless tanks. Malolactic fermentation takes place in French oak barrels for 50% of the harvest. The remaining 50% of the wine undergoes malolactic fermentation in tank. The wines are then aged in 100% new, French oak barrels for an average of 12 months.
Previous vintages were aged in 50% new, French oak. Chateau La Pointe produces more than 12,000 cases of Pomerol wine per year from their Right Bank estate. There is a second wine, Pomerol de la Pointe. The name of the second wine has changed as it was previously known as La Pointe Riffat.
The best vintages of Chateau La Pointe are: 2020, 2019, 2018, 2017, 2016, 2015, 2014, 2012, 2010, 2009 and 2005.
When to Drink Chateau La Pointe, Anticipated Maturity, Decanting Time
Chateau La Pointe can be enjoyed on the young side with decanting. Young vintages can be decanted for an average of 1 hour or so. This allows the wine to soften and open its perfume.
Older vintages might need very little decanting, just enough to remove the sediment. Chateau La Pointe is usually better with at least 3-5 years of bottle age. Of course that can vary slightly, depending on the vintage character. Chateau La Pointe offers its best drinking and should reach peak maturity between 4-15 years of age after the vintage.
Serving Chateau La Pointe with Wine, Food, Pairing Tips
Chateau La Pointe is best served at 15.5 degrees Celsius, 60 degrees Fahrenheit. The cool, almost cellar temperature gives the wine more freshness and lift.
Chateau La Pointe is best served with all types of classic meat dishes, veal, pork, beef, lamb, duck, game, roast chicken, roasted, braised and grilled dishes. Chateau La Pointe is also good with Asian dishes, hearty fish courses like tuna, salmon, mushrooms and pasta.
Château La Pointe Wine Tasting Notes
14 Vintages 64,541 Views Sort by Vintage-Rating
2019
Château La Pointe (Pomerol)

Smoke, wet earth, licorice and black cherry scents create the nose. On the palate, the wine is plummy, polished and fresh with chocolate-covered plums in the finish. 90-92 Pts

2,574 Views

Tasted

Jun 8, 2020

2018
Château La Pointe (Pomerol)

Substantially better in the bottle than in barrel, the wine shows much more weight and richness. Espresso, cherries, spice and cocoa create the core of this medium bodied, forward, soft, elegant, fresh, red plum and cherry filled wine. You can drink this on the young side, or age it for more earthy nuances.

363 Views

Tasted

Mar 9, 2021

With cherry blossoms and a touch of oak in the nose, the wine is medium bodied, forward and fresh. Most likely enjoyable on release, this wine is made from blending 74% Merlot and 26% Cabernet Franc. 88-90 Pts

2,114 Views

Tasted

Apr 19, 2019

2016
Château La Pointe (Pomerol)

Polished, soft plums and chocolate with earthy black cherry to complicate matters, the fruit is juicy, medium bodied and shows dark chocolate in the finish.

2,047 Views

Tasted

Apr 29, 2017

2015
Château La Pointe (Pomerol)

Medium-bodied, fresh, plummy and polished, there is freshness and sweet fruits that taste and feel great.

2,509 Views

Tasted

Jul 12, 2017

It's difficult to find value in Pomerol, but it can be done. Medium-bodied, fresh, plummy and floral, this wine finishes with dark, red fruits, cocoa and a little zing of spice. 88 - 90 Pts

2,116 Views

Tasted

Apr 27, 2016

2014
Château La Pointe (Pomerol)

Medium bodied, elegant, fresh, soft textured wine, with a sweet, plum and cherry core of fruit, hints of thyme, espresso, flowers and dark chocolate. This should be easy to drink young. The wine was made from a blend of 82% Merlot and 18% Cabernet Franc.

3,069 Views

Tasted

Feb 4, 2017

Chocolate-coated plums and flower scents with ripe textures and a silky finish. 87-89 Pts

1,988 Views

Tasted

Apr 24, 2015

2013
Château La Pointe (Pomerol)

Bright red fruits with a fresh, crisp quality and a touch of herbs are what you'll find in this medium bodied wine. This will be best in its youth before the fruit fades.

3,146 Views

Tasted

Feb 9, 2016

Light aromas of truffle, licorice and plum are found with some persuasion. On the palate, the wine is supple with sweet, dusty plums and not much concentration. The wine was made from a blend of 85% Merlot and 15% Cabernet Franc. 87-89 Pts

1,621 Views

Tasted

Apr 26, 2014

2012
Château La Pointe (Pomerol)

La Pointe is on a roll after their successful 2010. This new vintage is deep in color with coffee bean, licorice and ripe, juicy plums. On the palate, the wine is filled with lush, sexy black raspberries, chocolate and a hint of coffee bean to complicate matters. 91-93 Pts

3,993 Views

Tasted

Apr 26, 2013

2011
Château La Pointe (Pomerol)

Truffle, chocolate, plum and forest scents, soft textures, medium body and a fresh, bright black raspberry finish. 88-90 Pts

2,754 Views

Tasted

Apr 21, 2012

2010
Château La Pointe (Pomerol)

This Pomerol is clearly on the rise. There is length, balance, freshness and purity of fruit that finishes with round, silky tannins and layers of ripe, juicy plums. Showing much better in bottle than in barrel, this is the best wine I've tasted yet from Chateau La Pointe!

6,767 Views

Tasted

Feb 7, 2013

La Pointe From an assemblage of 85% Merlot and 15% Cabernet Franc, the wine opens with stony, plummy aromas. Soft textured and solid, this chateau gets a little better each year thanks to efforts of Hubert de Bouard who is consulting the property. 87-89Pts

3,341 Views

Tasted

Apr 21, 2011

2009
Château La Pointe (Pomerol)

Better than expected, the ripe, lusciously textured plums with their earthy nature, coupled with the cocoa, licorice and espresso topped nuances hits the spot. You can drink this today with pleasure.

2,495 Views

Tasted

Sep 20, 2019

Popped and poured, plums, black raspberry and chocolate scents, medium bodied, round textures, a bit of overipness and warmth in finish make this a top value from Pomerol, a region which has a well deserved reputation for being very expensive. If you're looking for value here, this is a good choice. Drink this in the first decade of life.

4,365 Views

Tasted

Jan 1, 2014

2009 La Pointe is filled with black raspberry jam with overtones of cassis and coffee. This chateau has shown marked improvements since Hubert de Bouard began consulting the property. 88-90 Pts

3,760 Views

Tasted

Jul 27, 2010

2008
Château La Pointe (Pomerol)

08 Château La Pointe offers some red and black fruits in the nose. The wine has a freshness, yet not much depth. Here is an easy drinking, pleasant style of Pomerol. 85-87 Pts

3,720 Views

Tasted

Jul 30, 2009

2005
Château La Pointe (Pomerol)

This is a light, simple wine. There was no there, there.

5,595 Views

Tasted

Jan 20, 2008

2001
Château La Pointe (Pomerol)

Fully developed, medium bodied, with a black cherry, wet earth and thyme centered nose, the wine straddles the fence between its elegant side, with a bit of rusticity in the tannins.

2,353 Views

Tasted

Oct 26, 2016

2000
Château La Pointe (Pomerol)

Medium bodied, simple, light, earthy, stoic, almost austere wine, that is past maturity and starting to lose its fruit. This requires consumption before the remaining cherry notes are gone.

3,851 Views

Tasted

Feb 14, 2017