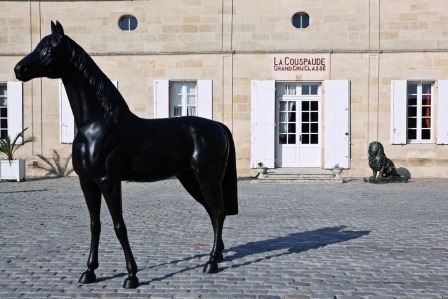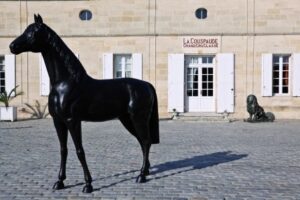 Learn everything about Chateau La Couspaude, St. Emilion with wine tasting notes and wine with and food pairing tips. Learn the best vintages, the history of the property, and information on the vineyards and winemaking. If you want to read about other important, Bordeaux Chateaux: Links to all Bordeaux Wine Producer Profiles
Chateau La Couspaude History, Overview
The well-known Aubert family has a long, successful track record making Bordeaux wine in the appellation. They have been active in St. Emilion for almost two centuries!
The chateau was built in the late 1700s. Chateau La Couspaude has been in the Aubert family's hands for over 100 years. The vineyard was bought by the Robin family, who already owned Chateau Sansonnet in 1908.
Today, the 3 Aubert brothers, Alain Aubert, Daniel Aubert, and Jean-Claude Aubert, along with their children, Vanessa Aubert, Heloise Aubert, and Yohann Aubert, all direct descendants of the Robin family work together at the family's large collection of various estates spread all over the Right Bank in Bordeaux from Saint Emilion all the way east to Cotes de Castillon and in other regions as well.
Prior to 2005, the wines of La Couspaude tended to show too much new oak in the style of their Bordeaux wine. Starting with 2006, the Aubert's reduced the amount of new oak used to age the wine.
They also changed the type of oak and further reduced the amount of oak in the 2011 vintage which allows the wine of La Couspaude to express more complexities.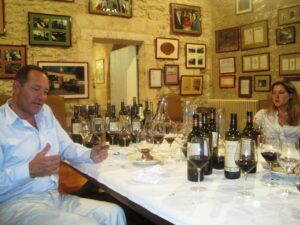 Chateau La Couspaude Vineyards, Terroir, Grapes, Winemaking
The 7-hectare vineyard is Chateau La Couspaude is planted to 75% Merlot, 20% Cabernet Franc and 5% Cabernet Sauvignon. Located just outside the village of St. Emilion heading in the easterly direction, the walled-in vineyard of La Couspaude sits on a nice slope rising to 75 meters at its peak.
La Couspaude is one large block of vines. Interestingly, the vineyard has remained the exact same size for close to 300 years! The terroir is chalk, clay, and limestone soils. The vines are planted to a density of 6,500 vines per hectare. The vines have an average age of 30 years.
To produce the wine of Chateau La Couspaude, vinification takes place in small, oak, fermentation vats after a cold maceration period using dry ice. Malolactic fermentation takes place in new 100% new, French oak barrels. The wine is aged in 100% new, French oak barrels for between 18 and 20 months.
1995 was the breakout vintage for Chateau La Couspaude and its unique, fleshy, flashy, low acid, sensuous, oaky, early-drinking, modern-styled St. Emilion wine.
The best vintages of Chateau La Couspaude are: 2022, 2021, 2020, 2019, 2018, 2017, 2016, 2015, 2014, 2010, 2009, 2005 and 2000.
Production of Chateau La Couspaude averages close to 2,800 cases per vintage. There is a second wine, Junior de la Couspaude.
When to Drink Chateau La Couspaude, Anticipated Maturity, Decanting Time
Chateau La Couspaude is better with 3-4 years of bottle age. Of course, that can vary slightly, depending on the vintage. Chateau La Couspaude is best enjoyed in the first 5-15 years of life.
Younger vintages can be decanted for up to 1 hour or so. This allows the wine to soften and open its perfume. Older vintages might need very little decanting, just enough to remove the sediment.
Serving Chateau La Couspaude with Wine and Food Pairings
Chateau La Couspaude is best served at 15.5 degrees Celsius, 60 degrees Fahrenheit. The cool, almost cellar temperature gives the wine more freshness and lift. Chateau La Couspaude is best paired with all types of classic meat dishes, veal, pork, beef, lamb, duck, game, roast chicken, roasted, braised, and grilled dishes.
Chateau La Couspaude is also good when matched with Asian dishes, rich fish courses like tuna, mushrooms, and pasta.
Château La Couspaude Wine Tasting Notes
16 Vintages 86,954 Views Sort by Vintage-Rating
2022
Château La Couspaude (St. Émilion Grand Cru)

Dark in color, the wine is loaded with black cherries, espresso, flowers, herbs, licorice, smoke and chocolate. Rich, lush and ripe, with layers of creamy berries and chocolate, this is going to drink well and offer pleasure, close to, or on release. Drink from 2025-2038. 91-93 Pts.

1,356 Views

Tasted

May 8, 2023

2020
Château La Couspaude (St. Émilion Grand Cru)

Espresso, flowers, licorice, mint, tobacco wrapper, chocolate and ripe cherries are in the nose and in the round lush, sweet, forward palate. You can enjoy this on release. Drink from 2023-2035.

615 Views

Tasted

Mar 21, 2023

Deep and dark in color, the wine exudes licorice, espresso, smoke, tobacco wrapper, chocolate and very ripe black cherries. Round, lush, sweet, and forward, with layers of Morello cherries, plum liqueur and chocolate, this is going to offer pleasure almost on release. 90-92 Pts

1,494 Views

Tasted

May 20, 2021

2019
Château La Couspaude (St. Émilion Grand Cru)

Roasted espresso beans, smoke, licorice, chocolate, black cherry and blueberry aromatics create the nose. The wine is lush, rich, round and loaded with dark, ripe, sweet, opulent, fruits, licorice and espresso beans and chocolate on the palate and in the finish. Drink from 2023-2034.

875 Views

Tasted

Mar 29, 2022

Roasted espresso beans, smoke, licorice, campfire embers and red fruits create the nose. On the palate, the wine is fat, round, sweet and juicy, leaving you with espresso and deep red berries in the round finish. 91-93 Pts

3,086 Views

Tasted

Jun 8, 2020

2018
Château La Couspaude (St. Émilion Grand Cru)

Round, fat, fruity, oaky and smoky, with loads of espresso, licorice, chocolate and black cherries. The wine is forward, leaving you with a solid layer of ripe, sweet, black cherries.

3,404 Views

Tasted

Mar 9, 2021

Full-bodied, round, luscious with fat notes of espresso, licorice, smoke, chocolate and roasted red fruits on the nose and on the palate. The wine offers early approachability due to its opulently textured nature. 90-92 Pts

4,085 Views

Tasted

Apr 19, 2019

2017
Château La Couspaude (St. Émilion Grand Cru)

Not for oak averse, the wine moves to its round, sweet, black cherry and licorice core. Forward, with a long, plush finish packed with espresso, cherries, licorice and smoke. This will be nice in its youth so can capture all its ostentatious character.

2,307 Views

Tasted

May 17, 2020

Dark ruby in color with cocoa, licorice, espresso and black raspberry fruits on the nose and on the palate, the wine has flesh, sweetness, round textures and a melange of plums, licorice and coffee in the finish. Incidentally, La Couspaude was the first estate to release their 2017 to the Bordeaux negociants.

2,147 Views

Tasted

Apr 26, 2018

2016
Château La Couspaude (St. Émilion Grand Cru)

Dark in color, lavishly oaked, with loads of smoke, licorice, espresso and chocolate covered black cherries, the wine is round, fleshy, forward and already fun to taste.

1,928 Views

Tasted

Feb 11, 2019

Dark in color, dark in fruit, this smoky wine shows coffee bean, licorice, incense and black cherries. Round and fleshy, the finish leaves you with fat, lush, ripe fruits, licorice, chocolate and fresh brewed espresso sensations.

1,376 Views

Tasted

Apr 29, 2017

2015
Château La Couspaude (St. Émilion Grand Cru)

Fat, rich, ripe, lush, round, forward and ready to go with its licorice, espresso, smoke and inky, black cherry core. Drink it now, or age for a few years.

3,373 Views

Tasted

Mar 12, 2018

Showing smoke, licorice, espresso bean and dark plums, this wine is fat, forward, lush and low in acid, finishing with dense, dark, plump, red and black fruits.

1,726 Views

Tasted

Apr 29, 2016

2014
Château La Couspaude (St. Émilion Grand Cru)

Forward, and in fact, already approachable, the wine is round, lush and serves up a smoke, licorice, espresso and chocolate nose that blends well with all the ripe, black cherries, found here.

2,421 Views

Tasted

Feb 5, 2017

Medium bodied, soft and approachable with a smoky, chocolate covered cherry and fleshy black raspberry note in the finish. 89-91 Pts

2,451 Views

Tasted

Apr 27, 2015

2013
Château La Couspaude (St. Émilion Grand Cru)

Round, soft, medium bodied and approachable, the licorice, espresso bean and black raspberry character is a treat. However, the oak in the finish takes a bit away from the fruit in the end note.

2,524 Views

Tasted

Feb 18, 2016

Garnet in hue, the wine showcases espresso bean, licorice, black cherry and hints of jam in the aromatics. Medium bodied, forward and soft, this easy-drinking wine is infused with cocoa and dark red berries and will be drinkable on release. 88-89 Pts

3,023 Views

Tasted

Apr 28, 2014

2012
Château La Couspaude (St. Émilion Grand Cru)

Espresso bean, kirsch, earth, licorice and spice box notes open the perfume. Soft, smooth and forward, this charmer, with its modern leaning and oaky personality will show well young.

2,614 Views

Tasted

Mar 11, 2015

From a blend that resembles the plantings at 75% Merlot, 20% Cabernet Franc and 5% Cabernet Sauvignon, the wine is deep in color. With a nose of coffee bean, licorice, smoke, and jammy blackberries, the wine is lush, fat, forward and filled with coffee and vanilla-tinged, spicy plums. 88-89 Pts

2,763 Views

Tasted

Apr 26, 2013

2011
Château La Couspaude (St. Émilion Grand Cru)

The chocolate mint, black cherry, espresso, licorice nose is fun to get to know. On the palate, the wine is lushly textured, but the dryness in the finish takes away from the wine. You can drink this on release.

3,331 Views

Tasted

Feb 20, 2014

This wine is a blend of 75% Merlot, 20% Cabernet Franc and 5% Cabernet Sauvignon. The family has changed their barrel program. They recently started aging their own wood in special cooperage for 5 years, with the goal being to reduce the dryness and wood flavor sensations. The wine is deep in color with oak, chocolate, coffee, cherry, truffle and earthy aromas. A forward, low-acidity style of wine, the blend is packed with sweet, ripe black cherry and licorice. 89-91 Pts

3,596 Views

Tasted

Apr 24, 2012

2010
Château La Couspaude (St. Émilion Grand Cru)

Filled with licorice, fresh brewed espresso, vanilla, black cherries and jam, the wine is fat, forward, fleshy, low in acidity and already fun to drink.

6,622 Views

Tasted

May 7, 2013

2010 La Couspade Oak, coffee, licorice, smoke, chocolate and jammy berries open to a plush, ripe, round wine that should drink well shortly after release. 89-91 Pts

2,041 Views

Tasted

Apr 22, 2011

2009
Château La Couspaude (St. Émilion Grand Cru)

Coffee, vanilla, licorice, chocolate covered boysenberry and jammy aromatics are available with little effort. This low acid, plush, Merlot dominated, round wine is already open. This will probably drink best in its first decade of life.

7,304 Views

Tasted

Feb 10, 2012

2009 Couspade offers licorice, dark berries, smoke, and coffee aromas. Soft and round, this ripe wine with its licorice, cocoa, and black raspberry flavors will drink well early. 88-90 Pts

2,685 Views

Tasted

Jun 28, 2010

2008
Château La Couspaude (St. Émilion Grand Cru)

Oak, coca, coffee, black cherry and spice aromas open to a Bordeaux wine with a little too much oak. Supple textures and ripe fruit, make this easy to approach and enjoy. But I'd like to see a little less wood.

5,498 Views

Tasted

Jan 25, 2011

08 Château La Couspaude. La Couspaude is one of the first estates you see on your left after you leave the village of St. Emilion. From clay and limestone soils, La Couspade produces a soft, approachable, round style of wine. That the château is now using less new oak, down from 100% to 80%, should help it preserve more fruit and freshness in the wines. Oak, spice, blackberry, and plum notes are easily found in this appealing, medium bodied wine. The wine finishes with chocolate and raspberry flavors. It will offer pleasure early in life. 89-91 Pts

3,513 Views

Tasted

Jul 1, 2009

2005
Château La Couspaude (St. Émilion Grand Cru)

Plush, opulent, oaky and flashy are the hallmarks of the wine. Not very complicated, but a lot of fun to drink. Enjoy this on the young side.

4,539 Views

Tasted

Jan 20, 2008

1998
Château La Couspaude (St. Émilion Grand Cru)

Oaky notes, along with ripe red and black fruits with herbs are found on the nose. The texture is light and soft. While there is pleasure to be found, there is not a lot of complexity. Owners should plan on drinking this sooner than later

4,257 Views

Tasted

Oct 11, 2008