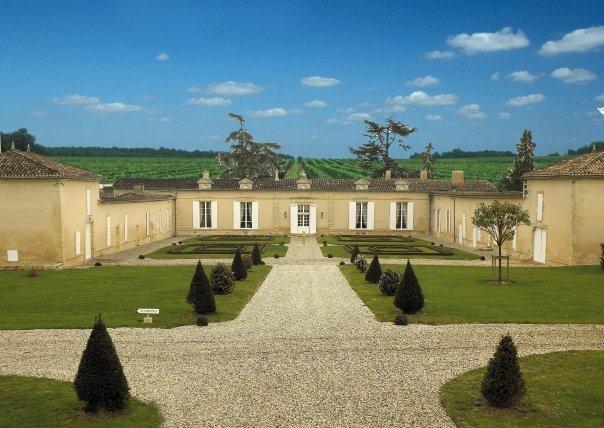 Learn everything about Chateau Magrez Fombrauge St. Emilion with wine tasting notes, wine and food pairing tips, best vintages, a history of the property, information on the vineyards, and winemaking. If you want to read about other important, Bordeaux Chateaux: Links to all Bordeaux Wine Producer Profiles
Chateau Magrez Fombrauge History, Overview
While winemaking at Fombrauge dates back to the 15th century, the wines made back then, I can assure you, do not share any resemblance to the wines produced by the Bernard Magrez-owned St. Emilion estate of Magrez Fombrauge today!
The history of Magrez Fombrauge does not back nearly that far, in fact, 2000 is the debut vintage for Magrez Fombrauge. Bernard Magrez purchased the Saint Emilion estate back in 1999.
One of the first moves Bernard Magrez made after buying Fombrauge was to hire the famous Bordeaux wine consultant, Michel Rolland. With a commitment from Michel Rolland, and the willingness, coupled with the ability to spend any amount of money to make the best wine possible at this Right Bank estate, they have done a lot with this unique terroir.
All vineyard management techniques are self-sustainable. At Chateau Magrez Fombrauge, horses are used to work the soil for the red wine grapes, exclusively.
Chateau Magrez Fombrauge is a modern-styled Bordeaux wine indeed. It is also a powerful, deep, concentrated, rich, and complex wine. In the top vintages, it demands 10-15 or maybe even 20 years to come around.
Chateau Magrez Fombrauge Vineyards, Terroir, Grapes, Winemaking
The tiny, 3.5-hectare vineyard of Magrez Fombrauge is planted for red and white wine grapes. For the red wine, the vineyard is planted to 70% Merlot and 30% Cabernet Franc. Located on the Cotes of St. Emilion, the fruit source comes from a specific section of the much larger, vineyard of Chateau Fombrauge.
Even though this is not a sizable block of vines, the roughly 3 hectares here are divided into 3 separate parcels of vines. The vines are old. The vines range in age from 60 to 70 years of age. Yields are kept low at the property. They can be close to 20 hectoliters per hectare. The terroir consists of chalk over limestone soil.
Chateau Magrez Fombrauge produces a small amount of dry, white Bordeaux wine from a blend that is often close to 40% Semillon, 30% Sauvignon Blanc and 30% Sauvignon Gris.
The terroir for the white wine is mostly limestone-based soils. The wine was previously known as Chateau Fombrauge Blanc. That change took place with the 2001 vintage. Today, the wine is sold as Magrez Fombrauge Blanc.
To produce the red wine of Magrez Fombrauge, the wine is made using micro vinification techniques, which calls for the grapes to be vinified in 100% new, French oak barrels.
The barrels are small. Each barrel is 40 hectoliters in size. The grapes are hand destemmed and are whole berry fermented, meaning that the fruit is not crushed. Malolactic fermentation takes place in barrels.
The wine of Magrez Fombrauge is aged in a combination of 100% new, French oak barrels and terracotta jars that range in size from 200 liters, up to 450 liters. Production of the red wine of Magrez Fombrauge is close to 1,200 cases of Bordeaux wine per year.
The best vintages of Chateau Magrez Fombrauge are: 2022, 2021, 2020, 2019, 2018, 2017, 2016, 2015, 2014, 2012, 2010, 2009, 2005 and 2000.
To produce the white Bordeaux wine of Magrez Fombrauge, the grapes are vinified in new, French oak barrels. There is no malolactic fermentation or skin contact. The wine is aged on its lees.
The blend is usually the same as what is planted in the vineyard, 40% Semillon, 30% Sauvignon Blanc and 30% Sauvignon Gris. In select vintages, there is a special, white Bordeaux wine produced called Sublime de Fombrauge, which is made from 100% Semillon.
When to Drink Chateau Magrez Fombrauge, Anticipated Maturity, Decanting Time
Chateau Magrez Fombrauge is better with at least 8-10 years of bottle age. Of course, that can vary slightly, depending on the vintage. Chateau Magrez Fombrauge is best enjoyed in the first 8-30 years of life.
Young vintages can be decanted for about 2 hours or so. This allows the wine to soften and open its perfume. Older vintages might need very little decanting, just enough to remove the sediment.
Serving Chateau Magrez Fombrauge Wine, Food, Pairing Tips
Chateau Magrez Fombrauge is best served at 15.5 degrees Celsius, 60 degrees Fahrenheit. The cool, almost cellar temperature gives the wine more freshness and lift.
Chateau Magrez Fombrauge is best paired with all types of classic meat dishes, veal, pork, beef, lamb, duck, game, roast chicken, roasted, braised, and grilled dishes. Chateau Magrez Fombrauge is also good when matched with Asian dishes, and hearty fish courses like tuna, mushrooms, and pasta.
Magrez Fombrauge Blanc is perfect when served with all types of seafood, shellfish, chicken, veal, pork, and cheese.
Starting with the 2010 vintage, Magrez Fombrauge began taking anti-counterfeiting measures using the Intaglio method of bottle etching, coupled with Spottag, which adds an invisible ink to the labels.
The modern style of Magrez Fombrauge is very ripe, intense, aromatic, and powerful, with lush tannins and a long, mineral-driven finish.
Château Magrez Fombrauge Wine Tasting Notes
26 Vintages 106,183 Views Sort by Vintage-Rating
2020
Château Magrez Fombrauge (St. Émilion)

Opaque in color, the wine quickly shows off its licorice, blackberry liqueur, flowers, chocolate, espresso and black cherry nose. Full-bodied, rich, opulent and concentrated, the velvety finish is lush and long. Give it 7-9 years to allow the oak to integrate and for the wine to better come together and it will be a hedonistic treat for at least 2 decades or longer. 95-97 Pts

1,811 Views

Tasted

May 20, 2021

2020
Château Magrez Fombrauge Blanc (Bordeaux)

Waxy lemons, green apples, herbs, white peach, mango and a touch of vanilla hit your nose, while a blast of fresh, bright, juicy, yellow citrus and green apples with refreshing, crisp acidity sing in the finish. 92 Pts

1,652 Views

Tasted

May 20, 2021

2019
Château Magrez Fombrauge (St. Émilion)

Dark, almost inky in color, the full-bodied, concentrated, rich, intense and equally dense wine is loaded to the gills with layer after layer of voluptuous, opulent, ripe dark fruits, chocolate and licorice. Long and mouth-filling, this wine is decadence in a glass. A blend of 70% Merlot with 30% Cabernet Franc. 94-96 Pts

2,274 Views

Tasted

Jun 8, 2020

2019
Château Magrez Fombrauge Blanc (Bordeaux)

White peach, honeysuckle and mango with vanilla scents create the nose. On the palate, the wine is fresh, bright and crisp, focusing on its yellow citrus and lemon curd, crisp, bright endnote. The wine is an interesting blend of 40% Semillon, 30% Sauvignon Blanc and 30% Sauvignon Gris.

3,724 Views

Tasted

Jun 8, 2020

2018
Château Magrez Fombrauge (St. Émilion)

Concentrated, full-bodied, lush, deep, long and rich, there is a lot going on here from all the crushed stone, smoke, licorice, espresso, perfectly ripe, black raspberries, plums and cherries. Long and dense, with lush, polished tannins and palate coating layers of fruit, this is going to need a decade to develop before it really starts showing its best. The wine was made from a blend of 70% Merlot and 30% Cabernet Franc. Only 250 cases were produced so if you find a bottle and this is your thing, grab it.

1,043 Views

Tasted

Mar 9, 2021

Opaque in color, the wine is showy on the nose with its black and blue fruits, licorice and smoke profile. Full-bodied and concentrated, the wine packs a fruit-filled punch. The long finish with its strata of fruit, rocks, stones and smoke keeps on going. This is not an early drinking wine so be prepared to lay it down for close to a decade. The wine was made from a blend of 70% Merlot and 30% Cabernet Franc. Only 250 cases were produced so if you find a bottle and this is your thing, grab it. 94-96 Pts

1,687 Views

Tasted

Apr 19, 2019

2018
Château Magrez Fombrauge Blanc (Bordeaux)

The wine kicks off with a jolt of juicy lemon, white peach, vanilla and flowers. Lush, round and forward, the finish is all about its creamy lemon and green apple character.

884 Views

Tasted

Mar 9, 2021

Juicy, bright, crisp and fresh, this is loaded with lemons, pomelo, vanilla, honeysuckle and just a bit of tropical fruit. Refreshing and fruity with a nice pop of citrus on the palate, this will be great on release and better with a few years of age.

1,336 Views

Tasted

Apr 19, 2019

2017
Château Magrez Fombrauge (St. Émilion)

Inky in color with licorice, black cherry, black raspberry and smoky notes on the nose, this wine is full-bodied, fleshy, round, soft and polished. There is freshness and volume on the palate along with a healthy dose of oak. This is not for drinking in its formative years, because when it all comes together, this will be a markedly better wine as the oak integrates.

1,675 Views

Tasted

Apr 26, 2018

2016
Château Magrez Fombrauge (St. Émilion)

Dark and deep with layers of luscious fruits, with coaxing, the wine shows off its black cherry fudge, smoke, espresso, blackberry and sweet boysenberry character. Full-bodied, with layers of fruit, ripe, luscious textures and silky tannins, this is going to age for decades with ease. With all this power, allow it age for at least a decade and you will be amply rewarded.

1,349 Views

Tasted

Sep 26, 2019

Inky and opaque, the wine is all about chocolate-covered boysenberry, espresso, licorice, dark plum and darker cherry. Velvet drenched tannins, fat, salacious, opulent layers of perfectly ready, glossy fruits. This is the best wine produced here since 2000. You can feel the difference. It seems like everything has truly been dialed back.

2,807 Views

Tasted

Apr 29, 2017

2016
Château Magrez Fombrauge Blanc (Bordeaux)

Citrus, grapefruit, vanilla and honeysuckle notes give you a wine with richness, sweetness and a nutty flavor -- though a bit more acidity would be nice.

1,717 Views

Tasted

Apr 29, 2017

2015
Château Magrez Fombrauge (St. Émilion)

Inky in color, the wine is full bodied, concentrated, rich, fat and round. There is a wealth of fruit, length, tannin and the structure to age. The finish keeps on going with its layers of of dark ripe fruits, licorice, chocolate and espresso. This is worth laying down for a decade before popping a cork.

2,308 Views

Tasted

May 21, 2018

Using 70% Merlot and 30% Cabernet Franc, this wine is deeply colored, expressing smoke, licorice, black raspberries and plum jam. On the palate, the wine is lush, rich and concentrated, with opulent textures and a wealth of earthy, black cherries and sweet, boysenberry jam. The wine is powerful, fat and round, yet fresh and balanced. The wine is aging in a combination of 100% new, French oak barrels and terracotta jars that range in size from 200 liters, up to 450 liters.

2,269 Views

Tasted

Apr 29, 2016

2015
Château Magrez Fombrauge Blanc (Bordeaux)

Using 40% Semillon, 30% Sauvignon Blanc and 30% Sauvignon Gris, this wine is already showing white peaches, citrus and honeysuckle notes. On the palate, the wine offers both rich textures and freshness, with a pure, sweet, citrus peel finish.

1,576 Views

Tasted

Apr 29, 2016

2014
Château Magrez Fombrauge (St. Émilion)

Like a great night in Las Vegas, this wine is fleshy, flashy and fun. Round and supple in character and packed with fennel, cocoa and chocolate-coated black raspberries. 90-92 Pts

1,796 Views

Tasted

Apr 27, 2015

2013
Château Magrez Fombrauge Blanc (Bordeaux)

Bright, crisp, biting yellow citrus fruits with a strong grapefruit, lime and green apple character that shows itself in the nose and on the palate.

1,439 Views

Tasted

May 25, 2016

Produced with one of the highest percentages of Sauvignon Gris used in Bordeaux, the wine is bright, crisp, fresh and floral, finishing with a vibrant citrus finish. 92 Pts

1,567 Views

Tasted

Apr 28, 2014

2013
Château Magrez Fombrauge (St. Émilion)

Medium bodied, with a ripe, dark cherry, smoke, espresso and earthy character, round textures and a fruity, smoky finish.

1,564 Views

Tasted

May 25, 2016

With effort, licorice, black cherries and dark chocolate—along with oak—come to the surface. There is a polish to the texture in the oaky, chocolate, black cherry finish. Produced from a blend of 70% Merlot and 30% Cabernet Franc. 90-92 Pts

2,232 Views

Tasted

Apr 28, 2014

2012
Château Magrez Fombrauge (St. Émilion)

Truffle, licorice, blackberry and cherry notes lead to a full bodied, ripe, juicy mouthful of fresh berries that is showing a bit too much oak at this stage. This needs at least 3-5 years in the in the cellar to integrate.

2,254 Views

Tasted

May 15, 2015

Inky in color and just as concentrated on the palate with layers of chocolate-covered blackberries and cherries, the wine is sexy and intense. 92-94 Pts

2,484 Views

Tasted

Apr 26, 2013

2012
Château Magrez Fombrauge Blanc (Bordeaux)

Lemon, lime, grapefruit, stone and smoky notes are paired with fresh, citrus and pineapple and green apple to create a lively, fun, fresh, mineral driven, white Bordeaux wine..

2,123 Views

Tasted

Aug 2, 2013

2011
Château Magrez Fombrauge (St. Émilion)

70% Merlot and 30% Cabernet Franc created a wine with stone, licorice, blackberry, chocolate covered cherry and coffee notes. Flashy and fleshy, the wine finishes with a round, tannic, fresh, plum, coffee and cocoa filled finish. 91-94 Pts

2,755 Views

Tasted

Mar 16, 2012

2010
Château Magrez Fombrauge (St. Émilion)

Inky in color, the wine is rich, intense, polished and lush, with layers of dark, ripe berries, licorice, espresso, smoke, flowers and dark chocolate. While everything about this wine is intense, it's also balanced, expressive, with a long, fresh, supple textured finish.

3,720 Views

Tasted

May 8, 2013

With its inky, jet black color, oak, licorice, chocolate, black cherry and blackberry aromas abound. Mouth coating, packed and stacked with ripe, juicy, licorice filled fruit, this rich pure wine stains your palate with layers of licorice, chocolate and dark plums. 94-96 Pts

4,012 Views

Tasted

Mar 14, 2011

2009
Château Magrez Fombrauge (St. Émilion)

Equally deep in and color and youthful, the wine is smoky, rich, powerful and loaded with licorice, black cherry, espresso and earthy nuances that carry through from start to finish. Give this full, concentrated wine another 5 years to further integrate.

1,847 Views

Tasted

Sep 20, 2019

Inky in color, the wine is noticeably oaky, with its strong coffee bean and vanilla character that at the moment, overpowers the licorice, black raspberry, blueberry, smoke, earth and jammy notes. Deep, rich, concentrated and palate staining, the wine feels plush, with no dryness. This needs time for the oak to integrate.

4,211 Views

Tasted

Aug 3, 2013

2008
Château Magrez Fombrauge (St. Émilion)

From a typical blend of blend of 80% Merlot and 20% Cabernet Franc, this deeply colored wine opens with chocolate covered cherries, licorice, earth, stone and fresh blackberry aromas. Plush in style, and already open, this round, plummy, concentrated St. Emilion should deliver pleasure for at least another decade or 12-15 years, or longer.

2,200 Views

Tasted

Mar 12, 2012

Licorice, minerality, cassis, espresso, cassis and black cherry scents are accompanied by a full bodied, concentrated wine that finishes with licorice, coffee, blackberry and cassis sensations.

2,295 Views

Tasted

Mar 11, 2011

2006
Château Magrez Fombrauge (St. Émilion)

Showing maturity in the color, the wine is all about its truffle, smoke, earth, licorice, black plum and thyme infused character. Dense, rich and supple, the wine is full bodied, leaving you with cherries, plum and spicy sensations.

1,883 Views

Tasted

May 25, 2016

Licorice, stone, blackberry jam and cocoa scents, full bodied and concentrated with ripe fruit, this tannic wine has broad shoulders and demands cellaring before it begins to come together. Give it another 5 years of sleep to develop.

2,965 Views

Tasted

Mar 12, 2012

2005
Château Magrez Fombrauge (St. Émilion)

Licorice, stone, smoke, wet earth, plum and vanilla in the nose, the concentrated, sweet, fleshy, ripe, round, silky wine shows well today and is only going to get better with a few more years of age.

4,139 Views

Tasted

Jun 28, 2015

Powerful, tannic, oaky, full bodied and intense, the wine is filled with sweet, ripe, jammy berries, licorice, boysenberry, espresso, some and earthy characteristics. Plush, rich and deep, the wine needs time for the tannins to soften and for the oak to better integrate with the wine.

4,520 Views

Tasted

May 19, 2013

2004
Château Magrez Fombrauge (St. Émilion)

Deep in color, the wine is tight. With effort, black truffle, smoke, licorice, cigar box, plum and coffee bean scents open up. Full bodied, concentrated, tannic and still youthful, the wine is silky, powerful and long. This needs more time in the bottle before the oak becomes better integrated.

2,971 Views

Tasted

Aug 3, 2013

2003
Château Magrez Fombrauge (St. Émilion)

This has matured far too rapidly. The nose of licorice, espresso bean, smoke, truffle, black cherry and jam is a treat, as are the supple textures, but the loss of fruit is worrisome. I'd drink this sooner than later.

3,356 Views

Tasted

Dec 18, 2013

2001
Château Magrez Fombrauge (St. Émilion)

Deep, intense, rich, full bodied and opulent in texture, the wine is still a bit too dominated by oak, making it difficult for ripe, black cherries, licorice, crushed stone and spicy notes to get their due. This is a very modern style of Bordeaux that might be better if it were dialed back just a bit.

4,944 Views

Tasted

Aug 3, 2013

2000
Château Magrez Fombrauge (St. Émilion)

The wine has not developed as well as I had hoped. Full-bodied, powerful, almost dense with some overripe notes of fig and raisin that takes a bit from the otherwise sweet, fat plums, cherry, chocolate, smoke and licorice. Here you have power over grace, with some oak notes still remaining. Do not get me wrong, I liked the wine, but i was hoping to love it.

2,412 Views

Tasted

Oct 18, 2021

Still deep in color, with a nose packed with licorice, coffee bean, chocolate, jammy plums and blackberry and earth, this hard to find St. Emilion is packed and stacked with massive layers of mouth filling, perfectly ripe and overripe berries, spice, earth, oak, cocoa and stone. Still young, 2000 Magrez Fombrauge has a lot of potential to become a stunning Bordeaux wine with another decade of bottle age.

5,592 Views

Tasted

Aug 6, 2014

Inky in color, from the look of it, it could have been from 2005. Explosive in the nose, with smoke, licorice, coffee, black cherry, blueberry, barbecue, crushed stone and griotte notes, this massive, powerful, palate staining wine is dense, concentrated and intense. It borders on over the top, but somehow manages to keep everything in check. Still tannic and youthful, give it another decade and this blend of 78% Merlot and 22% Cabernet Franc should all come together.

5,249 Views

Tasted

Mar 7, 2012

Packed and stacked with incredible layers of intense, ripe and over ripe black fruits, spice, coffee, licorice, oak and vanilla. This wine needs at least another decade before its port like style becomes civilized. This wine is not for everyone. But for lovers of intensity that are willing to take a chance on a unique style of wine, it's worth picking up a few bottles. This could score several points higher when fully mature.

3,541 Views

Tasted

Mar 5, 2010