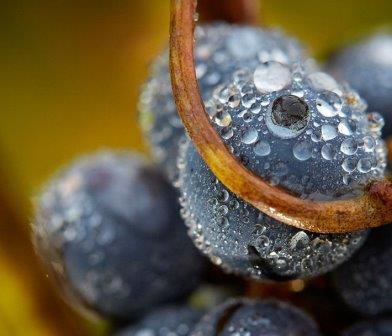 Learn everything about Clos des Baies St. Emilion with wine tasting notes, wine, and food pairing tips, best vintages, a history of the property, and information on the vineyards and winemaking. If you want to read about other important, Bordeaux Chateaux: Links to all Bordeaux Wine Producer Profiles
Clos des Baies History, Overview
Clos des Baies is quite a recent development in Saint Emilion. The winery was founded in 2006, when Philippe Baillarguet, the cellar master for all the Vauthier family-owned wines including Chateau Ausone, Chateau Moulin Saint Georges, Chateau Fonbel, and Simard.
It took Philippe Baillarguet 10 years of hard work, from the time he began working for Alain Vauthier at Chateau Ausone in 1996 before he was finally ready and able to purchase his own vineyard.
Clos des Baies Vineyards, Terroir, Grapes, Winemaking
The small, Right Bank vineyard of Clos des Baies is planted to 70% Merlot and 30% Cabernet Franc. The entire vineyard occupies just over one-half of a hectare of vines. The vineyard is well placed with good neighbors as their best parcels are close to Chateau Pavie.
The vineyard, which is divided into 2 parcels as a terroir that is a blend of limestone, clay, sand, and chalk soils. Clos des Baies has old vines, which are on average, close to 45 years of age. The vineyard is planted to a vine density of 6,666 vines per hectare. All vineyard farming at Clos des Baies is completely 100% organic, but they prefer to remain not certified.
Vinification of Clos des Baies takes place in stainless steel tanks. Malolactic fermentation takes place in barrels. The wine is then aged in 70% new French oak barrels for 16 to 18 months before bottling.
The best vintages of Clos des Baies are: 2022, 2021, 2020, 2019, 2018, 2017, 2016, 2015, 2014, 2010, and 2009.
The production of Clos des Baies is quite small, as there are only 125 cases or so produced each vintage. For proof of a commitment to making the highest quality wine, even though their production is obviously quite small, there is a second wine, Face Baies du Clos des Baies.
Philippe Baillargue also owns vines in Pomerol, where he produces about 75 cases from the diminutive Clos Payrol each year.
When to Drink Clos des Baies Anticipated Maturity, Decanting Time
Clos des Baies needs 2-3 years in the cellar before starting to show its best. Of course, that can vary slightly, depending on the vintage. Clos des Baies is best enjoyed in the first 3-12 years of life.
Young vintages can be decanted for about 1 hour or so. This allows the wine to soften and open its perfume. Older vintages might need very little decanting, just enough to remove the sediment.
Serving Clos des Baies with Wine and Food Pairings
Clos des Baies is best served at 15.5 degrees Celsius, 60 degrees Fahrenheit. The cool, almost cellar temperature gives the wine more freshness and lift.
Clos des Baies is best paired with all types of classic meat dishes, veal, pork, beef, lamb, duck, game, roast chicken, roasted, braised, and grilled dishes. Clos des Baies is also good when matched with Asian dishes, rich fish courses like tuna, mushrooms, and pasta.
Clos des Baies Wine Tasting Notes
7 Vintages 11,151 Views Sort by Vintage-Rating
2022
Clos des Baies (St. Émilion Grand Cru)

Licorice, black cherries, and violets with espresso, and cocoa create the core of the wine. On the palate, the wine is lush, supple, rich, polished, and fresh. You will be able to enjoy this in its youth, due to all the layers of sweet, creamy, ripe fruits, or age it for more complexity. Clos des Baies is produced by Philippe Baillarguet, the long-time cellar master of Chateau Ausone. The wine blends 60% Merlot with 40% Cabernet Franc, 15% ABV. Drink from 2025-2037. 92-94 Pts.

856 Views

Tasted

May 8, 2023

2021
Clos des Baies (St. Émilion Grand Cru)

Lilacs and violets, along with spice, espresso and black cherries are in the core of this soft, silky, fresh, medium-bodied, supple wine that will be delicious on release. Clos des Baies is produced by Philippe Baillarguet, the long-time cellar master of Chateau Ausone. The wine blends 70% Merlot with 30% Cabernet Franc. 13% ABV. Drink from 2023-2035. 89-91

1,563 Views

Tasted

May 20, 2022

2018
Clos des Baies (St. Émilion Grand Cru)

Floral and polished, the deeply colored fruit is ripened and comes along with dark chocolate, licorice and black cherries. Lush, round textures and freshness in the finish, this Clos des Baies is produced by Philippe Baillarguet, the cellar master of Chateau Ausone. 89-91 Pts

1,713 Views

Tasted

Apr 19, 2019

2016
Clos des Baies (St. Émilion Grand Cru)

Medium bodied, open and already showing off its dark cherry, licorice and black raspberry notes, this is soft, fresh and fruity. Created by the cellar master of Chateau Ausone, the wine is a blending of 70% Merlot and 30% Cabernet Franc.

2,145 Views

Tasted

Apr 29, 2017

2015
Clos des Baies (St. Émilion Grand Cru)

Made and owned by Philippe Baillarguet, the cellar master of Chateau Ausone, this blend of 70% Merlot and 30% Cabernet Franc, offers fresh herbs and ripe, sweet, red fruits. Medium/full-bodied, this wine boasts a polished blast of black cherries and thyme in the finish.

1,566 Views

Tasted

Apr 29, 2016

2013
Clos des Baies (St. Émilion Grand Cru)

Made and owned by Philippe Baillarguet, the cellar master of Chateau Ausone, this blend of 70% Merlot and 30% Cabernet Franc delivers a sweet mouthful of spicy, fresh black raspberries and earth. This is the first time I've tasted this wine. It was a pleasant surprise, especially when you consider the vintage. 87-89 Pts

1,622 Views

Tasted

Apr 28, 2014

2012
Clos des Baies (St. Émilion Grand Cru)

Forward, medium bodied, ripe, sweet and fresh, with plenty of licorice, black cherries, dark chocolate and round tannins. You can drink this young, as it's already tasty.

1,686 Views

Tasted

Apr 13, 2017