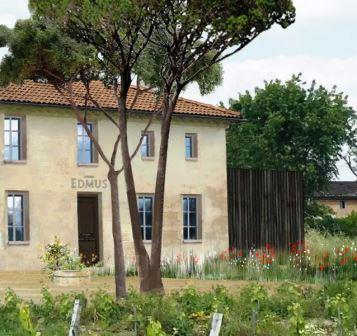 Learn everything about Chateau Chateau Edmus St. Emilion with wine tasting notes and wine with food pairing tips. Learn the best vintages, a history of the property, information on the vineyards, and winemaking. If you want to read about other important, Bordeaux Chateaux: Links to all Bordeaux Wine Producer Profiles
What we know of as Chateau Edmus today dates back to the late 1700s. In 1832, the vineyard was purchased by Romaine Bertrand and Ferdinand de Lur-Saluces, the owners of Chateau d'Yquem.
Chateau Edmus takes its name from the founders of the estate, Philip Edmunson, an American businessman, who obtained the Right Bank vineyard in 2007 with his business partner, Eric Remus.
After purchasing the vineyard, their next move was to hire the noted wine consultant, Stephane Derenoncourt, and his team to help with vineyard management and winemaking, before starting a renovation of the property and vineyards. 2007 marked the official debut of Chateau Edmus. However, 2008 was the first year when the owners were able to exercise full control.
In late 2019, the vineyard was purchased by Laurent David. At the time of the purchase, the estate consisted of 5.8 hectares of vines. However, the transaction was for only 1.6 hectares of the vineyard. After purchasing the property, the new owner, Laurent David built an entirely new cellar, which was completed in 2021.
Chateau Edmus St. Emilion Vineyards, Terroir, Grapes, Winemaking
The 1.6 hectare St. Emilion vineyard of Chateau Edmus is planted to 50% Merlot and 50% Cabernet Sauvignon. This is a massive change in the vineyards which until 2019 consisted of 5.8 hectares of vines planted to 85% Merlot and 15% Cabernet Franc. The vineyard, which is located not far from Chateau Monbousquet has a terroir of sand and gravel soils.
On average, the vines are maintained at a respectable 35 years of age. The Right Bank vineyard is planted to a vine density of 5,200 vines per hectare. At Chateau Edmus, they strive to be as green as possible. They began converting to 100% biodynamic farming with the 2018 vintage. They were certified organic in 2021.
The wine of Chateau Edmus is whole berry fermented in 5 temperature-controlled, concrete vats of various sizes, which allow for a parcel by parcel vinification.
Chateau Edmus is then aged in 60% new, French oak barrels for between 14 to 16 months before bottling. The time in barrel and the amount of new oak varies on the character of the vintage. There is a second wine, Les Porte du Edmus. On average the annual production is close to 750 cases of wine per vintage.
In addition, Chateau Edmus is now producing, Phi, a new wine made from 100% Cabernet Franc that is produced without the addition of any sulfites. The grapes come from their oldest vines averaging 40 years of age. It is a fun wine to taste, but it is going to be quite hard to find as only 300, numbered bottles are produced per year.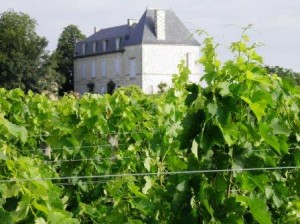 The best vintages of Chateau Edmus are: 2022, 2021, 2020, 2019, 2018, 2017, 2016, 2015, 2010 and 2009.
When to Drink Chateau Edmus, Anticipated Maturity, Decanting Time
Chateau Edmus is better with at least 2-4 years of bottle age. Of course, that can vary slightly, depending on the vintage. Chateau Edmus is best enjoyed in the first 4-12 years of life.
Young vintages can be decanted for up to 1 hour or so. This allows the wine to soften and open its perfume. Older vintages might need very little decanting, just enough to remove the sediment.
Serving Chateau Edmus with Wine, and Food Pairing Tips
Chateau Edmus is best served at 15.5 degrees Celsius, 60 degrees Fahrenheit. The cool, almost cellar temperature gives the wine more freshness and lift. Chateau Edmus is best served with all types of classic meat dishes, veal, pork, beef, lamb, duck, game, roast chicken, roasted, braised, and grilled dishes.
Chateau Edmus is a perfect match with Asian dishes, hearty fish courses like tuna, mushrooms, and pasta as well as cheese.
Château Edmus Wine Tasting Notes
15 Vintages 27,412 Views Sort by Vintage-Rating
2022
Château Edmus (St. Émilion Grand Cru)

Soft, elegant, medium-bodied, fresh and fruity, this charmer is going to be a pleasure to enjoy on release, and for up to a decade after that. Drink from 2025-2032. 89-91 Pts.

1,037 Views

Tasted

May 8, 2023

2020
Château Edmus Phi by Edmus (St. Émilion)

Made from 100% old vine Cabernet Franc from vines that are more than 40 years of age and vinified with no sulfites, this is going to be hard to find as only 25 cases were produced. All that being said, the medium-bodied, elegant, fresh wine kicks off with a strong bouquet of herbs, flowers, and ripe, red fruits. Elegant, energetic, and with a good sense of purity to the fruit, the wine leaves you with sweet, ripe, red cherries, raspberries, and a touch of licorice. This should drink well on release and have the ability to age and evolve into a more complex wine. 90-92 Pts

1,448 Views

Tasted

Dec 4, 2021

2020
Château Edmus (St. Émilion Grand Cru)

Medium-bodied, soft, elegant, lighter styled, fresh, refined wine with a core of dusty red fruits, toasted oak and licorice. You can drink this on the young side and over its first decade of life with pleasure. 88-90 Pts

1,172 Views

Tasted

May 20, 2021

2019
Château Edmus (St. Émilion Grand Cru)

Elegant, soft, forward, fruity, medium-bodied, sweet and juicy red fruits from start to finish here with a slight herbal quality in the finish. This should provide easy drinking pleasure on release. 88-90 Pts

2,467 Views

Tasted

Jun 16, 2020

2018
Château Edmus (St. Émilion Grand Cru)

Medium bodied and forward with soft textures and an herbal edge to the sweet red fruits, this will be at its best in the first decade of life. 86-88 Pts

1,262 Views

Tasted

Apr 19, 2019

2017
Château Edmus (St. Émilion Grand Cru)

Medium bodied, floral and silky, the wine is fresh, ripe and dominated by its sweet, earthy, red cherry focus. This will be at its best in the first decade of life.

1,206 Views

Tasted

Apr 26, 2018

2016
Château Edmus (St. Émilion Grand Cru)

Forward, elegant and fresh, with a floral note that adds to the medium-bodied, sweet and juicy red fruits. This will provide easy drinking pleasure on release.

1,664 Views

Tasted

Sep 21, 2019

An elegant, early drinking charmer with an open, ripe, sweet, fresh cherry and thyme character, this wine will provide easy drinking and medium bodied pleasure.

939 Views

Tasted

Apr 29, 2017

2015
Château Edmus (St. Émilion Grand Cru)

A few years of bottle age has added a lot to this wine. Medium-bodied, soft and silky, with a focus on its ripe, dark red fruits, licorice, espresso and flowers and a touch of chocolate on the nose and palate. This is fully ready to go.

2,793 Views

Tasted

Jan 17, 2022

A medium-bodied, floral-tinged wine with elegant, sweet, dark red fruits, soft textures and a fruity finish.

1,289 Views

Tasted

Apr 29, 2016

2014
Château Edmus (St. Émilion Grand Cru)

A medium-bodied wine boasting light, fresh red fruits, this vintage will be best on the young side. 84-87 Pts

1,437 Views

Tasted

Apr 27, 2015

2013
Château Edmus (St. Émilion Grand Cru)

Sweet black raspberries are in this easy-drinking, forward style. 86-88 Pts

1,342 Views

Tasted

Apr 28, 2014

2012
Château Edmus (St. Émilion Grand Cru)

80% Merlot and 20% Cabernet Franc produced a medium bodied, soft wine a black cherry filled finish. 87-89 Pts

1,109 Views

Tasted

Apr 26, 2013

2011
Château Edmus (St. Émilion Grand Cru)

Previously, the wine was produced from a 5.8-hectare plot, yet as of the 2011 Bordeaux vintage, the fruit comes from a mere 3 hectares, allowing more Cabernet Franc in the blend. With silky textures, jammy raspberries, licorice, coffee and citrus, ther wine ends with a supple, fresh cherry griotte finish. 90-91 Pts

1,101 Views

Tasted

Apr 24, 2012

2010
Château Edmus (St. Émilion Grand Cru)

Edmus Produced from an assemblage of 85% Merlot and the rest Cabernet Franc, with vines that average 40 years of age, the wine reached 14% ABV. Licorice and blackberry aromas, medium body and a light red and black fruit finish. 87-88 Pts

1,520 Views

Tasted

Apr 22, 2011

2009
Château Edmus (St. Émilion Grand Cru)

Stone, licorice and red with black fruits open this medium bodied, soft textured St. Emilion wine. This easy to like Bordeaux wine will award pleasure early.

1,875 Views

Tasted

Jul 16, 2011

2007
Château Edmus (St. Émilion Grand Cru)

This new St. Emilion property takes its name from the two American owners. Philip Edmundson and Eric Remus who purchased the estate in 2007. Produced from 85% Merlot and 15% Cabernet Franc, the wine offers scents of dusty cherries, herbs, licorice and earth. Medium bodied, with dusty tannins, the wine finishes with cassis, plum and tart cherries. Stephane Derenoncourt has been brought in to consult, which means the new owners are serious about improving the wine. 2007 was their debut vintage.

3,751 Views

Tasted

Jan 3, 2011