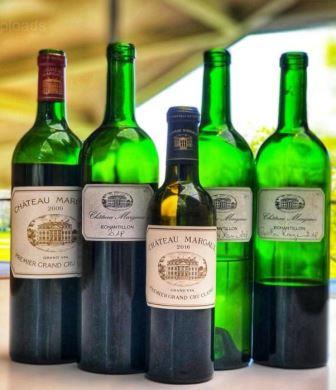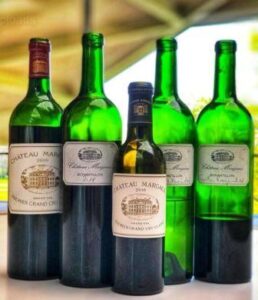 While its neighbors in the Medoc in the north enjoyed more homogeneous conditions with 2018 Bordeaux, that is not the case with 2018 Margaux. Here, in part, because of the vast array of different terroirs, and the choices of the estates, you have a wider spread of quality from vineyard to vineyard.
It is interesting to note that the top wines are located primarily on the top peak of the Cantenac plateau. The soils there were more able to cope with the extremely wet, winter months.
More importantly, from tastings it appears that those vineyards were able to retain enough moisture to survive the warm, sunny and parched summer months.
The date of the harvest was one of the crucial factors with 2018 Margaux. Some estates began picking their young vines as early as September 12. Harvesting finished as late as October 15. This long window of picking allowed many properties to obtain the desired level of ripeness they were looking for. If you want to read details on the 2018 Bordeaux vintage 2018 Harvest Report
Another factor with 2018 Margaux were the mildew, which struck the grape skins and leaves. Properties that were able to spray quickly, avoided losing large portions of their harvest. But as you will see with the tasting notes, that was not the case with everyone. Several properties lost from 20% to almost 75% of their harvest.
While not at the level of the recently released, stupendous 2015 vintages, several estates produced very good wine, and a few properties made wines that will be viewed as future legends from their vineyards in the years and decades to come!
But with 2018 Margaux, you do not need to solely focus on the top 1855 Classified Growths. Several smaller wines are also beautiful this year. As you can see from my ratings, there are numerous Cru Bourgeois wines that are delicious. Plus, many of the second wines from 2018 Margaux deserve a look as well.
Styles and characteristics in the Margaux appellation are usually reflective of the desire of the winery, and with 2018 Margaux, that holds true. With this vintage, all the wines are deeply colored. You will find wines ranging from opulent and sensual, to powerful, full bodied wines to light, fresh, crisp wines. If the vineyards were able to cope with the dry summer, chances are strong that the producer made good wine.
With close to 600 wines tasted, you can expect more 2018 Bordeaux reports for every major appellation to be published daily. Tuesday, April 23, we'll finish our look at the Left Bank with a complete report on the red and white Bordeaux of Pessac Leognan.
The following wines were tasted between late March and early April 2019 in non-blind conditions. Several wines were tasted more than once, with consistent results.
2018 Boyd Cantenac – Earth and forest aromatics coincide with a medium-body, soft palate and a tobacco leaf, herb and red fruit finish. 89 – 91 Pts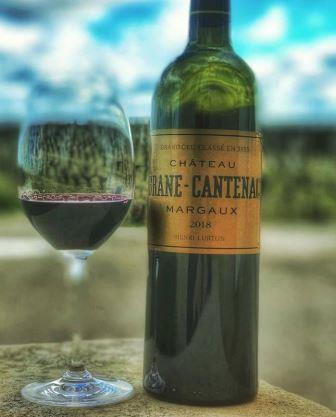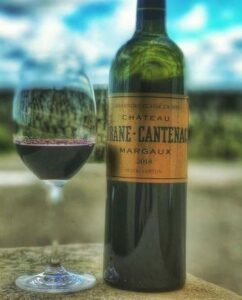 2018 Brane Cantenac – Deep garnet in color, this wine exudes a dark, black cherry core of fruits. Next, the perfume reveals hints of smoke, flowers, thyme and cigar wrapper. On the palate, the wine is focused on silky tannins, elegant textures and depth of flavor. Fans of Brane Cantenac should know that even with this depth of fruit the wine is still dances lightly over the palate. I am not ready to pick a favorite from the 2015, 2016 and 2018 trio but it is going to be fun tasting and comparing those vintages over the next few decades! From a blend of 74% Cabernet Sauvignon, 21% Merlot, 4% Cabernet Franc and 1% Petit Verdot, the wine reached 13% alcohol with a pH of 3.76. It represents 60% of the harvest, which took place from September 14 to October 10. The higher than usual percentage of the Grand Vin is due to the frost, which hit the areas of the vineyard customarily reserved for the second wine. 95 – 97 Pts
2018 Le Baron de Brane – Ruby in color, the wine is spicy, fruity, floral, forward, medium-bodied and already showing off its sweet cherry charms. Enjoy this while awaiting the sublime 2018 to develop. 89 – 92 Pts
2018 Cantenac Brown – Flowers, Maraschino cherries, smoke, espresso and thyme on the nose piques your interest. On the palate, however, it is the silky, polished, vital, spicy red fruits that hit the spot. Part of this allure comes from the higher percentage of Cabernet Sauvignon in this year's blend. This wine is going to need at least 6-8 years of aging before it even begins to ready itself for drinking. Produced from blending 60% Cabernet Sauvignon and 40% Merlot, the wine reached 13.6% alcohol and the harvest took place September 18 to October 2. 94 – 96 Pts
2018 Desmirail – Medium-bodied, strict, firm, lean, this old school-styled wine provides bright, red cranberry and dried pit fruit notes. Consumers that long for the days of 70's styled, classic Bordeaux will appreciate this much more than I did. 85 – 87 Pts
2018 Deyrem Valentin – Espresso, dark chocolate, black plums and dark cherry notes come together here. The palate is soft, supple and as elegant as it is charming. The wine is made from blending 53% Cabernet Sauvignon, 46% Merlot and 1% Petit Verdot. This is a solid value from the Margaux appellation. 91 – 93 Pts
2018 Giscours – Floral in nature, this wine shows a bouquet of ripe, dark red fruits with background notes of cocoa, mint and wet earth. On the palate, which is where this really shines, the wine is rich, full-bodied, elegant, fruity, luscious and lively. I like the spicy, fresh cherry ending with its sprig of mint. The wine was produced blending 55% Cabernet Sauvignon, 39% Merlot and 6% Petit Verdot, reaching 13.9% alcohol with a pH of 3.79. The picking took place from September 12 to October 12. Due to issues with mildew, the production was down close to 30%. 94 – 96 Pts
2018 La Sirene de Giscours – Elegant and forward in style, the wine is ripe, sweet and even a bit spicy in its medium-bodied, red berry character. This is going to be quite nice on release. 88 – 90 Pts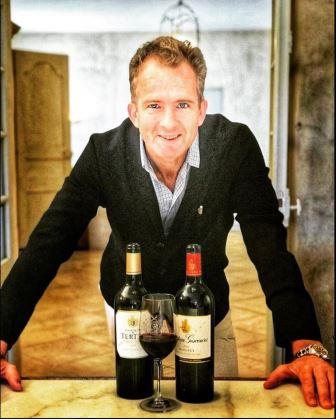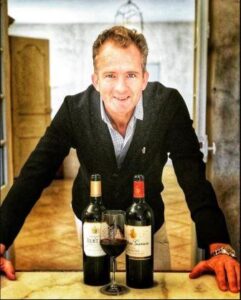 2018 dIssan – Cherry blossoms, smoke, forest floor, licorice and blackberry aromas open the wine. The wine is full-bodied, round, sweet, juicy and just a little bit spicy. You can feel the vitality in the ripe, red plums and black currants which accent the finish. From a blend of 60% Cabernet Sauvignon and 40% Merlot, the wine reached 13.97% alcohol. The Grand Vin was produced using 53% of the harvest. The picking took place September 24 to October 11. 94 – 96 Pts
2018 Blason d'Issan – This approachable, medium-bodied, earthy, cherry-filled, soft, floral and tobacco accented charmer is perfect to enjoy while waiting for the Grand Vin to develop. 89 – 91 Pts
2018 Labegorce – With flowers, smoke, licorice, crème de cassis, thyme and earth, this wine has freshness, definition and fabulous character with ripe, silky tannins and a generous finish. A blend of 50% Merlot, 44% Cabernet Sauvignon, 3% Cabernet Franc and 3% Petit Verdot, the wine reached 14% alcohol. 93 – 95 Pts
2018 Lascombes – Round, forward, ripe and lush with real fatness to the fruits, this wine is concentrated, and full-bodied with plenty of smoke, licorice and espresso to accompany all that black fruit. It is going to take time for the oak to integrate therefore you will need to be either oak tolerant or very patient with this one. 91 – 93 Pts
2018 La Tour de Mons – Ripe, fresh and floral, with loads of juicy cassis, wet earth and dark cherries on the nose and palate. Round, and a blast of cocoa and red fruits in the finish, give this a few years before popping a cork. 90-92 Pts
2018 LAura de Cambon – Ripe, juicy, round and forward this concentrated, lush-textured wine has polish, freshness and a core of soft dark cherries, licorice, wet earth and espresso. 90 – 92 Pts
2018 Malescot St. Exupery – Dark, almost inky in color, the wine offers intensity, richness, velvet textures and purity of fruit. The array of black, deep red and nearly blue fruit with smoke, flowers, earth, espresso and licorice leaves a marked impression on the nose, on the palate and in the long, silky, polished finish. 95 – 97 Pts
2018 Chateau Margaux – Deep in color with an intense, dark ruby hue, the nose offers violets, lilacs, espresso, wet earth and cigar wrapper along with ripe, deep red fruits. There is freshness and soft, silky vibrant tannins. The wine feels quite powerful in the moment and its classic design reminds me of 2005. This is not going to be fun to taste young but with Chateau Margaux patience is always a virtue. Made from a blend of 90% Cabernet Sauvignon, 4% Merlot, 4% Cabernet Franc and 2% Petit Verdot, the wine reached 14% alcohol. The Grand Vin was produced using only 36% of the harvest. Picking commenced September 17, finishing October 13. 97 – 99 Pts
2018 Pavillon Rouge du Chateau Margaux – Medium-bodied and elegantly styled, the wine is composed of ripe red berries, flowers and cherry pipe tobacco nuances. Silky, refined and lifted, there is more volume, density and tannins than usual here with a gorgeous purity to the fruit. This is going to need 3-4 years of aging before it is ready to drink. The wine was made from blending 69% Cabernet Sauvignon, 19% Merlot, and 9% Cabernet Franc. It is hard to believe this is a second wine, as it is better than any vintage of Margaux from the 60s and 70s and with some exceptions — the 80s! 92 – 94 Pts
2018 Pavillon Blanc du Chateau Margaux – Honeysuckle, green apple, orange rind and pomelo scents are available with no effort. The wine is sweet, bright, fresh and juicy, displaying a combination of yellow tropical fruits and citron on the palate and in the finish. 94 Pts
2018 Marojallia – Deep, rich, full-bodied and lush in texture, you'll find floral, black cherry, licorice and espresso notes in the bouquet. Round and polished, concentrated and forward, this is a modern style Margaux . The wine was produced from a blend of 70% Cabernet Sauvignon and 30% Merlot. 91 – 93 Pts
2018 Clos Margalaine – Medium bodied, soft, round, plush and quite oaky, the fruits are ripe, forward and easy to like, finishing with a blend of espresso and cherries. 86-89 Pts
2018 Marquis dAlesme – With a touch of smoke, earth, red fruits, violets and espresso, this wine is rich, polished and loaded with ripe, juicy, sweet vibrant fruits. The wine was made from blending 55% Cabernet Sauvignon, 35% Merlot, 5% Petit Verdot and 5% Cabernet Franc, reaching 14.5% alcohol. Talk about a home run, this is one of the most improved estates in the Margaux appellation and it still sells for a song! 94 – 96 Pts
2018 Marquis de Terme – Flowers and black raspberry permeate the nose, while soft, silky, polished, ripe, red fruits do their work on your palate. The wine is refined, elegant and very Margaux. 92 – 94 Pts
2018 Monbrison – Medium-bodied, leafy, peppery and with plenty of cedar, tobacco leaf and earth, the finish focuses on bright red fruits with a crisp red berry finish. 87 – 89 Pts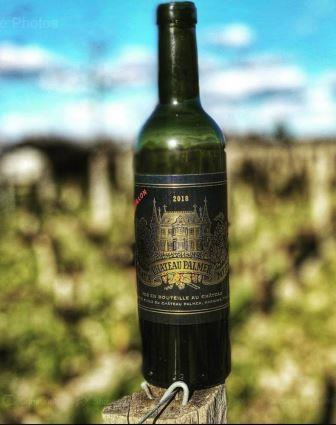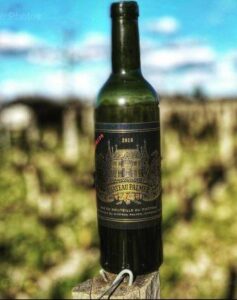 2018 Palmer – The color of a dark, almost opaque ruby gemstone, this is the densest vintage Palmer has ever produced. However, the wine is not heavy, it is light on its feet. Opulently styled, this is velvet instead of silk. There is more darkness in the fruit than you usually encounter here, along with a chalky minerality in the finish. The end note with its ocean of boysenberry, dark cocoa and black plum liqueur, vibrantly coats your mouth, palate, teeth and gums and stays there for over 60 seconds! The wine was made from 53% Cabernet Sauvignon, 40% Merlot and 7% Petit Verdot. The harvest took place September 13 to October 15 and the wine reached 14.3% with a pH 3.83. Due to severe attacks of downy mildew in 2018, the yields were shockingly low at only 11 hectoliters per hectare — conceding only one cluster per vine –the exact same yield Palmer experienced in 1961! No Alter Ego was produced in 2018. If you have the disposable income, this is one of the great vintages of Chateau Palmer. 98 – 100 Pts
2018 Paveil de Luze – Floral in nature, the earthy fruits and tobacco come along quickly. Medium-bodied with a nice sweetness to the fruit and softness in the texture, this has a lot of charm. Give it 3-5 years before popping a cork. 90 – 92 Pts
2018 Pouget – Medium-bodied, bright, crisp. fresh and a bit firm, the finish focuses on the earthy, red fruits in the finish. 87-89 Pts
2018 Prieure-Lichine – Inky in color, the wine is dark with a purple edge. Black fruit, espresso, flowers and licorice in the nose come on strong. Full-bodied, rich, long and deep on the palate, the long finish ends with ripe, silky fruits and cocoa. 93 – 95 Pts
2018 Rauzan-Gassies – Medium-bodied with leafy red fruits, herbs, flowers and soft textures on the palate, this wine only requests a few years in the cellar before it is ready to be enjoyed. 88 – 90 Pts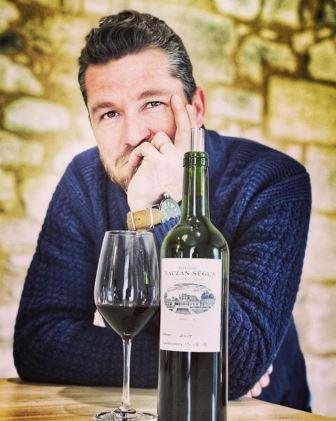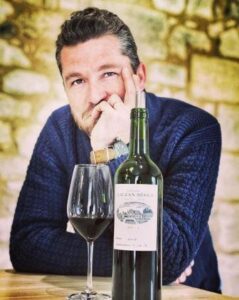 2018 Rauzan Segla – Inky garnet with purple accents in the hue, the depth of color reveals only part of the story. The perfume, with its violets, espresso, smoke, tobacco leaf and a sea of stand out ripe, dark red fruits ranging from blackberry to plum. On the palate, the wine is plush, dense and full-bodied yet it glides. Already expressive in the nose and mouth, the finish matches perfectly with its outstanding level of purity, extract and freshness. Is this better than the majestic 2015 or the strong 2016? Perhaps it is! I'm waiting for a blind tasting. Give it ten years or just a bit longer and this beauty will shine for decades after that. The wine was produced from blending 56% Cabernet Sauvignon, 40% Merlot, 2% Cabernet Franc and 2% Petit Verdot, reaching 14.0% alcohol with a pH of 3.8. The harvest took place September 12 to October 11. The Grand Vin was made from 45% of the harvest. 97 – 99 Pts
2018 Segla – Perfect for early drinking pleasure, the wine is soft, round, forward, fruity and fresh with a sweet, soft plummy finish. This is a perfect wine to order off a restaurant list. 90 – 92 Pts
2018 Siran – With considerable color and silky tannins, this wine is rich, polished, lush and round. The fruit is ripe, sweet, fresh and long with a spicy, dark cherry and mocha finish. Made from blending 45% Merlot, 44% Cabernet Sauvignon, 10% Petit Verdot and 1% Cabernet Franc, the harvest took place from September 20 to October 13, reaching 14% alcohol. 92 – 94 Pts
2018 du Tertre – The wine is bright, focused and fresh. The fruits are succulent, polished and vibrant. The finish is all about the juiciness in the red fruits and silk in the tannins. From a blend of 40% Cabernet Sauvignon, 30% Merlot, 16% Cabernet Franc and 14% Petit Verdot, the wine reached 13.8% alcohol. Due to issues with excessive rains and mildew du Tertre lost close to 40% of their crop. The harvest took place September 17 to October 12. 91 – 93 Pts
2018 du Tertre Blanc – The nose is all about the white peach, flowers, cantaloupe, vanilla and citrus peel. The wine is unctuous and lively, with a blast of yellow citrus and peach in the finish. The unique blend is made from 30% Viognier, 20% Sauvignon Blanc, 20% Chardonnay and 20% Gros Manseng. The wine was vinified in stainless steel and barrel and aged in 100% new, French oak barrels. 91 Pts