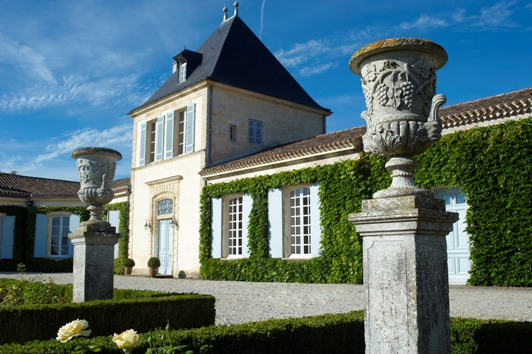 Learn everything about Chateau Paveil de Luze Margaux with wine tasting notes and wine with food pairing tips. Learn the best vintages, a history of the property and information on the vineyards and winemaking. If you want to read about other important, Bordeaux Chateaux: Links to all Bordeaux Wine Producer Profiles
Chateau Paveil de Luze History, Overview
Chateau Paveil de Luze has been owned by the de Luze family since 1862 when the Medoc estate was purchased by Baron Alfred de Luze. The de Luze has an even longer history in the Bordeaux wine region as successful negociants.
As you can see, Chateau Paveil de Luze takes its name from the original owner. At the time of the original purchase, the entire property was 120 hectares. Since then, due to numerous sales of vineyard land, the estate has been reduced to its current size.
By 1973, the property had fallen into a state of disrepair, as only 10 hectares of vines remained planted. Slowly but surely, the vineyard was replanted and is now in the same shape as it was when the family originally purchased the vineyard.
In 2004, the vineyard was taken over by the next generation of the family. The following year, in 2005, they began a complete renovation of Chateau Paveil de Luze in the cellars, winemaking facilities, and chateau. Their next move was to hire the team of Stephane Derenoncourt as their consultant for their Left Bank estate on both the winemaking and vineyard management.
The owner of the estate, Frederic de Luze also owned and managed a large negociant company, LD Vins. And if that was not enough to keep him busy, he was also the director of the Alliance de Cru Bourgeois. Currently, the property is consulted by Stephane Derenoncourt who has been working with the estate since the 2010 vintage.
In 2016, Chateau Paveil de Luze became the first estate in Bordeaux to begin renting rooms at their chateau using Airbnb. Sadly, Frederic de Luze passed away at just 54 years of age in 2016. Since then the estate has been managed by his sisters, Catherine de Luze and Marguerite de Luze.
Chateau Paveil de Luze Vineyard, Terroir, Grapes, Winemaking
The 32 hectare Margaux vineyard of Chateau Paveil de Luze is planted to 70% Cabernet Sauvignon and 30% Merlot. All of the Cabernet Franc vines have been removed and replaced. Located in the upper northwest corner of the appellation, the vineyard is planted in one large, single block of vines situated in the commune of Soussans, close to the chateau.
The terroir is mostly gravel with some clay in the soils. The vineyard is planted to a vine density of 7,000 vines per hectare. Picking is done using machine harvesting. Aside from vineyards, behind the chateau, there are verdant gardens and a small, picturesque lake.
Chateau Paveil de Luze Winemaking
To produce the wine of Chateau Paveil de Luze, vinification takes place in small, temperature-controlled, stainless steel vats that are 150 hectoliters in size. Malolactic fermentation takes place in tank. The wine of Paveil de Luze is aged in an average of 30% new, French oak barrels for 12 months before bottling.
There is a second wine, Chateau de La Coste. Previously, the second wine was sold as L'Enclos de Banneret. On average, the annual production of Chateau Paveil de Luze is close to 12,500 cases per year. Paveil de Luze is a good Bordeaux value wine from the increasingly expensive Margaux appellation.
The best vintages of Chateau Paveil de Luze are: 2022, 2021, 2020, 2019, 2018, 2016, 2015, 2014, 2012, 2010, 2009, 2005 and 2000.
When to Drink Chateau Paveil de Luze, Anticipated Maturity, Decanting Time
Chateau Paveil de Luze can be enjoyed on the young side with decanting, but the wine is much better wine, these days. Young vintages can be decanted for an average of 1-2 hours, give or take. This allows the wine to soften and open its perfume. Older vintages might need very little decanting, just enough to remove the sediment.
Chateau Paveil de Luze is usually better with at least 4-6 years of bottle age. Of course, that can vary slightly, depending on the vintage character. Chateau Paveil de Luze offers its best drinking and should reach peak maturity between 8-18 years of age after the vintage.
In addition, the estate also produces a white Bordeaux wine, Paveil de Luze Blanc which is produced from a blend of 70% Sauvignon Blanc and 30% Semillon. The wine is aged in French oak barrels for an average of 8 months prior to bottling. The wine is sold as a generic Bordeaux AOC wine, as the production is white wine in Margaux is forbidden.
Serving Chateau Paveil de Luze, with Wine, Food, Pairing Tips
Chateau Paveil de Luze is best served at 15.5 degrees Celsius, 60 degrees Fahrenheit. The cool, almost cellar temperature gives the wine more freshness and lift.
Paveil de Luze is best served with all types of classic meat dishes, veal, pork, beef, lamb, duck, game, roast chicken, roasted, braised, and grilled dishes. Chateau Paveil de Luze is a perfect match with Asian dishes, hearty fish courses like tuna, mushrooms, and pasta as well as cheese.
Since 2006, the estate has also produced Pont Rouge du Paveil, which is made from vines planted outside the Margaux appellation. Thus the wine is sold as a generic AOC Bordeaux wine.
Château Paveil de Luze Wine Tasting Notes
20 Vintages 61,347 Views Sort by Vintage-Rating
2022
Château Paveil de Luze (Margaux)

Medium-bodied, soft, elegant, polished, forward and plummy, the wine is medium-bodied, silky and vibrant, with black cherries, licorice and cocoa on the backend of the finish. Drink from 2025-2040. 90-92 Pts.

789 Views

Tasted

May 8, 2023

2021
Château Paveil de Luze (Margaux)

Sweet, round, chewy, fresh and loaded with savory currants and blackberries, with soft tannins and sweet currants in the finish. You can enjoy this early-drinking charmer on release. Drink from 2023-2037. 87-89

1,747 Views

Tasted

May 20, 2022

2020
Château Paveil de Luze (Margaux)

Flowers, cherries, espresso and blackberries crowd the nose. The wine is medium-bodied, polished, soft and fresh with an elegant finish consisting of creamy, silky, lively, black and red pit fruits, chalk, and dark cocoa that shines through on the backend. This can be enjoyed young, but it can age for up to two decades as well. Drink from 2025-2040.

1,005 Views

Tasted

Mar 21, 2023

Coffee bean, licorice, bitter cocoa, plums and blackberries crowd the nose. Medium-bodied, soft, elegant and refined, with a forward character. You can enjoy this on the young side due to all its sweet fruits and silky tannins. Or you can age it for 3-5 years and it will be even better. 91-93 Pts

2,173 Views

Tasted

May 20, 2021

2020
Château Paveil de Luze Blanc (Bordeaux)

Grapefruit, orange rind and flowers form the core of this forward, creamy wine. The finish is all about its blend of yellow, and green apples with pears and lemon rind. You can enjoy this over the next few years. Drink from 2023-2027.

842 Views

Tasted

Mar 21, 2023

2019
Château Paveil de Luze (Margaux)

Round, fresh, vibrant, and floral, the red currants and plums in the core of this wine are sweet, ripe, elegant, and energetic. Drink from 2023-2034.

2,628 Views

Tasted

Aug 23, 2022

With good color, the wine is medium-bodied and already showing off its nose of espresso, earth, smoke, spice and red fruits. On the palate, one finds soft, silky, fresh, juicy fruits, oak, blackberries and lift. The wine is long, fresh and clean in the red berry and herb filled endnote. 90-92 Pts

2,958 Views

Tasted

Jun 8, 2020

2019
Château Paveil de Luze Blanc (Bordeaux)

Fresh, bright, juicy and packed with lifted citrus, green apple, vanilla, flowers and pomelo on the nose and palate. The wine has a zesty, crisp personality that can be enjoyed on release. 90 Pts

2,013 Views

Tasted

Jun 8, 2020

2018
Château Paveil de Luze (Margaux)

Espresso, toffee, red fruits, flowers and spice open up the nose. On the palate, the earthy fruits and tobacco come along quickly. Medium-bodied with sweetness and a firm quality to the ]tannins dictate 3-5 years of cellaring before you should start to enjoy it.

1,754 Views

Tasted

Mar 9, 2021

Floral in nature, the earthy fruits and tobacco come along quickly. Medium-bodied with a nice sweetness to the fruit and softness in the texture, this has a lot of charm. Give it 3-5 years before popping a cork. 90-92 Pts

2,475 Views

Tasted

Apr 19, 2019

2018
Château Paveil de Luze Blanc (Bordeaux)

Zesty, juicy, bright lemon and honeysuckle centered wine with freshness and a nice jolt of yellow citrus with a shot of lime in the finish. This will be just great on release.

872 Views

Tasted

Mar 9, 2021

2017
Château Paveil de Luze (Margaux)

Earthy, floral and tobacco filled, there is a hint of herbs along with the sweet and tart red fruits. The wine is fresh and bright, with an earthy, dried, red pit fruit character in the finish.

2,143 Views

Tasted

Apr 26, 2018

2016
Château Paveil de Luze (Margaux)

Medium-bodied, elegant, soft and polished, the wine is round, juicy and fresh, leaving with ample sweet red fruits in the finish. Forward in style, you can drink this young, or age it for more softness and nuance.

2,314 Views

Tasted

Sep 21, 2019

This wine is floral in character, medium-bodied with elegance, silky tannins, ripe, fresh fruits and an earthy, sweet, pit fruit finish.

2,907 Views

Tasted

Apr 29, 2017

2015
Château Paveil de Luze (Margaux)

Earthy, floral, fresh and forward, this soft textured, medium-bodied, red berry and red plum filled wine, with its hint of thyme, flowers, espresso and sweet fruit seems like its ready to go. But give it another year or 3, and it will show even better.

4,287 Views

Tasted

Sep 23, 2019

With a floral, earth and plum-filled nose with a licorice and tobacco kick at the end, this wine has just enough fresh, dark, red fruits that transpire just when you need them. 89 - 91 Pts

2,600 Views

Tasted

Apr 21, 2016

2014
Château Paveil de Luze (Margaux)

Flowers, cherries and crisp berries on the nose make this uncomplicated vintage a medium-bodied, early-drinking charmer. 86-87 Pts

3,383 Views

Tasted

Apr 22, 2015

2012
Château Paveil de Luze (Margaux)

70% Cabernet Sauvignon and 30% Merlot opened to a medium-bodied, light, red berry and oak finish. 85-87 Pts

2,477 Views

Tasted

Apr 25, 2013

2011
Château Paveil de Luze (Margaux)

Fully mature, soft, round, lighter-styled, medium-bodied wine that offers dark cherry, cherry, and black currants, earth, herb, leaf, and tobacco on the nose and palate This will be best over the next few years.

2,385 Views

Tasted

Aug 20, 2021

2010
Château Paveil de Luze (Margaux)

Another winner from Stephane Derenoncourt and his team. From a minor terroir in Margaux, the wine delivers ripe dark berries, truffle and floral notes with hints of espresso and licorice. Silky smooth tannins, an open accessible style and a ripe, fruit filled finish make this a wine to look for.

3,899 Views

Tasted

May 8, 2013

2009
Château Paveil de Luze (Margaux)

Deep color, soft tannins, floral, earthy, blackberry aromas, round textures, ripe fruit and it's early drinking too. Plus, it's fairly priced for a wine from the Margaux appellation. The wine was produced from a blend of 70% Cabernet Sauvignon and 30% Merlot.

5,171 Views

Tasted

Dec 4, 2014

2008
Château Paveil de Luze (Margaux)

Bright, fresh, sweet and crisp red fruits show easily along with tobacco leaf and floral accents. Medium bodied and just about fully developed, this is ready to go.

2,206 Views

Tasted

Feb 10, 2019

2005
Château Paveil de Luze (Margaux)

Fully mature, medium bodied, fresh, floral, tobacco laden wine, with sweet, bright cherries, damp earth and soft textures for current drinking. This vintage marked the first year where the estate started making nice, reasonably, well priced wine. However, this is not a wine for further aging. I'd drink over the next 2-5 years.

4,286 Views

Tasted

Oct 18, 2016

2000
Château Paveil de Luze (Margaux)

Simple, straight forward, foursquare, acceptable, earthy, not quite lean, medium-bodied wine, focused more on its secondary character, as the fruit has started to gently fade.

2,318 Views

Tasted

Feb 2, 2020

1919
Château Paveil de Luze (Margaux)

Surprisingly interesting and fun to drink, especially when you consider its age and the vintage, the wine is brick with some oranging around the edge in color. Lots of earth, cedar and tobacco, with a little, sweet, spicy and tart red fruit that is managing to still be kicking around.

1,715 Views

Tasted

Feb 2, 2020