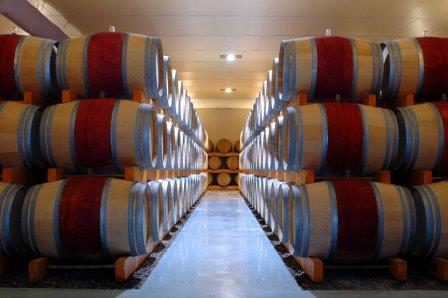 Learn everything about Chateau L'Aura de Cambon Margaux with wine tasting notes and wine with food pairing tips. Learn the best vintages, a history of the property, information on the vineyards and winemaking. If you want to read about other important, Bordeaux Chateaux: Links to all Bordeaux Wine Producer Profiles
L'Aura de Cambon, History, Overview
L'Aura de Cambon was created in 2006, when the owner, Jean-Pierre Marie, purchased a 1.24-acre parcel of vines from a local butcher in the Margaux appellation.
The vineyard is located to the south of the appellation between Chateau Margaux and Chateau Brane Cantenac and not far from Chateau Cantenac Brown. Once the purchase was completed, the first thing the new owners did was replant the vineyards.
Starting with the 2013 vintage, the new owners brought in the noted consultant Hubert de Bouard of Chateau Angelus to act as their consultant, in the vineyards and the cellars.
L'Aura de Cambon was sold during the summer of 2019 to the massive wine conglomerate, Treasury Wine Estates who owns various vineyards in Australia, most prominently Penfolds. They also own established brands in Napa Valley including Beringer and Beaulieu along with Chateau St. Jean.
L'Aura de Cambon Vineyards, Terroir, Grapes, Winemaking
The Left Bank vineyard of L'Aura de Cambon is planted to 50% Cabernet Sauvignon and 50% Merlot. Located in the middle of the Cantenac sector, the vineyard is only .5 hectares, making it the smallest vineyard in the Margaux appellation. The terroir is mostly gravel with clay soil. The vineyard is planted to a vine density of 8,000 vines per hectare.
To produce the wine of L'Aura de Cambon, truly requires a lot of effort. The grapes are whole berry fermented. Vinification takes place in two temperature-controlled 32 hectoliter vats, after a pre-ferment maceration and mandatory cold soak which requires 3 to 4 weeks. Malolactic fermentation takes place in 100% new, French oak barrels.
All the work in the cellar for L'Aura de Cambon takes place by gravity. The wine is aged on its lees for 12 to 15 months in 100% new, French oak barrels. Not much wine is produced here as the production is quite small. The debut vintage for L'Aura de Cambon is the 2006 vintage. Less than 500 cases are produced per year.
The best vintages of L'Aura de Cambon are: 2022, 2021, 2020, 2019, 2018, 2016, 2015, 2014, 2012, 2010, 2009 and 2006.
When to Drink Chateau L'Aura de Cambon, Anticipated Maturity, Decanting Time
Chateau L'Aura de Cambon can be enjoyed on the young side with decanting. Young vintages can be decanted for an average of 1-2 hours, give or take. This allows the wine to soften and open its perfume. Older vintages might need very little decanting, just enough to remove the sediment.
Chateau L'Aura de Cambon is usually better with at least 5-8 years of bottle age. Of course, that can vary slightly, depending on the vintage character. Chateau Pibran offers its best drinking and should reach peak maturity between 10-20 years of age after the vintage.
Serving L'Aura de Cambon, with Wine, Food, Pairing Tips
L'Aura de Cambon is best served at 15.5 degrees Celsius, 60 degrees Fahrenheit. The cool, almost cellar temperature gives the wine more freshness and lift.
L'Aura de Cambon is best served with all types of classic meat dishes, veal, pork, beef, lamb, duck, game, roast chicken, roasted, braised, and grilled dishes. L'Aura de Cambon is a perfect match with Asian dishes, hearty fish courses like tuna, mushrooms, and pasta as well as cheese.
Jean-Pierre Marie, the owner of the winery also owns Chateau Cambon la Pelouse in the Haut Medoc appellation along with another Haut-Medoc estate, Trois Moulins.
L'Aura de Cambon is a round, opulent, ripe, modern style of wine from the Margaux appellation that can age but also drink well young.
Château L'Aura de Cambon Wine Tasting Notes
11 Vintages 20,048 Views Sort by Vintage-Rating
2018
Château L'Aura de Cambon (Margaux)

Ripe, juicy, round and forward this concentrated, lush-textured wine has polish, freshness and a core of soft dark cherries, licorice, wet earth and espresso. 90-92 Pts

1,347 Views

Tasted

Apr 19, 2019

2017
Château L'Aura de Cambon (Margaux)

From a blend of 56% Cabernet Sauvignon and 44% Merlot, you'll notice the deep ruby hue before discovering the floral, licorice, espresso and cherry resonance. Soft textured, medium bodied and showing more brightness in the fruit than usual, a few years.

1,666 Views

Tasted

Apr 26, 2018

2016
Château L'Aura de Cambon (Margaux)

Silky, lush and polished the wine is juicy, sweet and fresh, due to all the ripe, dark red fruits and soft, polished tannins.

1,983 Views

Tasted

Sep 21, 2019

Dark in color with silky tannins, soft, polished fruit and layers of ripe, sweet, fresh, dark cherries, cassis and juicy, spicy plums.

1,522 Views

Tasted

Apr 29, 2017

2015
Château L'Aura de Cambon (Margaux)

Dark in hue and dark in fruit with lush, round textures and a blast of sweet, ripe, black raspberries, cocoa and licorice, this wine has good concentration and opulent textures, finishing with freshness and silky tannins. 90 - 92 Pts

1,573 Views

Tasted

Apr 21, 2016

2014
Château L'Aura de Cambon (Margaux)

Dark in color with soft, round, sinuous, meaty textures and sweet fruits, the wine is quite charming in this vintage. It is a hard to find wine but well worth the hunt. 88-90 Pts

1,706 Views

Tasted

Apr 22, 2015

2013
Château L'Aura de Cambon (Margaux)

Deep in color with smoke, licorice, blackberry and jam notes, this wine's soft finish leaves with you silky blackberries. This will be hard to find and fun to drink young. From a blend of 55% Cabernet Sauvignon and 45% Merlot, the wine reached 13.1% ABV and is aging in 100% new oak. 88-90 Pts

1,017 Views

Tasted

Apr 20, 2014

2012
Château L'Aura de Cambon (Margaux)

The debut vintage where Hubert de Bouard from Chateau Angelus acts as the consultant. Licorice, dark berries and chocolate with sweet, round textures and a ripe, dark berry finish. From a blend of equal parts Merlot and Cabernet Sauvignon. 88-91 Pts

1,254 Views

Tasted

Apr 25, 2013

2011
Château L'Aura de Cambon (Margaux)

From an even split of Merlot and Cabernet Sauvignon in the blend, aged in 100% new oak, licorice, blackberry, smoke and jammy aromas open to a medium-bodied wine that tastes and feels over-oaked. 87-89 Pts

1,147 Views

Tasted

Apr 19, 2012

2010
Château L'Aura de Cambon (Margaux)

L'Aura de Cambon From an equal blend of Cabernet Sauvignon and Merlot, this soft textured wine is filled with deep, plush, blackberry, dark cherry and spice which feels fresh and clean in the mouth. 89-91 Pts

1,821 Views

Tasted

Apr 20, 2011

2009
Château L'Aura de Cambon (Margaux)

2009 L'Aura Opens with dark colors and aromas of fresh blackberry flavors, full bodied and round, the wine ends with ripe dark fruit and black pepper aromatics. 91/93 Pts

3,120 Views

Tasted

Jul 30, 2010

2008
Château L'Aura de Cambon (Margaux)

Château L'Aura is a tiny Margaux property located in the Cantenac sector of Margaux. The château produced a whopping 200 cases in 2008! The blend from equal parts of cabernet sauvignon and merlot offers a powerful perfume of jammy black fruit, oak, violets, and candied fruit. Rich, concentrated, and full bodied, this ripe youngster fills your mouth with exotic boysenberry, blue fruit, and black berry flavors with a touch of oak. L'Aura, which began producing wine in 2006 is a property to watch for. 90-93 Pts

1,892 Views

Tasted

Aug 31, 2009