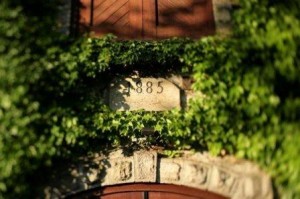 Everything about Beaulieu Vineyards, Napa Valley California Cabernet Sauvignon wine producer profile, wine tasting notes, wine and food pairing tips, best vintages, history of the property, information on their wine making techniques, terroir and soil. You can also read about the Grapes used for California wine and learn about the extensive History of Napa Valley, California Wines
Beaulieu History, Overvieww
Beaulieu Vineyards, which took its name from the French translation of the term for beautiful place was founded in 1904 by Georges de Latour when he obtained 40 acres of vines cultivated in the late 1870's. The first commercial endeavor on his own in California came when Latour bought the Ewer and Atkinson Winery. The company came with a vineyard first cultivated in 1880. Those purchases were augmented in 1907 when he obtained the Hastings vineyard, just east from Rutherford.
By the time of those purchases, Georges de Latour, who had moved from France to California, was no stranger to the wine industry as he was well known for selling phylloxera resistant root stock to growers in California. The vineyard started to come together in 1900, when Georges de Latour began purchasing vines in Rutherford. The initial wines released by Beaulieu Vineyards were made from purchased grapes, or wines that were produced by other growers, as their vineyards yet productive.
Georges de Latour was definitely a smart person who never passed on opportunities. His initial fortune came from selling phylloxera resistant root stock to vineyard owners. During Prohibition, he took the opportunity to purchase vineyards at reduced prices, as they were being abandoned. Beaulieu Vineyards managed to stay alive during Prohibition due to their production of wine for religious services. See, I told you he was clever. But his next move was his smartest yet.
Beaulieu Vineyards and Georges de Latour are two important names to know in the history of California wine. Beaulieu Vineyards was one of the first Napa Valley estates to begin popularizing the first use of modern, French wine making techniques. They also deserve credit for making what could be the first wine produced from mostly Cabernet Sauvignon, Beaulieu Vineyards Private Reserve. None of this could have been accomplished without the help of a true legend in the newly minted California wine industry, Andre Tchelistcheff.
Andre Tchelistcheff was hired by Georges de Latour, moved to California from France and joined Beaulieu Vineyards in 1938. Andre Tchelistcheff was responsible for introducing many of the modern wine making techniques that were used in Europe. It was Andre Tchelistcheff who began thinking about frost protection during the growing season. Andre Tchelistcheff pioneered the need for proper sanitation and the use of small, French oak barrels for aging of the wine. He also insisted that malolactic fermentation become part of the wine making process.
Andre Tchelistcheff eliminated pasteurization and introduced the technique of cold fermentation to increase the color and concentration of the wine. Andre Tchelistcheff introduced modern, viticulture practices of Europe. He began replanting the vineyards with higher levels of density, reducing the amount of sulfur used in the vineyards and more importantly, Andre Tchelistcheff focused on planting high quality French grape varietals. It was Andre Tchelistcheff that helped Cabernet Sauvignon get its start in the Napa Valley. He was also responsible for bringing Pinot Noir to Napa, but soon agreed that the cooler climates of Sonoma was better for growing Pinot Noir and Chardonnay.
Geroges de Latour passed away in 1940. Beaulieu Vineyards was then headed up by his wife and daughter, with the continued aid of Andre Tchelistcheff. The company continued to grow and by the early 1960's Beaulieu Vineyards was selling close to 100,000 cases of wine per year! In 1969, Beaulieu Vineyards was sold to the massive beverage giant, Heublin. The winery was later purchased by Diageo, who sold the vineyards and winery in 2015 to Australia's Treasury Wine Estates.
Beaulieu Vineyards, Terroir, Wines, Winemaking
Beaulieu Vineyards is one of the largest land owners in Napa Valley with more 1,100 acres in vines. Their best parcels are located in the Rutherford appellation. They have plantings of all the major Bordeaux varieties, Cabernet Sauvignon, Merlot, Cabernet Franc, Malbec and Petit Verdot. They also have vineyards with Chardonnay, Pinot Noir, Zinfandel and Petite Sirah. In addition, they maintain a vineyard that is used to experiment with a wide variety of different grape varieties including; Carignane, Petite Sirah and Valdiguie.
Serving and Decanting BV wines with Wine, Food, Pairing Tips
BV Vineyards wines are best served at 15.5 degrees Celsius, 60 degrees Fahrenheit. The cool, almost cellar temperature gives the wine more freshness and lift. Young vintages of their red wine can be decanted for 1-3 hours, depending on the character of the vintage. This allows the wine to soften and open its perfume. Older vintages might need very little decanting, just enough to remove the sediment.
The red wine of Beaulieu Vineyards is best served with all types of classic meat dishes, veal, pork, beef, lamb, duck, game, roast chicken, ribs, hamburgers, barbecue, roasted, braised, grilled dishes and stews. BV Vineyards is also good with Asian dishes, hearty fish courses like tuna, salmon, mushrooms and pasta.
The white wine of BV Vineyards is a perfect wine and food match for all types of seafood, sushi, sashimi, shellfish, chicken, veal, pork and cheese.
In the Russian River appellation in Sonoma, Beaulieu Vineyards maintains plantings of not only the major grape varieties, nut also Canelli, Sauvignon Musque, Touriga, Tempranillo, Charbono, Syrah, Sangiovese, Malbec, Carignane, Marsanne, Mourvedre and Rousanne. In the Carneros appellation, they grow Chardonnay, Viognier, Pinot Gris, Sauvignon Blanc, Pinot Noir and Syrah.
Beaulieu Vineyard Wine Tasting Notes
16 Vintages 92,673 Views Sort by Vintage-Rating
2020
Beaulieu Vineyard (Bordeaux Supérieur)

Soft, fruity, medium-bodied, forward and ready to go, with its easygoing, red berry character, this is a perfect, uncomplicated, summer quaffer. Drink this on the young side. 84-86 Pts

982 Views

Tasted

May 20, 2021

2016
Beaulieu Vineyard Cabernet Sauvignon Georges de Latour Private Reserve (Napa Valley)

Forward, full-bodied, round and almost lush in its approach, you find loads of dark chocolate coated black and deep fruits, smoke, thyme and vanilla here. The wine offers potential early drinking charm. Yet it possesses enough, ripe, soft-grained tannins that it should evolve for at least 2 decades with little trouble.

7,198 Views

Tasted

Nov 15, 2019

2016
Beaulieu Vineyard Tapestry Reserve (Napa Valley)

Already approachable with its forward, open, red and dark red fruit vinified in a soft, fresh, easy to like, medium-bodied manner. The floral accent on the nose and spicy fruit in the finish round off the otherwise oaky finish.

6,891 Views

Tasted

Nov 15, 2019

2011
Beaulieu Vineyard Cabernet Sauvignon Georges de Latour Private Reserve (Rutherford)

With its oaky, cherry filled nose, medium body and tart finish, I suppose come lovers of old school Cabernet Sauvignon will rave it about. I'm not buying tickets to the rave.

4,930 Views

Tasted

Feb 11, 2015

2008
Beaulieu Vineyard Cabernet Sauvignon Georges de Latour Private Reserve (Napa Valley)

Dark in color, with coffee bean, blackberry, stone and vanilla notes, the polished finish ends with cassis and espresso beans.

7,949 Views

Tasted

Oct 18, 2012

1994
Beaulieu Vineyard Cabernet Sauvignon Georges de Latour Private Reserve (Napa Valley)

Charmless, bright, tart, earthy, tobacco filled and drying out with little freshness or fruit remaining.

3,997 Views

Tasted

Mar 3, 2014

1979
Beaulieu Vineyard Cabernet Sauvignon Georges de Latour Private Reserve (Napa Valley)

1979 BV Reserve with its smoke, tobacco, forest floor aromas would need to be hooked up to a defibrillator if owners hope to coax any life back into this wine. With a finish similar to a sweet tart, with any of the sweetness, this dud should be avoided. 7

5,131 Views

Tasted

Sep 15, 2010

1978
Beaulieu Vineyard Cabernet Sauvignon Georges de Latour Private Reserve (Napa Valley)

Wood, earth, red fruit, animal and barnyard notessmell unclean, This hard, wine offers little pleasure or charm. The tart, red fruit finish leaves a drying sensation on your palate.

4,444 Views

Tasted

Oct 29, 2011

1976
Beaulieu Vineyard Cabernet Sauvignon Georges de Latour Private Reserve (Napa Valley)

1976 BV Reserve was a pleasant surprise. Following an after wines that more often than not knocking on deaths door, this smokey, tobacco, truffle, earth and forest floor smelling wine was nice indeed. Elegant in style, without a lot of concentration, this light cherry filled wine was not something I'd buy, but I'd be happy to drink if it someone brought it to a dinner.

5,368 Views

Tasted

Sep 15, 2010

1975
Beaulieu Vineyard Cabernet Sauvignon Georges de Latour Private Reserve (Napa Valley)

Hanging on to life, by the thinnest thread in the bag, there was more tart, acidic qualities than fruit. Tea in color, with a tobacco and earthy stained perfume, this should have been consumed years ago.

4,192 Views

Tasted

Dec 10, 2017

1973
Beaulieu Vineyard Cabernet Sauvignon Georges de Latour Private Reserve (Napa Valley)

Better than the previous bottle. This was showing earthy, sweet, cherries, tobacco and cigar box notes. Medium bodied, with an earthy, rustic, but charming, fully mature red berry finish.

3,369 Views

Tasted

Feb 3, 2015

Light in color, tobacco, cedar chest, earth, cassis, forest floor, smoke and cherry aromas opened to a fading, medium bodied wine showing textures that come with the patina of age. Lots of smoke and tobacco in the light, cassis finish. 1973 is a difficult vintage for birthyear wines in most countries. This was a nice surprise as it showed better than expected. If the bottle is well stored, this is a reasonable choice to celebrate a birthday or anniversary.

4,081 Views

Tasted

Mar 15, 2012

1968
Beaulieu Vineyard Cabernet Sauvignon Georges de Latour Private Reserve (Napa Valley)

The nose pops with cinnamon, strawberries, tobacco leaf, and herbs. The palate is not as interesting as it is light, bright, crisp, and short. This is hanging on by a thread, with not much gas left in the tank. From a perfect bottle purchased from the Joseph Phelps auction, this wine is clearly on the way out. That's not a bad thing considering the wine is 55 years old.

1,105 Views

Tasted

Mar 16, 2023

On its way out the door, fast, if you have been waiting for a miracle to occur, you missed that by at least a decade or two. What's left is tart, bright crisp red fruits and a strong, herb, olive and tobacco character. Drink up.

2,636 Views

Tasted

Feb 21, 2019

Fading, but not faded, there is a strong, earthy, overriding component that overwhelms the remaining essences of red fruits. Medium bodied, and starting to dry out, if you are holding on to any bottles, you should pop a cork.

3,843 Views

Tasted

May 25, 2018

Blind, I would have said it was an older Pauillac with its cassis, truffle and earthy notes. The palate had a nice blackberry, cassis and plum profile with a slightly rustic character filled finish. This will not get better, but well stored examples are a lot of fun to drink.

8,541 Views

Tasted

Dec 28, 2008

1965
Beaulieu Vineyard Cabernet Sauvignon Georges de Latour Private Reserve (Napa Valley)

Well past its best days, the wine is light, sharp, bright and overly acidic. Still, if you look hard enough, you still find some vestiges of fresh red fruits, earth, tobacco and herbs. Drink up if you have any, as this is not going to further decline from here.

2,823 Views

Tasted

Nov 12, 2018

1964
Beaulieu Vineyard Cabernet Sauvignon Georges de Latour Private Reserve (Napa Valley)

This is the second bottle of this wine I've had in about two weeks. They were both from the same source. The fill was into the neck. With the help of an Ah-So, the cork popped out in a single piece. The color of light tea, the wine smelt maderized. The wine finished with maderized, nut flavors. There was almost no fruit. This is not a wine to buy for any price. If you have a bottle, give it to someone you don't like.

3,881 Views

Tasted

Dec 19, 2011

The color of light tea and the smell of Madeira is not what I'm looking for in an old California Cabernet Sauvignon. Run, do not walk when this wine is for sale. It's as dead as Julius Caesar.

3,494 Views

Tasted

Dec 10, 2011

1960
Beaulieu Vineyard Cabernet Sauvignon Georges de Latour Private Reserve (Napa Valley)

At 55 years of age, this is a stunner! Sweet cherry, cassis and tobacco, with a smooth, sweet, fresh and lively finish. My only bottle was shared with a friend born in the same year, so it went to the right place.

4,610 Views

Tasted

Feb 3, 2015

1958
Beaulieu Vineyard Cabernet Sauvignon Georges de Latour Private Reserve (Napa Valley)

Rapidly fading and well on its way to completely faded, what little fruit remains is tart, bright and metallic.

3,208 Views

Tasted

Feb 21, 2019