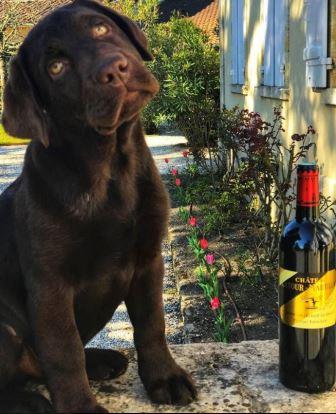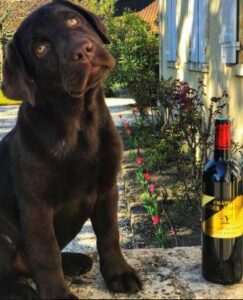 2018 Pessac Leognan and Graves are complicated wines. There are numerous producers from these appellations that made what can be called the best wines they have ever produced! Other vineyards were not as successful.
The growing season was difficult and choices needed to be made. As you probably know by the now, the 2018 Pessac Leognan vintage started out underwater. There was hail and what seemed like nonstop rain for months. Making things worse was rapid and strong attacks of mildew, especially in organically farmed vineyards. Although the mildew was more concentrated to the south in the Graves appellation.
Once the summer was in full-bloom, conditions changed rapidly. The vineyards dried out and vignerons were faced with a hot, dry summer. Young vines in several vineyards were decimated. Other vineyards began suffering from hydric stress, as there was so little moisture remaining in the soils. But much needed light rains at the end of the summer saved the day.
While 2018 Bordeaux is the hottest summer since 2003, the nights were cool, which explains part of the reason the wines show so much freshness.
July, August, September and October remained hot, dry and sunny. Conditions were perfect for the red wine grapes, but a bit too hot for the dry white Bordeaux wine grapes. Picking commenced early for the white wine grapes beginning in August, allowing the fruit to retain as much freshness as possible.
The red wine grape harvest started as early as September 13 at some estates. While that's a little early, the ability to continue picking until the middle of October, allowing estates to produce the wine of their choice. The berries were small, thick-skinned and intensely flavored. If you want to read details on the 2018 Bordeaux vintage 2018 Harvest Report
At their best, 2018 Pessac Leognan are deep in color. The wines are quite concentrated, opulently textured and aromatic. They are alcoholic, but also feel lifted, due to their natural levels of acidity. With 2018 Pessac Leognan, think of a new and improved version of 2009, as a matter of style. And yes, as the wines age, you are going to find all the smoky, earthy, tobacco driven essences and elegance the appellation is famous for.
With close to 600 wines tasted, you can expect more 2018 Bordeaux reports for every major appellation to be published on an almost daily basis. Thursday, April 25, we are going to delve into the Right Bank with our report on Pomerol.
The following wines were tasted between late March and early April 2019 in non-blind conditions. Several wines were tasted more than once, with consistent results.
2018 Brown – Wet earth, smoke, thyme, mint and red pit fruits create the nose. On the palate, the wine is medium bodied, fresh, silky and loaded with sweet, dark cherries. This is going to be even better with 3-5 years of age. 91 – 92 Pts
2018 Brown Blanc – Juicy, bright, crisp lemons, grapefruit, vanilla and florals are here from start to finish. Medium-bodied and ready to go, drink this over the first few years of life for the maximum amount of fruit and freshness. – 90 Pts
2018 Cantelys – The wine is ripe and fruity. On the mid palate, the black cherries, licorice and creamy, dark chocolate sensations are singing. You can enjoy this wine on release for its showy, sweet fruits or age it a few years for more pleasure. 90 – 92 Pts
2018 Cantelys Blanc – With a sweet, fresh, lemon and white peach character and enough pep to get the wine going, this will be ready for prime time drinking on release. – 90 Pts
2018 Carbonnieux – It is easy to dig into the smoky black cherries wafting in the perfume but there is more than aromatics going on here. This medium-bodied affair has a plush palate, supple textures and a long, round, polished, elegant finish. The wine was made from a blend of 60% Cabernet Sauvignon, 30% Merlot, 5% Cabernet Franc and 5% Petit Verdot. 91 – 93 Pts
2018 Carbonnieux Blanc – The nose works well with its blend of green apples, Meyer lemon and a touch of floral and there is vibrancy in the fruit as well but this is not a long term drinker. So, enjoy it early in life for all that delicious fruit. – 91 Pts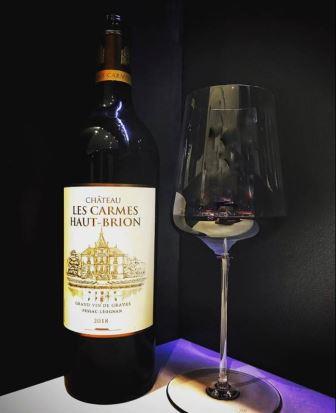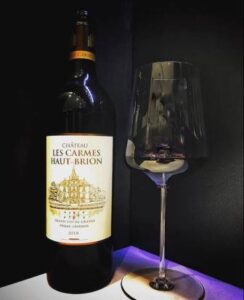 2018 Les Carmes Haut Brion – Caliginous in hue, the wine exudes tobacco, smoke, blackberry, pepper, flowers, and spearmint. On the palate, you'll find density with lift, intensity with complexity, sweetness with verve. The fruit shows a sublime sense of purity, similar to picking grapes off the vine during harvest and eating them right there. The finish matches power with elegance and length. The deep, opulent, mellifluous, mineral accented fruits just don't want to quit and they remain with you for at least 60 seconds. From a blend of 37% Cabernet Franc, 34% Cabernet Sauvignon and 29% Merlot and reaching 13.75% alcohol with a pH of 3.61, the wine was made using 55% whole bunches during fermentation. Currently aging in 75% new, French oak barrels, 15% in foudre and 10% in amphora for 18-24 months before bottling. The harvest took place September 13 to September 28. 98 – 100 Pts
2018 Le C des CarmesHaut Brion – Dark in color, this wine offers its oceanic, plum, blackberry, floral and deep black perfume right off the bat. Medium-bodied, round, silky and polished, the wine is fruity with silky, plums, black cherries, cocoa and licorice. Using 25% whole bunches in the vinification, the wine was made from 61% Cabernet Sauvignon, 37% Merlot and 2% Petit Verdot, reaching 13.6% alcohol with a pH of 3.55. 91 – 92 Pts
2018 Chantegrive – Medium bodied, elegant and light on its feet, the wine is soft, elegant and easy to understand, as the ripe, red fruits with their earthy, smoky accents comes with an early drinking charm. 87 – 89 Pts
2018 Chantegrive Blanc – Leaning to the tropical side, you also find vanilla, lemon peel, pineapple and tangerine with a hint of honeysuckle on the nose and palate. This will be best enjoyed in its youth for maximum freshness. – 88 Pts
2018 Domaine de Chevalier – Close to opaque in color, the wine is opulent, concentrated, juicy and intense. The fruit comes in layers expanding as it builds in your mouth. Once the juicy blackberry and cherry begins to fade, you'll find licorice, dark cocoa and sweet, salty plums. The finish is everlasting. Olivier Bernard calls this the best vintage of Domaine de Chevalier he has ever produced and he is right! The wine is made from a blend of 65% Cabernet Sauvignon, 30% Merlot and 5% Petit Verdot reaching 13.5% alcohol. 96 – 98 Pts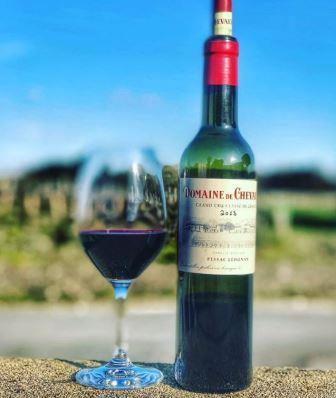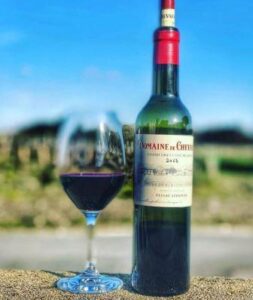 2018 Domaine de Chevalier Blanc – With a blast of crisp, zesty pomelo, floral scents and a full body loaded with crushed rocks, Mandarin oranges, mango and a background of pineapple, this is tasty now — I could not stop drinking it. I can only imagine how good this is going to be with a decade or two of aging! – 96 Pts
2018 Clos Marsalette – Smoky dark red, pit fruits, cedar and wet earth open the nose. On the palate, the wine is medium/full bodied, round, juicy and fruity with a smoked, dark, red berry finish. The wine was made from a blend of 55% Cabernet Sauvignon and 45% Merlot. 92 – 94 Pts
2018 Clos Marsalette Blanc – Vanilla, white peach, honeysuckle and pomelo are front and center and in the finish as well. Drink this young for its sweet, pure fruity character. – 90 Pts
2018 Couhins Lurton – More than just the cherry pipe tobacco nose, you'll also find supple polished, ripe red fruits, soft tannins and a spicy, red fruit-filled finish. 90 – 92 Pts
2018 Couhins-Lurton Blanc – The just squeezed yellow citrus pops with lift, allowing the sweetness to shine through in this forward, medium-bodied, early-drinking wine. – 90 Pts
2018 Ferran – Medium bodied, elegant, ripe, round and forward, the fruit is soft, earthy and polished. Already open and easy to drink, this should be delicious on release. 89 – 91 Pts
2018 Ferran Blanc – Floral and citrus dominate the wine. There is sweetness and juicy lemons but they fade quickly so drink this on the young side. – 87 Pts
2018 deFrance – Medium-bodied, fruity and showing an earthy, leafy, citrus accent, this wine is forward with a delicious, plum and tobacco finish. 90 – 92 Pts
2018 deFrance Blanc – Bright, yellow citrus and white peach are found here from start to finish in this early drinking white Bordeaux charmer. – 88 Pts
2018 Gazin-Rocquencourt – Dark in color, this wine pops with a blackberry, boysenberry, smoke, licorice and espresso nose. Produced by blending 55% Cabernet Sauvignon and 45% Merlot, the full-bodied, juicy, vibrant finish is long, plush and polished. 90 – 92 Pts
2018 Gazin-Rocquencourt Blanc – Bright, juicy and fresh, the florals, mint, yellow citrus and vanilla stand out. On the palate, the wine refreshes with lemon zest, tangerine, vanilla and a drop of honey. – 91 Pts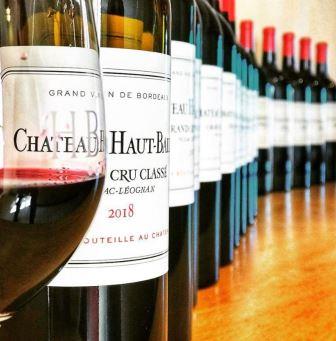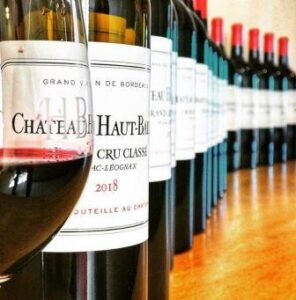 2018 Haut Bailly – With a gorgeous, deep ruby hue, the wine pops from the glass with floral, tobacco and a mélange of fresh fruits. The wine is full bodied, concentrated, powerful and refined but what's more important here is the elegance in the mouth, the sweetness in the fruit and the balanced levels of acidity, giving you simultaneous weight, lift, length and purity in a classic, restrained style. The wine was made from 55% Cabernet Sauvignon, 35% Merlot, 5% Petit Verdot and 5% Cabernet Franc, reaching 14.4% alcohol with a pH of 3.87. The Grand Vin was produced from 50% of the harvest, which took place from September 17 to October 9. 2018 was produced from some of the lowest yields in the history of the estate at 21 hectoliters per hectare. 96 – 98 Pts
2018 Haut Bailly II – Medium bodied, floral, forward, fresh, fruity and juicy with a dark kirsch essence in the finish, you can drink this young while waiting for the Grand Vin to mature. 2018 marks the debut vintage for the newly renamed second wine from Chateau Haut Bailly. 89 – 91 Pts
2018 Haut Bergey – Wet earth, vanilla, espresso, tobacco leaf and ripe, juicy black cherries are all over the place. Lusciously textured with sweet plum and cherry notes, the finish blends Maraschino cherries and espresso bean. 92 – 94 Pts
2018 Haut Bergey Blanc – Honeysuckle, vanilla, bright yellow tropical fruit and citrus notes are in the nose and on the palate. This is going to best if consumed in its first few years of life for all that sweet, ripe, bright citrus. – 90 Pts
2018 Haut Brion – It's rare to find the combination of elegance and power that you'll find in this year's Haut Brion. It's incredibly difficult to produce a wine with this much volume, harmony, balance, complexity and refinement. Once the wine hits your palate, it's impossible not to take another sip just to make sure it wasn't just a dream. The purity in the fruit, the silk in the tannins, the seemingly endless finish paired with the ability to age for decades is all here in spades. A blend of 56% Merlot, 37.5% Cabernet Sauvignon and 6.5% Cabernet Franc with the harvest taking place September 19-October 13. The wine reached 14.6% alcohol with a pH of 3.8 and 50.6% of the harvest was placed into the Grand Vin. 98 – 100 Pts
2018 Haut Brion Blanc – Floral with a strong note of pomelo, Meyer lemon and wax, the wine is sweet, juicy and even a bit honeyed. The large percentage of Sauvignon in the blend offers the pop you need. Made from a blend of 80.6% Sauvignon Blanc and 19.4% Semillon, this is the highest percentage of Sauvignon Blanc in the blend for Haut Brion Blanc. – 98 Pts
2018 Le Clarence de Haut-Brion – It is not often that a second wine truly resembles its big brother or sister but here it does. Delivering all the tobacco leaf, cigar box, red berries and smoke you're looking for in a Pessac Leognan, this is a seriously good wine. The wine was blended from 51.3% Merlot, 33% Cabernet Sauvignon, 13.1% Cabernet Franc and 2.6% Petit Verdot. 92 – 94 Pts
2018 Le Clarte de Haut Brion Blanc – Floral, fresh and fruity with zesty lemons, pomelo and a drizzle of orange honey, this will drink well on release. – 92 Pts
2018 Haut Nouchet – With vineyards very close to Smith, Haut Nouchet has created a medium-bodied wine with a licorice, smoke, tobacco leaf and fruit-filled profile. This should be just about ready to enjoy on release. 88 – 90 Pts
2018 Haut-Vigneau – Spicy, fresh and leafy, this wine is elegant, fresh, open and charming with soft, refined, red fruits at its core. You can drink this on release with pleasure. 86 – 88 Pts
2018 La Garde – Medium bodied, smoky with a touch of licorice, espresso and red fruits, the wine is round juicy and spicy with an olive tint on the palate and in the finish. 88 – 90 Pts
2018 La Garde Blanc – Honeysuckle and pomelo with lemon chiffon on the palate will be perfect with fresh, grilled seafood this summer. – 88 Pts
2018 Liber Pater – The first thing you notice is the distinctive floral character, before you move to the smoke, herb and wet forest aromatics. Medium bodied, fresh, elegant, long and refined, the cocoa dusted, dried red pit fruit character is truly a unique expression of Bordeaux and the vineyard. The wine was produced from a unique blending of 70% Cabernet Sauvignon, 15% Petit Verdot, 11% Castet, 2% Tarnay Coulant and 2% Saint Macaire. The blend represents what you could have found in Bordeaux at the time of the 1855 Classification. The wine is made from some of the lowest yields in Bordeaux at 15 hectoliters per hectare. The wine reached 13.5% alcohol. The wine is not aged in barrel. 100% of the wine is aged in clay amphora for about 30 months before bottling. The purpose for not using oak is to allow for a pure expression of the soil, according to the owner, Loic Pasquet. All of this makes for a truly unique wine tasting experience. The only issue is finding a bottle, as perhaps as little as 1,000 bottles are produced this year. 93 – 95 Pts
2018 La Louviere – Cigar lovers are going to like this wine with all its tobacco essence but so are wine lovers! The darkest vintage ever from La Louviere, the wine is gorgeous. Rich, opulent, soft and vibrant, the fruit is ripe, sweet and spicy. The volume, depth and length here is something I have never seen here before. I'm loving it! 92 – 94 Pts
2018 La Louviere Blanc – Light in color and fruit, the ripe, sweet, yellow citrus is quite juicy but it lacks the length and freshness found in the best vintages. – 89 Pts
2018 La-Mission-Haut-Brion – Take all the power La Mission Haut Brion is capable of harnessing, add the elegance, freshness, purity and layers of complexity that come at you in waves and you have an idea of what to expect in your glass. There is purity of the fruit with a natural smoke, tobacco leaf and burning ember profile in every sip. And the finish, it kept going long after the wine left my glass. Made from 57.5% Merlot and 42.5% and reaching 14.4% alcohol with a pH of 3.76, the harvest took place September 19-October 14. The Grand Vin represents 53% of the harvest. 97-99 Pts
2018 La Mission Haut Brion Blanc – With a strong lemon essence, the crushed rock, oceanic nuances, tropical yellow fruit, honeysuckle and spice cut through. Medium-bodied and lacking the power and freshness found in the best vintages, this wine will be an early drinking vintage for La Mission Haut Brion Blanc. Made from a blend of 57.4% Sauvignon Blanc and 42.6% Semillon. This is only the second time that the blend featured more Sauvignon Blanc than Semillon. – 97 Pts
2018 La Chapelle de La Mission Haut Brion – The smoke, barbecue, flowers, black cherry and tobacco on the nose is just great. On the palate, the wine is rich, fresh, and loaded with tobacco leaf and sweet, dark red fruits and spice. One of the best vintages for La Chapelle de La Mission Haut Brion. It is difficult to believe that this is a second wine! The blend is 42% Cabernet Sauvignon, 36.5% Merlot and 21.5% Cabernet Franc. 92 – 94 Pts
2018 La-Tour-Martillac – Boysenberry, licorice, smoke, black cherry and floral essences open the wine. On the palate, the wine is medium bodied, fresh, bright, sweet and lively, allowing the red fruits and silky tannins to come through easily. Give this at least seven years or so of aging and enjoy it over the following two decades. The wine is a blend of 60% Cabernet Sauvignon, 32% Merlot and 8% Petit Verdot. The harvest took place from September 17-October 10. 92 – 94 Pts
2018 La-Tour-Martillac Blanc – Citrus, flowers and a background note of pineapple show up in the nose. On the palate, this is bright, crisp, forward and juicy. The wine was made blending 54% Sauvignon Blanc and 46% Semillon. – 91 Pts
2018 Lafont Menaut – Soft, elegant, forward and ready to go, this early-drinking charmer from Philibert Perrin of Chateau Carbonnieux is refined and easy to enjoy on release. 87 – 89 Pts
2018 Larrivet Haut Brion – From the initial sniff and sip, this wine is richly textured with sweetness in the fruit. Fresh, silky, medium bodied and energetic, the purity in the tobacco leaf tinged red fruits is just right in the nose, on the palate and throughout the finish. I am sure this is the finest vintage for Larrivet Haut Brion I have ever tasted! This should offer two decades of pleasure with ease. 92 – 94 Pts
2018 Larrivet Haut Brion Blanc – With a nice aromatic profile of grapefruit and lemon, this wine is medium bodied and while it shows good sweetness and some tension, this is not a wine for long term aging. So enjoy it in its youth for all that juicy, yellow citrus fruit. – 91 Pts
2018 Lespault-Martillac – Dark ruby in hue, the wine shows much more lush qualities than usual. Round, supple, deep and fresh, the fruit is dark, silky and pure with an elegance and zip in the fruity finish. This is going to be great on release! 91 – 93 Pts
2018 Lespault-Martillac Blanc – Juicy just squeezed lemon, lime and green apple have a real pop on the palate and in the finish. – 92 Pts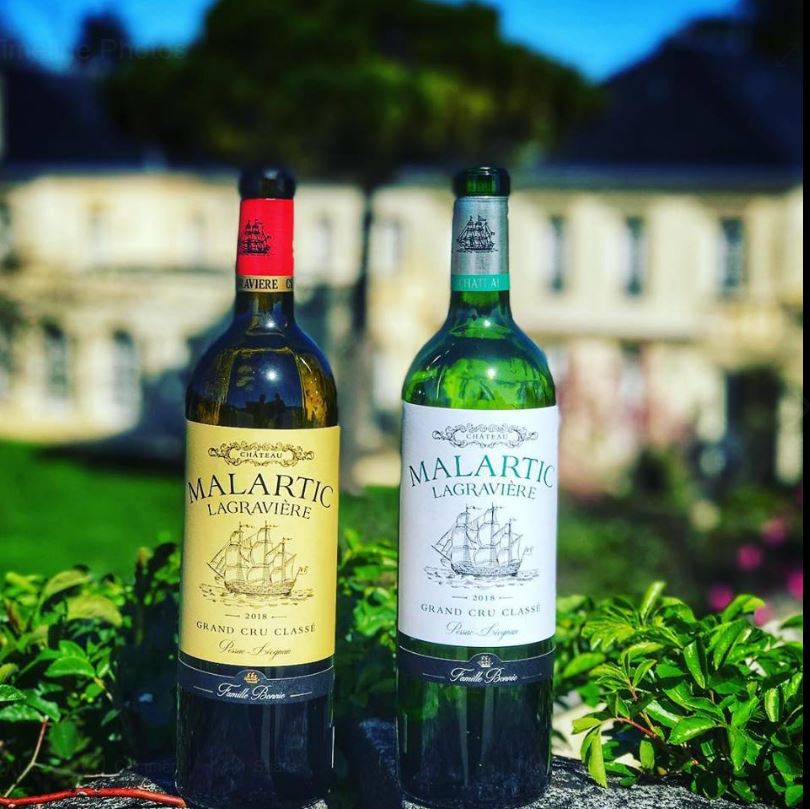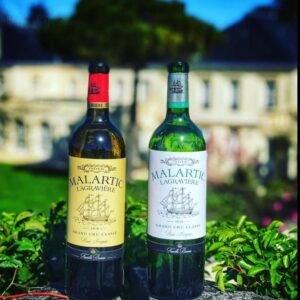 2018 Malartic Lagraviere – Almost opaque in color with violet, purple hues around the rim, the wine is intensely concentrated. Opulent, silky, sexy and dense, the necessary addition of acidity keeps this focused in the right direction. The fruit offers a spectrum of black and red berries, smoky licorice and espresso infused plums. The velvet textured finish comes with lift, energy and length. This is a very polished, seductive expression of the vineyard. Produced from a blend of 57% Cabernet Sauvignon, 36% Merlot, 4% Petit Verdot and 3% Cabernet Franc, the wine reached 13.8% alcohol. Aging will take place in 70% new, French oak barrels for 18-22 months. The harvest took place from September 26 to October 12 and 55% of the harvest was placed into the Grand Vin. 94 – 96 Pts
2018 Malartic Lagraviere Blanc – Crisp, stony, yellow citrus, lemon curd, vanilla and green apple are on the nose and in the palate. The wine has cut, definition and a mineral essence. You'll find juice, sweetness and refreshment with a core of ripe citrus in the finish. The wine is made from a blend of 90% Sauvignon Blanc and 10% Semillon, reaching 13.5% alcohol and will be aged in 55% new, French oak barrels. – 93 Pts
2018 Malartic Lagraviere Reserve de Malartic – Easy to like, and even easier to drink, as it's soft, round, forward, medium-bodied, ripe, smoky and filled with sweet, ripe, red berries. 89-91 Pts
2018 Mejean – Medium-bodied with a nice smoky essence on top of the ripe, red berries, the wine is fresh, earthy and forward. 89-91 Pts
2018 ChateauOlivier – Elegant, medium-bodied and refined, the wine focuses on its tobacco leaf, crème de cassis and floral profile and the silky, fresh textural experience. 90 – 92 Pts
2018 ChateauOlivier Blanc – Juicy, ripe, sweet, fresh, slightly honeyed yellow citrus and bright pineapple with vanilla pop right away on the nose and mouth. – 91 Pts
2018 Le-Pape – Flowery with deep, dark red fruits, what you really notice here is the silky texture. Medium bodied with an elegant, refined character, the cherries show their sweetness, the soft, slightly dusty tannins are polished and the finish is fresh and juicy with just a hint of cocoa in the end note. 2018 marks their 7th vintage here, and things are really coming together now. The wine was produced from a blend of 80% Merlot and 20% Cabernet Sauvignon. 90 – 92 Pts
2018 Pape Clement – Opaque in color with shiny purple accents, the wine is loaded with smoke, tobacco leaf, cigar box and dark red fruits. The wine has depth and concentration but never feels heavy. There is enough acidity here to keep the wine lifted. The velvet tannins in the luxurious finish never feels over-blown this year. This is going to require at least a decade or more and will be worth the wait. The wine was made from blending 66% Cabernet Sauvignon, 30% Merlot and 4% Cabernet Franc. The oak has been dialed back a bit and 5% of the harvest was aged in oak foudres, which helps aid in the freshness. 96 – 98 Pts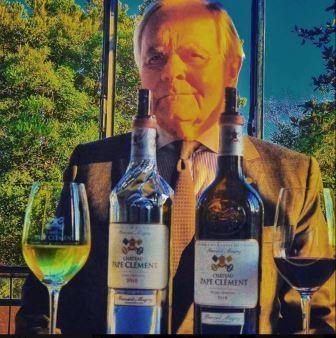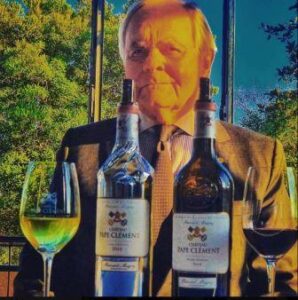 2018 Pape Clement Blanc – A nice blast of pomelo, lemon peel, Mandarin orange, flowers, honeysuckle and vanilla, in a richly-textured, lush style of white Bordeaux. You can drink this fairly close to release. The wine was made from 57% Sauvignon Blanc, 39% Semillon and 4% Muscadelle. – 94 Pts
2018 Le Prelat de Pape Clement Blanc – Forward, bright, juicy and fresh with a nice splash of lemon and pomelo, this is perfect for easy, summer drinking. – 87 Pts
2018 Picque Caillou Blanc – Brighter on the nose than on the palate, this yellow citrus dominated wine will be perfect for early drinking pleasure. – 87 Pts
2018 Picque Caillou – Smoky, round and forward, this easy wine offers tobacco, red berry, espresso and a soft, lush profile. This should be delicious on release. 88 – 90 Pts
2018 Rahoul Blanc – White peach, yellow citrus and a touch of vanilla are offered in a medium bodied forward style, that is perfect for summer drinking. – 87 Pts
2018 Rahoul – Forward, soft, round, and open, with a nice, earthy, red fruit an cocoa filled character, this will be quite easy to enjoy on release. 88 – 90 Pts
2018 Rochemorin – Medium bodied, elegant, fresh, smoky with an espresso, cigar leaf and plumy core of fruit. A few years of age should allow the oak to better integrate. 87 – 89 Pts
2018 Rouillac – Medium bodied with dark, red juicy fruits in a forward style, you can enjoy this crowd pleaser early in life. 86 – 88 Pts
2018 Seguin – The blend of smoke, tobacco and ripe, red fruits with a kiss of oak is perfect for this medium-bodied, soft, fresh styled, elegant Pessac Leognan. Give this 3-4 years in the cellar and it should be quite nice to drink for 15 or more years. 90 – 92 Pts
2018 Smith Haut Lafitte – Opaque in color, just one look tells you this is going to exciting to taste. Licorice, smoke, barbecue, burning campfire embers and black fruits might be the first thing you notic but it is the palate, coated by the layers of sensuous, pure, ripe, velvet textured fruit that really rocks. The wine is creamy, juicy and even with all that fruit — fresh! The finish must last at least 60 seconds as it moves back and forth from red fruit to black fruit several times. There is serious competition for the best vintage ever from Smith Haut Lafitte, as there have been so many great vintages here but clearly 2018 is in contention for the top title. The wine was made from a blend of 60% Cabernet Sauvignon, 34% Merlot, 4% Cabernet Franc and 2% Petit Verdot, reaching 14.25% alcohol with a pH of 3.7. The harvest took place August 24-September 17, which is quite early for Smith Haut Lafitte. 2018 is a low yield vintage here at only 21 hectoliters per hectare due to hail and issues with mildew. 97 – 99 Pts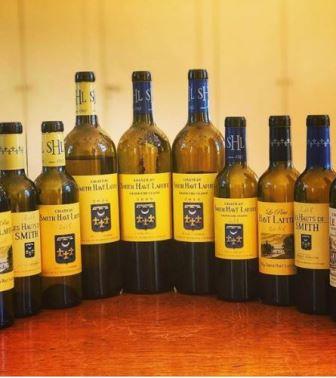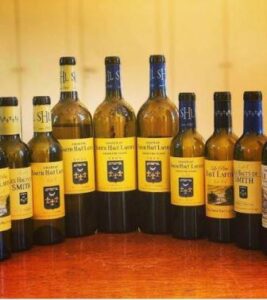 2018 Smith Haut Lafitte Blanc – White peach, flowers, honeysuckle, lemons, pomelo and Granny Smith apples with just a touch of honey are on the nose and palate. The finish adds pears, vanilla and almond with traces of vanilla bean to round things out. The wine was produced from a blend of 90% Sauvignon Blanc, 5% Sauvignon Gris and 5% Semillon. – 94 Pts
2018 Le Petit Haut Lafitte – Bay leaf, scorched earth, black raspberry, blackberry, licorice, vanilla and smoke weave an arousing aromatic profile. The wine is concentrated, rich, silky and with good density of flavor. The fruit is ripe, soft and polished with freshness, blackberries dipped in chocolate, licorice and toast in the finish. I am quite certain this is the best vintage of Le Petit Haut Lafitte ever produced! The wine is made from a blend of 60% Cabernet Sauvignon and paired with 40% Merlot. 91 – 93 Pts
2018 Le Petit Haut Lafitte Blanc – Fresh, juicy lemons with a shot of orange on the nose and palate make for perfect, near term, summery drinking. – 88 Pts
2018 Les Hauts de Smith – Wet earth, cigar box and herbs are all over the place. Supple, rich with a strong shot of smoke, dark red fruits, licorice and espresso bean on the palate, this wine is perfect for restaurants, which is what the production is vinified for. The wine was made from a blend of 60% Merlot and 40% Cabernet Sauvignon. 91 – 93 Pts
2018 Les Hauts de Smith Blanc – Bright, yellow citrus blended with juicy, green apples hits the spot. If you are seeking a fresh, easy-to-like white Bordeaux, this is your wine. – 90 Pts
2018 Domaine de la Solitude – Medium-bodied, elegant, soft, polished and silky with its background notes of dark cocoa, olive and black cherry, this is going to offer great drinking on release. 89 – 91 Pts
2018 Domaine de Solitude Blanc – Fresh squeezed lemons and pomelo with peppy freshness and a jolt of lemon rind in the bright finish is what you will find here. You can drink this on release with pleasure. – 89 Pts
2018 Le Thil Comte Clary – Dark, juicy, floral and fruity, this wine is sweet, quite ripe and loaded with silky, polished tannins, layers of black plum, licorice, mint and cocoa. Opulent in nature, this is already a wine of pleasure and it is only a barrel sample. Give it a few years in the cellar and it is going to be delicious to drink. The wine was produced from 95% Merlot and 5% Cabernet Franc. 90 – 92 Pts