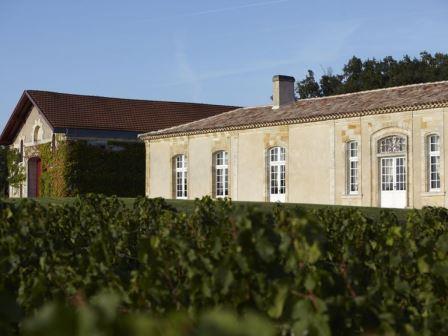 Learn everything about Chateau La Garde Pessac Leognan with wine tasting notes and wine with food pairing tips. Learn the best vintages, a history of the property and information on the vineyards and winemaking. If you want to read about other important, Bordeaux Chateaux: Links to all Bordeaux Wine Producer Profiles
Chateau La Garde History, Overview
Chateau La Garde has a long history in what was then known as the Graves region, In fact, Chateau La Garde dates back to at least 1732, when the chateau was built. The property was sold multiple times eventually passing from the Lacoste family, (who gave their name to the Pauillac estate, Chateau Grand Puy Lacoste) to the Eschenauer family.
During the period of the 1950s and 1960s, the wines were sold under the name of Clos La Garde. However, the modern era for Chateau La Garde begins in 1990, when it was purchased by the Dourthe group. The Dourthe group owns several vineyards in Bordeaux. They are also one of the more powerful, successful negociants with their CVGB company.
In 2022, a full renovation of Chateau La Grade was completed. Now, in the cellar, you find all gleaming, stainless steel, truncated, and reverse conical vats. Plus the cellar has been configured with much smaller vats allowing for a true parcel by parcel vinification.
Chateau La Garde Vineyards, Terroir, Grapes, Winemaking
The large, 53-hectare vineyard of Chateau La Garde is planted to 62% Merlot, 31% Cabernet Sauvignon, 5% Cabernet Franc and 2% Petit Verdot for the red wine grapes. That is the majority of the vineyard, as you will see.
For the white wine, 3 hectares of vines have been reserved for white wine grapes which are planted to 85% Sauvignon Blanc and 15% Semillon. All of their Sauvignon Gris has been removed and replaced by Sauvignon Blanc and Semillon.
The vineyard averages about 25 years for the vines. The vine density is quite high, with some plantings as dense as 14,000 vines per hectare. The terroir is gravel with clay soils for most of the vineyard. There is a smaller parcel of vines with a cooler terroir and a bigger proportion of limestone which is where the grapes for the white wines are planted.
To produce the wine of Chateau La Garde, the red wine is whole berry fermented in temperature-controlled, stainless steel vats. Malolactic fermentation takes place in tanks. The wine is aged in 35% new, French oak barrels for between 12 and 15 months.
The white wine of Chateau La Garde is vinified in barrels. Malolactic fermentation takes place in barrels. After malolactic fermentation, the lees are removed and placed in tanks for one month, before being returned to any barrel that is deemed light. The wine is aged in 15% new, French oak barrels for 10 months.
There is a second wine, La Terrasse de La Garde. The average annual production of Chateau La Garde is close to 14,000 cases per year.
The best vintages of Chateau La Garde France are: 2022, 2021, 2020, 2019, 2018, 2017, 2016, 2015, 2014, 2012, 2010, 2009 and 2005. Although it is important to note that there are vintages when the red wine is much better than the white wine, as well as years when the whites are better than the reds.
When to Drink Chateau La Garde, Anticipated Maturity, Decanting Time
Chateau La Garde can be enjoyed on the young side with decanting. Young vintages can be decanted for an average of 1 hour or so. This allows the wine to soften and open its perfume. Older vintages might need very little decanting, just enough to remove the sediment.
Chateau La Garde is usually better with at least 3-6 years of bottle age. Of course, that can vary slightly, depending on the vintage character. Chateau La Garde offers its best drinking and should reach peak maturity between 6-15 years of age after the vintage.
Serving Chateau La Garde, with Wine, Food, Pairing Tips
Chateau La Garde is best served at 15.5 degrees Celsius, 60 degrees Fahrenheit. The cool, almost cellar temperature gives the wine more freshness and lift. The red wine of Chateau La Garde is best served with all types of classic meat dishes, veal, pork, beef, lamb, duck, game, roast chicken, roasted braised, and grilled dishes.
Chateau La Garde is a perfect match with Asian dishes, hearty fish courses like tuna, mushrooms, and pasta as well as cheese. The white wine of Chateau La Garde is a perfect wine to serve with shellfish, sashimi, sushi, all types of seafood, chicken, veal, and cheese.
Château La Garde Wine Tasting Notes
20 Vintages 61,611 Views Sort by Vintage-Rating
2021
Château La Garde Blanc (Pessac-Léognan)

Bright yellow citrus, vanilla, grapefruit and lime create the sublime aromatic profile. Crisp, juicy, fresh and sweet, with the perfect dab of honey of top of the fresh yellow fruits that works perfectly. Drink from 2023-2031. 92-92

1,225 Views

Tasted

May 20, 2022

2020
Château La Garde (Pessac-Léognan)

Medium-bodied, fresh, energetic, chewy red fruits with chalky tannins and additional nuances of currants, cocoa, spice, smoke and green, leafy herbs, give this a year or so to soften and fill out, and it will deliver a lot of pleasure for 15 or more years after that. Drink from 2024-2040.

552 Views

Tasted

Mar 21, 2023

The nose, with its combination of smoke, tobacco and red fruits leads you to a medium-bodied, fresh, fruity, forward, soft wine with a tobacco laden, core of chewy, red fruits and espresso from start to finish. Give this a few years in the cellar to develop more nuance and soften and it should be an even better wine. 89-91 Pts

1,524 Views

Tasted

May 20, 2021

2020
Château La Garde Blanc (Pessac-Léognan)

Lemon peel, grapefruit, green apples and tangy yellow citrus combine to create a bright, energetic blast of citrus and spice that is fresh and refreshing. 91 Pts

2,930 Views

Tasted

Jun 3, 2021

2019
Château La Garde (Pessac-Léognan)

Tobacco, truffle, coffee bean and mushroom come along with the ripe, red fruits on the nose. Medium-bodied, polished, soft and fresh with a chewy, there is a touch of olives and herbs on the backend. Give this a few years to come together and it will be quite nice to imbibe. Drink from 2024-2034.

1,247 Views

Tasted

Mar 29, 2022

With a deep, ruby color, you find smoke, cigar box and red fruits with a hint of spice and earth on the nose. Medium-bodied and soft, with sweet, round red fruits on the palate, with just a hint of cocoa at the backend, give this a few years in the cellar. 89-91 Pts

2,445 Views

Tasted

Jun 8, 2020

2019
Château La Garde Blanc (Pessac-Léognan)

Waxy lemon and grapefruit along with a touch of spice and spearmint come through easily on the nose and fresh, lemon-centric finish. You can enjoy this on release. Drink from 2022-2028.

717 Views

Tasted

Mar 29, 2022

Tangy, zesty and fresh with a bright, waxy lemon and grapefruit core of fruit on the nose and palate finishes nicely with an additional complexity of pineapple and orange zest. 91

2,888 Views

Tasted

Jun 8, 2020

2018
Château La Garde (Pessac-Léognan)

Round, fruity, soft and fresh with a spicy, tobacco laden, core of rich, chewy, red fruits and espresso from start to finish. Give this a few years in the cellar to develop more nuance and soften and it should be an even better wine.

1,762 Views

Tasted

Mar 9, 2021

Medium bodied, smoky with a touch of licorice, espresso and red fruits, the wine is round juicy and spicy with an olive tint on the palate and in the finish. 89-91 Pts

2,585 Views

Tasted

Apr 19, 2019

2018
Château La Garde Blanc (Pessac-Léognan)

Honeysuckle and pomelo with lemon chiffon on the palate will be perfect with fresh, grilled seafood this summer.

1,556 Views

Tasted

Apr 19, 2019

2017
Château La Garde Blanc (Pessac-Léognan)

Freshly squeezed grapefruit, honeysuckle and vanilla pop right out of the glass. The wine is fresh, crisp and refreshing.

1,963 Views

Tasted

Apr 26, 2018

2017
Château La Garde (Pessac-Léognan)

Herbal notes with olives and fresh red fruits are found here. This medium-bodied wine offers soft tannins and an elegant finish that should drink well on release.

1,946 Views

Tasted

Apr 26, 2018

2016
Château La Garde (Pessac-Léognan)

Smoky red fruit, olive tapenade and earthy notes work well with the medium bodied, soft, elegant, silky smoke and tobacco finish. This is the best vintage of La Garde ever produced. Drink it on release or age it.

2,950 Views

Tasted

Sep 21, 2019

Soft, sweet, dark red fruits, earth and black cherries. The wine is sweet, fruity and fleshy with an open, dark, red fruit filled finish, with just a hint of peppery spice in the end note.

3,744 Views

Tasted

Apr 29, 2017

2016
Château La Garde Blanc (Pessac-Léognan)

Waxy lemon and grapefruit on the nose is coupled with nutty pineapple notes in the round finish. Drink this on the young side.

1,970 Views

Tasted

Apr 29, 2017

2015
Château La Garde (Pessac-Léognan)

Forward, fresh, earthy, dark cherry-filled wine with additional nuances of smoke, coffee and tobacco leaf on the nose and palate. Just a year or two will bring on more secondary character here.

3,615 Views

Tasted

Sep 23, 2019

2014
Château La Garde Blanc (Pessac-Léognan)

Bright, fresh, forward and loaded with sweet, juicy, citrus and lemon peel, along with a touch of honey suckle, the wine is crisp and refreshing.

1,930 Views

Tasted

Mar 29, 2017

2014
Château La Garde (Pessac-Léognan)

Medium-bodied, bright, crisp, earthy, classicly styled wine which is better on the smoked cherry, tobacco leaf and herb-filled nose than on the bright, red currant palate.

1,875 Views

Tasted

Aug 24, 2020

2012
Château La Garde (Pessac-Léognan)

Medium bodied, fresh, early drinker with a spicy, smoky, earthy, red fruit character and a soft, ready to go finish. You can enjoy this young.

4,212 Views

Tasted

Apr 7, 2016

2011
Château La Garde Blanc (Pessac-Léognan)

This wine features good acidity and notes of fresh honeydew, lemon and grapefruit with a refreshing citrus finish. 87-88 Pts

1,521 Views

Tasted

Apr 25, 2012

2011
Château La Garde (Pessac-Léognan)

Earth, red berries, cassis and spice are present in this medium-bodied wine with a tannic, cassis-filled finish. 85-87 Pts

3,917 Views

Tasted

Apr 25, 2012

2010
Château La Garde (Pessac-Léognan)

La Garde Utilizing 62% Merlot, 33% Cabernet Sauvignon, 3% Cabernet Franc and 2% Petit Verdot, with a perfume of smoky blackberries and soil, this medium bodied wine offers round textures and finishes with a cassis and a hint of chocolate. This wine should offer pleasure early. 87-89 Pts

4,053 Views

Tasted

Apr 21, 2011

2009
Château La Garde (Pessac-Léognan)

Easy drinking, smoky, polished, soft red and dark red fruits with hints of oak, this is a wine to drink on the young side.

5,021 Views

Tasted

May 7, 2014

2005
Château La Garde (Pessac-Léognan)

Ready to drink charmer, round in texture and medium bodied, with a smoky, cherry, thyme, coffee and earthy essence. Popped and poured was all it needed.

3,463 Views

Tasted

Oct 22, 2016