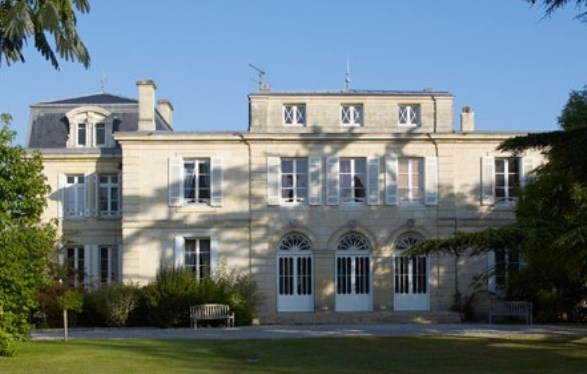 Learn everything about Chateau Belgrave Haut Medoc, Fifth Growth with wine tasting notes and wine and food pairing tips. Learn the best vintages, a history of the property, information on the vineyards and winemaking. If you want to read about other important, Bordeaux Chateaux: Links to all Bordeaux Wine Producer Profiles
Chateau Belgrave History, Overview
Chateau Belgrave started out life under the name of Chateau Coutenceau. The name changed to Chateau Belgrave in the early part of the 20th century. Stepping back in time, as you will see, what we know of as Chateau Belgrave was not always a vineyard. In fact, under King Louis XIV, it was originally used as a hunting lodge.
The artwork on the label is to remind you that in its past, the estate was used as a hunting lodge. The modern era for Chateau Belgrave began when it was renamed by an English owner that was living in Belgravia, London. As you can see, the home in England became the inspiration for the name Chateau Belgrave.
Chateau Belgrave is situated in Haut Medoc, just west of Beychevelle in St. Julien. It is also next door to Chateau Lagrange, which is also in St. Julien. Just a few meters further and it could have been in St. Julien.
The Left Bank chateau is managed by Dourthe, who is owned by the large negociant CVGB. Dourthre began leasing Chateau Belgrave in 1979. The lease was renegotiated in 2000. This allowed Dourthe to maintain control of the estate until at least 2025.
The wine-making facilities of Chateau Belgrave were renovated in 2004, allowing for more of a parcel by parcel approach to vinification.
Starting in 1990, they changed their farming techniques for Chateau Belgrave, moving closer to a cleaner form of vineyard management with the elimination of all chemical fertilizers and limiting the use of pesticides, along with harvesting riper fruits and seeking lower yields. In 1993, a major renovation of the wine-making facilities and cellars took place.
Chateau Belgrave Vineyards, Terroir, Grapes, Winemaking
The large, 59-hectare, vineyard of Chateau Belgrave is planted to 46% Merlot, 46% Cabernet Sauvignon, 4% Cabernet Franc and 4% Petit Verdot. This represents a change in the vineyard, with more Merlot vines being added.
The plan is to continue to slowly phase out the remaining Cabernet Franc vines over time. The terroir is deep gravel with clay, sand, and limestone deposits in the soils. The vineyard is inland, on two sloping hillsides, next to Chateau Lagrange in St. Julien. At its peak, the elevations rise to 26 meters.
The vineyard is planted to a vine density that ranges from 6,500 vines per hectare up to 10,000 vines per hectare, depending on the parcel. The vineyard is in one large, single block of vines, which are contiguous and close to the chateau.
The wine of Chateau Belgrave is vinified in a combination of temperature-controlled vats of stainless steel and wood vats. This breaks down to 33 stainless steel tanks and 6 oak vats. The wine of Chateau Belgrave is aged in 40% to 60% new, French oak barrels, depending on the character and style of the vintage. Chateau Belgrave is consulted by Michel Rolland.
On average, Chateau Belgrave produces close to 20,000 cases of Bordeaux wine per year. They also make a second wine, Diane de Belgrave which made its debut in 1978. Close to 8,500 cases per year are produced of the second wine. The second wine, Diane de Belgrave, takes its name from Diane, the Goddess of hunting, as an homage to the estate's past, when it was used as a hunting lodge in its formative years.
The best vintages of Chateau Belgrave are: 2022, 2021, 2020, 2019, 2018, 2017, 2016, 2015, 2012, 2010, 2009 and 2005.
When to Drink Chateau Belgrave, Anticipated Maturity, Decanting Time
Chateau Belgrave needs some time before it can be enjoyed. Young vintages can be decanted for an average of 1-2 hours, give or take. This allows the wine to soften and open its perfume. Older vintages might need very little decanting, just enough to remove the sediment.
Chateau Belgrave is usually better with at least 6-9 years of bottle age. Of course, that can vary slightly, depending on the vintage character. Chateau Belgrave offers its best drinking and should reach peak maturity between 6-15 years of age after the vintage.
Serving and Decanting Chateau Belgrave, with Wine, Food, Pairing Tips
Chateau Belgrave is best served at 15.5 degrees Celsius, 60 degrees Fahrenheit. The cool, almost cellar temperature gives the wine more freshness and lift. The red wine of Chateau Belgrave is best served with all types of classic meat dishes, veal, pork, beef, lamb, duck, game, roast chicken, roasted, braised, and grilled dishes.
Chateau Belgrave is a perfect match with Asian dishes, hearty fish courses like tuna, mushrooms, and pasta as well as a myriad of hard and soft cheeses.
Château Belgrave Wine Tasting Notes
19 Vintages 90,059 Views Sort by Vintage-Rating
2022
Château Belgrave (Haut-Médoc)

Black currants, chocolate, licorice and espresso fill the perfume. On the palate, the wine is fresh, sweet, creamy and polished. The tannins are soft, the fruit is sweet, and pure, with ample lift in the finish. This is the best vintage of Belgrave I have ever tasted! Drink from 2026-2042. 92-94 Pts.

538 Views

Tasted

May 8, 2023

2021
Château Belgrave (Haut-Médoc)

Dark currants, savory herbs and espresso fill your nose and palate. Medium-bodied, forward, round and fruity with a dash of chocolate in the plummy endnote, you can enjoy this with pleasure on release. Drink from 2023-2037. 89-91

1,063 Views

Tasted

May 20, 2022

2020
Château Belgrave (Haut-Médoc)

Round, supple, fresh and chewy, the core here is focused on its center of sweet cassis, chocolate, freshness and vibrant finish. Drink from 2024-2038.

403 Views

Tasted

Mar 21, 2023

Medium-bodied, fresh, crisp, juicy and savory, with a nice chewy quality to the medium-bodied, sweet, ripe fruits on the palate and in the finish, this should age and develop quite nicely. 90-92 Pts

1,357 Views

Tasted

May 20, 2021

2019
Château Belgrave (Haut-Médoc)

Flowers, tobacco leaf, plums, smoke, espresso and cassis create the complex aromatic profile. On the palate, the wine is fresh, crisp, juicy and loaded with sweet, black and red berries with a spicy kick and a touch of coffee bean in the round, supple-textured finish. This could be the best Belgrave I have ever tasted. Drink from 2024-2039.

1,923 Views

Tasted

Mar 29, 2022

Dark in color, you find all the tobacco, cigar box, wet earth, cedar and peppery scents needed to create the nose. On the palate, the wine is full-bodied, round and fresh, delivering a boatload of ripe, juicy blackberries and cassis. This is a supple-styled Belgrave that one should age for at least 5-7 years and enjoy over the next 15-20 years with ease. 91-93 Pts

5,386 Views

Tasted

Jun 8, 2020

2018
Château Belgrave (Haut-Médoc)

Clearly a contender for the best wine ever produce here, the wine is round, full-bodied, fresh and filled with currants, thyme, forest leaf and tobacco. The wine has depth of flavor and a big blast of sweet, chewy fruits on the palate and in the end note. You should age this for at least 5 years and enjoy it over the next 15-20 years with ease.

2,096 Views

Tasted

Mar 9, 2021

Inky in color, the nose pops with flowers, spice, black currant, tobacco leaf and espresso. Forward in style, the wine is medium bodied, supple, fresh and shows generosity in the ripe fruit filled finish. The wine was made from a blend of 68% Cabernet Sauvignon, 30% Merlot and 2% Petit Verdot. You should age this for at least 5-7 years and enjoy it over the next 15-20 years with ease. 91-93 Pts

4,980 Views

Tasted

Apr 19, 2019

2017
Château Belgrave (Haut-Médoc)

Forward in style, the wine is medium bodied, fresh and fruity with a sense of brightness in the earthy, red berry finish. The wine was made from a blend of 88% Cabernet Sauvignon, 12% Merlot and 3% Petit Verdot.

3,518 Views

Tasted

Apr 26, 2018

2016
Château Belgrave (Haut-Médoc)

A top year for Belgrave, the is loaded with ripe blackberries, licorice and tobacco leaf notes. Medium/full bodied, with freshness and a bright, spicy, leafy, red berry finish.

2,971 Views

Tasted

Feb 11, 2019

Deep in color with licorice, cigar box and blackberry, this wine has plenty of crisp, sweet, dark red fruits and tannins in the finish – clearly a contender for the best vintage Belgrave has ever produced.

4,507 Views

Tasted

Apr 29, 2017

2015
Château Belgrave (Haut-Médoc)

Medium-bodied, fresh, bright, crisp, and a bit stoic, with a focus on its core of vibrant red berries, herbs, leaf, and spice, with a touch of cocoa in the endnote. Drink from 2022-2032.

3,658 Views

Tasted

Jul 11, 2022

Firm, classic and serving up, fresh, crunchy, red fruits, cassis and cranberry, with tobacco and spice, this blend of 74% Cabernet Sauvignon, 23% Merlot, and 3% Petit Verdot finishes with dusty tannins and crisp red fruit in the end notes. 88 – 90 Pts

2,802 Views

Tasted

Apr 26, 2016

2014
Château Belgrave (Haut-Médoc)

Boasting dark fruits and firm tannins, this wine has a forward personality filled with smoke, tobacco, black cherry, earth and cassis. 89-91 Pts

4,694 Views

Tasted

Apr 21, 2015

2013
Château Belgrave (Haut-Médoc)

Lean, bright red fruits are accompanied by spice and coffee in this forward wine. 84-86 Pts

3,747 Views

Tasted

Apr 23, 2014

2012
Château Belgrave (Haut-Médoc)

Medium bodied, with red plums and cherry fruits, the wine offers a light, currant and herb finish. 87-89 Pts

6,855 Views

Tasted

Apr 23, 2013

2011
Château Belgrave (Haut-Médoc)

Produced from 60% Cabernet Sauvignon, 35% Merlot and 5% Cabernet Franc. Spice, cedar, cranberry and cassis scents, soft and approachable, this medium-bodied, tannic wine ends with bright crème de cassis. 86-88 Pts

3,426 Views

Tasted

Apr 8, 2012

2010
Château Belgrave (Haut-Médoc)

Belgrave uses 52% Merlot, 41% Cabernet Sauvignon, 4% Petit Verdot and 3% Cabernet Franc in this vintage. Stone, cassis and hints of pepper in the nose, full-bodied with ripe tannins, structure to age and a blackberry filled finish. 89-91 Pts

6,188 Views

Tasted

Apr 21, 2011

2009
Château Belgrave (Haut-Médoc)

Packed with spicy, black and red fruits with mineral elements, this fleshy, soft textured wine, offers a fresh, black cherry and spice filled finish. 89 Pts

5,001 Views

Tasted

Jan 26, 2012

2008
Château Belgrave (Haut-Médoc)

Firm, bright, lean, medium-bodied, crisp and herbal, this is better on the earthy, cranberry, cedar and tobacco nose than on the austere, cool, crunchy palate.

2,706 Views

Tasted

Aug 11, 2020

2006
Château Belgrave (Haut-Médoc)

Medium bodied, stern, crisp, classic styled wine with crunchy, red fruits, dusty tannins and an austere finish.

4,358 Views

Tasted

May 25, 2016

2005
Château Belgrave (Haut-Médoc)

Slightly better on the nose with its smoky, blackberry, earth and tobacco character, than on the palate, due to the rustic tannins, in the crisp, fresh, finish.

3,793 Views

Tasted

Jun 27, 2015

Black raspberry, cherry, earth, tobacco and fresh herbs in nose, medium bodied, soft in texture, the wine finishes with a bright, dark cherry and red fruit sensation.

6,986 Views

Tasted

Jan 2, 2012

2004
Château Belgrave (Haut-Médoc)

Close to mature, the mid-weight wine offers secondary, tobacco, cedar and leafy notes along with bright, fresh red berries and tobacco. You can drink this now and over the next 6-8 years.

4,169 Views

Tasted

Dec 3, 2018

2000
Château Belgrave (Haut-Médoc)

Slightly past fully mature, drink this sooner than later for the remaining, earthy, tobacco and bright, red fruit character.

2,934 Views

Tasted

Oct 22, 2016