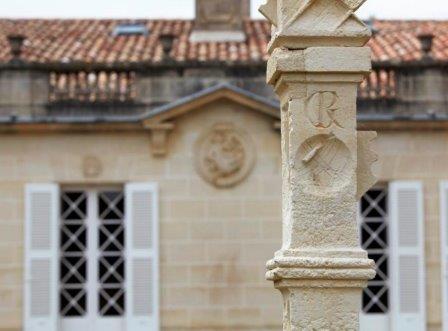 Learn everything about Chateau Rahoul Graves, with wine tasting notes and wine with food pairing tips. Learn the best vintages, a history of the property, information on the vineyards and winemaking. If you want to read about other important, Bordeaux Chateaux: Links to all Bordeaux Wine Producer Profiles
Chateau Rahoul History, Overview
Chateau Rahoul has a long history in the Graves region that dates back to the mid 1600's. The estate takes its name from Guillaume de Rahoul, who owned the vineyard during the mid 17th century until the French Revolution.
However, the birth of the modern era for Chateau Rahoul starts in 1971 when the property was purchased by David Robson. At the time, the vineyards were almost non existent, having fallen into poor condition. David Robson began the arduous and expensive task of cultivating the vineyard. It was under the direction of David Robson that Chateau Rahoul started bottling and marketing their wine as well.
In 1983, a new owner took over the property, Lothar Dahl. Under his direction, the estate became one of the first properties in the Graves region to begin to vinify the wines in barrel, similar to what had been taking place in Burgundy for centuries.
So, while this was not new to any Burgundians, this was quite surprising for a property in Bordeaux to be doing this. Starting with the 2007 vintage, the popular negociant, CVGB entered into a long term agreement with the owner, Alain Thienot to produce, market and sell the wines of Chateau Rahoul through their Dourthe group.
Chateau Rahoul Vineyards, Terroir, Grapes, Winemaking
The 42 hectares vineyard of Chateau Rahoul has 38.5 hectares are planted to 70% Merlot, 27% Cabernet Sauvignon and 3% Petit Verdot for the red wine grapes. For the white wine grapes, 3.5 hectares of vines are planted to 78% Semillon and 15% Sauvignon Blanc and 7% Sauvignon Gris.
For the red wine grape varieties, the terroir is gravel, sand and clay soils. The red wine of Chateau Rahoul is vinified in stainless steel tanks. Malolactic fermentation takes place in a combination of stainless steel vats and French oak barrels. The wine is aged in 25% new, French oak barrels for 12 months before bottling.
For the white wine grapes, the terroir is gravel, sand and clay soils. The wine is vinified entirely in barrel. The white wine of Chateau Rahoul is aged on its lees in 20% new, French oak barrels for an average of 8-9 months before bottling.
Even though the estate produced a lot more red wine than white wine, I find Chateau Rahoul Blanc to be the more interesting wine. There are 2 second wines, L'Orangerie de Rahoul Rouge and Chateau La Garance Blanc.
The Best Vintages of Chateau Rahoul are: 2020, 2019, 2018, 2017, 2016, 2015, 2012, 2010, 2009, 2008, 2006 and 2005. Although it is important to note that vintages can vary as to their quality between the white wine and the reds with as in some years, the reds are markedly better and in other vintages the whites are superior.
When to Drink Chateau Rahoul, Anticipated Maturity, Decanting Time
Chateau Rahoul can be enjoyed on the young side with decanting. Young vintages can be decanted for an average of 1 hour, or so. This allows the wine to soften and open its perfume. Older vintages might need very little decanting, just enough to remove the sediment.
Chateau Rahoul is usually better with at least 3-4 years of bottle age. Of course that can vary slightly, depending on the vintage character. Chateau Rahoul offers its best drinking and should reach peak maturity between 4-9 years of age after the vintage.
Serving Chateau Rahoul, with Wine, Food, Pairing Tips
Chateau Rahoul is best served at 15.5 degrees Celsius, 60 degrees Fahrenheit. The cool, almost cellar temperature gives the wine more freshness and lift. The red wine of Chateau Rahoul is best served with all types of classic meat dishes, veal, pork, beef, lamb, duck, game, roast chicken, roasted, braised and grilled dishes.
Chateau Rahoul is a perfect match with Asian dishes, hearty fish courses like tuna, mushrooms and pasta as well as cheese.
The white wine of Chateau Rahoul is a perfect wine to serve with shellfish, sashimi, sushi, all types of seafood, chicken, veal and cheese.
Château Rahoul Wine Tasting Notes
14 Vintages 27,130 Views Sort by Vintage-Rating
2020
Château Rahoul (Graves)

Medium-bodied, soft and silky, with a core of sweet, perfect ripe, elegant, smoked red fruits and tobacco leaf nuances, this is going to be even better with a few years of age. 89-91 Pts

1,025 Views

Tasted

May 20, 2021

2020
Château Rahoul Blanc (Graves)

Lemon, grapefruit and green apple nuances are all over the place here. The wine is sweet, fresh, creamy and crisp with a blast of juicy Meyer lemon rind in the zesty finish. This is already showing just great. 90 Pts

972 Views

Tasted

May 20, 2021

2018
Château Rahoul (Graves)

Earthy, spicy, bright red fruits with accents of tobacco and cedar open nicely before you get to the medium-bodied core of red fruits on the mid-palate and soft textured finish. This will be quite easy to enjoy on release. 89 Points

777 Views

Tasted

Mar 9, 2021

Forward, soft, round, and open, with a nice, earthy, red fruit and cocoa filled character, this will be quite easy to enjoy on release. 88-90 Pts

3,156 Views

Tasted

Apr 19, 2019

2018
Château Rahoul Blanc (Graves)

Fresh, grapefruit, yellow citrus and green apple packed wine with hints of vanilla and flowers that is already tasting just great. 89 Points

753 Views

Tasted

Mar 9, 2021

White peach, yellow citrus and a touch of vanilla are offered in a medium bodied forward style, that is perfect for summer drinking. 87 Points

1,332 Views

Tasted

Apr 19, 2019

2017
Château Rahoul Blanc (Graves)

Lemon peel, white peach and floral scents are paired with just squeezed citrus. A crisp personality makes this a great summer white wine. 89 Points

1,523 Views

Tasted

Apr 26, 2018

2017
Château Rahoul (Graves)

Leafy forest notes and red fruits combine well here. This wine is fresh, bright, polished, open and easy to drink with a candied red fruit character. 85 Points

1,654 Views

Tasted

Apr 26, 2018

2016
Château Rahoul Reserve de la Balguerie (Graves)

Medium-bodied, fresh, leafy and smoky, the wine is forward, an earthy, red berry character, soft textures and already open character. 87 Points

1,679 Views

Tasted

Sep 21, 2019

2016
Château Rahoul (Graves)

Medium bodied, there is a smoky, earthy quality to the red fruits. The wine is quite sweet and tastes a bit forced for the vintage. 84 Points

2,267 Views

Tasted

Apr 29, 2017

2016
Château Rahoul Blanc (Graves)

Honeysuckle, citrus, and pomelo fruits are what you'll find in this forward, round, easy drinking, seemingly, slightly sweet wine. 84 Points

1,747 Views

Tasted

Apr 29, 2017

2015
Château Rahoul Blanc (Graves)

Crisp, bright, fresh blend of grapefruit, green apple and lemons, with a hint of honeysuckle and a zesty, medium bodied, yellow citrus finish. This is a wine to drink now and over the next few years. 89 Points

1,067 Views

Tasted

Feb 9, 2019

2015
Château Rahoul (Graves)

Medium-bodied, forward, easy to drink, round, soft, approachable, red berry, earth and tobacco leaf filled wine for near term enjoyment. 87 Points

2,880 Views

Tasted

Dec 9, 2019

2014
Château Rahoul (Graves)

Medium bodied, correct, uncomplicated, forward, slightly oaky wine, with clean, light, red fruits, that are made better by hints of tobacco leaf. This is already approachable. 86 Points

1,907 Views

Tasted

Dec 10, 2017

2013
Château Rahoul Blanc (Graves)

All that fresh squeezed grapefruit, honeysuckle and lemon peel give this wine a blast of fresh, refreshing, crispness and a touch of French vanilla. Forward in style, this will be best on young side. 90 Points

2,130 Views

Tasted

Jan 7, 2017

2012
Château Rahoul (Graves)

Simple, uncomplicated, easy drinking quaffer, without faults, and a hint of tobacco over its red berry fruit. This is a wine for drinking in its first years of life. 84 Points

2,261 Views

Tasted

Dec 12, 2017