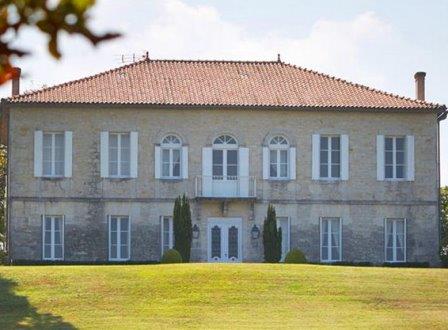 Learn everything about Chateau Reysson Haut Medoc with wine tasting notes and wine-with-food pairing tips. Learn the best vintages, the history of the property, and information on their vineyards and winemaking. If you want to read about other important, Bordeaux Chateaux: Links to all Bordeaux Wine Producer Profiles
Chateau Reysson History, Overview
What we know of today as Chateau Reysson has a long history in the Medoc that can be dated back to the days of the ancient Romans. Over the years, ancient ruins have been dug up on the grounds of the estate. Jumping ahead two thousand years or so, Chateau Raysson as it was known in those days was already known as a wine-producing estate in the early 1800s.
However, the modern era for the Reysson vineyard begins in 2001, when the large negociant CVBG and the Dourthe group agreed to manage Chateau Reysson for the owners, The Mercian Company 2001. The Mercian Group, which purchased the vineyard in 1998, is a massive Japanese wine and spirits company. In 2014 Dourthe agreed to buy Chateau Reysson.
Chateau Reysson Vineyards, Terroir, Grapes, Winemaking
The 54-hectare Left Bank vineyard of Chateau Reysson is planted with 94% Merlot, 3% Cabernet Franc and 3% Petit Verdot. The previous plantings of Cabernet Sauvignon were completely removed. Chateau Reysson is an unusual vineyard in the Medoc as they maintain one of the highest percentages of Merlot in the Left Bank of Bordeaux! Although a small amount of Cabernet Sauvignon remains that is co-planted in the vineyards.
The terroir is clay, gravel, and limestone soils. This explains in part the main reason for that much Merlot in the vineyards, as that is not common in the Haut Medoc. The vineyard is planted to a vine density that ranges from 5,000 vines per hectare to 6,700 vines per hectare for the newer plantings.
To produce the wine of Chateau Reysson, the vinification takes place in 22 temperature-controlled, stainless steel vats that range in size from 140 hectoliters up to 230 hectoliters. Malolactic fermentation takes place in tanks. The wine is then aged in a combination of 400-liter barrels and standard-sized, French oak barrels, of which 25% are new French oak barrels for between 12 to 14 months before bottling.
There is a second wine, Moulin de Reysson. On average, the annual production of Chateau Reysson is close to 42,500 cases of wine per vintage.
Aside from Chateau Reysson, Dourthe owns several other Bordeaux vineyards including: Chateau Belgrave Haut Medoc, Chateau La Garde Pessac Leognan, Chateau Rahoul Graves, Chateau Belgrave Haut-Medoc, and in the Right Bank, Chateau Grand Barrail Lamarzelle Figeac St. Emilion, and Chateau Pey-La-Tour Bordeaux Superieur.
The best vintages of Chateau Reysson are: 2022, 2021, 2020, 2019, 2018, 2017, 2016, 2015, 2014, 2010, 2009 and 2005.
For a period of time, the estate produced a special Reserve bottling, that was aged in more new oak for an extended period of time, but following the 2008 vintage, the Reserve bottling was discontinued.
When to Drink Chateau Reysson, Anticipated Maturity, Decanting Time
Chateau Reysson can be decanted for an average of 1 hour, give or take. This allows the wine to soften and open its perfume. Older vintages might need very little decanting, just enough to remove the sediment.
Chateau Reysson is usually better with at least 2-4 years of bottle age. Of course, that can vary slightly, depending on the character of the vintage. Chateau Reysson offers its best drinking and should reach peak maturity between 3-9 years of age after the vintage.
Serving and Decanting Chateau Reysson with Wine, Food, Pairing Tips
Chateau Reysson is at its best when served at 15.5 degrees Celsius, 60 degrees Fahrenheit. The cool, almost cellar temperature gives the wine more freshness and lift. The wine of Chateau Reysson is best served with all types of classic meat dishes, veal, pork, beef, lamb, duck, game, roast chicken, roasted, braised, and grilled dishes.
Chateau Reysson is a perfect match with Asian dishes, hearty fish courses like tuna, mushrooms, and pasta as well as cheese.
Château Reysson Wine Tasting Notes
11 Vintages 31,594 Views Sort by Vintage-Rating
2020
Château Reysson (Haut-Médoc)
Round, soft, medium-bodied, fresh and creamy, the wine is all about its sweet, fresh red fruits and savory accent. There is a touch of dust to the tannins and a hint of chocolate in the supple-textured finish. Drink from 2023-2036.
1,066 Views
Tasted

Mar 21, 2023
Soft, medium-bodied, round, supple and juicy with a core of ripe plums, cherries and currants and a hint of chocolate poking through in the finish. You can enjoy this just about on release. 89-91 Pts
1,878 Views
Tasted

May 20, 2021
2019
Château Reysson (Haut-Médoc)
Medium-bodied, savory and spicy with a soft, fresh, fruity core of currants, cranberries, peppery herbs, green olives and raspberries in the mid-palate and finish. This will be just great to enjoy on release. Drink from 2022-2030.
1,277 Views
Tasted

Mar 29, 2022
2018
Château Reysson (Haut-Médoc)
Sporting an exceptionally high percentage of Merlot for the Left Bank, this charming wine provides a round, supple, fruity, medium-bodied blast of dark, sweet red fruits and licorice with touches of oak and cocoa. Fresh, fruity and already fun to drink, you can enjoy this just about on release.
1,119 Views
Tasted

Mar 9, 2021
Medium-bodied, fresh, ripe, juicy red fruits with a touch of stone on the palate, the wine will be easy to drink on release. 87-89 Pts
1,686 Views
Tasted

Apr 19, 2019
2017
Château Reysson (Haut-Médoc)
Medium-bodied with fresh red fruits, soft tannins and an open, red cherry-plum personality. You can drink this on the young side.
1,985 Views
Tasted

Apr 26, 2018
2016
Château Reysson (Haut-Médoc)
Forward, soft, round and fruity with a slight chocolatey edge to the red fruits on the nose and dark, red plum palate. Drink from 2022-2031.
2,658 Views
Tasted

Aug 23, 2022
Medium-bodied with polish to the tannins and lots of juicy dark fruits, this wine has freshness and the finish delivers sweet, crisp black cherries.
2,773 Views
Tasted

Apr 29, 2017
2015
Château Reysson (Haut-Médoc)
Tobacco, earth, black cherry and a dash of thyme are tossed together in this medium bodied, forward, Left Bank wine. 85 - 87 Pts
1,960 Views
Tasted

Apr 26, 2016
2014
Château Reysson (Haut-Médoc)
Medium-bodied, simple, easy drinking, round textured, ripe, plums, hints of cocoa and earth. Drink this on the young side.
2,623 Views
Tasted

Jun 24, 2017
2012
Château Reysson (Haut-Médoc)
Easy drinking, forward, uncomplicated, fruity wine with soft textures and an earthy, spicy, plum finish.
2,685 Views
Tasted

Apr 25, 2016
2011
Château Reysson (Haut-Médoc)
Tobacco, earth, black cherry and a dash of thyme are tossed together in this medium bodied, forward, Left Bank wine.
1,399 Views
Tasted

May 25, 2016
With one of the highest concentrations of Merlot in the Haut Medoc appellation at, 85% Merlot, the rest of the blend is Cabernet Sauvignon. From limestone and clay terroir the estate likens to St. Emilion. Licorice, black cherry and earth aromas, medium body and a fresh, bright cherry personality are found in this wine. Consulted by Stephane Derenoncourt, this is a Jeffrey Davies Signature Selections Exclusive. 86-88 Pts
1,957 Views
Tasted

Apr 8, 2012
2010
Château Reysson (Haut-Médoc)
Easy drinking, crowd pleasing, forward styled wine that offers soft, round, uncomplicated, ripe fruits with a bit of oak that is meant for drinking on the young side.
2,750 Views
Tasted

Sep 20, 2015
2009
Château Reysson (Haut-Médoc)
Early drinking, forward, soft and approachable, with an oaky, sweet red and black fruit profile.
3,778 Views
Tasted

Nov 26, 2015