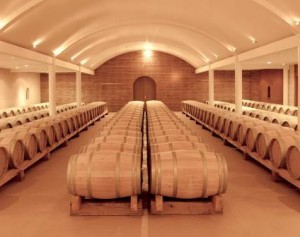 Learn everything about Chateau Chantegrive Graves with wine tasting notes and wine-with-food pairing tips. Learn the best vintages, a history of the property, and information on winemaking and vineyards. If you want to read about other important, Bordeaux Chateaux: Links to all Bordeaux Wine Producer Profiles
Chateau Chantegrive History, Overview
Chateau Chantegrive is not an old estate, especially by the standards of Bordeaux. Chateau Chantegrive was founded in 1966 by the well-known and popular courtier, Henri Leveque. The vineyard was cobbled together by purchasing parcels in a myriad of terroirs located in the Southern Graves region from the various communes of; Cerons, Illats, Podensac, and Virelade.
Chateau Chantegrive Vineyards, Terroir, Grapes, Winemaking
The 95-hectare Southern Graves vineyard of Chateau Chantegrive is planted with both red and white Bordeaux wine grapes. 60 hectares are used for the production of red Bordeaux wine. 35 hectares are reserved for the production of white Bordeaux wine.
For the red wine grapes, the vineyard is planted to an even split of 50% Merlot and 50% Cabernet Sauvignon. For the white wine, the vineyard is planted to interestingly enough, an even split again of 50% Sauvignon Blanc and 50% Semillon.
The terroir is a mix of gravel, sand, limestone, and small, quartz stones in the soil. The vines are on average 30 years of age.
To produce the red wine of Chateau Chantegrive, the wine is vinified in tanks. Malolactic fermentation takes place in vat. The wine is aged in an average of 33% new, French oak barrels for 15 months.
For the production of the Chateau Chantegrive Blanc, vinification takes place in 50% new, French oak barrels. There is no skin contact. There is no malolactic fermentation. Chateau Chantegrive makes three different white Bordeaux wines.
Chateau Chantegrive and two Cuvees, Cuvee Caroline, which is a slightly higher-end version of their white wine, and a special Cuvee, Les Oiseaux Le Panache which is a blend of Semillon, Sauvignon Blanc, and Sauvignon Gris.
There is a second wine, Benjamin de Chantegrive. Until 1995, the estate used to produce Cuvee Edouard, which came from the oldest vines in the vineyard. That wine is no longer produced. On average, the annual production of Chateau Chantegrive is close to 40,000 cases per year. The estate also produces a sweet, white Bordeaux wine in the Cerons appellation.
The Best Vintages of Chateau Chantegrive are 2022, 2021, 2020, 2019, 2018, 2017, 2016, 2015, 2012, 2010, 2009, 2008, 2006, and 2005. Although it is important to note that vintages can vary as to their quality between the white wine and the reds with as in some years, the reds are markedly better and in other vintages the white wines are superior.
When to Drink Chateau Chantegrive, Anticipated Maturity, Decanting Time
Chateau Chantegrive can be enjoyed on the young side with decanting. Young vintages can be decanted for an average of 1 hour. This allows the wine to soften and open its perfume. Older vintages might need very little decanting, just enough to remove the sediment.
Chateau Chantegrive is usually better with at least 1-3 years of bottle age. Of course, that can vary slightly, depending on the vintage character. Chateau Chantegrive offers its best drinking and should reach peak maturity between 2-5 years of age after the vintage.
Serving Chateau Chantegrive, with Wine, Food, Pairing Tips
Chateau Chantegrive is best served at 15.5 degrees Celsius, 60 degrees Fahrenheit. The cool, almost cellar temperature gives the wine more freshness and lift. The red wine of Chateau Chantegrive is best served with all types of classic meat dishes, veal, pork, beef, lamb, duck, game, roast chicken, roasted, braised, and grilled dishes.
Chateau Chantegrive is a perfect match with Asian dishes, hearty fish courses like tuna, mushrooms, and pasta as well as cheese.
The white wine of Chateau Chantegrive is a perfect wine to serve with shellfish, sashimi, sushi, all types of seafood, chicken, veal, and cheese.
Château de Chantegrive Wine Tasting Notes
28 Vintages 74,499 Views Sort by Vintage-Rating
2022
Château de Chantegrive (Graves)

Smoky cherries and tobacco form the character of this forward, medium-bodied, elegant, soft, cocoa, leafy, dark, cherry and espresso filled wine. Drink from 2025-2032. 90-92 Pts.

558 Views

Tasted

May 8, 2023

2022
Château de Chantegrive Blanc (Graves)

Flowers, crisp, yellow citrus and crunchy green apples create an approachable, fresh, early drinking Bordeaux blanc. Drink from 2024-2027. 90-90 Pts.

502 Views

Tasted

May 8, 2023

2021
Château de Chantegrive Cuvée Caroline (Graves)

Bright, crisp, fresh, just squeezed lemons and grapefruit are made even better with all the sweet honeysuckle. This vibrant, citrus filled charmer is ready to go and would be a perfect summer white wine. Drink from 2023-2030. 91

1,112 Views

Tasted

May 20, 2022

2021
Château de Chantegrive (Graves)

Forward, medium-bodied, polished, soft, and loaded with sweet, red cherries, kirsch and a hint of cigar box notes, this easy-to-like charmer is ready to go on release. Drink from 2023-2031. 88-90

1,008 Views

Tasted

May 20, 2022

2020
Château de Chantegrive Cuvée Caroline (Graves)

Creamy, fresh peaches and citrus rind with a floral edge create the core of this wine. On the palate, the wine is creamy, lively and sweet, with a sweet, yellow citrus finish. Drink from 2023-2029.

675 Views

Tasted

Mar 21, 2023

Honeysuckle, lemon rind, pomelo, spice and tangerine all make an appearance on the nose and refreshing, zesty, sweet, creamy palate. This is going to be great to enjoy on a hot sunny afternoon. 90 Pts

1,295 Views

Tasted

May 20, 2021

2020
Château de Chantegrive (Graves)

Smoky cherries are at the core of this wine. One of the top wines from the Southern Graves, the wine is already open, and accessible allowing to enjoy all of its earthy, red, chocolate and espresso tinted, sweet fruits. Forward, medium-bodied and ready-to-go. you can enjoy this with pleasure on release. Drink from 2023-2035.

442 Views

Tasted

Mar 21, 2023

Showing an unusually deep color, the wine is equally packed with smoky, dark red fruits, savory herbs and spice. Medium-bodied, sweet and juicy, with ample fruit on the palate, the wine is already accessible and easy to drink. This is a serious value wine that savvy shoppers should pay attention to. 88-90 Pts

1,568 Views

Tasted

May 20, 2021

2020
Château de Chantegrive Blanc (Graves)

Vibrant, fresh, yellow-citrus oriented, forward wine with a nice pop of green apples in the juicy finish. This is a solid white Bordeaux wine value. Drink from 2023-2029.

386 Views

Tasted

Mar 21, 2023

Notes of lemons and green apples pop from the nose while loads of energetic, sweet, yellow citrus and spice hit your palate. Juicy and fresh with good lift, this will be easy to like on release. This is a solid white Bordeaux wine value. 90 Pts

1,044 Views

Tasted

May 20, 2021

2019
Château de Chantegrive Cuvée Caroline (Graves)

Curried lemons, white peach, vanilla, and yellow citrus scents shine through on the nose. The wine is fresh, sweet, juicy and vibrant on the palate, finishing with creamy, sweet, citrus peel with a touch of vanilla bean. Drink from 2022-2028.

1,094 Views

Tasted

Mar 29, 2022

White peach, green apple, vanilla and lemon wax permeate the nose. On the palate, the wine borders between lush and fresh, with a creamy, lemon peel finish. 90 Pts

3,475 Views

Tasted

Jun 8, 2020

2019
Château de Chantegrive (Graves)

Medium-bodied, soft, refined and already open, the polished, red fruits with their touches of herbs, tea and dark cocoa are ready to go. This will be charming to drink on release. Drink from 2022-2032.

998 Views

Tasted

Mar 29, 2022

Medium-bodied, elegant, forward and easy to drink, the fruit is sweet and ripe with a hint of smoke and soft textures. This will be fun to drink on release. 87-89 Pts

2,409 Views

Tasted

Jun 8, 2020

2019
Château de Chantegrive Blanc (Graves)

Lemons, almonds, and a bit of white peach show up in the nose and on the palate. Forward, sweet, fresh and fully, ready-to-go, you can drink this on release and over the next few years. Drink from 2022-2025.

628 Views

Tasted

Mar 29, 2022

2018
Château de Chantegrive Cuvée Caroline (Graves)

Lemon, pear, honeysuckle and green apple fruits are ripe, juicy and fresh. Creamy in texture with freshness and plenty of pomelo and lemon in the finish, this is really showing well.

1,033 Views

Tasted

Mar 9, 2021

Leaning to the tropical side, you also find vanilla, lemon peel, pineapple and tangerine with a hint of honeysuckle on the nose and palate. This will be best enjoyed in its youth for maximum freshness.

1,686 Views

Tasted

Apr 19, 2019

2018
Château de Chantegrive Blanc (Graves)

Sweet, fresh, juicy, vibrant grapefruit, lemon and white peach fruits come though on the nose and juicy, creamy textured palate. This is perfect for near term drinking.

717 Views

Tasted

Mar 9, 2021

Pomelo, pineapple and lemon offer a nice initial pop along with honeysuckle and tropical fruits. Drink this on the young side for the maximum amount of fruit and freshness.

1,196 Views

Tasted

Apr 19, 2019

2018
Château de Chantegrive (Graves)

Forward, medium bodied, elegant, fresh, sweet, soft and smoky styled wine. The fruit has a really nice touch this year, good ripeness, vibrancy and a bit of smoke in the red berry finish.

1,488 Views

Tasted

Mar 9, 2021

Medium bodied, elegant and light on its feet, the wine is soft, elegant and easy to understand, as the ripe, red fruits with their earthy, smoky accents come with an early drinking charm. 87-89 Pts

2,144 Views

Tasted

Apr 19, 2019

2016
Château de Chantegrive (Graves)

The smoky character shines through here. That's followed up by the medium bodied, core of soft, polished, red fruits, tobacco and more smoke. This is a perfect example of an early drinking charmer with character.

2,724 Views

Tasted

Sep 21, 2019

Medium bodied, with a smoky core of soft, polished, red fruits and tobacco, this early drinking charmer will be ready to taste on release.

2,838 Views

Tasted

Apr 29, 2017

2016
Château de Chantegrive Cuvée Caroline (Graves)

Juicy, crisp, yellow, citrus fruits, vanilla and apples, paired with refreshing acidity and a strong, grapefruit oriented finish.

1,980 Views

Tasted

Apr 29, 2017

2016
Château de Chantegrive Blanc (Graves)

Forward, easy to like, crowd pleaser, with plenty of juicy, crisp, citrus and bits of green apples to keep you busy. Drink this cool, and on the young side.

1,461 Views

Tasted

Apr 29, 2017

2015
Château de Chantegrive Cuvée Caroline (Graves)

A delicious blend of ripe, juicy, crisp, lemon, pomelo, tangerine, and a dab of honey to round things out. Crisp, fresh and lively, this is ready to go.

1,820 Views

Tasted

Mar 12, 2018

2015
Château de Chantegrive (Graves)

Forward, medium bodied, easy drinking style of wine that delivers an uncomplicated smoked, cherry, plum and espresso tinged experience.

3,669 Views

Tasted

Mar 12, 2018

The best red wine ever from Chantegrive. With depth of color, smoke, thyme, plum, espresso and earthy character, this wine is fresh, forward and fruity in the finish. 86 - 88 Pts

2,345 Views

Tasted

Apr 23, 2016

2014
Château de Chantegrive Blanc (Graves)

Well priced, dry, white Bordeaux wine with a vanilla tinged, fresh, just squeezed, bright array of citrus fruits and refreshing mouth feels, with a touch of honeysuckle, giving the wine more complexity.

2,482 Views

Tasted

Feb 6, 2017

2014
Château de Chantegrive (Graves)

Light, fresh, forward, easy going, simple, but charming, tobacco and red plum centered wine.

2,327 Views

Tasted

Feb 6, 2017

With a push towards more ripeness and concentration, this wine has depth of flavor but is overwrought with the taste of oak and extraction. 84-86 Pts

1,646 Views

Tasted

Apr 24, 2015

2013
Château de Chantegrive Blanc (Graves)

Pleasant easy drinking, forward, white Bordeaux wine with a grapefruit and lemon zest personality for early, uncomplicated, summer drinking.

1,560 Views

Tasted

Feb 1, 2016

2013
Château de Chantegrive (Graves)

Blending 50% Cabernet Sauvignon and 50% Merlot produced a light simple, red berry quaffer, with too much oak in the finish.

2,688 Views

Tasted

Feb 3, 2016

2012
Château de Chantegrive Cuvée Caroline (Graves)

Fresh, crisp, sweet citrus fruits, a touch of vanilla and floral aromas add to the complexity and refreshing, grapefruit dominated finish.

3,015 Views

Tasted

Mar 11, 2015

2012
Château de Chantegrive (Graves)

This is a lighter, easy drinking, soft wine, with ample, red fruits that offers, early, uncomplicated drinking.

2,575 Views

Tasted

Mar 11, 2015

2010
Château de Chantegrive (Graves)

Medium bodied, with a smoky, black cherry, earth and fennel nose, the wine can use another few years to soften and come together. This is a nice Bordeaux value wine.

3,990 Views

Tasted

Sep 20, 2014

2010
Château de Chantegrive Cuvée Caroline (Graves)

From a blend of 50% Sauvignon Blanc and 50% Semillon, the medium bodied wine pops with fresh grapefruit, lemon peel, vanilla, smoke and citrus. Fresh, lively and forward, this is a nice, early drinking, white Bordeaux value wine.

2,689 Views

Tasted

Oct 6, 2014

2009
Château de Chantegrive Blanc (Graves)

Bright, zippy and fresh, with a lot of just squeezed grapefruit notes and a hint of vanilla, this drinks well young.

3,204 Views

Tasted

Sep 21, 2014

2009
Château de Chantegrive (Graves)

A blend of 55% Merlot and 45% Cabernet Sauvignon produced a wine that opens with truffles, earth, dark fruit and coffee aromas. Soft and already accessible, this is a crowd pleaser and a great example of a Bordeaux value wine.

5,367 Views

Tasted

Feb 20, 2013