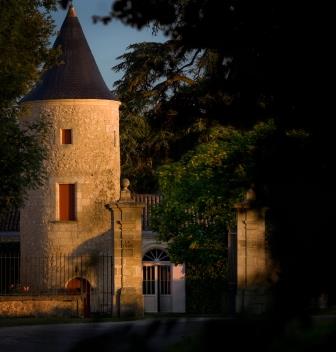 Learn everything about Chateau LaTour Martillac Pessac Leognan, with wine tasting notes and wine with food pairing tips. Learn all the best vintages, a history of the property and information on the vineyards and winemaking. If you want to read about other important, Bordeaux Chateaux: Links to all Bordeaux Wine Producer Profiles
Chateau Latour Martillac History, Overview
Chateau Latour Martillac is one of the most recognizable chateaux in Pessac Leognan. This is because of the famous tower that rests in front of the chateau. In fact, the tower is where the property found the first part of its name. While the property was first developed in the 12th century, the tower is the only section from the original, small, fortified castle.
Edouard Kressmann, who owned LaTour Martillac in the late 1800s was a well-known Bordeaux wine merchant. Kressmann got his start as a Bordeaux negociant in 1871 when he founded Edouard Kressmann & Co. In 1897, they produced their first negociant wine, Kressman dry Monopole, which is still sold today.
He worked extensively in the vineyards. In fact, the oldest part of the vineyard, which was grafted in 1884, still includes several of the original white grape varieties planted by Kressmann.
In 1929, the eldest son of Edouard Kressman, Alfred Kressman, bought the estate of LaTour Martillac. The current label design was created by Alfred's son, Jean Kressman which first appeared on a bottle of 1929 LaTour Martillac bottle served in 1936 for His Royal Majesty George VI's coronation.
Chateau LaTour Martillac the Modern Age
The modern era here begins in the early 1940s. At that point in time, the vineyards were increased in size. Much of the new land was devoted to red wine grapes. This is important because prior to these new parcels, close to 75% of the estate was devoted solely to the production of white wine. This changed after World War 2.
In 1955 Jean Kressman became the owner of LaTour Martillac. He managed it for his father starting in 1940. Today, two of Jean Kressman's sons, Tristan Kressman and Loic Kressman, manage the Bordeaux property.
The family continued to expand their efforts as negociant firm with the founding of CVGB in 1967 with a partnership between the Dourthe and Kressman families. Today, Chateau LaTour Martillac is still owned and managed by the Kressman family. The young Edouard Kressman continues becoming more involved with managing the estate,
Chateau LaTour Martillac Vineyards, Terroir, Grapes, Winemaking
The 50-hectare vineyard of Chateau LaTour Martillac is planted to red and white wine grapes. 40 hectares are planted for red wine and 10 hectares of vines are planted for white wine grapes.
For the red wine grapes, the vineyard is planted to 55% Cabernet Sauvignon, 40% Merlot, and 5% Petit Verdot. This shows a change in the vineyard as the Cabernet Franc has been removed and more Merlot has been planted instead of Cabernet Sauvignon.
For the white wine grapes, 10 hectares of vines are planted to 60% Sauvignon Blanc and 40% Semillon. This shows a marked increase in the Sauvignon Blanc plantings. All of the Muscadelle has been removed. The Semillon vines are among some of the oldest in the entire Bordeaux appellation. The oldest vines, placed in the .65 hectare Gratte-cap vineyard are close to 140 years old! Those vines were planted in 1884.
The vineyard of LaTour Martillac can be divided into two separate parts. You find deep gravel slopes in their parcels placed on the plateau of Martillac. This is where their red wines grapes are planted.
When you get closer to the Garonne river, with its cooler micro-climate, the terroir is more clay and limestone, with gravel pebbles, which is where their white wine grapes are planted.
On average, the vines are about 35 years of age. The vineyard is planted to a vine density that ranges from 7,200 vines per hectare to 8,500 vines per hectare.
Chateau LaTour Martillac Winemaking
To produce the red wines of Chateau LaTour Martillac, the grapes are vinified in stainless steel tanks. Malolactic fermentation takes place in vat. The red wine is aged in an average of 35% new, French oak for between 15 and 18 months prior to being bottled.
To produce the white Bordeaux wine of Chateau LaTour Martillac, the grapes are whole-cluster pressed. Vinification takes place in 35% new, French oak barrels, and the wine is aged on its lees. The wine finishes its aging in 35% new, French oak barrels for an average of 12 months before bottling.
The average annual production of Chateau LaTour Martillac for red wine is 11,000 cases per year. For the white wine, it hovers around 2,500 cases per vintage. There is a second wine for both the red and white wine, Lagrave Martillac, which was first produced in 1986. There is a third wine, La Croix Martillac.
The Best Vintages of Chateau LaTour Martillac are: 2022, 2021, 2020, 2019, 2018, 2017, 2016, 2015, 2014, 2012, 2010, 2009 and 2005. However, it is important to keep in mind that in some vintages, the red wines are going to be much better than the white wines. There are also years when the white wines are superior to the red wines.
The Kressman family also owns a small estate in the Graves region that produces a Merlot-dominated, value-priced wine, Chateau Langlet.
When to Drink Chateau LaTour Martillac, Anticipated Maturity, Decanting Time
Chateau LaTour Martillac can be enjoyed on the young side with decanting. Young vintages can be decanted for an average of 1-2 hours, give or take. This allows the wine to soften and open its perfume. Older vintages might need very little decanting, just enough to remove the sediment.
Chateau LaTour Martillac is usually better with at least 5-7 years of bottle age. Of course, that can vary slightly, depending on the vintage character. Chateau LaTour Martillac offers its best drinking and should reach peak maturity between 9-17 years of age after the vintage.
Serving and Decanting Chateau LaTour Martillac with Wine, Food, Pairing Tips
Chateau LaTour Martillac is best served at 15.5 degrees Celsius, 60 degrees Fahrenheit. The cool, almost cellar temperature gives the wine more freshness and lift. The red wine of Chateau LaTour Martillac is best served with all types of classic meat dishes, veal, pork, beef, lamb, duck, game, roast chicken, roasted, braised, and grilled dishes.
Chateau LaTour Martillac is a perfect match with Asian dishes, hearty fish courses like tuna, salmon, mushrooms, and pasta as well as cheese.
The white wine of Chateau LaTour Martillac is perfect to serve with shellfish, sashimi, sushi, all types of seafood, chicken, veal, and cheese.
Château La Tour-Martillac Wine Tasting Notes
34 Vintages 166,042 Views Sort by Vintage-Rating
2021
Château La Tour-Martillac Blanc (Pessac-Léognan)

Honeysuckle, orange rind, lemon peel, flowers, green apples and pineapple create the enticing perfume. Juicy, crisp, fresh and creamy on the palate, with a sweetness to the yellow citrus along with crisp freshness in the finish. Drink from 2023-2033. 93-93

1,673 Views

Tasted

May 20, 2022

2021
Château La Tour-Martillac (Pessac-Léognan)

Cigar box, tobacco leaf, currants and dark cherries are in the nose. On the palate, the wine is round, lush and with a nice polish to the tannins. Supple and soft, with a plummy finish that includes just a bit of chocolate and spice in the endnote, this will drink well just about on release. Drink from 2024-2037. 91-93

1,513 Views

Tasted

May 20, 2022

2020
Château La Tour-Martillac (Pessac-Léognan)

Smoky black cherries, dark chocolate, espresso, flowers and wet earth easily capture your focus. The wine is all about its refined elegance. Medium-bodied with beautiful symmetry, this is pure silk in texture and sweet, vibrant fruits and freshness in the finish. This is clearly a top vintage for Latour Martillac. 92-94 Pts

2,622 Views

Tasted

May 20, 2021

2020
Château La Tour-Martillac Blanc (Pessac-Léognan)

Flowers, waxy lemon, honeysuckle, grapefruit and tangerine peel scents take no effort to find. The palate is fresh, sweet, juicy and vibrant, with creamy textures, minerality, purity and freshness in the citrus dominated finish. 92 Pts

2,291 Views

Tasted

May 20, 2021

2019
Château La Tour-Martillac (Pessac-Léognan)

Showing even better from the bottle than it did from the barrel, the nose pops with dried flowers, blackberries, black cherries, tobacco, smoke, and a touch of cocoa. The wine is soft, refined, elegant, and richly textured with layers of ripe, sweet, supple, ripe dark red fruits. There is length, elegance, and purity. This should age quite nice well. Drink from 2025-2040.

3,125 Views

Tasted

Mar 29, 2022

Forward, refined, soft and elegant, with ripe, warm, sweet fruits, a medium-body and polished, smoky, earthy berries on the nose and in the finish. 91-93 Pts

3,521 Views

Tasted

Jun 8, 2020

2019
Château La Tour-Martillac Blanc (Pessac-Léognan)

Honeyed mangos, flowers, white peach, pineapple and lemon rind hit the spot and all the right notes in the nose. Juicy, sweet, crisp, and fresh on the palate. this is good to go with its sweet, grapefruit, orange and vanilla-tinted, energetic finish. Drink from 2022-2033.

1,748 Views

Tasted

Mar 29, 2022

Honeysuckle and just-squeezed yellow citrus hits the spot in the nose. The palate is loaded with sweet, juicy grapefruit, orange rind and waxy lemon, with a dab of honey to sweeten things up and acidity to keep it all fresh. 92 Pts

3,950 Views

Tasted

Jun 8, 2020

2018
Château La Tour-Martillac (Pessac-Léognan)

Vanilla, plums and smoky red fruits with a touch of flowers create the nose. Silky, medium-bodied, sweet, fresh, supple and juicy, with a little touch of cocoa in the finish, this is one of the best, if not the finest vintage of La Tour-Martillac I have ever tasted. The wine is a blend of 60% Cabernet Sauvignon, 32% Merlot and 8% Petit Verdot.

4,154 Views

Tasted

Mar 9, 2021

Boysenberry, licorice, smoke, black cherry and floral essences open the wine. On the palate, the wine is medium bodied, fresh, bright, sweet and lively, allowing the red fruits and silky tannins to come through easily. Give this at least seven years or so of aging and enjoy it over the following two decades. The wine is a blend of 60% Cabernet Sauvignon, 32% Merlot and 8% Petit Verdot. The harvest took place from September 17-October 10. 92-94 Pts

6,509 Views

Tasted

Apr 19, 2019

2018
Château La Tour-Martillac Blanc (Pessac-Léognan)

Fresh and juicy with a beautiful balance between the pineapple, pomelo, honeysuckle, lemon and crushed rock character. The wine was made blending 54% Sauvignon Blanc and 46% Semillon.

1,413 Views

Tasted

Mar 9, 2021

Citrus, flowers and a background note of pineapple show up in the nose. On the palate, this is bright, crisp, forward and juicy. The wine was made blending 54% Sauvignon Blanc and 46% Semillon.

2,368 Views

Tasted

Apr 19, 2019

2017
Château La Tour-Martillac Blanc (Pessac-Léognan)

Bright, crisp, juicy, sweet yellow citrus with a nice mineral drive in the finish and just a touch of honeysuckle to sweeten things up.

2,982 Views

Tasted

Feb 13, 2020

With a nice kick of honeysuckle, pomelo, lemon peel, tangerine and mango, you find a wine with fresh, ripe, juicy, vibrant citrus that is equally fresh and refreshing. The wine is a blend of 50% Semillon and 50% Sauvignon Blanc.

2,671 Views

Tasted

Oct 13, 2019

2017
Château La Tour-Martillac (Pessac-Léognan)

Fresh, juicy, ripe, crisp, medium-bodied, with soft-textured, smoky red fruits, earth and tobacco leaf with a forward approach.

3,565 Views

Tasted

Feb 13, 2020

Medium-bodied and on the bright, fresh, crisp, juicy side of the style range, the fruit offers a lot of pop, purity and energy along with a nice core of bright, red plums. The wine was made from a blend of 63% Cabernet Sauvignon, 30% Merlot and 7% Petit Verdot. 89-91 Pts

3,060 Views

Tasted

Oct 13, 2019

2016
Château La Tour-Martillac (Pessac-Léognan)

Smoke, thyme, cherry and red plum scents kick off the perfume. But the best part of the wine is on the palate, which is so poised, refined, fresh, sweet and juicy. The red fruits offer sweetness and grip along with silky tannins and a spicy nuance to the fruit in the end note. The wine is a blend of 60% Cabernet Sauvignon, 32% Merlot and 8% Petit Verdot. Smoke, thyme, red plum and cherry

4,552 Views

Tasted

Sep 21, 2019

The smoky, black and red fruits shine with ease here. Polished, soft, silky and fresh, this will deliver pleasure early, yet age quite well too. This has definitely stepped up in quality from barre to bottle.

3,475 Views

Tasted

Feb 10, 2019

Juicy, smoky, dark ripe cherries, nice flesh on the fruits, freshness and complexity, and for a fair price to quality ratio too!

3,522 Views

Tasted

Apr 29, 2017

2016
Château La Tour-Martillac Blanc (Pessac-Léognan)

Already open, this fresh, bright, juicy, yellow citrus filled wine can already be enjoyed today, or aged for a years for even more aromatic complexity.

3,510 Views

Tasted

Sep 21, 2019

Sweet, bright crisp lemons, flowers and a dollop of honey are what you'll find is this forward, bright, sweet wine that is ready to go.

1,943 Views

Tasted

Feb 11, 2019

Sweet aromas of honeysuckle, just squeezed citrus and vanilla bean are brought to you with a lemon filled center and semi sweet, round, citrus finish.

1,995 Views

Tasted

Apr 29, 2017

2015
Château La Tour-Martillac (Pessac-Léognan)

Soft, elegant, silky fruits create a wine of finesse, freshness and ripe, red berries. There is a good balance of acidify and round, soft fruits here.

6,605 Views

Tasted

May 21, 2018

Elegance, freshness and a tobacco, smoke, espresso, forest and cherry character that just sings. Soft and refined, this should drink well early.

5,361 Views

Tasted

Mar 12, 2018

Smoky, spicy and loaded with supple textured, soft, dark fruits, the wine is refined, elegant and charming.

4,163 Views

Tasted

Jul 12, 2017

Oak, smoke, fennel and sweet, dark berries on the nose move to a silky, soft, refined, fresh expression of fruit and earth, with ample ripe berries and charm. 91-93 Pts

4,073 Views

Tasted

Apr 23, 2016

2015
Château La Tour-Martillac Blanc (Pessac-Léognan)

The blend of honeysuckle, Meyer lemons, pomelo and green apples works here. The wine is energetic and richly textured, leaving you with citrus and white peach in the endnote.

3,324 Views

Tasted

May 21, 2018

The pungent notes of sweet honeysuckle are the first thing you notice, before moving on to the citrus peel, pomelo and green apples. The wine is fresh, as well as rich. There is a touch of vanilla, honey and white peach in the endnote that adds fatness to the ripe, citrus fruits.

3,245 Views

Tasted

Mar 12, 2018

2014
Château La Tour-Martillac Blanc (Pessac-Léognan)

Sweet, ripe, citrus, honeysuckle, freshness and even a hint of tropical fruit, this has all the crisp, citrus you're looking for, coupled with acidity and layers of fruit.

1,706 Views

Tasted

Feb 6, 2017

2014
Château La Tour-Martillac (Pessac-Léognan)

This wine has the smoky and sweet aroma of polished black fruits and the smooth finish of juicy plums and cherries. 90-92 Pts.

2,083 Views

Tasted

Apr 24, 2015

2013
Château La Tour-Martillac Blanc (Pessac-Léognan)

Medium bodied, finesse styled white Bordeaux wine with a spicy note that adds additional complexity to the vanilla, lemon peel, lime and green apple sensations that are present from start to finish.

1,657 Views

Tasted

Feb 1, 2016

2013
Château La Tour-Martillac (Pessac-Léognan)

Blending 60% Cabernet Sauvignon, 8% Petit Verdot and 32% Merlot produced a medium bodied effort, with a singed cherry and pipe tobacco nose, and bright, fresh core of red fruits on the palate, that will be best in its youth.

1,171 Views

Tasted

Feb 3, 2016

Smoke, stone and dark cherry team up with a sandy, red berry finish for a wine that will show best in its youth. Produced from blend of 60% Cabernet Sauvignon, 32% Merlot and 8% Petit Verdot. 88-90 Pts

1,740 Views

Tasted

Apr 21, 2014

2012
Château La Tour-Martillac (Pessac-Léognan)

Medium bodied, elegant and loaded with sweet, ripe, smoky, red fruits and cigar wrappers, this is refined, focused and really fun to taste already. It will get better with age, but it is already showing nicely in its youth.

5,761 Views

Tasted

Feb 6, 2017

Blending 51% Cabernet Sauvignon, 42% Merlot and 7% Petit Verdot created a medium bodied, elegant, soft wine with a smoky, tobacco character that adds to the dark plum and black cherry components.

2,233 Views

Tasted

Mar 11, 2015

Medium/full-bodied and round, this wine delivers sweet, ripe and lush black cherries, fennel and dark chocolate in a plush, well-rounded finish. 90-93 Pts

2,652 Views

Tasted

Apr 25, 2013

2012
Château La Tour-Martillac Blanc (Pessac-Léognan)

A blend of 70% Sauvignon Blanc and 30% Semillon produced a fresh wine packed with honeysuckle, citrus and vanilla bean. Zippy on the palate, the wine refreshes the senses.

1,732 Views

Tasted

Mar 11, 2015

2011
Château La Tour-Martillac Blanc (Pessac-Léognan)

Fully mature, the blend of white peach, lemon peel and hints of pineapple shine through nicely. Deepening in color, with loads of honeysuckle, and crisp, sweet, yellow citrus in the finish, there is no reason to hold this any longer.

2,045 Views

Tasted

May 4, 2020

2011
Château La Tour-Martillac (Pessac-Léognan)

Medium bodied, with some red fruits poking their way through the smoke and dry tannins. I'd drink this young.

4,739 Views

Tasted

Feb 19, 2014

This wine offers smoke, earth, black raspberry and truffle, medium body and an herbal, cassis finish. 87-89 Pts

2,360 Views

Tasted

Apr 25, 2012

2010
Château La Tour-Martillac (Pessac-Léognan)

Black raspberry, earth, smoke and tobacco scents pop with little effort. Silky, fresh, plums and black cherries are found in the lively, round, finish.

5,685 Views

Tasted

Feb 15, 2013

2010
Château La Tour-Martillac Blanc (Pessac-Léognan)

The honeysuckle accent riding on top of the fresh, bright, clean, crisp yellow citrus and grapefruit hits the spot. Medium-bodied with good lift and a blast of juicy citrus in the finish, this is in its prime-time drinking window.

2,318 Views

Tasted

Apr 28, 2020

2009
Château La Tour-Martillac (Pessac-Léognan)

Truffle, tobacco, cigar box and smoke are joined by bright red fruits in the nose. On the palate, the wine is medium-bodied, soft, elegant tannins and ripe cherries with a touch of spice and olives in the finish. The wine still seems youthful, so another few years of bottle age will help add even more softness and complexity to the wine. Smoky red fruits, vanilla, tobacco and earthy aromatics create the nose. On the palate, the wine has soft, fresh, elegant characteristics, polished tannins and sweetness in the fruits on the back end. This has aged quite nicely.

3,066 Views

Tasted

Sep 20, 2019

Smoke, truffle, black cherry aromatics are on display. With sensuous, round textures and a smoky, ripe, dark berry, spice and cherry finish, this is perhaps the best example of Latour Martillac I recall tasting. At about $30, this is an outstanding Bordeaux wine value!

6,819 Views

Tasted

Feb 2, 2012

2009
Château La Tour-Martillac Blanc (Pessac-Léognan)

Pale yellow in color, with vanilla, lemon, melon and stone notes, medium bodied, lushly textured, ends with fresh, plush, citrus finish.

3,204 Views

Tasted

May 27, 2012

2008
Château La Tour-Martillac (Pessac-Léognan)

Smoky red fruits, vanilla, tobacco and earthy aromatics create the nose. On the palate, the wine has soft, fresh, elegant characteristics, polished tannins and sweetness in the fruits on the back end. This has aged quite nicely.

2,148 Views

Tasted

Sep 17, 2018

2008
Château La Tour-Martillac Blanc (Pessac-Léognan)

Sweet yellow fruits with a touch of honey open the wine. On the palate, the wine is rich, lush and sweet, while being balanced out by acidity. The wine is fully mature at this point and drinking great.

2,143 Views

Tasted

Sep 17, 2018

2007
Château La Tour-Martillac Blanc (Pessac-Léognan)

2007 is a more than difficult vintage for red Bordeaux, but the white wines in that year, really shine. This is fresh vibrant and racy. The juicy, sweet, ripe, citrus pops with enough honeysuckle and crushed rock essence, to build a wall. This tasty is drinking great today.

2,214 Views

Tasted

Dec 11, 2017

2006
Château La Tour-Martillac (Pessac-Léognan)

Medium bodied with an earthy, bright red fruit and tobacco personality, there is softness on the palate and in the finish. This is close to fully mature.

2,745 Views

Tasted

Aug 31, 2015

2005
Château La Tour-Martillac (Pessac-Léognan)

Developing nicely with a tobacco, black cherry, plum, earth and smoke filled nose, this medium bodied, soft wine is already drinking well.

3,364 Views

Tasted

Feb 13, 2013

2003
Château La Tour-Martillac (Pessac-Léognan)

Fully mature, medium bodied, with no tannins remaining. The wine offers tobacco with red and dark berries and earthy characteristics. Drink this over the next few years.

4,073 Views

Tasted

Oct 21, 2014

2000
Château La Tour-Martillac (Pessac-Léognan)

Fully mature, lighter, elegant styling of Pessac Leognan, with enough smoke and tobacco to keep the spicy, red fruits interesting.

3,730 Views

Tasted

Oct 20, 2016

1998
Château La Tour-Martillac (Pessac-Léognan)

Fully developed, medium-bodied, soft, with more secondary notes of tobacco, cedar, cigar and earth and red fruits on the nose. Light and refined on the classic palate, which seems to be slowly starting its gentle fade. If you are hanging on to any bottles, I'd drink them over the next 3-5 years before the fruit continues its fade.

1,721 Views

Tasted

Sep 4, 2020