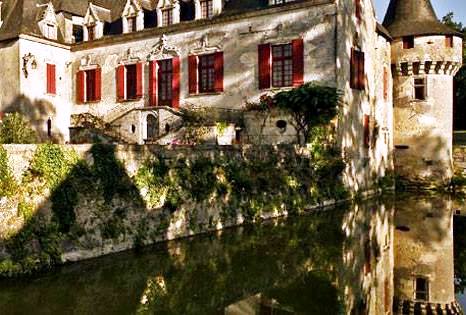 Learn everything about Chateau Olivier Pessac Leognan, with wine tasting notes and wine with food pairing tips. Learn the best vintages, the history of the property, and information on the vineyards and winemaking. If you want to read about other important, Bordeaux Chateaux: Links to all Bordeaux Wine Producer Profiles
Chateau Olivier History, Overview
Chateau Olivier is in contention for one of the oldest properties in Bordeaux. Bordeaux wine historians believe the estate dates back as far as the 11th century. Some ancient remnants of the original buildings can be seen close to the east pavilion on the lower portions of the property.
Those ancient beginnings are how Chateau Olivier is actually one of the few castles in the Bordeaux region. There is even a moat and drawbridge as well. Chateau Olivier is worth the trip to see.
The next era for Chateau Olivier came into being as many of the top Bordeaux chateaus, through marriage and a dowry. In 1663, Pierre Penel, the Baron of La Brede married Marie de Lasserre. She was the daughter of the lord of Olivier. Her dowry was the vineyard that we know today as Chateau Olivier.
In 1882, there was a catastrophic fire and Chateau Olivier needed to be rebuilt. The new owners chose a Troubadour style, which was unique not only in Graves but in Bordeaux as well. In 1867, Chateau Olivier was purchased by the mayor of Bordeaux, Alexandre de Bethmann. The de Bethmann family, which has their ancestral roots in Germany, owns a very large banking operation, Bethmann Bank.
Chateau Olivier was not the family's first foray into owning a Bordeaux vineyard, at one point in time, they also owned Chateau Gruaud Larose in St. Julien. Chateau Olivier continues to remain in the hands of the de Bethmann family today.
Almost a century later, Chateau Olivier was officially listed as one of Gironde's Sites Pittoresques and became a protected structure. In 1953, the chateau, its outbuildings, moat, and fountains, were all classified as historic monuments.
For a period of time, the negociant firm of Eschenhauer managed the winemaking and sales, under a lease agreement that was terminated in 1981. Jean-Jacques de Bethmann managed Chateau Olivier until July 2012, when he passes away. He was ably succeeded by his son, American-born and educated, Alexandre de Bethmann, who has overseen a noticeable increase in quality, especially in their white wines.
Chateau Olivier Vineyards, Terroir, Grapes, Winemaking
Chateau Olivier is quite large at 220-hectares. However, it is important to note that only 60 hectares are under vine. For the red wine, 52 hectares are planted to 58% Merlot, 40% Cabernet Sauvignon and 2% Petit Verdot. Previously there was 10% Cabernet Franc planted. Today, all those Cabernet Franc vines have been removed.
Overall, this shows a marked increase in Merlot in the vineyard since the 1990s. Previously, Cabernet Sauvignon occupied close to 70% of the grapes planted for red wine. So as you can see, over the past several years, the makeup of the vineyard has gone through massive changes.
It's also important to note that Chateau Olivier planted 8 new hectares of vines that were previously used for forest land.
For the white Bordeaux wine of Chateau Olivier, 8 hectares of vines are planted to 78% Sauvignon Blanc, 20% Semillon, and 2% Muscadelle. Interestingly, while vineyards planted for red wine grapes are often changing their plantings over the years, most vineyards with white wine grapes, seem to stay the same.
That is not the case, as the amount of Semillon has decreased by 10%, while the Sauvignon Blanc has increased by 10%, since the mid-1990s. Those vines are old with an average of 40 years of age.
The terroir of Chateau Olivier is gravel with clay and limestone in the topsoil, which is common to the Pessac Leognan appellation. Underneath that, you find more gravel, sandstone, rocks, sand, and limestone. The red wine grapes are planted in gravelly, sandy soils. Most of the white wine grapes are planted in the cooler, limestone, and clay terroir. They have hillsides that rise to 55 meters in elevation.
The vines for both red and white wine are planted to a vine density that varies from 8,000 to 10,000 vines per hectare. Extensive replanting has been taking place in the vineyards, so the younger vines are now planted to higher levels of vine density.
On average, the vines are close to 25 years of age. The vines are planted to a vine density that ranges from 8,000 to 10,000 vines per hectare. Newer plantings are being done at higher levels of density.
As you read earlier, only a relatively small portion of the vineyard is cultivated with vines here. At Chateau Olivier, 160 hectares are unplanted and instead remain devoted to trees, verdant forests, parks, and grazing land.
Chateau Olivier Winemaking
For the production of the red wine of Chateau Olivier, the wines are vinified in temperature-controlled, stainless steel vats. Malolactic fermentation takes place in the tank. The wines of Chateau Olivier are aged in an average of 30% new French oak barrels for between 12 and 14 months.
To produce the white wine of Chateau Olivier, 33% of the berries are allowed skin contact before fermentation. Vinification begins in tanks and is finished in French oak barrels. The wine is aged on its lees for 9 months before bottling.
The large estate of Chateau Olivier produces close to 20,000 cases of red Bordeaux wine per year and 3,000 cases of white Bordeaux wine per vintage. There is a second wine that is sold under two names, La Seigneurie d'Olivier, and Dauphin d'Olivier.
The Best Vintages of Chateau Olivier are: 2022, 2021, 2020, 2019, 2018, 2017, 2016, 2015, 2014, 2012, 2010, 2009 and 2005. However, it is important to keep in mind that in some vintages, the red wines are going to be much better than the white wines. There are also years when the white wines are superior to red wines. Since 2015, due to changes in the vineyards, you can taste more depth and complexity in the wines.
When to Drink Chateau Olivier, Anticipated Maturity, Decanting Time
Chateau Olivier can be enjoyed on the young side with decanting. Young vintages can be decanted for an average of 1 to 90 minutes, give or take. This allows the wine to soften and open its perfume. Older vintages might need very little decanting, just enough to remove the sediment.
Chateau Olivier is usually better with at least 5-7 years of bottle age. Of course, that can vary slightly, depending on the vintage character. Chateau Olivier offers its best drinking and should reach peak maturity between 9-16 years of age after the vintage.
Serving Chateau Olivier, with Wine, Food, Pairing Tips
Chateau Olivier is best served at 15.5 degrees Celsius, 60 degrees Fahrenheit. The cool, almost cellar temperature gives the wine more freshness and lift. The red wine of Chateau Olivier is best served with all types of classic meat dishes, veal, pork, beef, lamb, duck, game, roast chicken, roasted, braised, and grilled dishes.
Chateau Olivier is a perfect match with Asian dishes, hearty fish courses like tuna, salmon, mushrooms, and pasta as well as cheese.
The white wine of Chateau Olivier is a perfect wine to serve with shellfish, sashimi, sushi, all types of seafood, chicken, veal, and cheese.
Château Olivier Wine Tasting Notes
35 Vintages 143,324 Views Sort by Vintage-Rating
2022
Château Olivier (Pessac-Léognan)

Smoke, black plums, black cherries, flowers, and licorice permeate the nose. On the palate, the medium-bodied wine is fresh, supple, creamy, and silky, with ample layers of sweet, ripe, dark fruits, cocoa, and a touch salt that comes in on the back end. The wine blends 49% Merlot, 45% Cabernet Sauvignon and 6% Petit Verdot, 14.55% ABV. Drink from 2026-2040. 92-94 Pts.

818 Views

Tasted

May 8, 2023

2022
Château Olivier Blanc (Pessac-Léognan)

Pineapples, white peaches, flowers, orange zest, yellow citrus and a dab of honey mesh together to produce the perfume. Creamy, sweet, and fruity, with a long, yellow and orange citrus endnote, this is quite nice from start to finish. The wine blends 75% Sauvignon Blanc and 25% Semillon, 13.76% ABV. The harvest took place August 18, finishing August 31, making this the earliest white wine harvest in the history of the estate. Drink from 2024-2030. 92-92 Pts.

787 Views

Tasted

May 8, 2023

2021
Château Olivier Blanc (Pessac-Léognan)

Crushed rocks, flowers, lemon peel, white peach and pomelo hit the perfume easily. Juicy, sweet, elevated, energetic and fresh, the finish is filled with sweet, crisp, yellow citrus from start to finish. The wine blends 80% Sauvignon Blanc with 20% Semillon, 13.5% ABV. The harvest took place September 8 - September 16. Drink from 2023-2033. 94-94

1,610 Views

Tasted

May 20, 2022

2021
Château Olivier (Pessac-Léognan)

Dark ruby in color, the wine is floral, with black raspberries, plums, cigar wrapper and a touch of leafy mint in its core. On the palate, the medium-bodied wine is soft, silky, vibrant and energetic. There is a sweetness, roundness and purity to the fruit on the mid-palate and in the finish. The wine is a blend of 55% Cabernet Sauvignon, 40% Merlot and 5% Petit Verdot, 13.1% ABV. Picking took place September 27 - October 11. Drink from 2023-2036. 89-91

1,754 Views

Tasted

May 20, 2022

2020
Château Olivier Blanc (Pessac-Léognan)

Flowers, lemon rind, mango and pineapple find their way into the perfume. On the palate, the wine is loaded with Meyer lemon, green apples, pears and white peach, leaving you with a creamy, citrus endnote. Drink from 2023-2032.

1,275 Views

Tasted

Mar 21, 2023

Crushed rock, waxy lemon, grapefruit, flowers, green apple and lemon oil shoots from the glass. Bright, fresh, creamy and juicy with Meyer lemon, tangerine and a drop of honey on the palate, this is already showing just great. 93 Pts

2,271 Views

Tasted

May 20, 2021

2020
Château Olivier (Pessac-Léognan)

Black plums, smoke, licorice, orange zest, and flowers pop in the nose with no trouble. On the palate, the wine is medium-bodied, round, silky and fresh, with a finish that leaves you with nuances of dark chocolate, espresso and more of those, sweet, ripe, black, juicy plums. Drink from 2024-2040.

1,321 Views

Tasted

Mar 21, 2023

With a deep color that is impossible to miss, the wine offers its sweet vanilla, tobacco leaf, savory herbs, cigar box and red fruit aromas with ease. Elegant and refined, medium-bodied, silky and fresh, this is going to be one of the top vintages Chateau Olivier has ever produced. There is good purity to the fruits, length and lift in the finish, making this a pleasure to taste. 91-92 Pts

2,556 Views

Tasted

May 20, 2021

2020
Château Olivier Le Dauphin d'Olivier (Pessac-Léognan)

Medium-bodied, soft, forward, fresh and silky, with a core of ripe, already approachable red fruits in the nose and on the palate, this is perfect for easy, near-term enjoyment while waiting for the Grand Vin to develop. Drink from 2023-2029.

1,132 Views

Tasted

Mar 21, 2023

2019
Château Olivier (Pessac-Léognan)

This is a superb vintage for Chateau Olivier. Rich, silky, velvety and refined, the fruit tastes as good as it feels on the palate. Elegant, fresh and pure, there is length, energy and complexity with a fabulous sense of richness on the palate that remains with you all the way through to the finish. Give this a few years in the cellar and it should really start to shine. Drink from 2024-2039.

2,173 Views

Tasted

Mar 29, 2022

Smoked, sweet cherries with a hint of vanilla, lush, round, soft textures, medium-bodied and a good mid-palate to display all the sweet, ripe, lush, juicy fruit. 90-92 Pts

3,004 Views

Tasted

Jun 8, 2020

2019
Château Olivier Blanc (Pessac-Léognan)

Bright, crisp, fresh, lemons, green apples, tangerine rind and a touch of honey create the right notes on the nose. Fresh, zesty and crisp on the palate, the finish continues that theme with creamy lemons in the endnote. Drink from 2022-2034.

1,643 Views

Tasted

Mar 29, 2022

Fresh-squeezed pomelo, green apples and lemon peel hit the right notes on the nose. On the palate, the wine is fresh, zippy and zesty, with a shot of sweet, crisp citrus in the finish.

2,670 Views

Tasted

Jun 8, 2020

2019
Château Olivier Le Dauphin d'Olivier (Pessac-Léognan)

Soft, fresh, light, fruity and fully ready to go, this, red berry filled wine, with its tobacco edge is perfect for easy, near-term enjoyment. Drink from 2022-2026.

1,208 Views

Tasted

Mar 29, 2022

2019
Château Olivier Le Dauphin d'Olivier Blanc (Pessac-Léognan)

Orange and yellow citrus with a dab of honeysuckle and freshness on the palate and in the finish. Enjoy this over the next few years. Drink from 2022-2025.

743 Views

Tasted

Mar 29, 2022

2018
Château Olivier Blanc (Pessac-Léognan)

Crisp, bright and sweet with Meyer lemon, pear and mango notes on the nose and palate. Energetic, fruity and fresh, with a gorgeous, creamy, lemon and bright pineapple filled finish, this is showing quite nicely already.

1,514 Views

Tasted

Mar 9, 2021

Juicy, ripe, sweet, fresh, slightly honeyed yellow citrus and bright pineapple with vanilla pop right away on the nose and mouth.

3,581 Views

Tasted

Apr 19, 2019

2018
Château Olivier (Pessac-Léognan)

Refined, soft, elegant, forward, sweet and with a red cherry and plum, tobacco and smoke infused character, the wine ends with a bright, fresh hit of sweet, red fruits.

2,642 Views

Tasted

Mar 9, 2021

Elegant, medium-bodied and refined, the wine focuses on its tobacco leaf, crème de cassis and floral profile and the silky, fresh textural experience. 90-92 Pts

2,639 Views

Tasted

Apr 19, 2019

2018
Château Olivier Le Dauphin d'Olivier Blanc (Pessac-Léognan)

Honeysuckle and lemons blend together to produce a light, forward, early drinking citrus oriented finish. Enjoy this over the next couple of years while the Grand Vin develops.

1,479 Views

Tasted

Mar 9, 2021

2017
Château Olivier Blanc (Pessac-Léognan)

Crisp, fresh, stony and floral, with loads of just squeezed lemons, green apple and grapefruit that come on strong.

2,389 Views

Tasted

May 14, 2020

Energetic yellow citrus notes pop with acidity. There is a touch of sweet honeysuckle, green apple and tropical fruits that add complexity. Lively and vibrant, the finish is loaded with just squeezed lemons.

2,147 Views

Tasted

Apr 26, 2018

2017
Château Olivier (Pessac-Léognan)

Elegant, soft and polished, the fruits are fresh, lively and sweet. From start to finish there is a good energy radiating from the smoky red fruits.

2,609 Views

Tasted

Mar 29, 2020

2016
Château Olivier (Pessac-Léognan)

Refined, elegant ripe and juicy, this is the finest vintage of Chateau Olivier Rouge ever produced. It is the purity in the fruit that defines this medium bodied, round, soft, fresh, red berry and leafy tobacco oriented wine. Drink it young if you must, else, age it for 6-8 years allowing it to gain more secondary nuances.

4,007 Views

Tasted

Sep 21, 2019

Elegance, refinement and purity in the fruit define this medium bodied, soft, fresh, red berry and leafy tobacco oriented wine. You can enjoy this young, or age it for a decade allowing it to gain more secondary nuances.

2,321 Views

Tasted

Feb 10, 2019

2016
Château Olivier Blanc (Pessac-Léognan)

This is ready for prime time drinking, if you like your white Bordeaux on the fresh side with loads of juicy yellow citrus fruits and a hint of honey.

2,839 Views

Tasted

Sep 21, 2019

Forward, fresh, sweet and juicy, with a core of yellow citrus and a hint of honey, this is already quite tasty.

2,858 Views

Tasted

Feb 11, 2019

Citrus peel notes, blended in with a hint of tropical fruit and flowers defines the wine. A touch of honeysuckle rounds things off in the finish.

1,970 Views

Tasted

Apr 29, 2017

2015
Château Olivier (Pessac-Léognan)

The smoke filled nose with its spicy red fruits and tobacco leaf sets the off in the right direction. Medium bodied, forward, soft and silky, the wine offers purity of fruit, polish and elegance.

3,800 Views

Tasted

May 21, 2018

A medium-bodied, elegant charmer with silky, soft textures and ripe, sweet, dark, red fruits with more volume and depth than usual -- which is nice to see. 89 - 91 Pts

2,315 Views

Tasted

Apr 23, 2016

2015
Château Olivier Blanc (Pessac-Léognan)

Sweet lemons, hints of honeysuckle and vanilla with a lime and green apple note added for good measure. The fruit is sweet, pure and fresh, which delivers a citrus and stone packed finish.

2,182 Views

Tasted

May 21, 2018

Packed with Meyer lemon, vanilla, honey and floral characteristics, the wine offers length, purity of fruit, zesty acidity and a lemon, lime finish with just a dab of honey, to sweeten things up.

2,273 Views

Tasted

Mar 12, 2018

Lemon custard, green apple and grapefruit notes are abundant in this crisp, crunchy and fresh wine. Prepare yourself for a blast of fresh, racy acidity in the bright, citrus finish.

1,931 Views

Tasted

Apr 23, 2016

2014
Château Olivier Blanc (Pessac-Léognan)

Blasting off with just squeezed grapefruit, lemon peel, flowers and spice, this really shows a lot of freshness and fruit on the palate, and in the nose.

2,941 Views

Tasted

Feb 6, 2017

2014
Château Olivier (Pessac-Léognan)

Not as exciting as the blanc, but still charming, with its, medium bodied, forward, fresh, red berry dominated style.

3,629 Views

Tasted

Feb 6, 2017

This wine is a forward moving, smoky, black cherry-filled Bordeaux, which will offer pleasure and character on release. 87-89 Pts

2,051 Views

Tasted

Apr 24, 2015

2013
Château Olivier Blanc (Pessac-Léognan)

Light, but refreshing, the fresh, bright lemon and grapefruit flavors stand out and leave on a refreshing, sweet, citrus and vanilla note.

1,861 Views

Tasted

Feb 1, 2016

With a depth of fresh citrus that offers length and complexity, the wine leaves a good impression with each sniff and sip. 88-90 Pts

1,657 Views

Tasted

Apr 21, 2014

2013
Château Olivier (Pessac-Léognan)

Light in color, medium bodied and already accessible, the wine is fresh and on the strawberry and red cherry side of the early drinking, style range. The wine was made from a blend of 58% Cabernet Sauvignon, 40% Merlot and 2% Petit Verdot.

2,711 Views

Tasted

Feb 4, 2016

Opening with herbal, olive-filled and leafy aromas, the medium-bodied wine has a drying, sweet and tart finish. 84-86 Pts

1,645 Views

Tasted

Apr 21, 2014

2012
Château Olivier (Pessac-Léognan)

This medium-bodied and elegant lighter style of Pessac Leognan offers sweet licorice, plums and dark cherries with supple textures in an open style. One of the best vintages of Olivier I recall tasting. 89-91 Pts

3,152 Views

Tasted

Apr 25, 2013

2011
Château Olivier (Pessac-Léognan)

Medium bodied, lots of smoke, earth and raspberry scents in the aromas, the wine shows a bit of green and dryness in the fresh, crisp red berry finish.

3,364 Views

Tasted

Feb 19, 2014

This wine features smoke, earth and some cassis with a sharp herb and red fruit finish. 85-88 Pts

2,988 Views

Tasted

Apr 25, 2012

2010
Château Olivier Blanc (Pessac-Léognan)

Blending 80% Sauvignon Blanc with 20% Semillon produced a wine that combines fresh grapefruits with orange peel and floral characteristics. There is a nice touch of honeydew melon that further complicates things. The fresh finish and open character make this prime for early drinking.

2,293 Views

Tasted

Mar 11, 2015

2010
Château Olivier (Pessac-Léognan)

This light, fresher, medium bodied style of wine, from a blend of 60% Cabernet Sauvignon and 40% Merlot is dominated by red fruits, earth and spice.

7,473 Views

Tasted

Feb 15, 2013

Olivier delivers cassis, tobacco and blackberry aromas. Medium bodied, this finesse styled wine ends with an earthy, cassis and fresh herb finish. 88-90 Pts

5,545 Views

Tasted

Apr 22, 2011

2009
Château Olivier Blanc (Pessac-Léognan)

Yellow citrus, honeysuckle and mango show their character on the nose. Ripe, lush, polished and fresh, the wine is juicy, and crisp in the pomelo tinged finish. This is probably drinking at close to peak, so if you have a bottle, pop a cork.

1,823 Views

Tasted

Sep 20, 2019

Ready to drink vibrant charmer, with freshness galore, ripe citrus, just squeezed grapefruit, lemon and a touch of orange blossom in the nose let this shine with fresh seafood. The fruit has a nice sense of purity to it.

3,444 Views

Tasted

Dec 3, 2016

2009
Château Olivier (Pessac-Léognan)

Medium bodied, round, juicy and with sweetness to the dark red fruits in the attack, the texture is quite nice. In the finish, you also notice olive, leaf and herbs blended with the fruit in the finish.

3,599 Views

Tasted

Sep 20, 2019

Wood, pepper, floral and red fruit aromas, medium in body with some dryness in the tannins is what you'll find in this wine.

6,620 Views

Tasted

Jan 30, 2012

2008
Château Olivier (Pessac-Léognan)

Medium bodied, with an earthy, forest character, the wine is close to fully developed, offering, bright red fruits, cigar wrapper and spice, but it is on the lighter side.

2,719 Views

Tasted

Sep 17, 2018

2008
Château Olivier Blanc (Pessac-Léognan)

Starting to fade, this bright, crisp, yellow citrus dominated wine needs to be drunk up.

1,712 Views

Tasted

Sep 17, 2018

2006
Château Olivier (Pessac-Léognan)

Medium bodied, almost light weight, soft textured, smoky, earthy, red berry oriented wine that is ready for its prime time appearance.

2,878 Views

Tasted

Dec 11, 2017

2005
Château Olivier (Pessac-Léognan)

Medium bodied, with spicy red and black fruit, earth and a touch of herbs, along with slightly drying tannins in the red fruit finish.

3,883 Views

Tasted

Jan 4, 2012

2000
Château Olivier (Pessac-Léognan)

Much more interesting on the nose than the palate. Medium bodied, soft, elegant and refined in texture, the wine is on the light side, as far as density goes. The fruit is ripe, there is that mix of bright, tart and spicy that works, but it lacks the weight needed to carry it through.

4,875 Views

Tasted

Oct 21, 2016