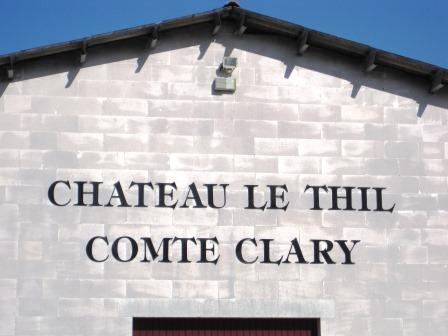 Learn everything about Chateau Le Thil Pessac Leognan with wine tasting notes and wine with food pairing tips. Learn the best vintages, the history of the property, and information on the vineyards and winemaking. If you want to read about other important, Bordeaux Chateaux: Links to all Bordeaux Wine Producer Profiles
Chateau Le Thil History, Overview
The vineyards of Chateau Le Thil were once part of the original Smith Haut Lafitte vineyard. If you're looking for older bottles of Chateau Le Thil, and you cannot find any, that is because for a time the wines were sold under the name of Le Desert until the late 1950s.
During the 1970s, the vineyard was rented to Chateau Carbonnieux. It was at that point in time, during the 1970s that Chateau Le Thil was inherited by the de Laitre family. Jean de Laitre, began planting vines in 1990.
In 2002, at the end of their lease, the owner of Chateau Carbonnieux, Eric Perrin purchased some of the vines they had been leasing, adding them to Chateau Carbonnieux. They did not buy the name, buildings, unplanted vineyards, or young vines.
Once the transaction was completed, Jean de Laitre began a serious replanting program. To avoid confusion with another estate in Bordeaux in the satellite appellations named Le Thil, he changed the name to Chateau Le Thil Comte Clary.
In July 2011, Chateau Le Thil was sold to Chateau Smith Haut Lafitte and Chateau Les Carmes Haut Brion. Out of the 16.1 hectares vines, the transaction took place as follows: 11.6 hectares, the chateau, and 8 hectares of parkland went to Chateau Smith Haut Lafitte. Much of that land is located next to Smith Haut Lafitte and was part of the original estate that was owned by Lodi Duffour Dubergier making it a perfect fit.
The remaining 5 hectares of vineyard land was sold to Chateau Les Carmes Haut Brion. This was good for all parties concerned as Chateau Les Carmes Haut Brion was already leasing a portion of the vines of Chateau Le Thil for use in their wine.
Once the Cathiard family took control of Chateau Le Thil Comte Clary, they shortened the name to Chateau Le Thil and began replanting the vineyards as well as a thorough renovation of the cellars. They also added a small hotel in the vineyards.
Chateau Le Thil Vineyards, Terroir, Grapes, Winemaking
The 11.6-hectare vineyard of Chateau Le Thil is planted to 70% Merlot and 30% Cabernet Franc. The Cabernet Sauvignon grapes were replaced with Cabernet Franc after the 2013 vintage.
3 hectares were previously planted to white Bordeaux wine grapes. Those vines have since been removed.
It is interesting to note that for a few years, following the removal of the Cabernet Sauvignon, Le Thil was produced using only 100% Merlot. This took place until the Cabernet Franc vines were old enough to be used in the blend. The high percentage of Merlot works here because of the amount of deep clay in the soil. The terroir is gravel, clay, and limestone soils.
The vines are located not too far from Chateau Carbonnieux, Chateau Bouscaut, and Chateau Smith Haut Lafitte in the commune of Martillac. The vineyard is planted to a vine density that ranges from 6,700 to 10,000 vines per hectare. The vines are on average, 20 years of age.
One of the little-known facts about their vineyard is that here you find the remains of the ancient Romans who cultivated the vineyards over 2,000 years ago. If you like antiquities, it's well worth a walk in the vines here.
To produce the red wine of Chateau Le Thil, vinification takes place in temperature-controlled, stainless steel tanks with a 28-day maceration. A portion of the Merlot undergoes its malolactic fermentation in 100% new, French oak barrels and spends three weeks on its lees before racking.
The rest of the malolactic fermentation takes place in one-year-old barrels. Chateau Le Thil is aged for 18 months in 50% new, French oak barrels. Stephane Derenoncourt and Simon Blanchard consult Chateau Le Thil. In fact, the entire team that produces Chateau Smith Haut Lafitte is also responsible for Chateau Le Thil.
Starting with the 2006 vintage, Chateau Le Thil started making wines and selling them at prices that make them one of the best value wines in Bordeaux today.
The Best Vintages of Chateau Le Thil are: 2022, 2021, 2020, 2019, 2018, 2017, 2016, 2015, 2012, 2010 and 2009.
When to Drink Chateau Le Thil, Anticipated Maturity, Decanting Time
Chateau Le Thil can be enjoyed on the young side with decanting. Young vintages can be decanted for an average of 1 hour, give or take. This allows the wine to soften and open its perfume. Older vintages might need very little decanting, just enough to remove the sediment.
Chateau Le Thil is usually better with at least 4-6 years of bottle age. Of course, that can vary slightly, depending on the vintage character. Chateau Le Thil offers its best drinking and should reach peak maturity between 6-15 years of age after the vintage.
Serving Chateau Le Thil, with Wine, Food, Pairing Tips
Chateau Le Thil is best served at 15.5 degrees Celsius, 60 degrees Fahrenheit. The cool, almost cellar temperature gives the wine more freshness and lift. The red wine of Chateau Le Thil is best served with all types of classic meat dishes, veal, pork, beef, lamb, duck, game, roast chicken, roasted, braised, and grilled dishes.
Chateau Le Thil is a perfect match with Asian dishes, hearty fish courses like tuna, mushrooms, and pasta as well as cheese.
Château Le Thil Comte Clary Wine Tasting Notes
17 Vintages 58,509 Views Sort by Vintage-Rating
2022
Château Le Thil Comte Clary (Pessac-Léognan)

Smoked cherries, and chocolate, along with burning rocks and a touch of peppery mint create the nose. With an obviously darker hue than in previous vintages, the wine is round, lush, and rich, with a hint of fig that comes in on the back end, along with espresso, plums and chalky tannins. The wine was produced from 95% Merlot and 5% Cabernet Franc. Drink from 2025-2036. 91-93 Pts.

689 Views

Tasted

May 8, 2023

2021
Château Le Thil Comte Clary (Pessac-Léognan)

Forward, soft, and approachable, with crisp, bright, red fruits and a touch of savory herbs on the nose, palate and in the finish. This is going to be quite easy to enjoy on release. Drink from 2023-2029. 87-89

1,289 Views

Tasted

May 20, 2022

2020
Château Le Thil Comte Clary (Pessac-Léognan)

Lusciously-textured, with layers of dark red fruits, chocolate, plums smoke and black cherries, the wine is medium-bodied, opulent and polished. And it is already delicious to drink! Plus, it can age as well, if you prefer more tobacco-edged complexity. Drink from 2024-2040.

672 Views

Tasted

Mar 21, 2023

Deep in color, the wine is lush, round, forward and fruity, with a dark plum, cigar wrapper and cocoa profile. The medium-bodied wine ends with a polished fruit-filled, chocolate-covered cherry finish. This is already deceptively easy to taste and should be quite nice to drink on release. 89-91 Pts

1,562 Views

Tasted

May 20, 2021

2019
Château Le Thil Comte Clary (Pessac-Léognan)

Medium bodied, with a smoky edge to the dark red fruits, you also find notes of tobacco leaf, cigar wrapper and herbs with sweet, red plums and a dash of cocoa in the finish. Give it a year or two in the cellar and it should be good to go. Drink from 2023-2034.

1,047 Views

Tasted

Mar 29, 2022

With a nice dark color, the wine offers its flowery, ripe, sweet, dark cherry charms with ease. Round, sweet and fresh, with plenty of fruit and flesh in the finish, you should be able to drink this young. The wine was produced from 95% Merlot and 5% Cabernet Franc. 90-92 Pts

2,066 Views

Tasted

Jun 8, 2020

2018
Château Le Thil Comte Clary (Pessac-Léognan)

Wet earth, flowers, dark cherry and barely a hint of oak open the wine. Medium-bodied, forward, round and sweet, with soft juicy cherries, plums and cocoa on the palate, this is delicious now. Else, give it a few years for more secondary notes and enjoy it for up to a decade. The wine was produced from 95% Merlot and 5% Cabernet Franc.

899 Views

Tasted

Mar 9, 2021

Dark, juicy, floral and fruity, this wine is sweet, quite ripe and loaded with silky, polished tannins, layers of black plum, licorice, mint and cocoa. Opulent in nature, this is already a wine of pleasure and it is only a barrel sample. Give it a few years in the cellar and it is going to be delicious to drink. The wine was produced from 95% Merlot and 5% Cabernet Franc. 90-92 Pts

1,508 Views

Tasted

Apr 19, 2019

2017
Château Le Thil Comte Clary (Pessac-Léognan)

My very first taste of 2017 Bordeaux, this wine jumpstarted my morning with licorice, mint, espresso, cocoa and dark red plums. Medium–bodied, smooth and lavish with a dusty time warp in the finish -- I would drink this early. This year the addition of 5% young vine Cabernet Franc was blended with 95% Merlot. Currently the vineyard is planted with 80% Merlot and 20% Cabernet Franc -- but the goal is to increase the newer vine to 35% in the future.

1,567 Views

Tasted

Apr 26, 2018

2016
Château Le Thil Comte Clary (Pessac-Léognan)

The last vintage made from 100% Merlot as the Cabernet Sauvignon is old enough to be added to the blend in subsequent years. Licorice, espresso and black cherry gives the smoky, medium/full bodied, supple textured wine complexity and lots of easy to like fruit in the finish. You can drink this in release, or age it for a few years.

2,552 Views

Tasted

Apr 29, 2017

2015
Château Le Thil Comte Clary (Pessac-Léognan)

Forward and already quite easy to taste, the wine shows a nose of plum, espresso and smoke. Medium bodied, soft and fresh, the silky, freshness in the chocolate, cherry endnotes sticks with you. This is the penultimate vintage produced using 100% Merlot for the blend.

2,013 Views

Tasted

May 21, 2018

From 100% Merlot, the wine is round in texture, forward, juicy, sweet, and loaded with, dark cherries, licorice and hints of cocoa and espresso. This should drink well young, if not on release.

1,903 Views

Tasted

Apr 29, 2017

2014
Château Le Thil Comte Clary (Pessac-Léognan)

From 100% Merlot, the wine is open, fresh, medium-bodied and charming with tobacco, dark plum and hint of chocolate and will show well young. 87-89 Pts

2,047 Views

Tasted

Apr 24, 2015

2013
Château Le Thil Comte Clary (Pessac-Léognan)

Light red berry in character, this will offer easy, well-priced drinking in the first few years after delivery. 84-86 Pts

1,664 Views

Tasted

Apr 21, 2014

2012
Château Le Thil Comte Clary (Pessac-Léognan)

85% Merlot with 15% Cabernet Sauvignon produced a wine with licorice, earth and black cherry aromas. On the palate, the wine is rich, open and ripe. With luck, this will remain one of the best values in the Pessac Leognan appellation and will not be absorbed into Smith Haut Lafitte. 88-90 Pts

3,077 Views

Tasted

Apr 25, 2013

2012
Château Le Thil Comte Clary Blanc (Pessac-Léognan)

From an even blend of Sauvignon Blanc and Semillon, grapefruit, white peaches, freshly cut grass and spicy aromas are out front to greet you. Medium-bodied with zesty acidity, this is a quite nice and refreshing white Bordeaux wine. 87-89 Pts

1,740 Views

Tasted

Apr 25, 2013

2011
Château Le Thil Comte Clary (Pessac-Léognan)

Located not far from Smith Haut Lafitte, this blend of 80% Merlot and 20% Cabernet Sauvignon offers smoke, licorice and black cherry aromas, medium body and a fleshy black cherry finish. 87-89 Pts

2,468 Views

Tasted

Apr 25, 2012

2010
Château Le Thil Comte Clary (Pessac-Léognan)

Le Thil – With smoke, spicy berries and fennel scents, round textures and a sweet, chocolate, blackberry filled finish, this remains one of the top values in Bordeaux. 90-92 Pts

9,119 Views

Tasted

Apr 21, 2011

2009
Château Le Thil Comte Clary (Pessac-Léognan)

A potent nose of fennel, smoke, cassis and ripe dark berries is easy to find. On the palate, this medium/full bodied wine offers opulent, round textures, sweet tannins and supple textures. This wine represents the best value in Pessac Leognan and deserves to be purchased by the case.

6,565 Views

Tasted

Jul 20, 2011

2009
Château Le Thil Comte Clary Blanc (Pessac-Léognan)

Lemon, honey, floral and spice aromas lead to a fresh, citrus and sweet, honeysuckle filled, white Bordeaux wine that offers a lot of value for the money.

2,674 Views

Tasted

Aug 12, 2012

2008
Château Le Thil Comte Clary (Pessac-Léognan)

2008 Le Thil is one of the top value wines from the vintage offering quality, character and a low price of under $20. Blackberry dark cherry, tar, vanilla and coffee aromatics pair well with soft textures and a chocolate, boysenberry filled finish. This vintage was produced with the help with Stephane Derenoncourt. 90 Pts

5,731 Views

Tasted

Jul 20, 2010

08 Château Le Thil is a contender for the best value wine in Bordeaux today. It's amazing a wine selling for this little money from good terroir, made with the assistance of Stephane Derenoncourt, can be found in the marketplace for such a low price. Ripe, rich, smoky black fruit, along with earth and cigar box notes, are the hallmark of this wine. 89-91 Pts

5,657 Views

Tasted

Aug 31, 2009