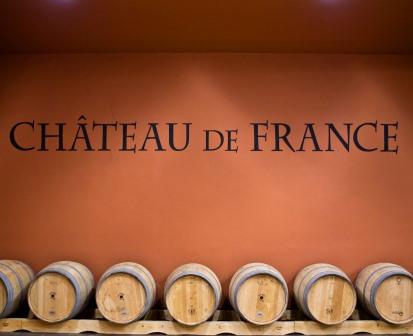 Learn everything about Chateau de France Pessac Leognan with wine tasting notes and wine with food pairing tips. Learn the best vintages, the history of the property, and information on the vineyards and winemaking. If you want to read about other important, Bordeaux Chateaux: Links to all Bordeaux Wine Producer Profiles
Chateau de France History, Overview
The formation of Chateau de France dates back to 1681. To create the estate, the vineyard was cobbled together by purchasing vines from several neighboring estates. The cellars and the chateau were built at the end of the 17th century. In 1862, under the ownership of Jean-Henri Lacoste, Chateau de France became what we know of as the property today.
The modern era for Chateau de France begins in 1971 when the estate was purchased by Bernard Thomassin. At the time of his purchase, Chateau de France was in desperate need of restorations and renovations, which were accomplished under the direction of the new owner.
To help increase the level of quality being produced here, they brought Michel Rolland as their consultant. Today, Chateau de France remains a family-owned property as the estate is managed by the son of Bernard Thomasson, Arnaud Thomassin.
In 2011, there was a tragic fire that destroyed their cellars. Until they could build a new cellar, their wine was produced at neighboring Chateau Haut Bailly. In 2012, they completed building their new cellars and production resumed at the estate again.
Chateau de France Vineyards, Terroir, Grapes, Winemaking
The 46-hectare vineyard of Chateau de France is planted to red and white wine grapes. For the red wine, the vineyard is planted to 55% Cabernet Sauvignon and 45% Merlot. 4 hectares are reserved for the white wine grapes which are planted to 80% Sauvignon Blanc and 20% Semillon. The Sauvignon Blanc and Semillon were planted in 1985.
Located not that far from Chateau de Fieuzal, the terroir is gravel, limestone, and clay soils. The vineyard is planted to a vine density of 6,950 vines per hectare. Prior to the 1995 vintage, the grapes were all machine harvested. However, starting with the 1995 vintage and going forward, all the fruit is now picked entirely by hand.
The red wine of Chateau de France is vinified in temperature-controlled, stainless steel tanks. Malolactic fermentation takes place in vat. The wine is aged in 50% new, French oak barrels for 12 months before bottling.
The white Bordeaux wine of Chateau de France is vinified in French oak barrels. There is no malolactic fermentation, but there is some, limited skin contact. The wine is then aged in 50% new, French oak barrels for an average of 7 to 9 months before bottling.
There is a second wine for both the red and white wine, Chateau Coquillas. On average, close to 20,000 cases of all their wines are produced at Chateau de France in every vintage. The estate produces another wine from the Pessac Leognan appellation, Le Bec en Sabot, which is considered their third wine.
The best vintages of Chateau de France are: 2022, 2021, 2020, 2019, 2018, 2017, 2016, 2015, 2014, 2012, 2010, 2009 and 2005. Although it is important to note that there are vintages when the red wine is much better than the white wine, as well as years when the whites are better than the reds.
When to Drink Chateau de France, Anticipated Maturity, Decanting Time
Chateau de France can be enjoyed on the young side with decanting. Young vintages can be decanted for an average of 1 hour or so. This allows the wine to soften and open its perfume.
Older vintages might need very little decanting, just enough to remove the sediment. Chateau de France offers its best drinking and should reach peak maturity between 6-12 years of age after the vintage.
Serving Chateau de France, with Wine, Food, Pairing Tips
Chateau de France is best served at 15.5 degrees Celsius, 60 degrees Fahrenheit. The cool, almost cellar temperature gives the wine more freshness and lift. The red wine of Chateau de France is best served with all types of classic meat dishes, veal, pork, beef, lamb, duck, game, roast chicken, roasted, braised, and grilled dishes.
Chateau de France is a perfect match with Asian dishes, hearty fish courses like tuna, mushrooms, and pasta as well as cheese. The white wine of Chateau de France is a perfect wine to serve with shellfish, sashimi, sushi, all types of seafood, chicken, veal, and cheese.
Château de France Wine Tasting Notes
26 Vintages 54,720 Views Sort by Vintage-Rating
2022
Château de France (Pessac-Léognan)

Smoky red berries, spice,, and tobacco leaves are already in evidence. On the palate, the wine is medium-bodied, soft, creamy and fresh, with more of those sweet, ripe, red, tobacco-infused fruits in the savory-edged finish. This is a solid follow up to the 2020. Drink from 2025-2040. 91-93 Pts.

613 Views

Tasted

May 8, 2023

2022
Château de France Blanc (Pessac-Léognan)

Sweet, lemons, pomelo, crisp green apple, and a hint of orange are already delicious to drink in this fruity, creamy-textured wine. Drink from 2024-2028. 90-90 Pts.

560 Views

Tasted

May 8, 2023

2021
Château de France Blanc (Pessac-Léognan)

Fresh, crisp, bright yellow citrus with a hint of orange tropical fruits in the nose and on the vibrant, creamy finish. This is ready-to-go on release. Drink from 2023-2029. 90-90

842 Views

Tasted

May 15, 2022

2021
Château de France (Pessac-Léognan)

With incense, forest leaf, espresso, and currants on the palate, the wine is quite oaky on the palate, which hides much of the fruit. With aging, this could improve, and the score the increase. Time will tell. Drink from 2024-2037. 88-90

965 Views

Tasted

May 20, 2022

2020
Château de France (Pessac-Léognan)

Red fruits, dried flowers and green, leafy herbs create the nose. On the palate, the wine has lift, energy and vibrance to the red berries and spice. The finish is equally fresh, as well as elegant. Chateau de France has been on quite a roll lately and 2020 is no exception. Drink from 2024-2040.

416 Views

Tasted

Mar 21, 2023

Chateau de France has been on quite a roll lately and 2020 is no exception. The wine is dark in color and in its fruit. There are additional nuances of smoke, tobacco leaf, savory herbs and currants. Lush, round, silky and sweet, there is energy, length and complexity here. Plus, the wine sells for a song. 91-93 Pts

1,104 Views

Tasted

May 20, 2021

2020
Château de France Blanc (Pessac-Léognan)

Grapefruit, orange, honeysuckle, white peach and spice create the nose. From there, you find polished, fresh, creamy, green apples and citrus on the mid-palate and in the finish. This is definitely good-to-go on release. Drink from 2023-2032.

405 Views

Tasted

Mar 21, 2023

Honeysuckle, lemon chiffon, orange rind, spice and green apple come through on the nose and on the sweet, juicy, fresh, creamy, zesty palate. 90 Pts

962 Views

Tasted

May 20, 2021

2019
Château de France (Pessac-Léognan)

Smoky, earthy, dark red fruits, tobacco leaf and herbs create the aromatics. On the palate, the wine is fresh, spicy, chewy and savory with a smoked herb quality on top of all those gorgeous dark berries and a suggestion of dark chocolate and mint in the endnote. Give it a few years in the cellar before pulling a cork. Drink from 2024-2035.

775 Views

Tasted

Mar 29, 2022

Dark ruby with a nice sheen to its hue. The wine is soft, polished, refined, medium-bodied, fruity and forward. There is an easy drinkabilty here, allowing you to experience all the ripe fruits with their bitter chocolate accent in the endnote. 90-92 Pts

1,983 Views

Tasted

Jun 8, 2020

2019
Château de France Blanc (Pessac-Léognan)

Honeysuckle, flowers, and bright, sweet, yellow citrus with a hint of mango and tangerine blend together to create a juicy, sweet and fresh, forward, bright wine with a creamy, lemon oriented finish. Drink from 2022-2026.

760 Views

Tasted

Mar 29, 2022

Fresh, bright, sweet, yellow citrus with notes of mango and tangerine blend together to create a juicy, sweet and fresh flavor. 90 Pts

1,781 Views

Tasted

Jun 8, 2020

2018
Château de France (Pessac-Léognan)

Forest leaf, tobacco, cedar and smoky red fruits open the nose. On the palate, the wine is medium-bodied, silky, fresh, vibrant and shows off its sweet red berries in the finish with ease.

858 Views

Tasted

Mar 9, 2021

Medium-bodied, fruity and showing an earthy, leafy, citrus accent, this wine is forward with a delicious, plum and tobacco finish. 90-92 Pts

1,478 Views

Tasted

Apr 19, 2019

2018
Château de France Blanc (Pessac-Léognan)

Honeysuckle, lemons, grapefruit, lemon curd, tropical fruits and green apple pie comes across perfectly in this fresh, sweet, juicy, creamy wine.

658 Views

Tasted

Mar 9, 2021

Bright, yellow citrus and white peach are found here from start to finish in this early drinking white Bordeaux charmer.

1,096 Views

Tasted

Apr 19, 2019

2017
Château de France Blanc (Pessac-Léognan)

Bright, fresh, energetic and packed with sweet, juicy yellow citrus, flowers, hints of white peach and honeysuckle. The crisp citrusy finish is fresh and refreshing.

1,341 Views

Tasted

Sep 4, 2020

2017
Château de France (Pessac-Léognan)

A forward, soft, fruity, early-drinking charmer with a cigar box feel and a tobacco rim, which mingles nicely with the juicy, red fruits. Drink this over the first decade of life.

1,327 Views

Tasted

Apr 26, 2018

2016
Château de France (Pessac-Léognan)

A nice step-up in quality here after the barrel aging. The wine has gained weight and complexity. And all those notes of smoky red fruits, ripe, fresh, cherry and plum tones with a hint of oak in the background come through loud and clear in the elegant, medium-bodied, forward treat.

1,947 Views

Tasted

Feb 10, 2019

Smoky red fruits, medium bodied and ending with an oaky, plum and black cherry splash of fruits and tobacco, with a bit of cocoa at the finish.

1,610 Views

Tasted

Apr 29, 2017

2016
Château de France Blanc (Pessac-Léognan)

With its floral aromatics and ripe, bright, yellow citrus, the wine is forward and ready to drink.

1,314 Views

Tasted

Feb 11, 2019

Crisp, bright, lemons, grapefruit and floral characteristics define this blend of 85% Semillon and 15% Sauvignon Blanc. 87-90 Pts

1,299 Views

Tasted

Apr 29, 2017

2015
Château de France (Pessac-Léognan)

Medium-bodied, soft, lighter styled wine with a smoky, fresh, ripe, cherry character. The soft refined, cherry finish is already quite nice to taste.

2,157 Views

Tasted

Mar 13, 2018

Medium-bodied with a smoky, fresh, ripe, red berry center, this wine becomes even better with its endnote of tobacco and a bit of cocoa. 88-90 Pts

1,554 Views

Tasted

Apr 23, 2016

2015
Château de France Blanc (Pessac-Léognan)

Fresh, ripe, citrus notes, with floral aromatics create an interesting, refreshing, crisp lemon and pomelo centered wine.

2,057 Views

Tasted

Mar 13, 2018

2014
Château de France Blanc (Pessac-Léognan)

Fresh, bright, easy going, refreshing blast of grapefruit, vanilla and lemon peel, for early drinking.

2,688 Views

Tasted

Feb 6, 2017

2014
Château de France (Pessac-Léognan)

Medium bodied, forward, easy to drink and showing more complexity on the cherry, tobacco nose than on the light palate. This will be best in its youth.

3,851 Views

Tasted

Feb 6, 2017

2013
Château de France Blanc (Pessac-Léognan)

I'm sure, the green apple, lemon and cats pee with a blast of lime and a lot of acidity character is going to appeal to some tasters more than it did to me.

2,815 Views

Tasted

Feb 1, 2016

2013
Château de France (Pessac-Léognan)

Very light in color and fruit, the wine is acidic and focused on tart, cranberry and strawberry sensations.

1,542 Views

Tasted

Feb 3, 2016

2012
Château de France (Pessac-Léognan)

Light in fruit, medium bodied in weight, round in texture and open, there is a distinctive oaky component that is a bit too much for the red, fruit that is trying to show itself. If the oak manages to dissipate, this will be a better wine.

1,738 Views

Tasted

Mar 4, 2017

2011
Château de France (Pessac-Léognan)

Read to drink, medium bodied, forward wine with soft textures, pleasant, smoky, red berries and tobacco on the nose, and in the finish. Not overly complex, but really quite charming and easy to drink.

1,913 Views

Tasted

Dec 19, 2017

2010
Château de France Blanc (Pessac-Léognan)

From a blend of 85% Semillon and 15% Sauvignon Blanc, the wine offers fresh grapefruit, lemon, spice, lychee nut and mineral scents. Medium bodied and fresh, the wine ends with clean, citrus and spice flavors. The wine was aged in 20% new oak along with a combination of neutral oak and stainless steel vats and reached 14% ABV. 87-90 Pts

2,052 Views

Tasted

Mar 18, 2012

2010
Château de France (Pessac-Léognan)

Medium bodied, with a smoky, cherry pipe tobacco, earth and espresso nose. There is a softness to the texture, and a polish to the tannins, but there is still a bit too much oak for the fruit. Perhaps that will improve with a few more years of bottle age. The wine was made from a blend of 60% Cabernet Sauvignon, 40% Merlot.

3,537 Views

Tasted

Sep 23, 2015

2009
Château de France (Pessac-Léognan)

Smoke, oak, blackberry and spicy aromas, medium bodied and a light, soft, easy going, cherry dominated finish. The wine was aged in 50% new French oak.

2,804 Views

Tasted

Mar 18, 2012

2008
Château de France (Pessac-Léognan)

Slightly past its prime, the wine is medium-bodied, bright, crisp, and fresh, with a leafy, smoky, herb and cigar box accent to the red berries. Drink from 2022-2026.

1,918 Views

Tasted

Aug 24, 2022